When you first read the title, not many people would believe this is possible. Many people associate scuba diving with the rich. They always feel it is an expensive hobby to adopt. However, that is not always the case. This is because you can still get cheap places where you can scuba dive and still have fun while on a budget.
We will look at some of the cheapest places to scuba dive around the world. This should help those living in different countries to see what could be close to them. Let us check out the list below.
Bali, Indonesia
For many, this might not be the first time you are hearing about Bali. It is a top tourist destination that also features some of the best scuba diving locations too.
Bali is known for having some of the best marine life for someone into scuba diving will enjoy. The conditions are also favorable at most of the diving locations. You can get there any time and still end up having a good time scuba diving.
It does not matter whether you are new to scuba diving or an experienced diver as you will always find it easy to enjoy the dive in Bali.
Due to the proximity to the coast, you will find most of the diving destinations being cheap. You can rent the gear and a guide right on the coast. With $20, you can rent the gear and go out to have fun. That is the cost of going for a single dive.
Whenever you are in Indonesia, you should always consider checking out Bali to see what kind of scuba diving you can do.
Sipadan Island, Malaysia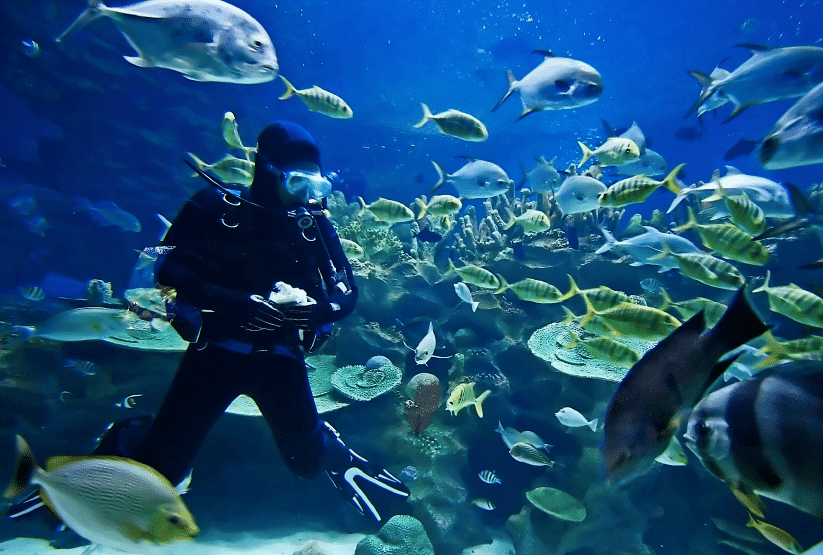 Malaysia stands out for its amazing underwater world that people come all around the world to see. It is a nice place for both new and experienced divers. There are multiple shallow dive locations in the country that will appeal to anyone looking to learn scuba diving.
For someone who is already an advanced scuba diver, then Sipadan island is an ideal location for you to consider checking out. It is located around an extinct undersea volcano. As a result, it is one of the richest in terms of marine life.
What can you expect to see while diving in Sipadan? The location is famous for sea turtles, parrotfish, morays, tornadoes of barracudas, hawkbills, and much more.
The island has up to twelve dive sites for you to explore. Each of the site has unique views of aquatic and coral life. The Barracuda point is often seen as the highlight. This is because you can see thousands of marine lives in one place.
Koh Tao, Thailand
Do not be surprised to see another Asian country on the list. This is because most of the cheapest places for scuba diving are located in these countries.
Each time you search in Google for the best places to scuba dive on a budget, then Koh Tao will always pop up. The site is loved for having the best nightlife and being cheap for scuba diving. You are likely to see a scuba diving school on every corner while in Koh Tao. Most of the visitors to this location would be looking to learn how to scuba dive or they want to become scuba divemasters.
Koh Tao is where you can find tons of dive sites and all of them are affordable. As such, there will be many divers around this area. If you are new to scuba diving, it will be easy to learn the activity in such a place.
When diving in Koh Tao, you should expect to see tons of fish, whale sharks, corals, and thousands of barracuda. The marine life varies a lot depending on where you choose to dive. So, it is best to get the guidance of a local to know where best to take the dive.
Phuket, Thailand
Phuket is another top destination in Thailand for scuba divers. Most people who visit the site are looking to get the best value for their money. Even for a cheap place to scuba dive, you would want it to be worth the experience. The location is known for its dive shops and the amazing marine life in various diving points.
Phuket is a calmer location for scuba diving. As such, it is going to be an ideal location for anyone who is a beginner. The advanced divers can opt for the Similan Islands if they want to challenge themselves.
From Phuket, you would also catch a glimpse of the Maya Beach. This is the same beach that was used in filming of the movie The Beach. Right now, it is closed to tourists as they want the reefs to recover after years of abuse. Well, in a couple of years, the divers would be allowed back to diving on this beautiful beach.
Malapascua, Philippines
The Malapascua island is another top destination for anyone who wants to dive with thresher sharks. The water around the island is warm and very clear. The result is that you can dive at any time and see the marine life better.
Many divers love this location for being one of the cheapest to scuba dive. You do not have to pay a lot of money to see some of the majestic creatures of the sea such as the sharks. Other than the sharks, you will also enjoy the beautiful coral walls, barracudas, tuna, colorful cuttlefish, manta rays, and more.
For those who want to see the sharks, you have to go deeper. At around 30 meters, that is where they start to show up. The best time to see the thresher sharks is in the morning. You might have to dive as early as 6AM if you want to see them. They are wild, so put your expectations of seeing them at 75%.
As for the price, you will pay less than $100 to see the thresher sharks for the other activities, they are even cheaper.
Aqaba, Jordan
Jordan is another country with some of the most affordable places to scuba dive. If you are going to do such an activity, then consider Aqaba. This region is known for having the most tourist attractions in the country. It is also one of the best dive sites as it has crystal clear waters, multiple wrecks to explore, and healthy corals.
To get to the diving sites, you will find that it is easy. There are several online guides of the area. Also, the locals are always willing to show you around. You can find multiple shops on the show that offer the diving supplies you might need.
The water visibility and temperate are excellent throughout the year. So, you do not have to visit the site during a specific season. Aqaba is still home to multiple dive schools. They are also reasonably priced. If you are new to diving, then you should find it easier to learn diving here.
The area is also good at holding many vibrant corals and colorful fish. It should be the reason most would come here to experience the different fish types in person. You might be lucky to spot turtles and frogfish.
Sharm El Sheikh, Egypt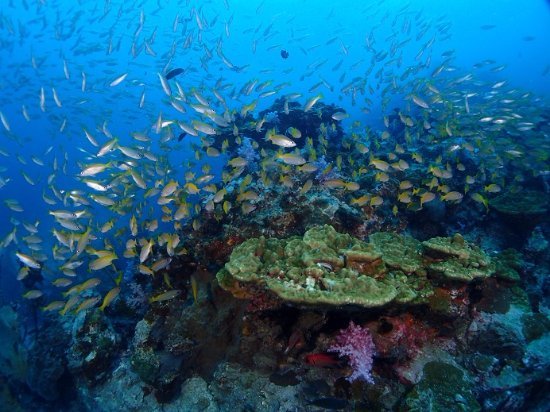 Budget travelers who want to visit Africa should consider checking out Sharm El Sheikh in Egypt. The Egyptian Pound recently plummeted, meaning Egypt is now one of the best destinations for anyone who is on a budget. This location is one of the cheapest, especially those who are beginners and they want to be experts.
The location is common with backpackers. These are people who love to travel around the world on a budget. You will find most of them enjoying the diving activity.
Other than scuba diving, this area is also good for relaxation and sometimes partying. The best part is that the region has everything from cheap to high-end. So, depending on what you want, you should always find yourself having all the options.
There are multiple dive shops in the region. It should be easy to get the scuba diving gears with ease. A three-dive package will cost you less than $100. That cannot be said for some other places around the world.
This location is filled with a mix of hard and soft coral, plenty of fish, sharks, and so much more. Talk to the tour guides to help you find the best diving spot in the region.
Sao Miguel, Azores
Sao Miguel is another top choice for anyone who is looking to experience a cheap place to scuba dive. This area has multiple islands in the middle of the Atlantic Ocean. It is easy to see why such an area would have the best coral life and be a great spot to scuba dive.
The area has also had a heavy volcanic history. The result is that it is a unique area for diving. Those who visit the area for scuba diving quickly realize it is all worth the money they spent on the trip. You will also note that with the multiple diving opportunities, even paying for the activity is not farfetched.
Sao Miguel is a popular destination not just for scuba diving, but also other tourist activities. Each time you take a dive in this region, you will like the abundance of underwater life.
The best part about the area is that you can do self-dives without too much restrictions. Some can hire the locals to help you find the best spots. If you are a diving enthusiast, then consider having Azores on your list of the top destinations.
Bay of Pigs, Cuba
If you are still looking for the cheapest place to dive, then check out the Bay of Pigs in Cuba. The reason people choose Cuba for diving is because of the crystal-clear waters in the region. This means that you will clearly see the marine life better. Also, the diving spots are all reasonably priced. If you are on a budget and want to experience better marine life, then this is a nice spot for you.
Well, the downside is that most of the diving instructors speak Spanish. It is best to visit such areas if you are already good at scuba diving. For those who are good at speaking Spanish, then you should be good to start as a beginner.
The Bay of Pigs is a famous landmark in the country Cuba. This is where the Cubans repelled the US-backed attack. Even with such history, right now the region is the perfect spot for you to consider scuba diving.
You do not even have to book a dive trip to the location. You just show up and get yourself a ticket. The best part is that the diving shops around the area have the equipment you will need to for scuba diving. You should now be sorted once you get to the area.
Playas Del Coco, Costa Rica
Costa Rica is a region known for its bio-diversity. It is estimated that up to 5% of the entire planet's biodiversity is found in Costa Rica. That alone should be the reason for you to consider visiting the area.
As much as the country is known for its jungles and rainforests, the area is also has plenty in terms of marine life. It is often a bucket list item for anyone who is into scuba diving.
The Playas del Coco is one of the top areas in Costa Rica to check out as a scuba diver. It has affordable rates for scuba diving and also multiple dive sites. Even if you are many, there is plenty of room for you to for scuba diving. Most divers enjoy seeing bull sharks, manta rays, pufferfish, eagle rays, nudibranch, turtles, and more.
Conclusion
From the list above, it should now be easy to pick the cheapest places to scuba dive without worrying about the budget. The list is not complete as there are many other destinations you can enjoy. Just make sure that you take your time to learn more about them before booking your next flight. Look at what others who have traveled to the regions claim. It is always nice to find a nice scuba diving spot that is still affordable.