Are you a beginner diver looking for the best scuba holiday? Instead of limiting yourself in a few options, you can check our list of scuba diving holidays for beginners and hobbyists. Aside from its level-friendly environment, these places also have other luxurious activities for a grand vacation.
If you're looking for a scenic place to take a plunge, these 12 places will not disappoint. Whether you're scouting a place in Asia, the Americas, Europe, Africa, and so on, we have the perfect spot for your dream diving holiday:
1. Key Largo, Florida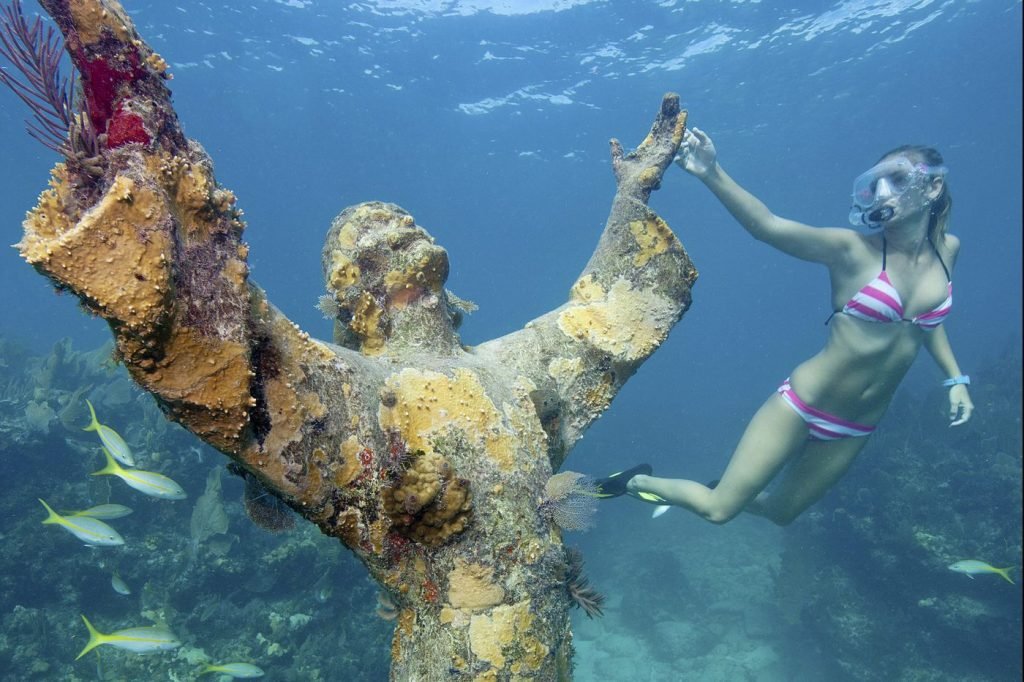 If you're in the US and not planning to go outside the country, you can head to Key Largo. Its shallow water and coral reefs make it an excellent spot for a plunge. The Florida Keys is also the favorite spot for reef diving, thanks to its 113-mile stretch of colorful underwater life.
The Florida Keys is just a short drive from Miami. The waters here range from 18 to 120 feet deep, which allows beginners to choose a safer spot for every plunge. Here, you can spot spadefish, snappers, and other tropical fishes.
There are also dive shops around Key Largo, including Rainbow Reef Dive Center, Key Largo Dive Center, and Divers Direct, among others. Here, you can learn how to dive with the help of PADI-certified instructors.
Some of the most popular spots here are the French Reef and Molasses Reef. There's a wide range of flora and fauna here, which makes your holiday more interesting.
2. Kona, Hawaii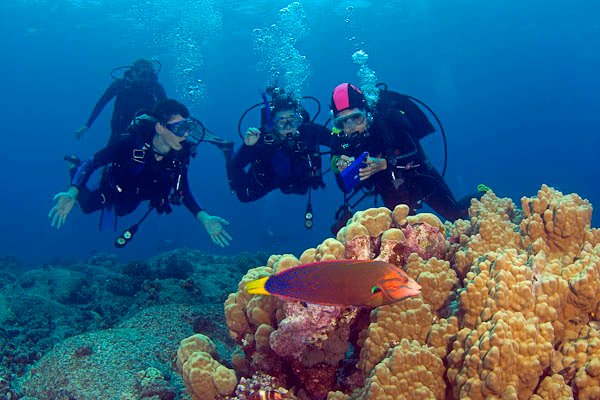 For those looking forward to the ultimate tropical vacation, a trip to Hawaii would be memorable. Divers should head straight to Kona, a spot famous for its manta night dives.
At 40-feet deep, you can have a close encounter with the large underwater animals. The good thing here is that most dives in Hawaii are suitable for beginners.
Aside from manta rays, you can also spot turtles as well as humpback whales during your dive. There's also endemic marine life here, including millet seed, bandit angelfish, Potter's angelfish, and butterflyfish.
If you're lucky, you can spot some playful dolphins. The dolphins will approach your dive boat and mingle with divers.
During your stay in Kona, don't miss Jack's Diving Locker's experience called Pelagic Magic. However, this is only advisable for advance and intermediate divers due to the depth and lack of lighting.
If you want to stay on the safe side, shallow dives are ideal.
3. Kuramathi, Maldives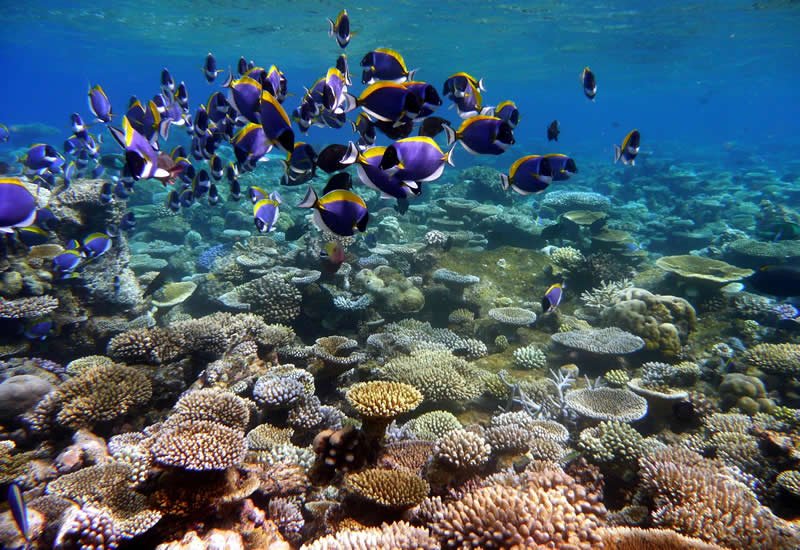 Are you dreaming of a grand vacation in the Maldives? If so, the best diving spot is in Kuramathi. This island is just 2 kilometers long but is one of the largest of the six islands on the natural atoll.
At Kuramathi, you can see numerous dive centers that give lessons for beginners. There's also a Hammerhead Shark Point dive here for at least three times a week. Some resorts like Universal Resorts offer a half-day dive safari on the North Ari.
If you're traveling with someone with an advanced diving certification, the night dive in Kuramathi is a must-try for them.
For the best diving experience, the best time to visit Kuramathi is between December and April when the weather is dryer. Here, you can see morays, manta rays, sharks, parrotfish, and other colorful marine life.
We recommend taking a guided dive if you're not very experienced.
4. Chikuzen, British Virgin Islands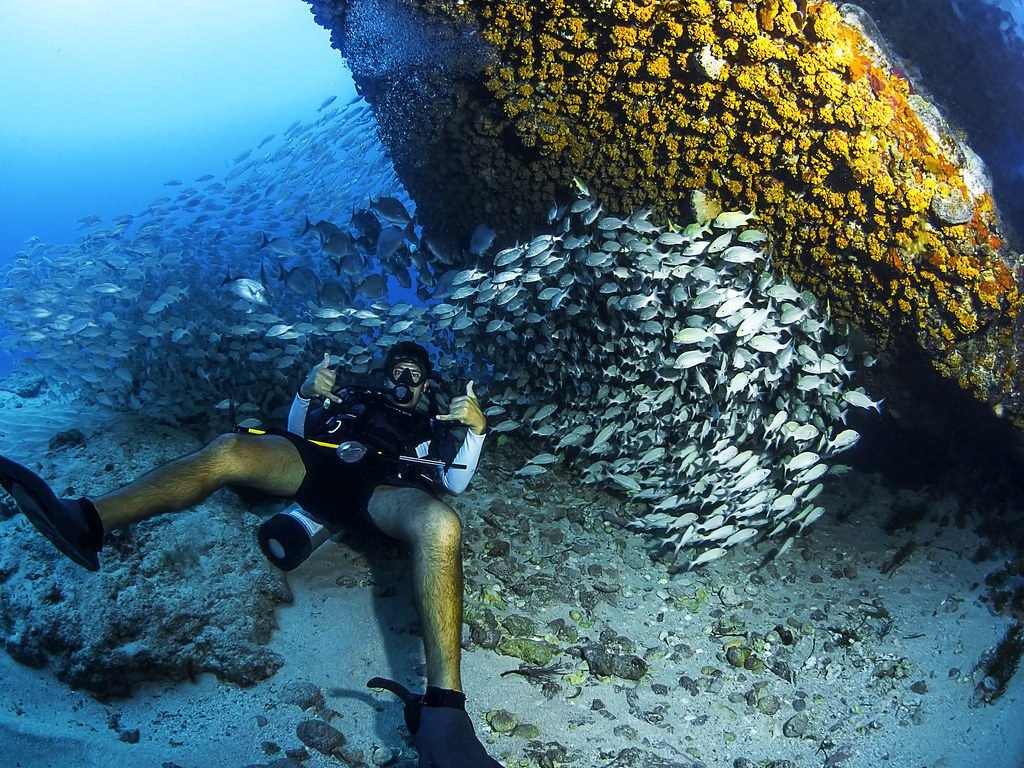 One of the most popular dive sites in the British Virgin Islands is the Wreck of Chikuzen. It's no wonder since the BVI is known for its wrecks, often attracting thousands of tourists every year.
The Chikuzen, specifically, is a 246-foot Korean vessel that was used to service the Japanese fishing fleets. Over time, the ship became decrepit, and the owners just decided to let nature take its natural course.
Nowadays, the Chikuzen is located about 7.5 miles off the northwest part of Tortola. However, for beginners, it's important to chance upon the right condition for a safe plunge.
At the wreck, you can see the reef and pelagic fishes. The hull of the vessel is also covered with sponge and coral that adds to the natural beauty of the dive spot.
You're lucky if you get to spot some whale sharks here during your dive.
5. Nassau, The Bahamas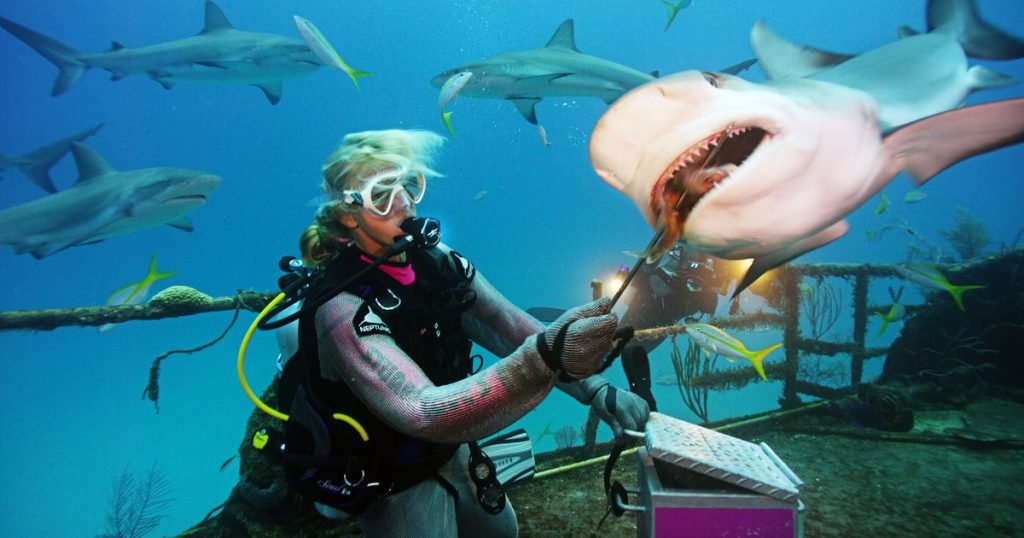 Nassau is one of the diving hubs of The Bahamas. It's home to easy wreck spots as well as shark encounters. About an hour from New Providence, Nassau is the Shark Buoy, where you get to get up close with Silky Sharks as well as various reef fishes.
There's also the famed Lost Blue Hole that's 45-feet deep and goes farther up to 100 feet in diameter.
Nassau has been dubbed as the 'Underwater Hollywood'. It's because this place has been used in filming many films like James Bond, Pirates of the Caribbean, and Flipper.
You can also get a diving certification in one of the diving schools here. Although it can be intimidating to dive in Nassau, you can easily find a spot for beginners. You can even secure an initial diving certification here if you're a total newbie.
If you are to vacation in Nassau, avoid the months of June to October.
6. Koh Tao, Thailand
If you're looking forward to a tropical vacation in Asia, you should head to Koh Tao in Thailand. Costs of scuba lessons and trips here are very cheap. You can even get certification without hurting your budget.
Koh Tao is an island in the province of Surat Thani in Thailand. It's dotted with nightspots as well as clusters of dive shops. The Mae Haad Beach is the go-to of many divers, beginner, or intermediate.
Among the most visited dive spots in Koh Tao is White Rock. It's a large dive site where you can see turtles. There's also the Sail Rock, a premier diving site located in the Gulf of Thailand.
For starters, Koh Tao is very friendly. You can take a 3-day dive course for as low as $250. Take note that in other tourist spots like Bali, the cost could be twice as much.
7. Grand Cayman, Cayman Islands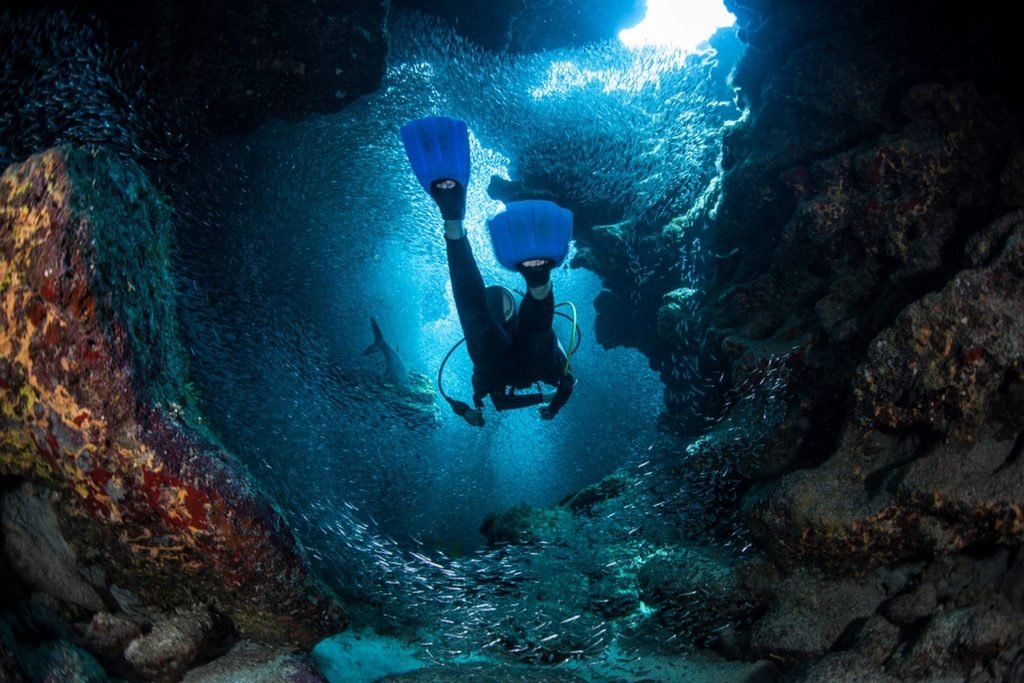 As a place located in the midst of the Caribbean Sea, need we say more about the diving glory of the Grand Cayman? This belongs to the Cayman island located south of Cuba and southwest of Jamaica.
For some, it's easy to assume that the Grand Cayman is a place for pro divers. Sure, it has the legendary wall, but it has about 20+ sites with shallower waters. Here, you can find a dive spot that's only around 60-feet deep.
You can also book a personalized dive for beginners together with a PADI-certified dive instructor.
Underwater, you will be amazed by the beauty of Grand Cayman's marine life. This place is home to one of the best underwater diversity. Aside from that, the water temperature is usually around 78F to 82F.
The highlight of every dive here is spotting some turtles. Grand Cayman has a turtle farm, so it's almost impossible not to spot a turtle or two during your plunge.
8. St. John, US Virgin Islands
For newly certified divers or those who are just getting started, St. John in the US Virgin Islands is one of the best places for scuba diving holidays for beginners. Also, all the dive boats that go to St. John is fully inspected and protected by the US Coast Guard.
The waters of St. John are home to over 40 types of corals and 500 species of fish. A dive here will take you to a journey with spotted eagle rays, Caribbean lobsters, gobies, creole wrasses, and more.
One of the most popular dive sites on the island is the Wreck of the Rhone. This 367-foot sail steamer sank back in 1867 after a hurricane hit it. Nowadays, it's a favorite spot for divers.
For experienced divers, Carval Rock is an excellent dive site. It's only 80 feet deep with steep rock formations as well as shark sightings.
If you're a beginner, you should head to the Congo Cay. The water here is shallow, and you can spot some sharks and turtles too.
9. Heron Island, Australia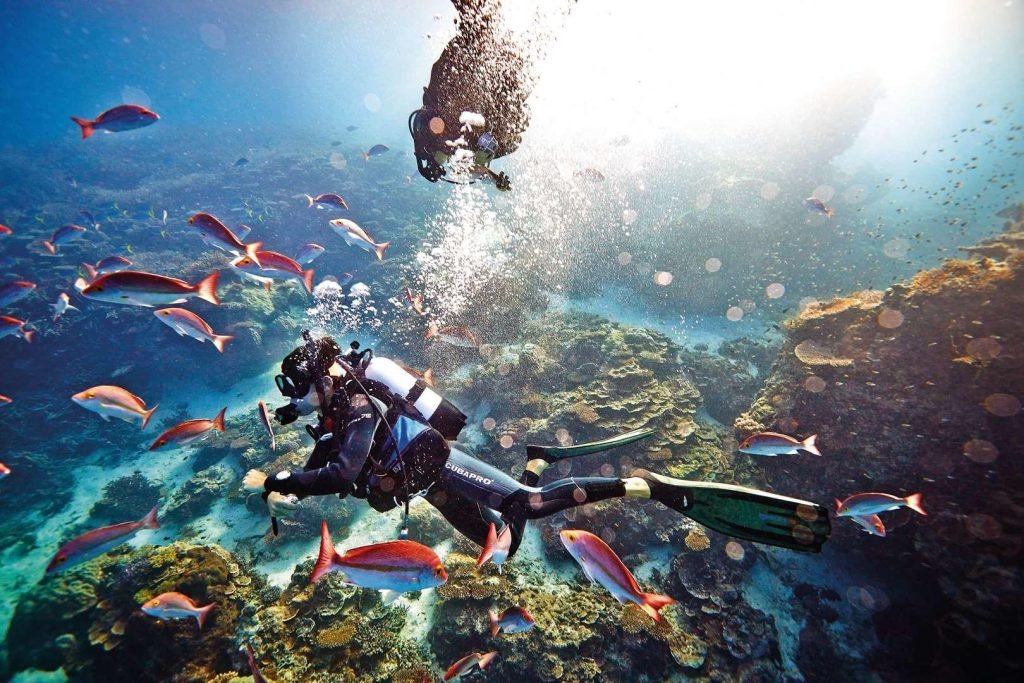 For beginners, the Heron Island in Australia is a feast of marine life. It has a coral cay just off its Queensland shoreline where you can find hawksbill and loggerhead turtles. In about an hour, you can spot dozens of turtles easily.
Also, the water here is calm, and the reef is always on one side. Newbie divers will have a great time here, especially since it's not very hard to swim on the water.
Take note that Heron Island is located inside the Great Barrier Reef. There's no doubt that a dive here would give you an unforgettable experience, regardless if you're a beginner.
Some of the notable dive sites here include the Gorgonia Hole, Heron Bommie, Coral Grotto, and the Walts Bommie.
This place is only reachable through boat rides which are available all week long, except Tuesdays and Thursdays. You can also book a seaplane for a faster trip, though its availability is weather-dependent.
10. Bonaire, The Netherlands
If you want to scuba dive in Europe, you shouldn't miss a stay in Bonaire.
Bonaire is an island municipality under the jurisdiction of The Netherlands. It's located near Venezuela and graces the southern Caribbean.
What makes Bonaire a diving haven is its reef-lined coasts. The Bonaire National Marine Park protects this. Aside from its diverse marine life, Bonaire is also home to various wildlife, including donkeys, wild birds, lizards, and more.
Dubbed as the 'Shore Diving Capital of the World', Bonaire's underwater wonder can be seen just meters away from its shoreline. This place also bears the most colorful dive sites in the entire Caribbean.
To see more colorful marine life, we recommend going here from April to November. The dry season translates to calmer seas and more stable water temperature.
Aside from that, you can also avail of a certification course here as a remembrance for your vacation.
11. Marsa Abu Dabab, Egypt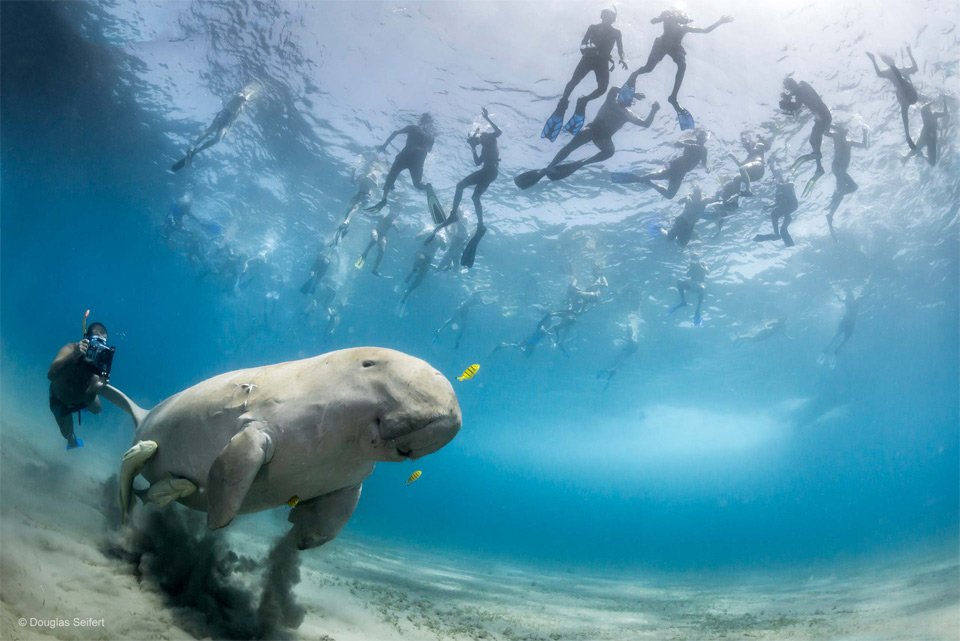 Do you want a one-of-a-kind diving holiday? If so, pack your bags and head to Marsa Abu Dabab in Egypt. This bay is surrounded by sandy beaches along the Marsa Alam region.
One of the highlights of the dives here is the close encounter with the endangered dugong or sea cow. Aside from that, this bay is also home to giant sea turtles. They usually nest on the shallow waters of Abu Dabab, which makes it easy for beginners to see.
During the peak season, the jump-off points to the dive sites can be pretty crowded. But once you're in the water, there's more than enough space for dozens of divers.
Trips to the dive spots are available daily from the Port Ghalib Marina. It usually costs around 40 euros, which includes some snacks, gears, and your return trip to the hotel.
12. Coron Bay, Philippines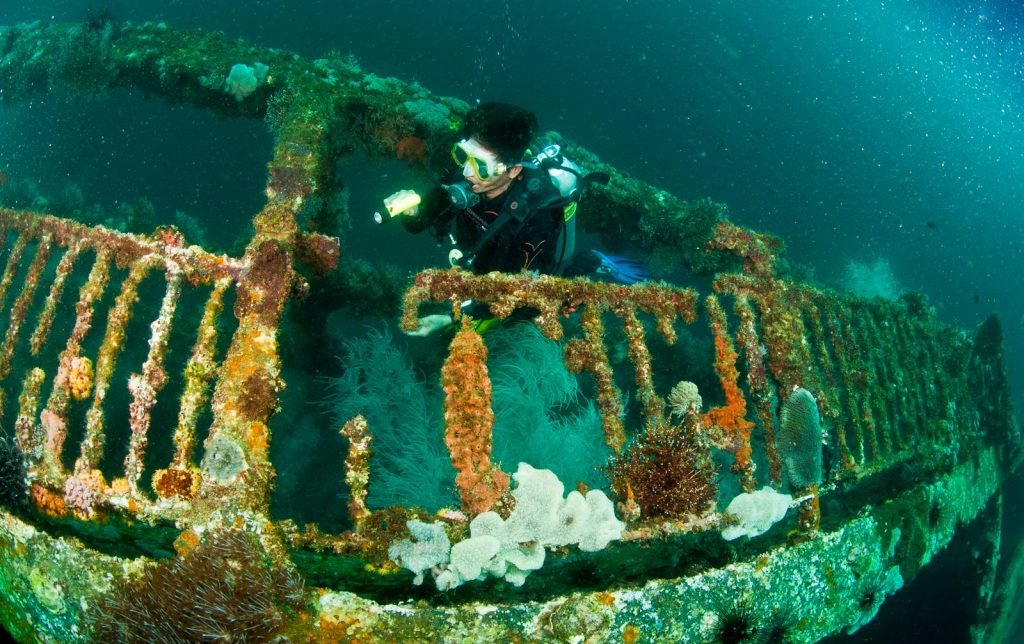 Lastly, you shouldn't miss the wonder hidden in the paradise of Coron in Palawan, Philippines. Its crystal clear and calm waters make this a haven for thousands of tourists every year. For the best experience, you should visit during the dry season between March and May.
There are over 12 wrecks discovered here as well as reef spots. The most popular here is the Barracuda Lake. It's a former volcano where you can see colorful corals and a variety of marine life.
For more underwater wonders, you should also visit the Seven Islands and Calambuyan Island. There are liveaboards here if you plan to go around the islands for multiple dives.
Take note that some dives are weather-dependent, plus you have to watch the tides. It's always advisable to dive with a local instructor.
Conclusion
These places for scuba diving holidays ideal for beginners are just some of the spots you can explore for your next plunge. Unlike the typical, these places offer a unique experience that you simply can't achieve if you don't go out of your comfort dive zone.