Mexico is a paradise for those who want to experience the tropical beauty without heading to Asia. Also, this country south of US is home to a diverse marine life, stunning beaches, and irresistible dive sites. You'll never run out of places to scuba dive in Mexico, regardless if you're a beginner or an experienced diver. So for this post, we listed 10 of the best spots where you can take the plunge in Mexico.
1. Isla Mujeres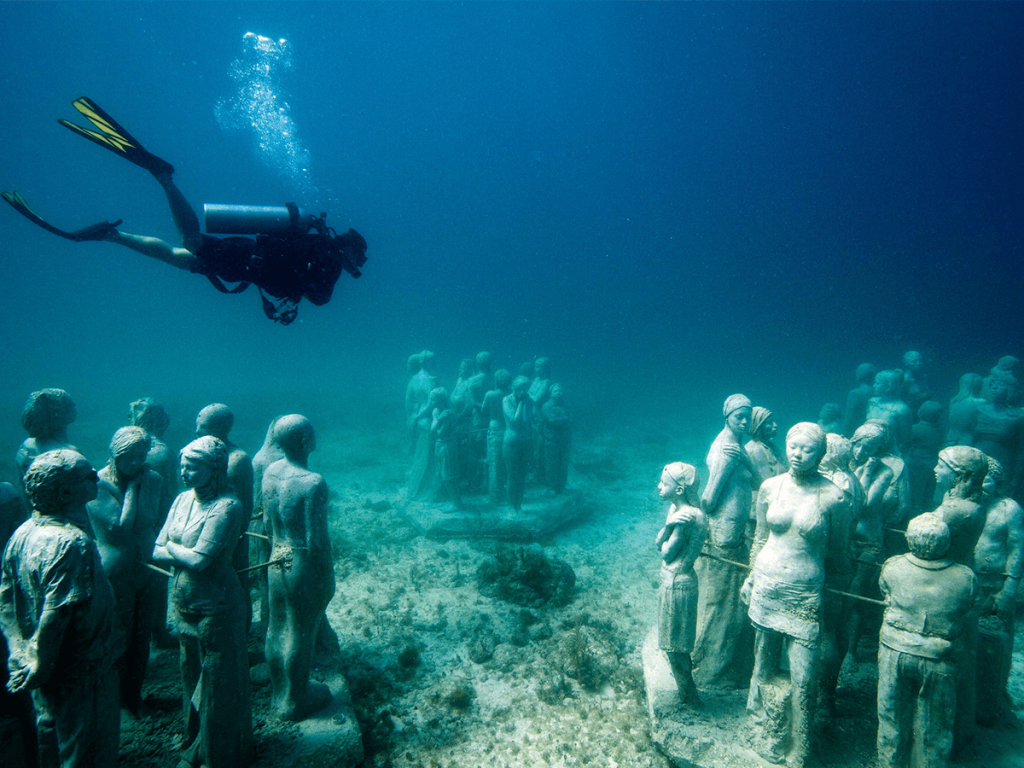 Topping our list of scuba diving places in Mexico is the stunning Isla Mujeres. It's home to famous whale shark expeditions as well as breathtaking wrecks and corals.
Isla Mujeres is located off the shores of Cancun, but you can reach it via Puerto Juarez on a 20-minute ferry ride. Every June to September, the island attracts hundreds of whale sharks, which also magnetizes divers all over the world.
There's a lot to see on the island, but the real show happens underwater. Make sure that you take an open dive at the MUSA or Museo Subacuático de Arte (Underwater Museum of Art). It's an underwater museum surrounding the islands of Mujeres and Cancun. The museum has over 500 life-sized sculptures, including a VW Beetle.
The MUSA was created to encourage coral life as well as to build a home for angelfish and other marine life.
Aside from this, you can also join a guided dive to Punta Negra, about 23 minutes off the coast of the island. Here, you'll get to see stingrays, reef sharks, and eagle rays. Banderas, Puentes Y Pailas, Punta Sur, and Cuevas de Afuera also offer spectacular underwater scenery.
2. Socorro Island
On the other side of the country is the Socorro Island, about 733 kilometers from the shores of Colima. Socorro Island is also known as part of the Revillagigedo Group of Islands. Take note that this is a remote island and it will take about 24 hours to reach it from the mainland through a liveaboard.
Moreover, Socorro Island isn't for novice divers. It has strong currents and unpredictable underwater conditions. But if you're skilled enough to brave its waters, the Socorro Island is one for the diving books. The Punta Tosca diving site is home to humpback whales, where you'll get to see several during your dive.
If you find it intimidating to swim along with these giants, you can head to Cabo Pierce, where dolphins approach divers for a few minutes. You can also witness a school of hammerhead sharks swim on the waters of Roca O'Neal.
For those who are planning to dive into Socorro Island, it's best to visit from November to May. Numerous liveaboards are sailing toward the island since these months are the calmest season. You can also chance upon several manta rays. However, you should know these months are also peak season in Mexico's tourism so that prices may increase drastically.
3. San Carlos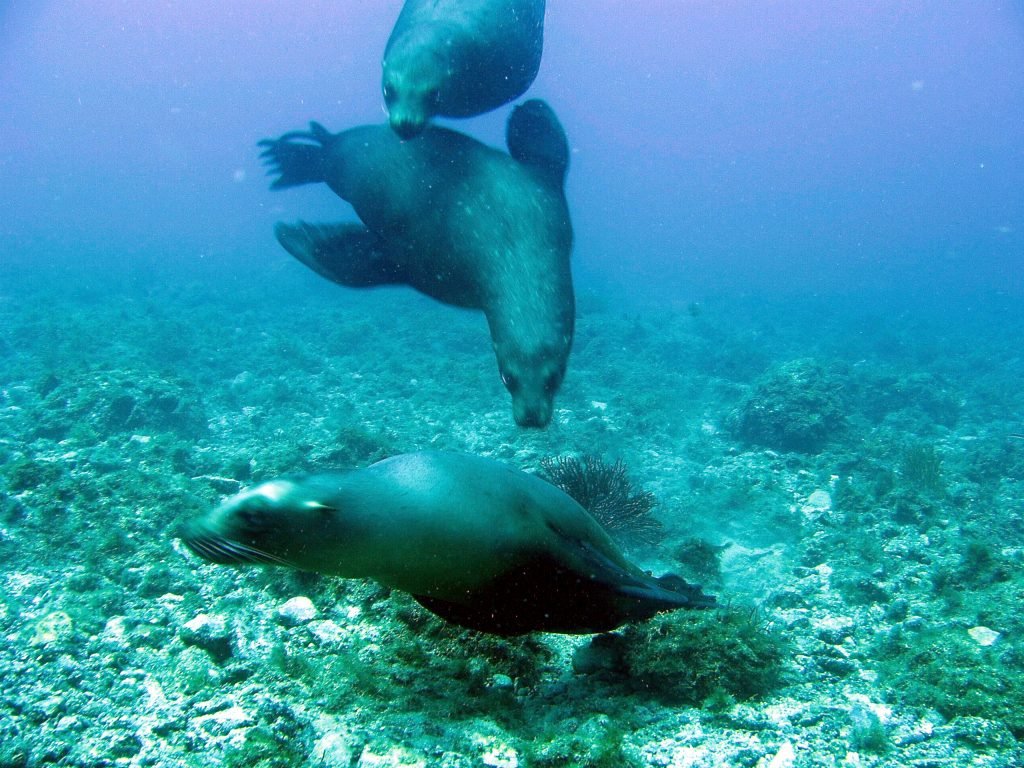 Known for its shallow bays and warm water, San Carlos is beachfront subdivision frequented by divers. It's where you'll get to see large pelagic species as well as sea lions, whales, hammerheads, and more. It graces the shoreline of the Gulf of California and the northern Sea of Cortez.
The best time to dive here is from August to November. At this period, the water is at its warmest at 80F. It's also the time when hammerheads are sighted in the region.
If you really want to see the big guys of the sea, the best time to dive is from December to March. However, the weather here is colder, but it's worth the sacrifice as grey whales, humpback whales, sperm whales, octopuses, and banded guitarfish will show up for divers.
For beginners, the reefs of San Carlos are the safest spots. But for those who have the skills, it's best to head out to Isla San Pedro by riding a boat for 1.5 hours from the San Carlos Marina. On the island, about 400 sea lions can be seen. For those who are fond of seahorses, the San Antonio Point is one of the best places in Mexico to scuba dive.
4. Playa Del Carmen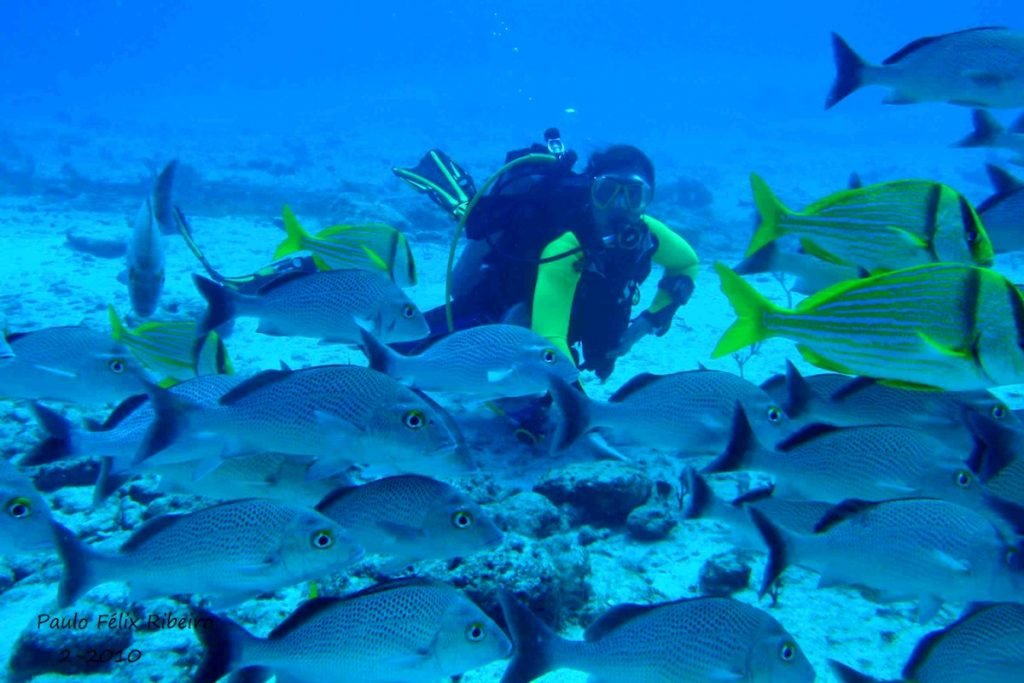 Playa Del Carmen is also a diving point for the MUSA, but it's more popular for Bull Shark dives. Each year, large sharks frequent the shallows in the process of migration. As much as this is a thrilling journey, it's not ideal for novice divers. Meanwhile, technical divers can try cenote diving or open sea diving. If this isn't your choice of dive, there's a lot to see in Playa Del Carmen all year round.
There's never a bad time to dive in Playa Del Carmen. This is the reason why the place is teeming with divers who want to see pelagic species or those who want to mingle with sharks close up. But if you want to avoid the crowd, it's best to book a dive between May and November.
All year long, the temperatures in Playa Del Carmen remain steady at 77 to 82F. It offers a more predictable environment for divers as well as visitors who want to see diverse marine life.
Overall, there are around 20 dive sites in Playa Del Carmen. You can take a dive on Pared Verde, off the coast of the Carmen Beach for a spectacular reed system. Also, you can visit the Mama Vina wreck, which is just a 20-minute boat ride.
5. Cenote Dos Ojos, Yucatan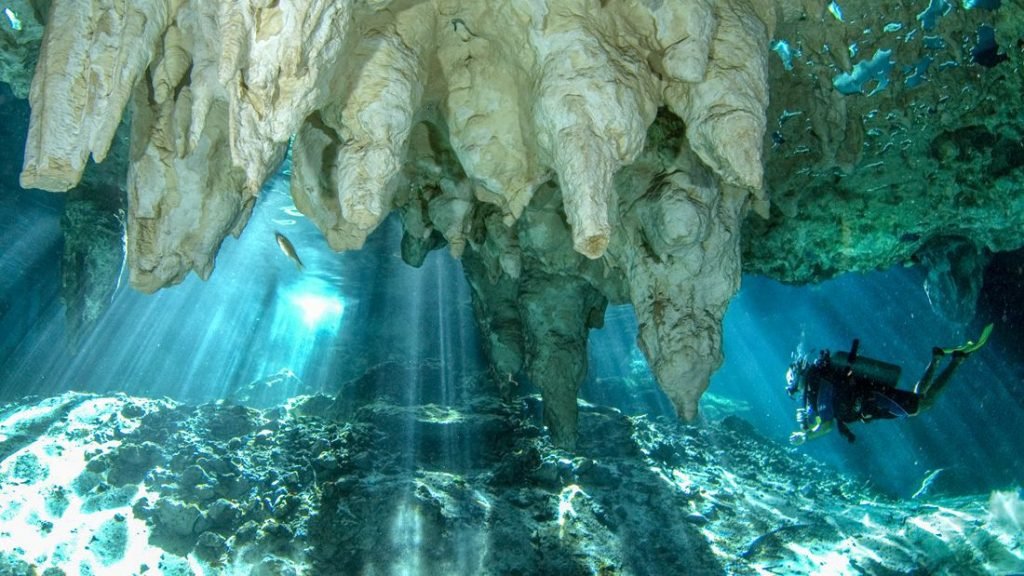 Cenotes refer to the ancient sinkholes than can be found on the waters of the Yucatan Peninsula. It's famous among tech divers as it has been home to many rarely seen marine life. Over the years, cenote diving has been referred to as cave diving, so anyone with basic certification can take a plunge.
For those who are looking for the best cenote dive, head straight to the Cenote Dos Ojos. These are two cenotes connected through a large cavern system. It has stalactites and massive pillars that will put every diver in awe.
If you can go deeper and farther, you can reach the Pet Cemetery. It's a 20-minute dive from the entrance of Dos Ojos where you'll see skeletons of animals. One of the must-see remains here is the fossilized skeleton of a prehistoric camel.
However, novice owners aren't advised to take this dive. The trail to the Pet Cemetery is rough and requires excellent buoyancy control. Although the current may not be strong, you should never damage the fragile formations underwater.
For those who are planning to dive into Dos Ojos, the best time to visit is between May and September. These months offer better lighting, especially for underwater photography. Anyway, there's no bad time to dive on Dos Ojos as the water temperature only cools minimally during the winter season.
6. Isla Guadalupe
If you're looking for the ultimate white shark dive experience, Isla Guadalupe is one of the cheaper places for scuba diving in Mexico. It's 150 miles off the shores of the Baja Peninsula, with a meager population of roughly 170 individuals.
Moreover, Isla Guadalupe is considered one of the four best cage dive spots in the world next to California, Australia, and South Africa. However, you should book the right dive as some operators won't lower their cages for a scuba experience. If you want the best encounter with the great white sharks, look for operators that allow the divers to float half-way outside the cage. Even non-certified divers can join this journey.
Take note that only liveaboards make the pilgrimage toward this island. Also, visits are only available from August to October. Outside of these months, it's impossible to reach the island. Also, for your own safety, you should remember that it's illegal to bait the sharks on the island.
If you're planning to go to the island, take note the trip on liveaboards will take 18 hours. There's also poor reception in the area, so communication is really challenging.
7. Manchones Reef, Cancun
Cancun is probably one of the most popular destinations in Mexico. It's home to the azure waters of the Gulf Coast as well as near-perfect weather. Tourists also go here to experience the white sand beaches that adorn the shores of this city.
Moreover, you can dive in Cancun to reach the famed MUSA where the sculptures of Jason deCaires Taylor rest underwater. Aside from this man-made art, you can also see colorful sponges, brain corals, and staghorn corals all over.
Aside from that, you keep a hawk-eye as the waters of Cancun are also attractive to hawksbill turtles and whale sharks. Another highlight here is the Manchones Reef located between Isla Mujeres and the shores of Cancun.
What divers really love about diving in Cancun is its bathtub-warm water with temperatures ranging from 78F to 80F. During summer months, the underwater temperature warms mildly at a maximum of 84F.
For divers, the visibility is quite impressive around Cancun. You can expect anything between 50 to 100 feet, but you can chance upon 200 feet of visibility near Cozumel.
If you're planning to visit Cancun and for a dive, book your trip between December and April as these months have better visibility and good weather. It's excellent for beginners to professional divers, even for honeymooners and family vacations.
8. Los Cabos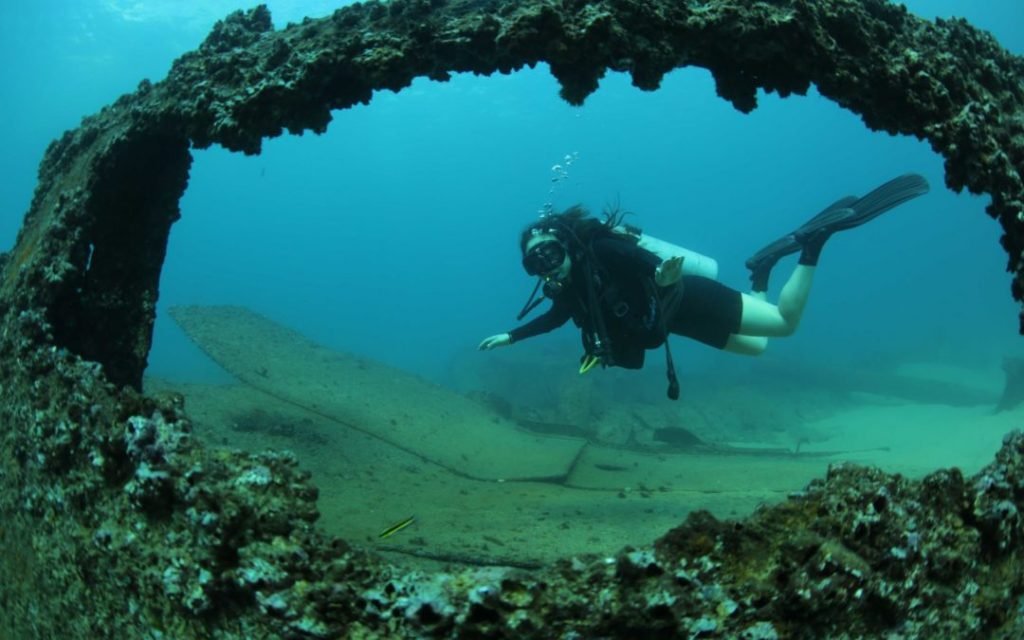 Los Cabos is a seamount located 5 miles off the shores of San Jose del Cabo. The top is as large as two football fields, which allows divers and marine life to explore. A 30-minute boat ride will take you to the mouth of the Sea of Cortez, where multiple dive sites await.
One of the top places in Mexico for scuba diving is the Gordo Banks. From June to November, schooling of fishes happens under its waters. Here, you can see whale sharks, hammerhead sharks, and other pelagic species sailing across the underworld. If you're lucky, you can chance upon some dolphins and manta rays. The most common here are large schools of mackerels and bait fishes.
However, the Gordo Banks aren't for novice divers. It has strong currents and depths are at an average of 110 to 130 feet. Also, visibility runs between 25 to 100 feet, depending on the weather. If you still want to try, the Gordo Banks is accessible through the Marina Puerto.
For those who are looking for a more tranquil environment, you can dive at the Pelican Rock. It tends to be busy during peak months as snorkelers, kayakers, paddleboards, and divers flock here for the sheltered weather.
The Chileno Bay is also an interesting dive for those who to stay within shallow depths. It runs between 8 to 18 meters, where you can see rocky bolders where reef sharks hide. It's also typical to spot Mobula rays, eagle rays, and sea turtles here.
9. Palancar Reef, Cozumel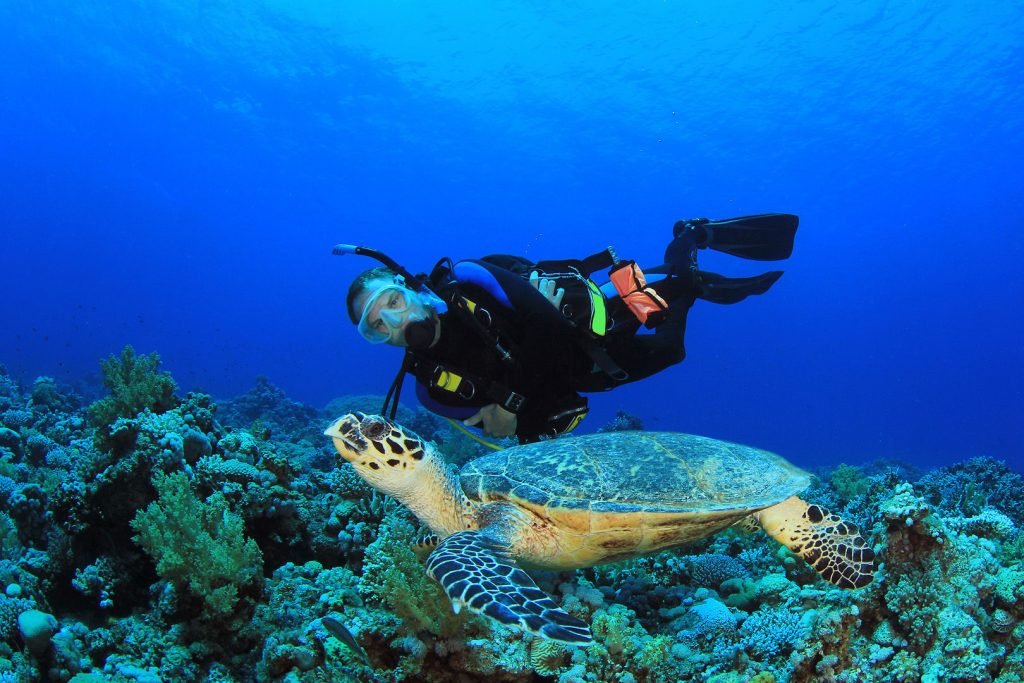 The island of Cozumel is a popular vacation spot in Mexico with its white-sand beaches, blue waters, and amazing underwater scenery. It's a sunny island that you reach via an airplane ride from Cancun Airport to the Cozumel International Airport. Anyway, you can hop into a ferry if you want a more budget-friendly trip.
Divers of all levels will enjoy a plunge at the Palancar Reef, also known as the Palancar Garden. It's a strip reef that's about 20 meters wide and surrounded by caverns and fissures. You can spot butterflyfish, yellow head wrasse, damselfish, and more during your dive.
For technical divers, the Punta Sur Reef isn't one to miss. It has fascinating deep wall cavern systems with coral tunnels. At about 27 meters deep, you'll see a bustling marine life.
Take note that Cozumel is also known for its strong currents, which makes it perfect for drift dives. It's also home to a myriad of pelagic species, bull sharks, and green turtles.
And like most dive spots in Mexico, there's no bad time to dive in Cozumel. December to April is the peak season and you have to book ahead as the island is popular among tourists.
10. Banco Chinchorro
Banco Chinchorro is an atoll reef off the coast of Quintana Roo, north of Belize. It's also the largest reef atoll in the northern hemisphere with over 300 square miles of a biosphere reserve. To reach Banco Chinchorro, you have to ride a speedboat for 30 minutes to about an hour from a mainland marina.
This place is a favorite among drift divers, especially at the west side of the atoll, where eagle rays and colorful fishes can be found.
Moreover, Banco Chinchorro is famous for its Aquarium I and Aquarium II. These spots are brimming with black coral, brain coral, and large barrels of sponges.
It's possible to dive here all year round, but you should still check the weather forecast as several hurricanes can pass through or within the banks. But if the sky is clear, Banco Chinchorro has a sultry, summer-like feel. The temperature only cools slightly, so it's always manageable to dive in any spot.
For those who are drift diving, the west side of the bank is the best option. Novice divers can try the Dos Primas and its inner reef.
Wreck diving is possible on the east side, but take note that the current here is strong and surges may take place. It's the same reason why boats sunk in this place.
Take note that the Banco Chinchorro is uninhabited, but you can still find some stilt houses that fisherfolks use.
Final word
These 10 places to scuba dive in Mexico offer a one-of-a-kind underwater experience. From novice to technical divers, there's always a great spot in Mexico where you can explore the underworld. What do you think of these places? Where do you plan to go next?