This country of over 7,000 islands is a great destination for snorkelers, divers, and marine wildlife lovers of all skill levels. The Philippines is located in the Coral Triangle, an area of the western Pacific that is home to one of the richest marine eco-systems in Asia, with more than 500 kinds of hard and soft corals, a dazzling diversity of fish, and some of the planet's largest marine mammals and sharks. The Philippines is a beautiful part of Southeast Asia that you can visit, either on a liveaboard to explore the wide ocean or to fin reefs that edge exquisite sandy beaches. Here are the top diving spots around the country.
Why Tourists Love To Dive in The Philippines
🟦 Beaches, and lots of them, that are absolutely perfect.
The Philippines have become so stunning because so much of the country remains untouched. You should always carry your mask and snorkel with you because there are beautiful beaches wherever you go. Of course, you may also buy or rent a snorkeling set there for very little cost.
More so, this means that scuba diving is fantastic and rarely crowded practically anywhere you go. Find tiny, locally run clubs outside of the main tourist areas that are committed to ecological sustainability in their scuba diving practices.
🟦 Coral triangle.
The Philippines sits at the southernmost point of the Coral Triangle, a region rich in plant and animal life. Over 2000 kinds of fish make their home in the region's reefs, which are home to some 600 reef-building coral species. Furthermore, six out of the seven species of sea turtles in the world are found in the coral triangle, according to World WildLife.
🟦 Fewer problems with language.
In different parts of the Philippines, you'll hear a variety of distinct languages spoken. When visiting a place, English is used to interact with locals and diving shop employees. The majority of newspapers, forms, menus, road signs, and literature are written in English, making travel throughout the country easy.
🟦 Ideal for pictures.
However, it has gained prominence in recent years as a prime location for underwater macro photography. Slender pipefish, preening mantis shrimp, and mutant-looking frogfish roam the sea floor just a few meters below the surface at world-famous diving sites like Secret Bay (or Manit Muck). Divers with at least 50 dives under their belt can find some fantastic wild sights while blackwater night diving, adding an added thrill to the experience.
🟦 Affordable pleasure.
A traveler's budget is inevitably one of their primary concerns. The Philippines is a great place to visit because it is inexpensive. Numerous day trips can be had for less than PHP1000 (USD20).
Even if you're on a tight budget, you can find plenty of affordable places to stay in the Philippines, from dorm-style hostels to cozy bed-and-breakfast homestays. Resorts can be found across a wide price range, making them accessible to people wishing to save money. If you know where to look, you can often find discounts that include multiple items. When deciding where to stay during your vacation in the Philippines, you will have many options.
Best Time To Dive In The Philippines
With four distinct seasons, the Philippines is a destination with a wide range of possible climate conditions. Thus, diving in the Philippines is possible all year round, however, it's best to avoid the wettest regions during the monsoon.
The dry months of December through April make for ideal diving conditions around the country. From June through October is the typical wet season, and this is also the time of year when the rain in Palawan is at its hardest. The central Visayas, on the other hand, can still be a beautiful place to visit at that time of year thanks to the region's calm waters and excellent visibility. Depending on where you live, the months of November and May might also offer wonderful diving with mild temperatures.
TOP 10 Best Diving Sites In The Philippines
🟦 Anilao, Batangas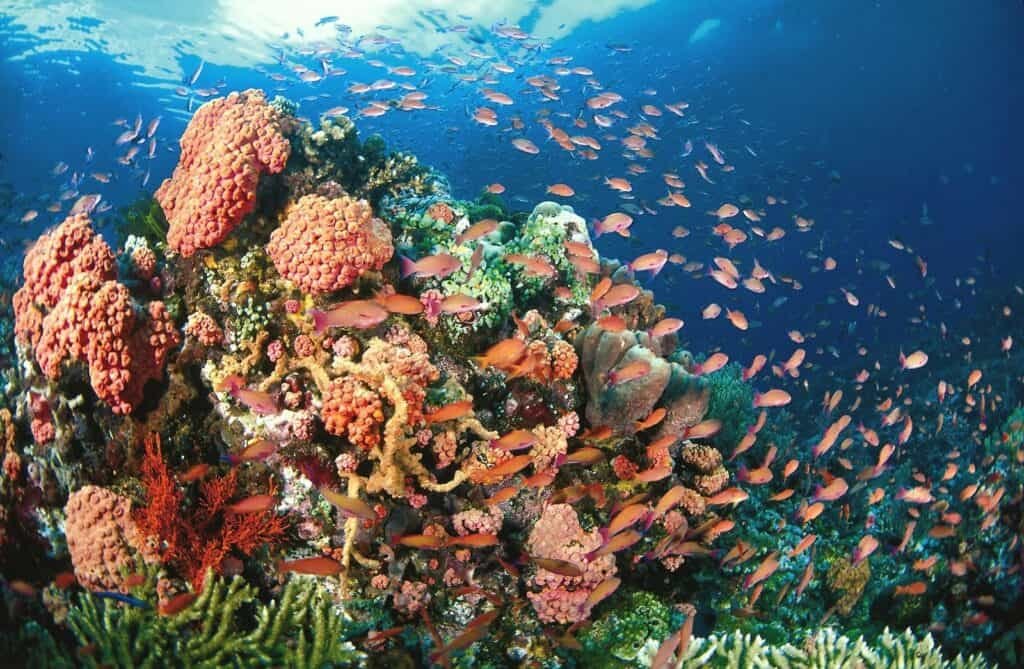 The nearest underwater haven from Manila is Anilao in Batangas, which is known as the Nudibranch Capital of the Philippines. Driving time from Manila to the various entry points in Anilao, including some of the best beaches in Batangas, is typically between 2.5 and 3 hours. A cove is so large that nearly 60 dive sites can be found there (48 of which are commonly known).
In the province of Batangas, Anilao is divided into two separate municipalities: Anilao Proper and Anilao East. Since Anilao was the only port of entry for scuba divers 40 years ago, the name has come to be used generically for the three islands of Mabini, Tingloy, and Bauan.
Multiple resorts, ideal for rest and relaxation or as a jumping-off point for scuba excursions, now dot the coast. Anilao diving tours offer three main activities: exploring the hidden exotic creatures it harbors, experiencing the rich biodiversity of the area, and blackwater diving.
Divers flock to the waters of Anilao to see the nudibranchs that live there. Only 600 of the more than 800 nudibranchs known to exist can be found in Anilao. Anilao is an ideal destination for first-time scuba divers. Tourists won't have any trouble finding a dive instructor who knows their way around the murky waters. To see creatures you're likely already familiar with, but in their larval state, boats typically set up a 33-meter line with strong lights 10 meters apart, and then pair you with expert dive guides.
🟦 Coron, Palawan
There are eleven sunken ships within recreational scuba diving depths of 25 to 40 meters in the waters around Sangat Island in Coron. Shipwrecks in Coron are in excellent condition, and probing them is highly recommended for divers with experience.
Snorkeling is another option for those who don't want to dive in order to see some of the shipwrecks while exploring the islands of Coron. Most of the shipwrecks at Coron's most visited attractions are from supply ships. One warship, the 118-meter-long Akitsushima Maru, is stationed in the area formerly occupied by a seaplane. Divers flock there to explore the many shipwrecks that serve as homes to the region's diverse marine life.
Divers on Coron island tour excursions should keep an eye out for a three-barreled anti-aircraft gun in the sandy area near the base of the enormous crane, as well as the crane's intact machinery and gears. As an added bonus, divers can enter it through a massive rip in the ship's back.
Coron wreck diving also reveals an artillery shell lodged in its mechanism, swivel mounts for larger guns, and gun placements pointing to the bottom near the mast. Navigate your way through a maze of corridors and compartments from bow to stern to reach the four engines that power the ship.
🟦 Verde Island Passage, Batangas
Verde Island Passage, San Agapito's dive spot, is located 400 meters east of the island. It's accessible by motorized boat from Puerto Galera and Anilao, Batangas.
San Agapito diving site looks like a seamount with three peaks, one of which always rises 2 meters above the water depending on the tides. The third pinnacle is 18 meters deep. The island is in the 1.14 million-hectare Verde Island Passage.
Between Luzon and Mindoro, the waterway is recognized as the "Center of Marine Biodiversity." The South China Sea, Tayabas Bay, and Sibuyan Sea are connected by it.
In this stretch of the Verde Island Passage, the current is very strong. Thus, only expert scuba divers can dive here. Its current would dictate whether you could dive the sea mount's east or west side.
San Agapito diving is a fraction of Tubbataha Reefs National Park in Palawan sans sharks and rays, according to most tourists. The wall is 70 meters deep. Coral fans are massive as you descend. Some juvenile sea turtles just feed, breach, swim, and sleep.
🟦 Balicasag Island, Bohol
Panglao Island, Bohol, is one of the most popular tourist destinations in the Visayas, right up there with Boracay and Cebu. Whatever your reason for visiting, whether it be to relax on its beach or to go scuba diving, you will need to book a tour to Balicasag Island from Panglao Island. Booking a Bohol diving package will allow you to relax and enjoy your time away.
Balicasag Island is a marine sanctuary and a recommended stop on any Bohol island hopping cruise, measuring around 600 meters in diameter. Bohol's diving is among the highlights of Philippine island hopping. Around it are five excellent places to do scuba diving, including the Balicasag Marine Sanctuary, which features a drop-off of 200 meters.
Photographers interested in macro subjects will find enough to capture the vast wall. The school of barracudas is another diving attraction here!  It's a fantastic spot to visit, and you won't believe your eyes once you see how far you can see, depending on the time of year. The Black Forest is the premier diving destination in Bohol, earning its name from the amount of stunning black corals found there.
Dive with a friendly group of resident sea turtles at Turtle Point, as the name suggests. Just don't go near from them and don't rush in. To show your good intentions, approach slowly, and never touch any sea life or other animals. In addition, technical divers can explore caves here that are as deep as 60 to 75 meters.
The Royal Garden (with an average depth of 18 meters), Diver's Haven, and the Cathedral wall all offer excellent diving and have a wide variety of marine life, including soft and hard corals, sea turtles, and several fish species.
🟦 Moalboal
Moalboal is home to the world-famous sardine run, where up to seven million fish congregate in a massive swarm (called a "bait ball") near Panagsama Beach, providing an unforgettable experience for freedivers, snorkelers, and divers. Large schools of fish swim against the backdrop of seawalls, canyons, and caves in the seas around Moalboal, providing divers with a wide variety of diving opportunities. The nearby island of Pescador is known for its dramatic seawall covered in soft corals and teeming with deep reef fish, as well as a cathedral cavern on the island's western side that is home to octopus, moray eels, and snake eels. If you want to swim with even larger marine animals, the two-hour trip to Oslob to swim with whale sharks is well worth it.
🟦 Mindoro
With its tropical environment, Mindoro is a year-round diving destination and is home to the world's second-largest contiguous coral reef. Divers of all skill levels can find a suitable dive here, from shallow shore dives to more advanced drift dives or even wrecks. The lively restaurants and bars of Puerto Galera are conveniently located within walking distance of each other, while the city's beaches and diverse dive spots are easily accessible via boat. Divers of all skill levels can find something to wow them in the waters surrounding Verde Island, with novices enjoying the safety of the bays and shallow reef dives and experts marveling at the big pelagic species carried by the strong currents.
🟦 Yapak 1
Yapak 1 is another wall dive, however, it's more suitable for experienced divers searching for an extra challenge. With a depth of up to 230 feet and currents of up to two knots, it is one of the deepest places on Earth. However, Yapak 1 is often regarded as Boracay's premier diving destination, so if you're up for the task, you won't be disappointed. White sand beaches are available for relaxing after a day of diving, and there is a wide variety of fascinating marine life to observe. Two of the most favorable months to go are February and March.
🟦 Manit Muck
Manit Muck, or "Secret Bay," is a fantastic place for divers of all experience levels to go for a night dive. The rich aquatic life at this location makes every visit special. Dive at different times of day to view different things. Manit Muck is a blackwater diving and photographic paradise, and it is widely regarded as one of the top macro photography locations in the world. It is located two hours distant from Manila.
🟦 Manta Bowl
Manta Bowl is a seven-hectare underwater shoal, so called for its bowl-like shape and high population of manta rays. Since manta rays are drawn to the area's strong currents, this spot doubles as a feeding and cleaning station for the creatures. The right season to dive at this Philippines site is somewhere between December and May, though the manta rays are prominent all year round. If you want to get away from the cold this winter or simply enjoy your Christmas vacation, this location is ideal.
🟦 Monad Shoal
There is no need to seek any further if you are searching for the greatest shark dive in the Philippines. Sightings of thresher sharks are virtually guaranteed at Monad Shoal, a submerged island rich in this species (though some patience may be required). This is Malapascua's most popular diving location, so expect a high volume of visitors. While diving is possible year-round, the ideal time to encounter sharks is from March to May.
Preparing For Your First Dive
Before jumping off the deep end, beginners should prepare for an enjoyable and safe underwater adventure. Before your long-awaited Philippine scuba diving trip, do these things.
🟦 Find your diving style.
First, choose a path. Beginners usually start with Discover Scuba Diving or Open Water Diver. The first is a one- to two-hour introduction to the colorful underwater world, while the latter is a comprehensive scuba diving certification course with pool and ocean dives.
🟦 Find a good diving center.
Choosing the correct diving school is important for safety and comfort underwater. Beginners need a lot of instruction, education, and care. So, while arranging a dive trip in the Philippines, choose a diving center with certified instructors, well-maintained equipment, and the right dive affiliations. You can read reviews and ask friends before you go.
🟦 Prepare your gear.
It's tempting to get the best dive gear for your vacation. However, beginners need little gear. Most diving courses include rental gear, so don't rush to buy. Experience is needed to determine what gear you like and is comfortable with.
Scuba diving novices should avoid distractions. Until you're more experienced, don't bring your underwater camera or other sophisticated gear.
Things To Keep In Mind When Traveling To Philippines
🟦 The length of your visit is not limited.
Depending on your nation of origin, you may be able to extend your stay in the Philippines from 24 months to 36 months.
🟦 Ferries are subject to the weather.
Travelers to the Philippines in the rainy months (June–October) should be prepared for a stretch of inclement weather. Additionally, if a storm is in the forecast, you will not be able to take any boats, such as the one that connects El Nido and Coron. In extreme cases, bad weather can force the cancellation of the ferry service for an entire week. If getting to your accommodation involves taking a ferry, think twice before making any non-refundable hotel reservations in advance.
🟦 There is a heck of a lot of airports.
You might be thinking that the best way to see the Philippines is to fly into one of the larger cities and then take a bus or ferry to one of the more remote villages. But many smaller cities and villages have airports that can provide domestic flights at a reasonable price.
For example, getting to El Nido from adjacent Puerto Princesa would require a 5-hour shuttle ride because neither city has an airport. Direct flights will save you nearly a whole day compared to driving.
🟦 Know tricycles.
Tricycles are motorcycle sidecars. They depend on location, but most small communities use them for transportation. One ride in the Philippines is pretty much assured for your stay. They're not really comfortable like your car, so renting a motorbike or a driver-driven car is best for long trips. And before booking, negotiate the price!
🟦 Coins.
This will help individuals traveling to smaller provinces or islands with cheap public transport and sari-sari businesses (small convenience stores where items are sold per piece instead of in packs). Always carry at least a 50 peso bill because tricycle drivers rarely have change for a thousand or even 500.
🟦 Tip servers.
Philippine service is cheap, hence, tipping is usual. Rounding up cab fares is typical. If in doubt, tip based on service. Waiters, massage therapists, and tour guides in the Philippines make minimum wage, so a tip goes a long way.
BONUS: Famous Water Activities In The Philippines
🟦 Wakeboarding.
Wakeboarding is quickly becoming one of the most popular water activities accessible. It is similar to snowboarding in that both involve the use of a single board equipped with bindings for the rider's feet. When the motorboat or cable system starts tugging and pulling the rider around the water's surface, the excitement begins.
CamSur Watersports Complex is a good spot to give wakeboarding a try if you're looking for a venue.  Wakeboarding in the water requires the use of motorboats or speedboats, but if you're not quite ready for that yet, you can learn the basics at CWC's indoor complex using overhead cables to handle the towing. Complex features ramp to increase the difficulty of the ride. Kneeboarding, waterskiing, and wakeskating are just some of the numerous watersports available at CWC.
🟦 Sailing.
The art of sailing involves maneuvering a sailboat or sailing ship across the water using only the force of the wind to move the vessel. More and more people are taking up this pastime, but it's also beneficial because it strengthens muscles, enhances agility, and improves focus.
Those interested in learning how to sail can do so at the port city of Iloilo. The Iloilo Sailing Club can be contacted for introductory sailing lessons and the use of their sailing fleet. The club's home base is in Oton, Iloilo, although members frequently go to the stunning coastlines of Panay and Guimaras to sail.
🟦 Skimboarding.
Skimboarding is an exhilarating and difficult kind of water recreation. It is quite similar to surfing, except that rather than paddling out, one simply glides over the water's surface until they come upon an oncoming wave, which they then ride back to shore. The skimboard itself is reminiscent of a surfboard but is smaller and lacks fins.
Visit Dahican Beach in Davao Oriental for the best skimboarding conditions. With its seven kilometers of coastline, it has been known as the "Skimboarding Capital of the Philippines." The Amihan Surf and Skim Team, the pioneers of this activity in the province, offer lessons to anyone interested.
🟦 Paddleboarding.
Stand-up paddle boarding is a peaceful sport that may appeal to those who prefer less hectic activities. Even though you're on a surfboard, all you really need to do to get around is stand up and paddle. It's a wonderful method of taking in your surroundings on any placid body of water.
Taal Lake in Batangas is an excellent place to do standup paddleboarding. An afternoon by the lake is a great way to relax, take in the scenery, and gain a new perspective on Taal Volcano. The group Filisup provides stand-up paddle boarding classes and Taal Lake tours.
🟦 Kitesurfing.
The water sport of kitesurfing is a hybrid of wakeboarding, windsurfing, and sailing. Kitesurfing is a water sport that is similar to wakeboarding in which the rider is carried along by a power kite powered by the wind. Because it incorporates elements from so many different types of water sports, it is among the most difficult aquatic pursuits.
Pagudpud, Ilocos, is a fantastic location for kitesurfing thanks to its strong winds and stunning wide waters. Kingfisher Beach Resort is a well-known destination that is especially well-liked by kitesurfers. The resort's location, away from the hubbub of the city, makes it a serene haven where guests can relax and enjoy the resort's many water-based amenities.
🟦 Canyoneering.
Include canyoneering on your summer schedule if you're looking for an exciting new experience. Walking, climbing, rappelling, and swimming are just a few of the methods used in canyoneering, which essentially entails exploring canyons and gorges.
Cebu is a popular destination for canyoneering in the Philippines. Canyoneering at Badian, South Cebu, where thrill seekers swim through crystal-clear waters and leap from cliffs as high as 20 feet, has become a major tourist attraction. After putting in three to six hours of effort, you may also admire Kawasan Falls.
Final Words
Dive into the Pacific's beautiful seas to see whale sharks, manta rays, and undersea UNESCO World Heritage sites. Scuba diving is great just about anywhere, but the greatest places to go in the Philippines are on our list. With any luck, this guide has taken you to reefs you wouldn't have been able to go to otherwise, letting you quickly and easily dive into the top locations on a number of different islands.
Next diving destination? Caribbean! Click here to know more.