Are you an adventure-seeker looking for the perfect place to go scuba diving? Have you been to the Caribbean, Mediterranean, and other far-flung locations but are looking for something a bit closer to home? Look no further than the Philippines! 
It's one of the best sites in the world to explore below the seas because of its magnificent coral reefs, clean waters, and richness of marine life. From secluded beaches with shallow waters ideal for beginners to deep walls teeming with vibrant marine life – there's something here for everyone.
No matter what level you're at or where you want to dive in this vast country, planning your trip can seem daunting. Never fear: we've got some suggestions on where you should go and how best to prepare yourself so that all you have left to do is enjoy the incredible underwater life!
1. Apo Reef Natural Park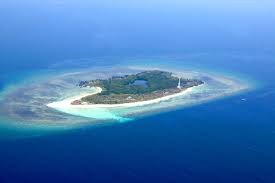 The park is located off the coast of Occidental Mindoro in the South China Sea and spans over 34 sq km of area. It consists of three atolls – North Atoll, South Atoll, and Middle Atoll – each with its own unique diving opportunities.
In particular, South Atoll is known for its thriving marine life, while Middle Atoll is home to some of the most spectacular and vibrant coral formations in the country.
Apo Reef Natural Park is suitable for both beginner and experienced divers. You don't need to worry about too much current to battle or getting lost as there are no drift dives or navigation required here — just good old-fashioned exploration!
There are depths ranging from 16 feet (5 meters) to 40 feet (131 feet), so everyone can find what they're looking for. The visibility here is usually excellent, even during monsoon season, and you'll have plenty of time to take photos or videos of your dives!
When it comes to the best time to visit Apo Reef Natural Park for scuba diving, it all depends on what type of marine life you hope to see. During springtime (March-April), Barracuda Shoals turn into an aquarium with thousands of fish gathering around them. This also happens during the summer months (July-August). However, sea turtles tend to be more common then as they come out from hibernation from May until December.
Diving in Apo Reef Natural Park will be a memorable experience full of beauty and adventure! It's an ideal spot for those who want to enjoy great weather conditions, see abundant marine wildlife, and get a real glimpse into nature's incredible diversity right here in the Philippines!
2. Where To Scuba Dive In The Philippines: Coron Island
If crystal clear waters, vibrant coral reefs, and extraordinary marine life are what you're looking for when it comes to scuba diving, then Coron Island in the Philippines should be at the top of your list. This gorgeous island is located south of mainland Palawan and is part of a cluster of tropical islands that make up the Calamian group.
Aside from its bounty of aquatic delights, Coron Island also boasts plenty of land activities, such as visiting hot springs, exploring lagoons, and trekking mounts. But it's safe to say that most visitors come here to dive. From shallow coral gardens to sunken world war two shipwrecks, Coron Island has something for every level of diver!
When it comes down to deciding when the best time to visit this paradise destination, you can never go wrong between March and August. During this period, visibility tends to be good while water temperatures remain comfortable enough for long underwater days. It's also important to remember that temperature differences between morning and afternoon dives vary greatly, so pay attention when planning you're itinerary accordingly!
The wonderful thing about Coron Island is that no matter when you decide to go, there's always something new waiting to be explored beneath the waves – ensuring every visit will be unforgettable.
3. Tubbataha Reefs Natural Park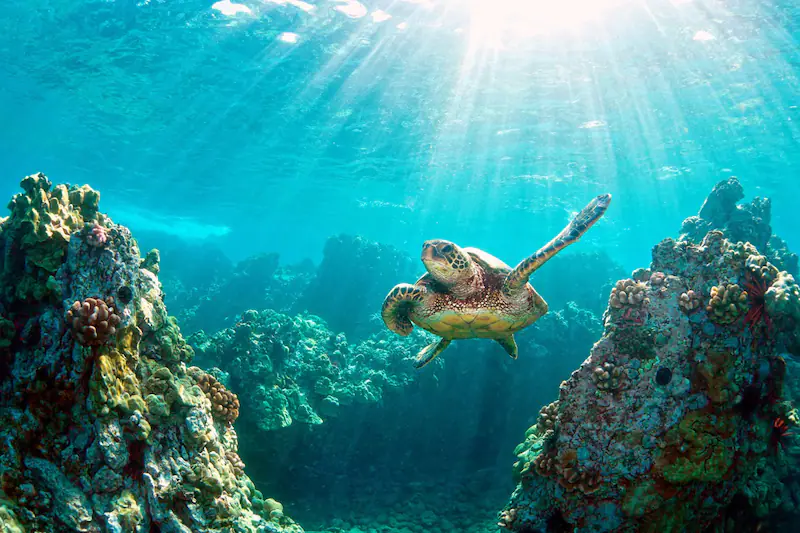 This diving spot is in the Sulu Sea. Its clear waters and diverse marine ecosystems are perfect for diving.
This area has many coral reefs and unique rock formations home to over 400 species of fish and 300 species of coral. In addition, various types of hammerhead sharks and whales can be seen while diving. You can also spot turtles, manta rays, barracudas, blacktip reef sharks, and so much more!
The best time to visit Tubbataha is from mid-March to mid-June because visibility is at its peak. This gives divers a better view of all the fascinating creatures that call this place home.
4. Where To Scuba Dive In The Philippines: Anilao, Batangas
Situated on the Lingayen Gulf of the Philippine Sea, Anilao is an idyllic place that has been gaining popularity among scuba divers in recent years.
Some of Southeast Asia's most breathtaking coral reefs can be seen in the area around Anilao. You'll find everything from huge brain corals to colorful gorgonian sea fans and hundreds of fish species. The open rocky coastline also makes for great macro photography opportunities.
Along with larger marine life, such as turtles, mimic octopi, and even whale sharks (if you're lucky!), you can see nudibranchs, frogfish, and countless other smaller critters that make exploration underwater here so exciting.
The best time to visit Anilao for diving is from March through November, when water visibility is at its peak. However, enjoying good dives year-round is possible if you don't mind some occasional murky water conditions caused by strong winds or too much rain runoff.
In addition to offering incredible underwater experiences, Anilao provides a unique opportunity to get a taste of Filipino culture. From beachfront resorts with traditional Filipino restaurants serving up delicious local cuisine like lechon manok (roast chicken) and beef kare kare (stew)!
So why not take a break from your everyday life and explore this slice of paradise?
5. Where To Scuba Dive In The Philippines: Malapascua Island, Cebu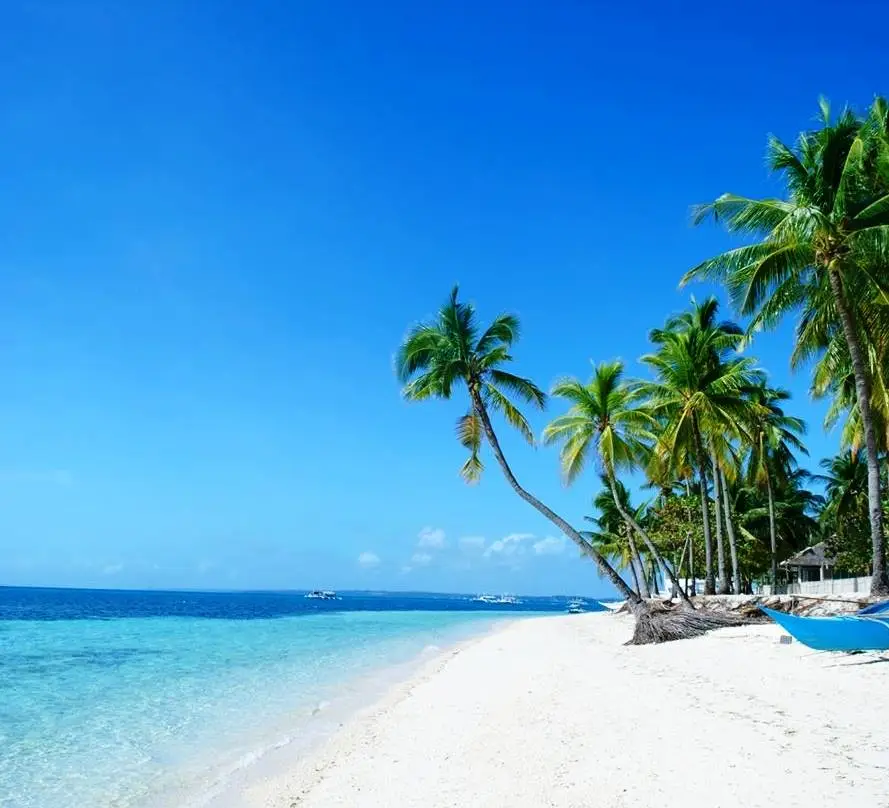 The beauty of diving around Malapascua Island is that you can find something to satisfy everyone – from wide-angle photography to macro enthusiasts. Here you can experience it all. Highlights include abundant sea life such as nudibranchs, mantis shrimps, frogfish, and plenty of schooling fish.
You may even catch sight of thresher sharks around Monad Shoal or whale sharks at Gato Island from December to March! Plus, with its wealth of wrecks and walls, there's always something new to explore.
But that's not all – aside from breathtaking underwater views, this island also offers a number of above-water activities:
Hop on a freediving course.
Go deep sea fishing.
Take a boat tour to explore nearby Calanggaman Island or take a leisurely stroll along one of its many white-sand beaches.
When to visit? It depends. Whether you're looking for calm seas (July–September) or larger swells (October–June), this location has conditions suitable for all divers year round.
No matter what you're looking for out underwater adventure-wise, Malapascua Island should definitely be on your list when visiting the Philippines!
6. Where To Scuba Dive In The Philippines: Puerto Galera, Mindoro
Puerto Galera is a tropical paradise located on the northwestern tip of the island of Mindoro. It's known as one of the most beautiful places to visit and dive in the country, offering stunningly clear waters that are perfect for scuba diving.
When you're here, you'll find a variety of sites to explore, from thrilling canyons to sunken boats and underwater wrecks. The reefs are vibrant and alive with colorful marine life – definitely something to look forward to when visiting!
The best time to visit Puerto Galera for scuba diving is usually between November and May: during this time, divers will be able to experience crystal-clear waters and calm seas – perfect conditions for an enjoyable dive.
So what are you waiting for? Head over to Puerto Galera and have an unforgettable scuba diving experience surrounded by stunning corals, vibrant reefs, and jaw-dropping vistas. Make sure to take lots of photos so that you never forget your amazing adventures beneath the sea!
7. Where To Scuba Dive In The Philippines: Yapak, Boracay
Have you ever dreamed of a scuba diving vacation in an exotic locale? If so, you should definitely consider Yapak, Boracay in the Philippines – it's one of the best places to scuba dive in the world!
Located off the northwest coast of Panay Island, Yapak is a breathtakingly beautiful spot with crystal-clear waters and a wide array of sea life. Whether you're interested in photographing colorful fish or hunting for game fish, Yapak has something for everyone.
There are plenty of large species, like tuna and groupers, along with smaller species, such as pygmy seahorses and sharks. Plus, there are plenty of coral reefs and other fascinating sights to explore.
The best part about diving in Yapak is that the conditions are perfect nearly year-round so you can visit any time! The currents tend to be milder during the summer months (April-May), making it an ideal time for beginners, while experienced divers may prefer the winter months (December-February) when there is more visibility due to calmer waters.
No matter when you decide to visit Yapak and take part in its incredible underwater attractions, one thing is certain: you won't regret it!
8. Where To Scuba Dive In The Philippines: Moalboal, Cebu
Moalboal, on the island of Cebu, is a great spot to visit if you're interested in photographing sardine runs. Every day, millions of sardines congregate in mesmerizing patterns creating an unrivaled and unforgettable experience. Snorkelers from around the world come here to participate in this unique experience.
Not only is Moalboal great for capturing amazing photos, but it also offers some amazing diving spots. The waters are incredibly clear and showcase thousands of species, including sea turtles and barracudas, just waiting to be explored!
The best time to visit Moalboal for scuba diving is from March to June when there's no monsoon season. The water temperature ranges from 24-30°C during these months – perfect for those who don't like cold dives. But even during wetter seasons, Moalboal takes every precaution to ensure safety and great dives all year round!
To make your experience even more magical, be sure to bring a GoPro or other waterproof device to capture your amazing underwater adventure. You will never forget this remarkable experience and will have extraordinary memories that will last forever! 
So if you're considering an exciting getaway full of new discoveries, why not choose Moalboal?
9. Where To Scuba Dive In The Philippines: Anda, Bohol
One of the best places to scuba dive in the Philippines, this stunning 17-kilometer stretch of coastline offers plenty of exciting exploration opportunities. Enjoy diving here all year round, and prepare to take your breath away as you explore vibrant coral gardens and encounter fascinating sea creatures like skeleton shrimps, dragon sea moths, seahorses, mantis shrimps, and turtles.
Which season is ideal for travel? It really depends on your desired level of immersion. During summer (April to June), visibility is highest, and underwater temperatures can reach up to a comfortable 30°C – perfect conditions for those seeking an unforgettable dive.
Although cooler water temperatures can be expected during winter (December to March), more adventurous divers will take advantage of calmer seas and much less tourist traffic. No matter when you go, amazing marine life awaits your discovery in ANDA, BOHOL!
10. Where To Scuba Dive In The Philippines: El Nido, Palawan
Scuba diving in El Nido, Palawan, is an experience like no other. Indeed, it is arguably the best diving spot in the Philippines, if not all of Southeast Asia. The limestone cliffs and crystal-clear water make it a special place to explore.
What can you find when scuba diving in El Nido? You're likely to encounter beautiful corals, sea turtles, tropical fish, and dolphins. It's also possible to spot rare species, such as seahorses and whale sharks. There are dozens of dive sites around the island, each offering something unique depending on the depths you choose to explore.
For those who are just getting started with scuba diving or want a relaxing experience, plenty of shallow spots provide great opportunities to observe enchanting coral gardens without having to venture too deep underwater. On the other hand, experienced divers can take advantage of deeper sites packed with walls, caverns, and wrecks, which create breathtaking scenes beneath the sea surface.
The best time to visit El Nido for scuba diving is between October and March when temperatures are moderate, and visibility is best. And because fewer people are around, you can enjoy the ocean's splendor in peace and quiet.
Don't pass up the chance for some exciting underwater explorations! Grab your scuba gear and let your inner explorer take you on a journey that only El Nido can provide!
Frequently Asked Questions
Q: Which other locations in the Philippines are highly sought after by scuba divers?
Apart from the ones mentioned above, other popular scuba diving destinations in the Philippines include Balicasag Island, Puerto Princesa, Pescador Island, and Panglao Island.
Q: Does Philippines scuba diving require certification?
Yes, indeed, scuba diving in The Philippines does require certification. All divers must have a recognized entry-level certification or higher, like Open Water Diver, which you can obtain through a variety of training courses. In addition, all divers must also sign in and out with the local government office or club representative; this is to ensure safety at the dive sites. So don't forget to get your certification before embarking on your scuba diving adventure in the Philippines!
Q: What are the costs associated with going scuba diving in the Philippines?
Depending on who you ask, the cost of scuba diving in the Philippines can vary drastically. Certifications from world-renowned dive centers like PADI have been known to reach hundreds of dollars, and that's not even counting equipment rentals or boat fees! However, if you opt to get certified through a local dive shop or school, they may be able to provide certification bundles at a discounted price. Ultimately, it's important to do your research before deciding which route to take so that you can find the most cost-efficient scuba diving experience in the Philippines!
Q: Can I bring my own scuba diving gear to the Philippines?
Absolutely! Not only is it more comfortable, but capable divers know how their own equipment works and can move through the water confidently. What's more, the Philippines has a wide variety of dive spots, so no matter what type of scuba diving you are interested in – from coral reefs to WW11 shipwrecks – you will surely find something that suits your preference.
Q: Is there PADI-accredited scuba diving centers in the Philippines?
Yes! There are plenty of PADI-accredited scuba diving centers throughout the Philippines where you can get certified and begin your exploration of this amazing underwater world. From shallow shore dives to deep live-aboard trips, there are countless options for both certified divers and those just starting out!
Final Words
With its exceptionally diverse ecosystem and beautiful geography, the Philippines is an amazing place to explore through scuba diving. From world-famous shipwrecks, vibrant coral gardens, and bioluminescent plankton so bright that it's often referred to as 'diving in a starry night,' there is something for adventurers of every level of experience in these islands. Whether you seek thrilling deep dives or curious shallow snorkels, there's a dive spot waiting for you. Whether it's Mindoro, Coron Bay, Bohol, Tubbataha reef, or Cebu – each destination will have you wanting to make the next dive even greater. So next time you plan your vacation, don't forget about where to scuba dive in the Philippines! I guarantee it'll be an unforgettable adventure!