Are you ready to plunge to the deep? Deep dives are the culminating dives among professional and technical divers. With the depth comes a more dazzling marine life that you can only see beyond shallow waters. That will be more memorable once you've chosen the best place for deep sea diving.
However, you should note that deep dives require skill and proper certification. But before you give in to the lure of the deep, you must have a PADI Deep Dive certification to plunge confidently. Take note that deep dives are technical dives that only experienced divers should try.
---
Preparing for deep dives
Before you go for a deep dive, it's important to be prepared with the right equipment. Aside from wetsuits, scuba masks, and other basic items, you should have and know how to operate the following:
Dive computer
Dive light
Scuba gloves
Depth gauge
High-capacity BCD
Recommended Read: Differences Between Scuba Diving and Deep Sea Diving
---
10 Best Places for Deep Sea Diving
1. The Great Blue Hole, Belize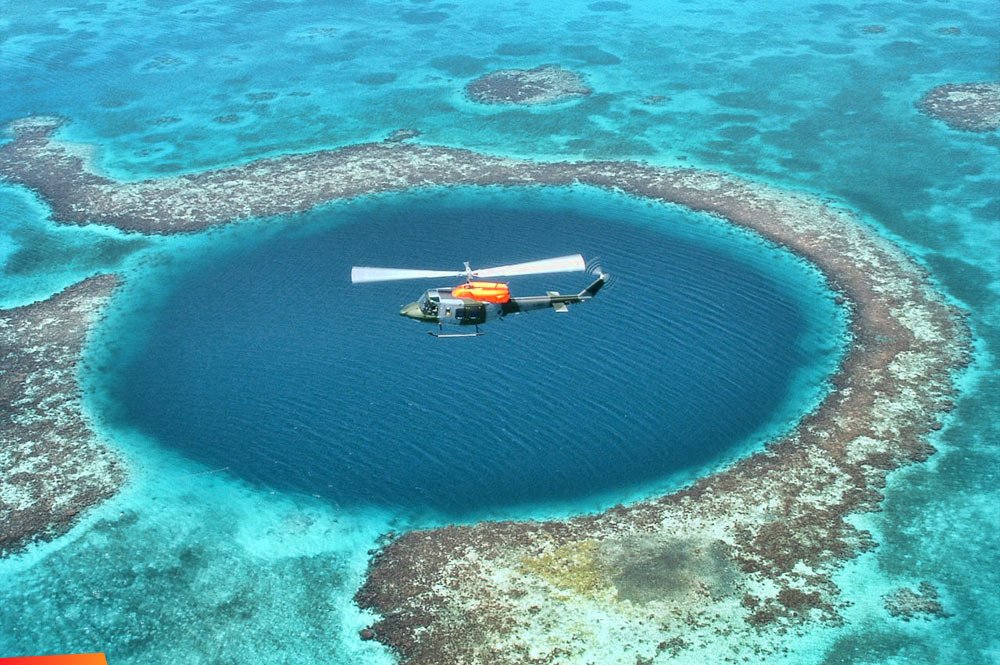 A list of deep dives will not be complete without the Great Blue Hole. This is a 100-meter wide and 124-meter deep sinkhole formed during the last ice age.
Below, you'll see majestic karst limestone formations with ledges that fall into the darkness of its depth. From above, the Great Blue Hole is very visible with its dark waters confirming its deep wonders. The visibility here ranges from 15 to 30 meters.
About 40 meters deep, you can see the stalagmites and stalactites. There are ancient caverns here that add to the mystic appeal of the dive spot.
Still, don't let its depth scare you. Below, you'll see nurse sharks, Caribbean reef sharks, and giant groupers. There are also giant tuna here aside from the pelagic species that you can't find on shallower waters.
To reach the Great Blue Hole, you have to ride a boat from San Pedro or Caye Caulker Island. The trip is about two hours away. Even if the hole is very deep, the water is crystal clear. If you're an experienced diver, a plunge at the Great Blue Hole is an unforgettable experience.
2. Key Largo, United States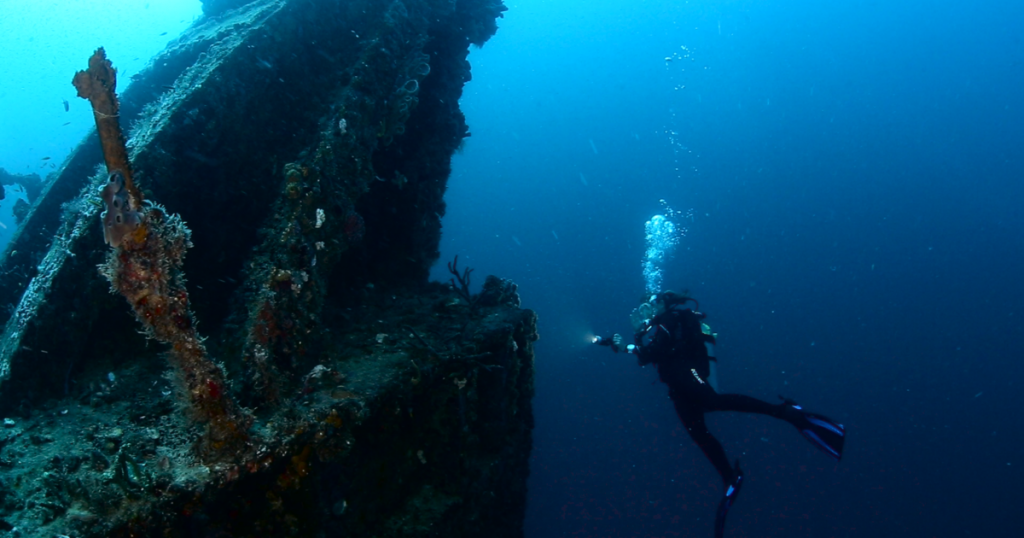 Florida is home to one of the most colorful and diverse dive sites in the United States. This dive spot is 55 meters deep with an amiable water temperature of around 70F.
The most popular attraction here is the Northern Light. It's a 300-foot long wreck together with the Spiegel Grove that sits shallower than the latter. The Northern Light freighter is beyond the recreational limits, which is why only a few divers can lay eyes on it.
The catch here is that the current on this dive site can be quite unpredictable. Divers have to follow a special dive technique (hot drop) to reach the wreck and avoid being swept by the strong currents.
Remember that the Northern Light Wreck is an intermediate dive spot. The good thing here is that the visibility of the wreck ranges from 100 to 150 feet.
On this dive spot, you can see barracudas, nurse sharks, pompano, snappers, and rays. The clear water also makes it very enjoyable to observe marine life during your plunge.
3. The Pit, Playa del Carmen, Mexico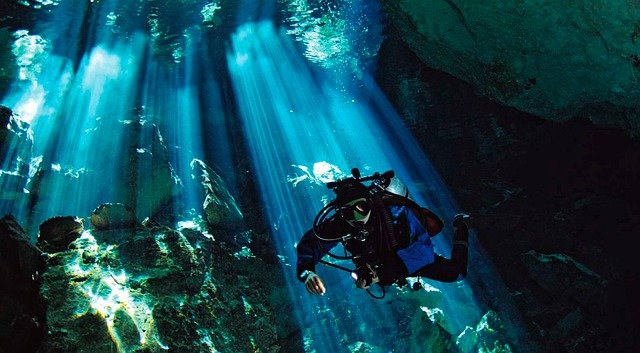 On the paradise of Playa del Carmen in Mexico, you'll find The Pit. It's a cave dive spot that ranges from 36 to 121 meters. This is a complicated cave system with a jump-off that leads to the mainline. If you plan to explore the entire cave, you need to be a full cave diver and use Trimix breathing gas.
In this cenote, divers aim to see the Wakulla room, it's a massive gut in the save system. If you're planning to dive on The Pit, don't expect anything to see within 100 feet. The magic only starts once you reach around 300 feet or 100 meters.
Many tec divers consider this a milestone dive. The narrow passageways require skill. But if you're skilled and brave enough, you can feast your eyes on the stalactites on the ceiling of the cenote as well as boulders that are as big as passenger buses.
Another spectacle to witness here is the beams of sunlight streaming through the openings of the cave. It's an unforgettable experience for every tec diver.
4. Utila, Honduras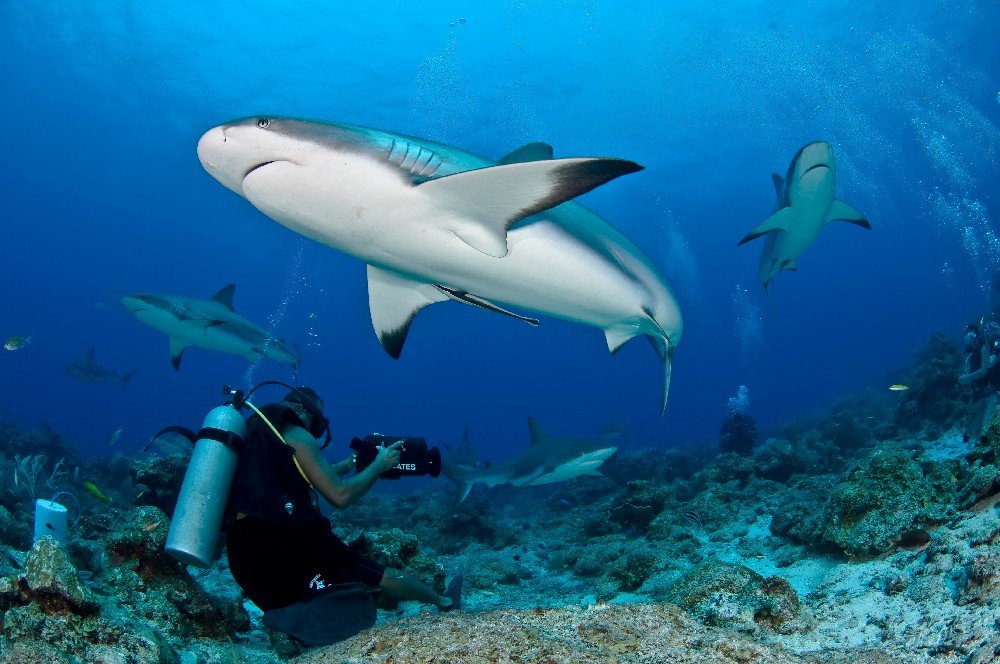 One of the most iconic dive spots in North America is CJ's Drop Off within the Turtle Harbor Marine Reserve. Here, you can descend to 300 meters.
For recreational divers, the limit is usually at 130 feet but tec divers can descend the entire depth with proper coordination with the locals.
At 100 meters and below, your eyes will be treated to big sand craters. Underwater, you can spot barracudas, sea turtles, moray eels, and eagle rays, among others.
During your ascent, you shouldn't miss watching the reefs below. At Utila, your journey up is as interesting as your descend. The shallow reef plateau is a sight to behold, including its colorful tube sponges and brain corals.
Aside from CJ's Drop Off, the bay island of Utila is surrounded by dozens of other dive sites. You should also consider The Maze, The Pinnacle, and the Blackish Point. On the other side of the island are dive spots like Little Bight, Big Rock, Utopia Village, and Ted's Point.
To go to Utila Island, you need to fly from Roatan or San Pedro Sula.
5. Sipadan, Malaysia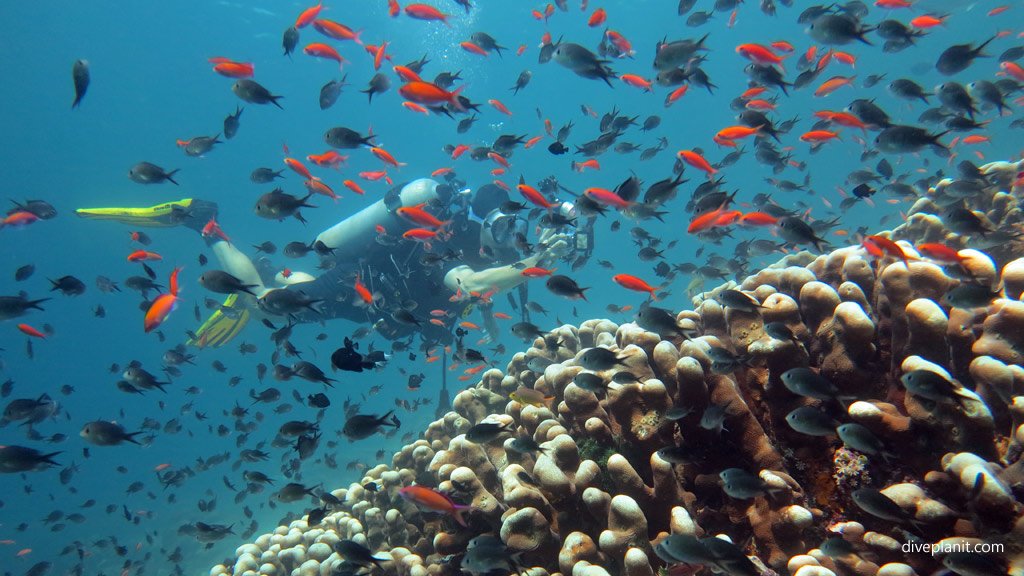 One of the best diving spots in Asia is located in Sipadan in Malaysia. This is an underwater paradise teeming with colorful fishes and coral formations. Underwater, there are cave systems that every tec diver aims to see. You can also spot sea turtles, dolphins, sharks, bright fish, and other schools of fish.
This dive spot is up to 40 meters deep or roughly 120 feet. If you're skilled enough, you can go deeper to the mid-reef where you can see pelagic species and other marine life you can't see on other dive sites.
Sipadan is an island off the coast of Malaysian Borneo. It's covered with rainforests, which is the prelude to its hidden natural wonders underwater.
Once you plunge, you'll be treated to a whole new world of marine ecosystems, including manta rays and silver jacks. The water here is warmer, but still comfortable even for long dives.
You can reach Sipadan by riding a ferry boat from Semporna Harbor. You can choose to reach from Sipadan from Kapalai Island or Mabul.
6. Fernando de Noronha, Brazil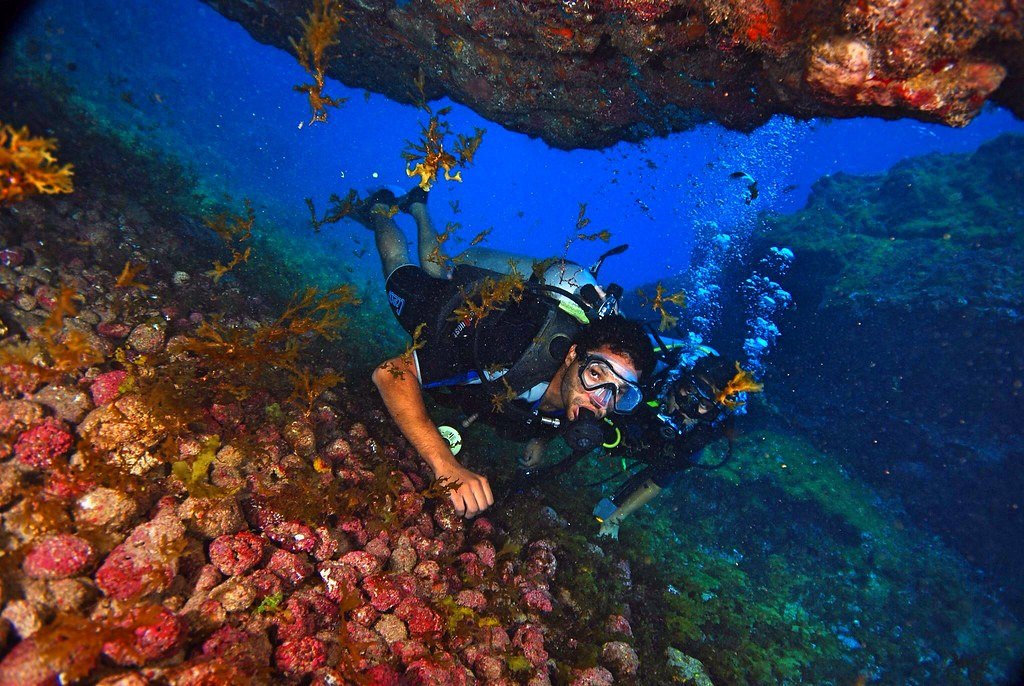 For those who are having a holiday in Brazil, a deep dive in Fernando de Noronha isn't one to miss for tec divers. This spot isn't overrun by divers and tourists yet so rest assured that you'll witness pristine marine life.
At 60 meters into the water, you can go for a wreck dive to see the famed Corveta Ipiranga. It's an underwater oasis where nature is starting to take its natural course. Another wreck here is the Eleane Stathatos, a Greek ship in Baia de Santo Antonio.
If you're planning to dive at Fernando de Noronha, the best time would be September and October.
Take note that entry to the island is very restricted that only a handful of tourists are allowed at a time. You should book your visit ahead to get a decent date for the best diving experience.
Aside from its diverse marine life, you should also enjoy the beach experience on the almost untouched shores of Fernando de Noronha. It's a good thing if you want to dodge the crowds.
7. Red Sea, Egypt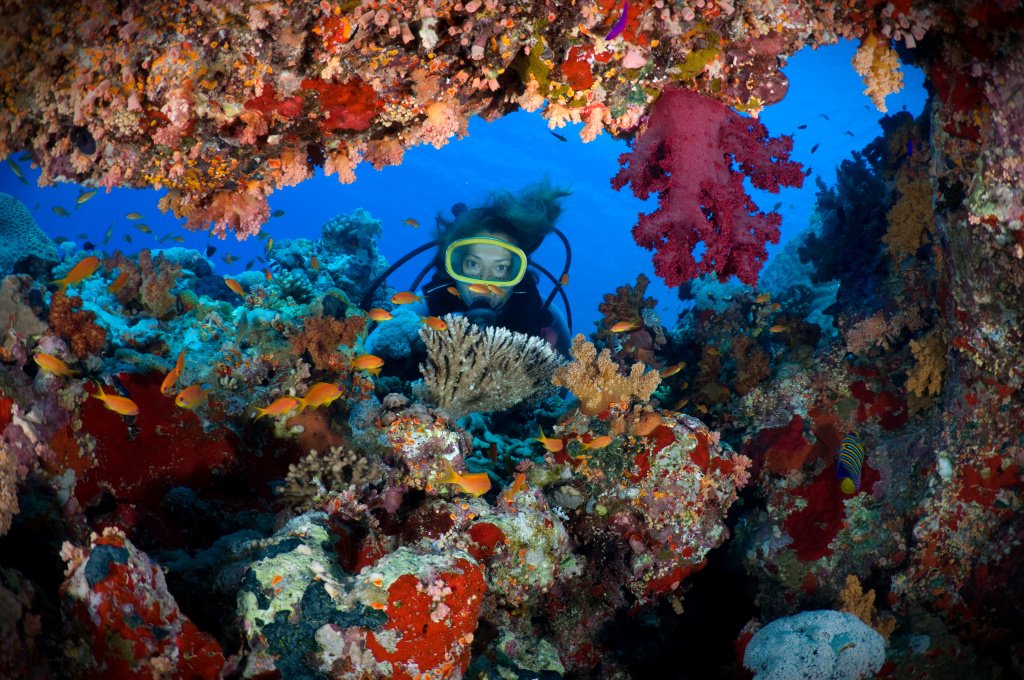 The Red Sea is probably one of the most popular seas in the world. Aside from the alga that makes its waters turn brownish-red, the Red Sea is also home to many wreck spots.
The most popular here is SS Thistlegorm which can be reached about three hours away from the Sinai Peninsula. This British transport ship lies 30 meters deep and spans a colossal 128 meters underwater.
There are regular dive group tours here where they get to see the wreck up close.
Another highlight of the Red Sea dive is its colorful coral reefs. You should try the Elphinstone Reef, which is reachable from Marsa Alam. This reef is 300 meters long with strong currents often discouraging divers from pursuing its depths.
Moreover, you can head to the Jackson Reef to witness its coral garden. At 28 meters, you'll get to spot a rare red anemone. For beginners, there are shallower parts that also offer a visual feast of marine life.
The Red Sea isn't the easiest dive spot, but courage is surely worth it.
8. Blue Corner, Palau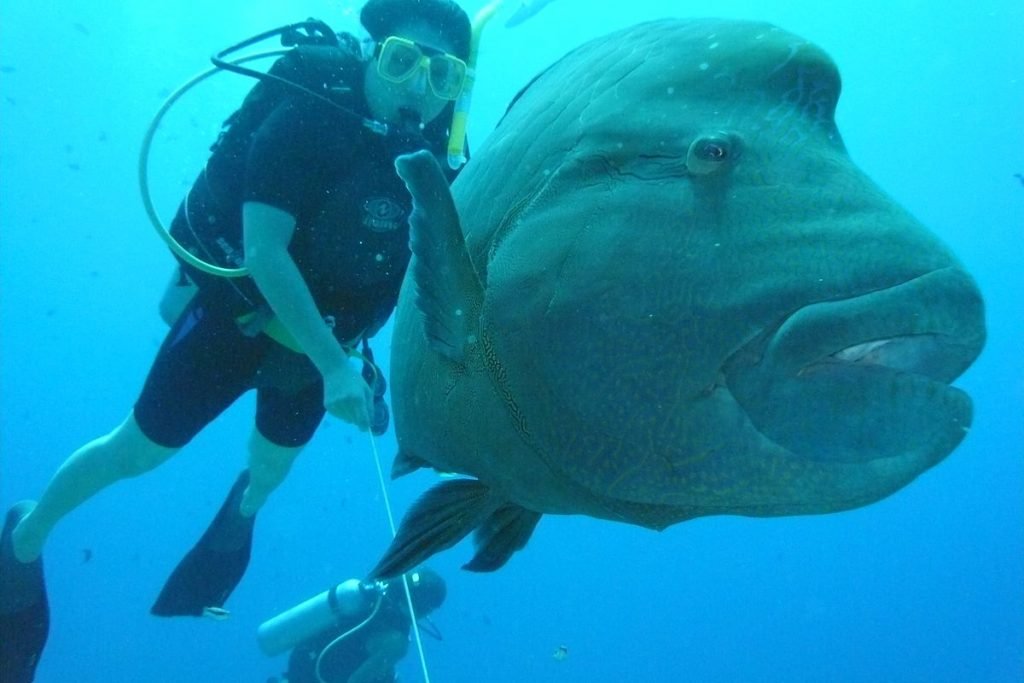 Cradled in the beauty of Micronesia is the Blue Corner, a popular dive spot in Palau. It's a place where screensavers are shot, thanks to its scenic aerial and underwater vistas.
The most famed spot here is the Blue Corner Wall which is home to reef sharks and large schools of big eye jacks among others.
Another highlight of this place is its colonies of gorgonian sea whips and soft corals that form canyons. This is also the favorite spot of huge tunas, bass, eagle rays, and even hawksbill turtles. If you're lucky, you can spot blue red-toothed triggerfish that can grow up to half a meter.
The Blue Corner Wall is about 30 meters deep with stellar visibility of up to 40 meters. This is just an hour away from Koror and can be reached through a boat ride.
If you're aching to see sharks, the Blue Corner is the place to be. Just remember that this is a challenging dive fit only for experienced divers. The current can be pretty strong too, even when the weather is good.
9. Tubbataha, Palawan, Philippines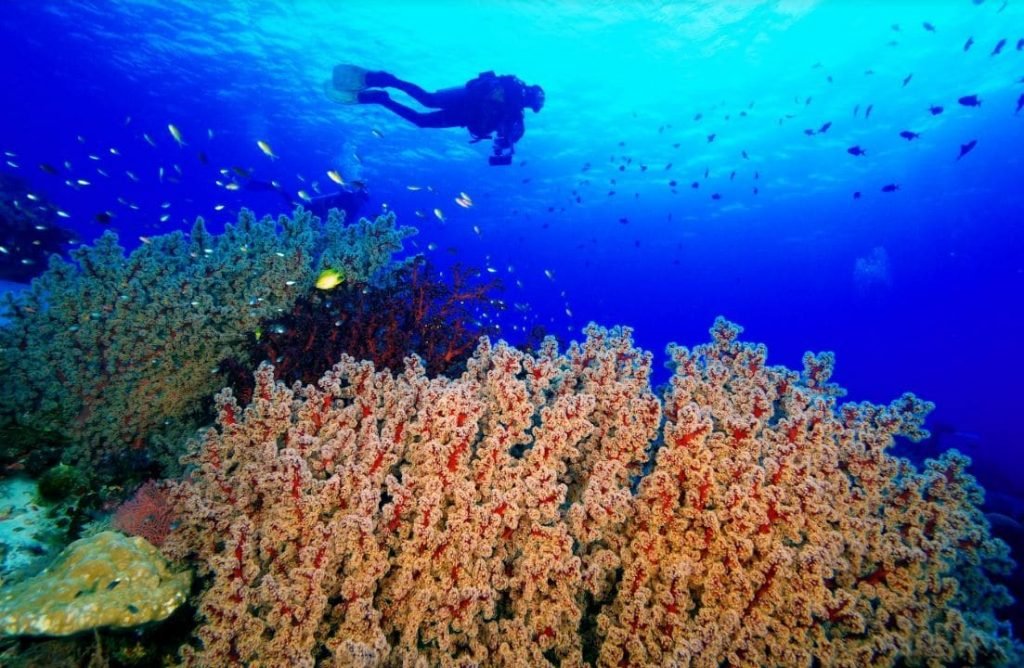 Dreaming of diving at the Tubbataha Reef? If so, you should head to Palawan in the Philippines. It's an airplane ride away from the capital Manila. From Puerto Princesa, the capital of Palawan, you can hop on liveaboard trips to reach the dive spot.
The travel is all worth it as you can plunge into the supersized dive spot with over 300 types of corals and more than 350 species of marine creatures.
Underwater, the Tubbataha is a kaleidoscope world of swimming fishes, swaying corals, and clear water. It's home to nurse sharks, guitar sharks, blacktip reef sharks, lagoon rays, scorpionfish, and a lot more. A day isn't enough to ID all of the stunning marine life here.
Take note that the Tubbataha dive can be as deep as 60 meters with visibility of up to 45 meters under ideal conditions.
If you're expecting the big stuff, the Tubbataha dive won't disappoint. Aside from that, Palawan itself is blessed with so many natural wonders above and under the water.
10. Bloody Bay Wall, Cayman Islands
If you're looking for the extreme, the Bloody Bay Wall dive in Little Cayman is probably the plunge you're looking for. This spot is an abyss of water that's more than a thousand meters deep.
Words aren't enough to describe the paradise that is the Cayman Islands. But you haven't seen it all unless you are brave and skilled enough to plunge into the Bloody Bay.
At the shallow depths, you'll be welcomed with a colorful palette of sea sponges. When you go deeper, you'll see queen triggerfish, yellow coney, silver-sided jacks, and a lot more.
Moreover, the Bloody Bay Wall is so massive that it consists of dozens of dive sites on its stretch. The Three Fathom Wall is the first one and is also one of the shallowest.
If you want to witness the best fish action, Marilyn's Cutis is the best dive spot. Here, a school of 15-pound Nassau groupers will put a show for you.
For a deeper spot, Randy's Gazebo is a good choice. It's famous among underwater photographers and tec divers.
---
Conclusion
The best place for deep sea diving isn't only bottomless, but also teeming with diverse marine life. The 10 places here won't disappoint, no matter what underwater glory you're looking for. Just make sure that you're trained and experienced enough for the deep blue plunge.