Cozumel is a wonderland for every diver. It boasts of breathtaking sceneries and blue waters. However, the real deal happens beneath the surface. This underdeveloped Mexican island is home to towering corals, abundant marine life, and shipwrecks. And if you want to discover all these, you might as well book with the best dive shops in Cozumel.
Scuba diving in Cozumel never gets tiring. There's no bad time to go for a dive, not to mention that the island has over 20 sites to explore. The place is also dotted with dozens of dive shops and dive centers that offer the best experience for every visiting diver.
When is the Best Time to Dive in Cozumel?
All year long, Cozumel is open for divers. It's situated in a strategic spot in the Caribbean, so the water temperature plays between 78F to 82F most of the year. During winter, it's only slightly cool at less than 2 or 3 degrees.
For beginners, it's best to avoid seasonal changes as the current can be pretty strong at this period. But if you're skilled enough, the strong currents will guarantee eagle rays and shark sightings.
If you want to avoid large crowds, you can time your visit from May to September. The water during these months is warmer, and the current is usually calm.
Overall, Cozumel is an excellent diving destination all year long. Given that there's no weather disturbance, you'll surely enjoy an exciting dive with the right dive shop.
---
10 Best Dive Shops in Cozumel
If you're planning a visit to Cozumel, you should consider the 10 dive shops and centers I reviewed here.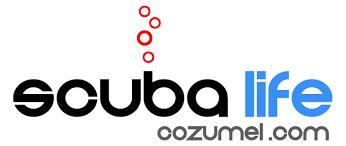 If there's one dive center you shouldn't miss on the island, it would be the Scuba Life Cozumel. They provide diving certification, diving trips, snorkeling trips, and private charters.
Scuba Life Cozumel is a PADI 5-Star Dive Center and a member of the Divers Alert Network. They are also an AWARE Partner, which is part of the pledge to care for the environment. On top of that, they were recognized as Tripadvisor's Traveler's Choice of 2020.
So far, Scuba Life Cozumel has conducted 3,500+ dives and certified 247 divers. They've also visited over 35 dive spots all over the island.
Unlike other dive operators on the island, Scuba Life Cozumel has an actual storefront. Their divemasters and captains are also bilingual, which makes it easier to communicate.
Scuba Life also provides gear rentals and group dives for a very reasonable cost. Back in 2019, they only charge US$500 for a group of 3, which is already inclusive of gear rental.
Contact info: +52 987 118 8226 | info@scubalifecozumel.com
---
If you want to get certified and enjoy diving at the same time, you can consider booking at the ScubaTony Cozumel. They have two small boats that can carry 6 divers at once. They also offer small group dives to ensure that each visitor will have a great time.
Aside from that, they offer both SSI and PADI certifications. Whether it's Open Water or Advanced, they are duly certified to provide the training.
One thing that I really like about ScubaTony is its boat diving service. For as low as $90, you can dive into one of the most stunning spots in Cozumel. The charter boat only costs $500 and is reserved for your group only.
You can also avail of their Twilight 2-Tank Dive. The first five would be when the sun is low, followed by another once the sun is setting.
Aside from renting gears, you can also buy your own if you wish. They have Aqualung BCD, regulator, and dive computers available from $240 to $430.
Contact info: +1 469-361-6573 | adam@scubatony.com
---

Cozumel H2O might be a small dive shop than the first two, but it doesn't mean you won't have fun just the same. The people behind the shop are close friends who share the same passion for diving. They offer both dive certification and guided dive trips for a low price.
One of my favorites is their night dives, which only costs $60 per person, regardless if it's from the shore or from a boat.
Aside from that, they offer free dives at Maracaibo, Devil's Throat, and Barracuda spots. You just have to take a few paid dives with them so that they can assess your skill level. These Cozumel dive sites are reserved for skilled and advanced divers due to the waters' challenging nature.
For regular dives, you'll pay $85, which already includes two tanks, a marine park fee, and snacks. You'll have to rent the other gears, which are still very affordable at around $10 to $12 each.
You can also book the Passion Island + Scuba Diving package. This includes a one tank dive in a shallow wreck as well as snacks and a short stay in the Passion Island beach.
Contact info: +52 1 987 876 2021 | info@cozumelh2o.com
---

If you're planning to stay in Cozumel's southern part, the most convenient option for a dive shop is ScubaLuis. They do pick up and drop off on the nearest pier from your hotel. There's no need to travel all the way to their shop.
Another thing I like about ScubaLuis is their hassle-free dive. If you book with them for 2 or more days, they will take care of your gear. They will wash it every dive and store it in their special storage in the shop.
They only take a maximum of 6 divers per plunge to ensure that everyone will enjoy it. You can personalize and choose the dive spots you want to visit.
ScubaLuis is one of TripAdvisor's Traveler's Choice 2020. This says a lot about the quality of their service and expertise in diving.
Luis, the dive shop owner, used to be a divemaster in ScubaTony for 5 years until he started his own business. He will be the one to take you to the dive site, which guarantees a personalized approach.
Contact info: +52 (987) 564-3335 | luis@scubaluis.com
---
From diving certification to boat diving, you can count on Blue Project Cozumel. They have the dive boat called Odysea, which has been refurbished and rebuilt to ensure its dive worthiness. It's also designed to accommodate divers comfortably, even with all the gears on.
Maya is the licensed captain of the boat, and he guarantees safe cruising on every single trip. Meanwhile, they have Blanca, Sandy, and Marian as dive instructors and guides.
You can choose from their six dive packages, which can be individual or group trips. For their basic two-tank dive, you only have to pay $90. They also have a Twilight/Night dive for just $100. And depending on the season, they can also offer an exclusive night dive.
For their group dives, they accommodate five divers at a time. All of the dives are under $100 per person, which is already a steal. You can also rent all the gears from them. You can opt for a full set or per piece.
Contact info: +52 987 105 3027 | dive@blueprojectcozumel.com
---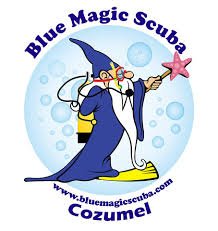 Blue Magic Cozumel offers a unique Valet Dive Service. With this service, they will be the ones to prepare your gear, help you set up, and they will wash it after the dive. That way, you no longer have to experience any hassle. The best part is that they offer this at no extra cost.
Also, this dive shop is located strategically only two blocks away from the ferry. They also have four boats that can accommodate as many as 10 divers at a time.
So far, the Blue Magic Cozumel has achieved the PADI 5-Star Instructor Development Center status. Only a few dive shops in Cozumel have this certification, which says a lot about Blue Magic's expertise.
Dive packages here at Blue Magic Cozumel start at $90 for two tanks. You can also opt for a 3-day package, which includes 6 dives for only $260. And if you have the budget, you can charter a private boat for your group.
Contact info: 1-866-712-6161 | godive@bluemagicscuba.com
---
CozuDive was founded in 2017 by Alvaro and Marilyn. They are both PADI-certified divers who will take you to secret spots that other dive shops don't always offer.
If you want to save some time, you can book CozuDive's Dive & Sleep package. When you book a dive, they can also book your accommodation at Villa Blanca Hotel, located right across the ocean. Nevertheless, they also have standalone dive packages starting at $85.
For those who are planning to take a vacation, you can opt for the 6-day package, which costs $75 per day. They also offer full equipment rental for just $20 a day. Just note that they require at least three divers on afternoon trips. It's something to keep in mind if you're flying solo.
The good thing about CozuDive is they keep group dives small. Only four divers at a time will be guided for a group tour to ensure the safety and enjoyment of everybody.
Contact info: +52 987 114 4970 | info@cozudive.com
---
Scuba XOC offers both guided dives and PADI certifications. They offer two-tank boat dives from 9 am to 2:30 pm. So if you're planning for a night dive, you need to consider the other dive shops on this list.
They only take a maximum of 6 divers per trip for a personalized approach. They also full gear rental, which follows a strict schedule. If you're booking a dive with them, make sure that you also book the gears to prevent problems on the day of the dive.
Both the captain and the divemaster are very helpful, and they will ensure that all the divers are enjoying. They also offer a concierge service, so you only have to think of the actual dive.
The best thing is that Scuba XOC gives back to its community by promoting and funding dive training. They are also dedicated to reef protection and conservation.
Contact info: +1 866-455-8800
---
Do you want to experience cenote diving? If so, you should book your dive with the Maple Leaf Scuba. Aside from that, they can also take you to Wild Bull Shark Diving. It's a one-of-a-kind experience for those who are looking for the underwater thrill.
You can also get your training and PADI certification from them. Aside from basic certifications, they also offer specialty diving courses, including Master Scuba and Nitrox.
Maple Leaf Scuba has partner hotels so that you can book a dive/hotel package with them. These are Casa Mexicana, Suites Bahia, Suites Colonial, Hotel Cozumel & Resort, and B&B Caribo.
Guided dives with Maple Leaf Scuba start at $80. If you're boat diving, the base price is $150, including a tank, weight belt, weights, and snacks. You can rent the rest of the gear in their own shop.
Contact info: +52 (987) 101-5019 | info@mapleleafscuba.com
---
When you dive with Ray Diving Cozumel, you're not just another diver. They will consider you as a buddy. They offer a personalized approach by limiting each tour to four divers. This guarantees the best experience, unlike going with a group of 8 or 10.
For as low as $60, you can go for a night dive. For two-tank dives, the fee would be $85, with a minimum of two divers on every trip. The price already includes the tanks, park fee, weights, and nice snacks.
If you're a skilled diver, you should definitely book their Special Dive. This is a $90 package that brings you to The Cathedral and Devil's Throat, two of Cozumel's most challenging dive spots.
Contact info: +52 1(987) 873 99 69 | info@raydiving.net
---
Final Words
Diving in Cozumel is a fun-filled experience. It will become more exciting if you know the best dive shops in Cozumel to contact. The 10 options I listed and reviewed above are some of the finest and tested dive centers and shops you can find on the island. Most of all, they offer competitive rates for everyone to afford.