Dive computers are one of the most important gears for deep and technical divers. Unlike typical dive watches, dive computers are used to measure underwater time, depth, pressure, and other algorithms. Without this, you're stuck in manipulating manual gears that will take time and much less efficient. You should get the best dive computer for the money so you'll dive safely and confidently.
DIVE COMPUTER
BRAND
EXPERT RATING
CHECK PRICE
Cressi Leonardo Diving Computer

Check Price

Mares Puck Pro Dive Computer

Check Price

SUUNTO Zoop Novo
Diving Computer

Check Price
Dive computers aren't made equal. Many newbie divers fall prey on the looks of the computer only to discover that it has disappointing features. Below, we discuss a buying guide together with three of the best options in the market.
---
When is a dive computer necessary?
Divers getting certified for advanced diving courses will be required to have a dive computer. Although some divers can live without it, deeper and technical dives are best done with it. Dive computers can be potentially life-saving due to the following functions:
Dive table
Decompression stops
Deep stop parameters
Ascent rate
Dive log
Nitrox mix calculation
Programmable algorithms
Bar graphs
Air time remaining
Alarms
A personal dive computer (PDC) has more features that may not be listed here. What matters most is that you get the right unit that suits your diving needs.
Overall, using a dive computer is a matter of safety. Dive computers are more accurate than dive watches alone. Also, you can program the device and choose your algorithm. It allows better personalization for a true plan for your plunge.
---
Reasons why you should use a dive computer
It helps monitor your ascent
The ascent rate of a diver is very critical. Going too fast can lead to barotrauma, a condition that can be deadly within minutes. It's easy to miscalculate your ascent rate without the definitive guide of a dive computer.
Instead of relying on old methods, a dive computer will easily and instantly monitor your ascent. An ascent rate of faster than 10 meters per minute will trigger the computer to send a sound alarm. Some dive computers will inform you to stop if you're faster than 12 meters per minute.
It keeps you safe
There are computer dives that lock you out after logging a specific dive number or dive minutes. This prevents the adverse effects of underwater pressure from ruining your body.
Without your personal dive computer, you simply can't go on a deep dive. That's how effective and useful this device is.
Better navigation
Instead of relying on a separate analog compass, you can use a dive computer. It comes with a built-in compass inside for better navigation. With this device, you can easily get back to your boat.
Thanks to its digital display, it's easier to identify where you are underwater. You can still use an analog compass together with a dive computer. 
It's compatible with your PC
Another great benefit of using dive computers is you can connect the wrist dive computer into an actual PC. Some are also equipped with smartphone connectivity. You can transfer the data from your dive watch into your PC so you can free up more space for your next dive.
This way, you can log your dive records permanently. It's helpful in comparing your statistics.
---
[Buying Guide] Top Dive Computer for the Money
Are you looking for the best dive computers money can buy? Here are some of the things you should look for:
-Decide how much you're willing to spend
First things first: decide how much you're willing to shell out for your personal dive computer. Dive computers nowadays range from $150 to $2,000+. You don't have to spend a fortune on this gear. However, if eyeing excellent features, be prepared to spend more than just a few hundreds.
Professional and serious divers would purchase top-shelf dive computers. These are more durable and packed with features. Also, expensive ones have more algorithms and customizable settings for challenging dives.
-Choose an algorithm you understand
When it comes to dive computer algorithms, you can choose from two types: liberal and conservative. You can trust both algorithms. Contrary to some beliefs, there's no solid proof that less conservative algorithms will cause the bends. Remember that both of these algorithms are made to prevent decompression sickness (DCS).
Usually, a fit and young diver will prefer a more liberal or more adjustable algorithm that allows the most dive time. However, if you're not as fit and as young as you used to be, a more conservative algorithm is the better choice.
However, the challenge here is this: what if my fellow divers are using liberal algorithms while I'm at a conservative setting? The key here is communication and coordination. Just make sure that the algorithm you'll be using is suitable for your dive style.
-Opt for one with air system integration
If you are to purchase a dive computer, we recommend getting a model with air system integration. Such a PDC will let you connect to your air system, including your air supply and regulator. This will let your track the air time remaining while making accurate calculations.
However, a dive computer with an air integration system usually costs more. Still, it's a worthy splurge if you're a professional diver.
-Look for the essentials
If you're a recreational diver, you'll get by with simple features like a depth gauge, compass, and decompression guides. As you go deeper and longer underwater, the more features you'll need.
If you're willing to splurge, you might as well look for a dive log, ascent rate monitor, Nitrox monitor, alarms, backlight, alerts, depth, time, and more.
-Check for accuracy
Accuracy is very critical in the best dive computers. A model that gives false readings will put you in direct harm. It's best to purchase from a reputable brand and a model that has been tested by many divers.
No matter how skilled a diver you are, an error in your dive computer can lead to a catastrophe.
-Opt for a wrist model
We always recommend a dive computer you can wear on your wrist. It allows hands-free operation as well as ease of use. The good thing here is that the computer stays intact on your wrist.
---
Best Dive Computers Reviewed – Top 3!
#1 CHOICE: Cressi Leonardo
Cressi Leonardo Diving Computer
Product Name: Cressi Leonardo Diving Computer
Product Description: If you're looking for a great dive computer that will give you value for money, you'll never go wrong with the Cressi Leonardo Dive Computer. Cressi is a recognized brand in scuba diving and has been creating dive computers since 1946. This specific model can be used in Gauge, Nitrox, and Air modes. Its screen is lit and has large displays for easy reading. You can also make FO2 adjustments between 21% and 50% as well as PO2 of 1.2 bar to 1.6 bar. We also like that it has an actual depth reading as well as a maximum depth setting.
Accuracy

Features

Ease of Use

Value for Money
Summary
Aside from that, this dive computer has an oxygen toxicity indicator, audible alarms, deep stop function, imperial/metric measurements, and PC-enabled connectivity. Its data acquisition frequency is 20 seconds.
The face of this dive computer shows visual alarms on its high-contrast letters and digits. And for your convenience, it has a one-button operation that you can use even with gloves on.
Moreover, this has an estimated battery life of 2 years in a dive frequency of 50 annual dives. 
The bonus part here is that the watch is available in different strap colors. 
Pros
✔️A mid-priced dive computer with great features
✔️Large display
✔️One-button operation
Cons
❌No secondary time (chronograph)
---
RUNNERS-UP:

Mares Puck Pro Dive Computer
Another dive computer that we swear by is the Mares Puck Pro. It has a fully functional system with a Nitro and Air mode. It's also equipped with an ascent rate indicator for safe dives.
The Mares dive computer is pretty straightforward with a single-button operation. It can log 36 hours or up to 50 dives so you can retrieve your stats to compare it with your previous plunges.
Overall, this is a very intuitive dive computer that even newbie divers can get used to quickly. It has a larger display than the previous version plus a slimmer design for added comfort.
What we like the most about this dive computer are its upgradeable firmware and its multigas capability. It's packed with the basic features that you need without the complicated frills.
This is suitable for both fresh and saltwater. And once the power runs out, you can replace its batteries easily.
You'll get the best value on this dive computer. And since it's in the mid-range price, you'll not hurt your pocket for new gear.
PROS
✔️Upgradeable firmware
✔️Can log up to 50 dives
✔️Reasonable cost

CONS
❌Can be bulky for thin wrists

---
SUUNTO Zoop Novo Diving Computer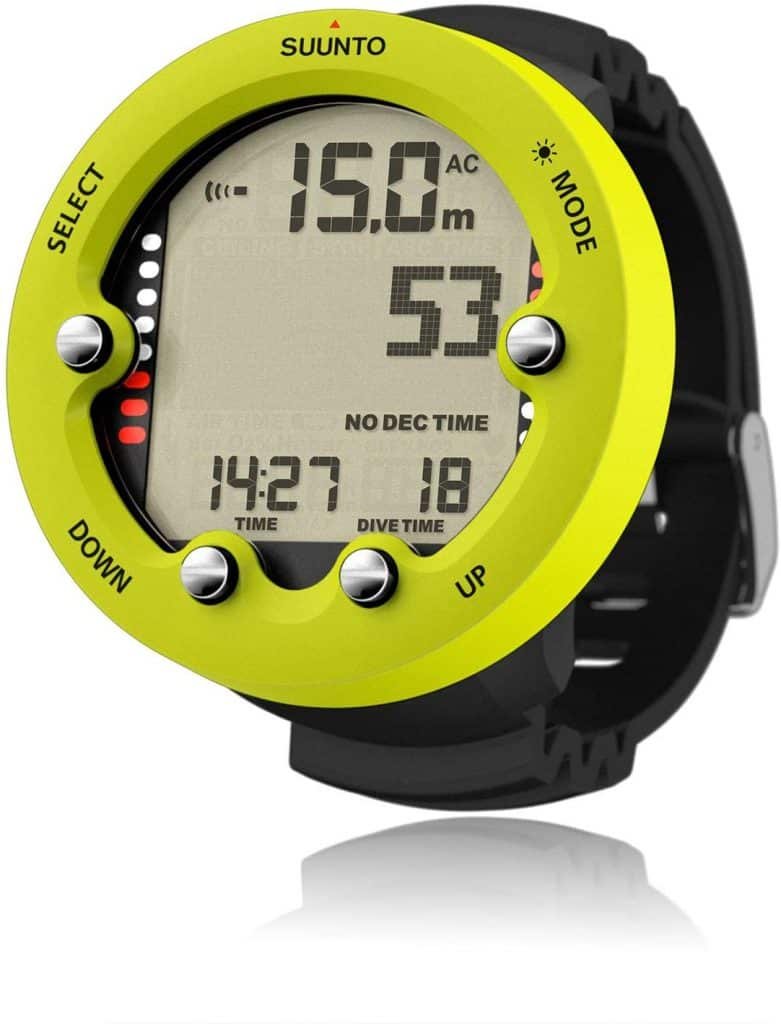 If you're willing to spend more money on a trusty dive computer, we recommend the SUUNTO Zoop Novo. This one has a matrix screen with large digits and bright contrast. There are four buttons on it too for easy and quick operation.
The highlight of this dive computer is it has five modes: Free, Air, Nitrox, Gauge, and Off. It's very straightforward and easy to master even for beginners.
This Finland-made dive computer can be connected to your PC with an optional USB cable. It's also compatible with SUUNTO's DM5 app.
Feature-wise, this has a built-in planner, full and continuous decompression algorithm (Suunto RGBM), and geo logs. Aside from that, it comes with an apnea timer for freedivers.
The SUUNTO Zoop Novo is a wise buy if you're looking for an advanced dive computer. It's programmed with alarms for the fast ascent, decompression violation, max depth, dive time, and deep stop violation.
Moreover, this dive computer can operate to temperatures between 32F and 104F. It also has a battery life of two years.
PROS
✔️Feature-packed dive computer
✔️Comprehensive alarm systems
✔️Connectivity to PC

---
Frequently Asked Questions
Q: Do dive computers have a compass?
A: An affordable dive computer only has basic functions like monitoring time and depth. For a more advanced unit, you can have a built-in compass, pressure gauge, air time remaining (ATR), PSI reading, and more.
Q: Is a computer dive expensive?
A: It depends on how much you're willing to spend. You can find affordable dive computers, though its features are only basic. If you want more advanced features, you should be willing to invest premium money.
Q: How long do dive computers last?
A: Most dive computers are long-lasting and can be used for 300 days if you're going to dive an hour a day. On average, dive computers should last at least 10 years if not more. Since this device isn't the cheapest dive gear, it should be durable enough to last long.
Q: How long will the battery of my dive computer last?
A: Usually, a dive computer will last for up to 50 dives before it needs to be recharged. Take note that some dive computers need a battery replacement when its power runs out. Overall, most manufacturers promise a two-year battery life for regular divers.
Q: Do I really need to get a dive computer?
A: If you're a deep diver or a technical diver, it's a must to have a personal dive computer. It allows you to monitor your dive even better. This can be an expensive device, but it sure makes your dive even better. Aside from getting a dive computer, you should also study it well before you take a plunge. If possible, take your dive computer on a shallow dive first.
---
Conclusion
The best computer for diving will let you dive with confidence. It's packed with features that you simply can't find on a typical dive watch. Just make sure that the unit is suitable for your dive style as well as your needs. Above, we reviewed three of the best models you can get in the market. Each one has its unique features that will prove useful for your next plunge. What do you think of these three dive watches? Let us know below in the comment section!