Aside from their gears, divers also bring one staple: sunscreen. Although they are submerged in water, direct sunlight can still cause damage to the skin, especially on the face. But before you smother a bottleful of sunscreen before the plunge, have you checked if it's reef safe? The best sunscreen for coral reefs will not just protect you from the UV rays, but it will also prevent coral damage due to synthetic chemicals.
SUNSCREEN
BRAND
EXPERT RATING
CHECK PRICE
All Good Sport Sunscreen

Check Price

Sun Bum SPF30 Reef-Friendly
Sunscreen

Check Price

Reef Repair Reef-Safe Sunscreen

Check Price

Kokua Sun Care Hawaiian
Reef-Safe Sunscreen

Check Price

TropicSport Mineral Sunscreen
Lotion

Check Price
---
What's with reef-safe sunscreens?
As you know, sunscreen products are made of various chemicals. The likes of octinoxate and oxybenzone are two of the sunscreen ingredients believed to worsen coral bleaching. Bleached corals aren't technically dead, but it's heavily damaged and will take decades to heal.
With this, Hawaii became the first U.S. state to ban the use and sale of sunscreen containing the two mentioned chemicals. This law will take effect by 2021.
Based on the data of the National Park Service, about 14,000 tons of sunscreen are dumped to coral reef each year. This is an accumulation of sunscreens used by tourists, locals, and divers.
Aside from octinoxate and oxybenzone, you should also avoid sunscreens with petrolatum or mineral oil as well as titanium dioxide. Mineral oil takes years to decompose while titanium dioxide doesn't decompose at all. While these chemicals linger on seawater and coral reefs, it becomes a direct threat to marine life as well as waterfowl.
Regardless if you're diving in Hawaii or not, it's worth switching to reef-safe sunscreens. Why wait for corals to get bleached before you make a move? A collective switch to reef-safe sunscreens ensures that the divers of the future will still see magnificent underwater life.
Also, as a responsible diver, it's your responsibility to preserve and protect the ocean. You can do this with the simple idea of using a reef-safe sunscreen.
---
The thing about high SPF sunscreen
According to Dr. Craig Downs of Haereticus Environmental Laboratory, using a high SPF sunscreen isn't always a good thing. It's packed with more chemicals, and thus will have more impact in the ocean. Dr. Downs said that high SPF sunscreen's benefits are quite overstated.
With this, Dr. Downs recommends that you stick with SPF 30 reef-safe sunscreens that have passed FDA's testing and guidelines. An FDA-approved SPF 30 will protect you against UV rays for 90 minutes then you'll have to re-apply it thereafter. Most dives will last for about 30 to 90 minutes, which is the same duration of protection of an SPF 30 sunscreen.
With this, you can do the ocean a favor by limiting the SPF of your sunscreens while observing the ingredients.
Aside from using sunscreen, you can also protect yourself from UV rays by wearing enough sunwear. When diving, you can slip on a wetsuit with a hood. This way, you can limit the exposure of your skin to harmful rays.
---
Best Sunscreen for Coral Reefs Buying Guide
The best sunblock for coral reefs is the one that protects you from harmful rays without endangering marine life. We recommend that you take the following points into account:
-Check the ingredients!
The first thing you have to check when purchasing a reef-safe sunscreen is its ingredients. Like what's mentioned above, you must avoid two ingredients: octinoxate and oxybenzone. These two chemicals are known to contribute to coral bleaching.
Make sure that your sunscreen is non-nano, which are larger and will not be absorbed by the corals. Also, it must be paraben-free and free of harsh chemicals that may trigger skin irritations. This brings us to another point: your personal sensitivities and allergies. Make sure that there are no chemicals in the sunscreen that will trigger your irritations.
-Select the right SPF
Aside from the ingredients, the next thing you have to check is the SPF level of the sunscreen. Basically, the higher the SPF, the longer the protection would be. However, as the SPF level increases, more chemicals are added to the sunscreen.
For most dives, we recommend an SPF 30 sunscreen. This can protect you for up to 90 minutes, which is the duration of most dives. If you will be exposed to sunlight beyond 90 minutes, feel free to re-apply the product.
-Look for a water-resistant formula
Since you're diving, you must look for a water-proof formula. That way, the sunscreen will not be washed away once you plunged in the water. Still, you have to be put it on at least 15 to 20 minutes before the dive to give the skin enough time to absorb the formula.
-Try to avoid excessive chemicals
As much as possible, avoid sunscreens with an unending list of chemicals that are hard to pronounce. The more chemicals there are in the sunscreen, the higher its impact will be on the ocean. If possible, look for an all-natural sunscreen.
-Ditch spray sunscreens
If you want a top sunscreen for coral reefs, forget about spray versions. About 30% of spray formulas don't get into your skin. Worse, you get to inhale it, and if the formula has nanoparticles, it can cause damages to your lungs, especially on repetitive exposure.
---
Best Sunscreens for Coral Reefs – Top 5 Options
#1 CHOICE: All Good Sport Sunscreen
OUR TOP PICK: All Good Sport Sunscreen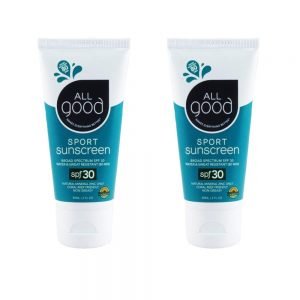 Product Name: All Good Sport Sunscreen
Product Description: If you're looking for the best sunscreen for coral reefs, you shouldn't hesitate with the All Good Sport Sunscreen. This formula has non-nano zinc oxide guaranteed to be safe for your skin and the corals. Aside from that, it's blended with extracts from calendula, rose hips, green tea, and olives to repair and nourish your skin. Moreover, the All Good Sunscreen has been third-party tested to be free of parabens and dangerous additives. Most of all, it doesn't have the dreaded oxybenzone and octinoxate.
Reef Safety

Formula Quality

Protection
Summary
This is a water-resistant formula that will keep you shielded from damaging rays for up to 80 minutes underwater. If you're not being submerged in water, this sunscreen can protect you for up to two hours!
We also like that this is a broad-spectrum formula, which means it protects against both UVA and UVB rays. It has SPF 30 and a non-greasy formula that dries and gets absorbed fast. 
Pros
✔️Infused with natural extracts
✔️Formulated with non-nano zinc oxide
✔️Broad-spectrum 
Cons
❌Possible breakouts for those with very sensitive skin
RUNNERS-UP:

Sun Bum SPF30 Reef-Friendly Sunscreen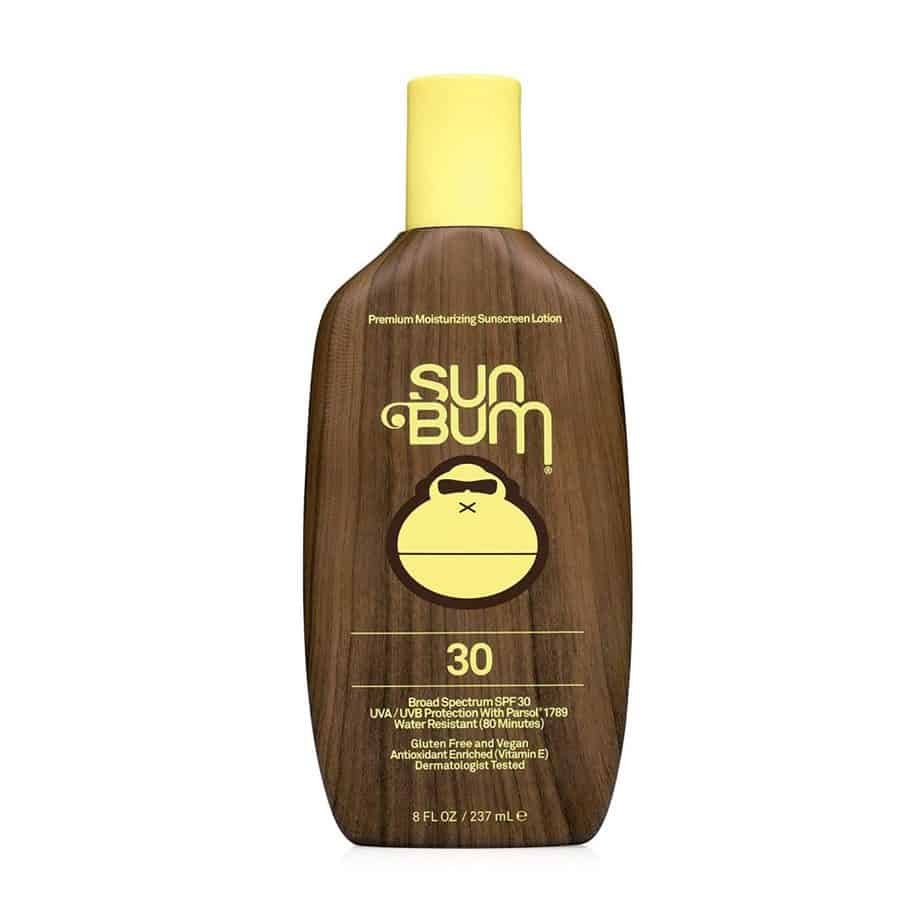 If you're looking for another option, why not try the Sun Bum Sunscreen? This one is dermatologist-approved to be a broad-spectrum formula that protects against UVA and UVB rays. It's also oil-free and infused with Vitamin E to help nourish your skin.
Aside from that, the Sun Bum has an SPF 30 protection that will shield you from sunlight for up to 80 minutes. This is also waterproof so rest assured that you will stay safe against the sun even if you're sweating or diving.
This is hypoallergenic and free of coral-damaging chemicals. It's also available in SPF 15, SPF 50, and SPF 70. Nevertheless, SPF 30 is more than enough to cover your entire dive.
The Sun Bum is even recommended by the Skin Cancer Foundation as protection against UV rays. All of its ingredients are skin and ocean-friendly for your peace of mind.
PROS
✔️Packed with Vitamin E
✔️80 minutes of protection while diving
✔️Recommended by the Skin Cancer Foundation

CONS
❌Avoid spreading it too thickly to prevent white streaks

---
Reef Repair Reef-Safe Sunscreen
Another sunscreen that we recommend is the one from Reef Repair. It's a broad-spectrum formula with SPF 50+ as well as water-resistant protection of up to an hour. This sunscreen cream is zinc oxide-based, a non-nano particle that's free from octinoxate and oxybenzone.
Moreover, this formula is free of titanium, dioxide, silicone, paraben, and other harsh substances. It's made gentle on the skin but tough against harmful rays. This is also a kid-safe formula so you and your little ones will enjoy the sea without having sunburns.
We also like that this is non-whitening and spreads evenly on the skin. It's not greasy or sticky, which is a big plus for a sunscreen formula.
Most of all, we really appreciate that this has an all-natural set of ingredients, which includes beeswax, coconut oil, avocado oil, shea butter, and more. So aside from protecting you for two hours against the sun, your skin is also well-nourished.
PROS
✔️Kid-safe formula
✔️All-natural formula
✔️Non-greasy formula

---
Kokua Sun Care Hawaiian Reef-Safe Sunscreen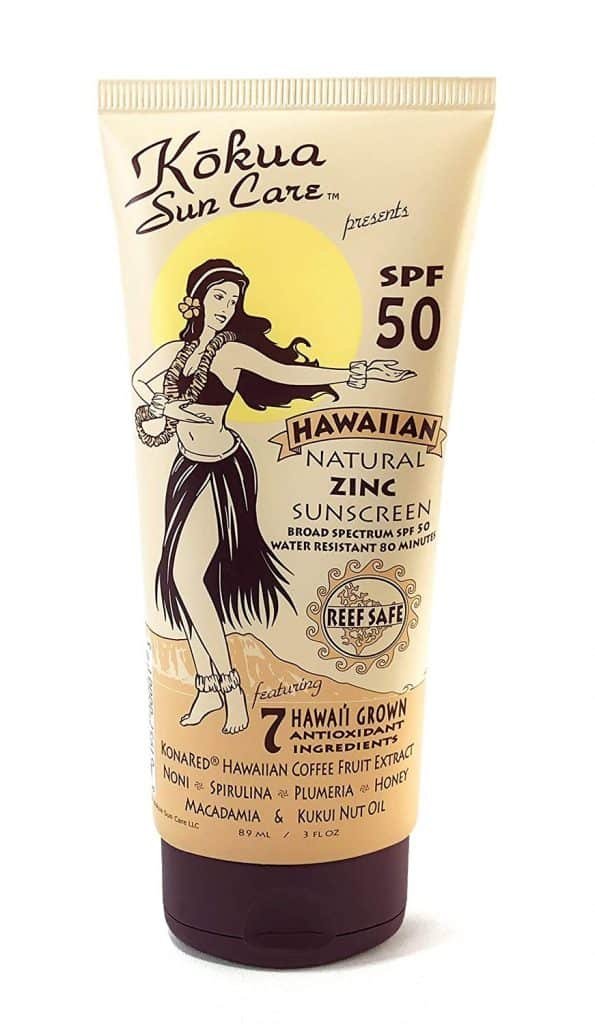 There's no better sunscreen than a product from Hawaii itself! The Kokua Sun Care Sunscreen is non-nano zinc oxide-based so it will not harm the corals. It's also a broad-spectrum formula that offers up to 80 minutes of protection against harmful rays when submerged underwater.
Also, this Kokua sunscreen is dubbed as the 'superfood' for your skin. It contains 23 antioxidants that help dispel free-radicals on your skin. This is infused with spirulina, macadamia nut oil, KonaRed coffee extracts, noni juice, and a lot of local Hawaiian ingredients.
This is also tested to be free of any the 30+ marine toxic ingredients that scientists identify to harm corals. Most of all, the Kokua formula meets the strictest national world standard as a 'Palau Reef Safe' product.
It's so safe that even toddlers can use this sunscreen. It can be used under your makeup as well!
PROS
✔️Packed with natural extracts
✔️Certified Palau Reef Safe
✔️Authentic Hawaiian formula

CONS
❌Tends to have a light white sheen, but not a biggie

---
TropicSport Mineral Sunscreen Lotion
Lastly, we recommend the TropicSport Mineral Sunscreen Lotion. This is free of avobenzone, oxybenzone, and octinoxate that harm corals. The TropicSport also passed the US FDA 80-minute test as well as Australia's 240-minute water-resistance test.
As a broad-spectrum formula, TropicSport will shield you against UVA and UVB rays. It also passed EWG tested and recorded very low hazard ranking as compared to other sunscreens in the market.
Aside from protecting your skin, it also has nourishing benefits, thanks to aloe, green tea, shea, macadamia, and other fruit extracts.
We only noticed that it runs a little thick, but it's something we can live with considering its reef-safe formula. Just let it sit for 20 minutes on your skin and you're good to go.
Lastly, we like to commend the bottle design that comes with a carabiner hole on top. With this, you can hook it to your scuba bag so you won't lose a bottle of sunscreen again.
PROS
✔️Up to 80 minutes of protection
✔️US FDA-certified
✔️EWG-passed

---
Frequently Asked Questions
Q: How will I know if my sunscreen is coral-safe?
A: The determiner whether your sunscreen is coral-safe or not is the ingredients. If the sunscreen has octinoxate and/or oxybenzone, it will be dangerous to the corals. These sunscreens are banned in Hawaii and will cause coral bleaching.
Q: Why is oxybenzone harmful to corals?
A: Oxybenzone is an active ingredient that converts UV rays into harmless heat once it reaches the skin. Octinoxate has the same effect. However, when these two chemicals reach the two corals, they will reduce the coral's defenses against harsh elements. This will cause DNA damage to the corals which will stymie their growth.
Q: Is the Banana Boat sunscreen coral-safe?
A: No. Lab tests showed that Banana Boat, along with brands like Coppertone and Tropicana, produces sunscreens with chemicals that damage reefs. You should consider getting reef-safe sunscreens like the five options we reviewed above.
Q: What are the side effects of oxybenzone to the skin?
A: Although rare, the chemical oxybenzone on sunscreens can cause rashes, skin irritations, acne breakouts, and inflammation of the hair follicles. Though this doesn't happen all the time, oxybenzone's effects on the corals are much worse and prevalent.
Q: Do I need to use sunscreen when diving?
A: If the location of the dive has intense sunlight, it's worth using a reef-safe sunscreen. This will protect your skin from UV rays that cause skin cancer. Just make sure that the ingredients of the sunscreen will not be damaging to corals.
---
Final words
A sunscreen for coral reefs isn't just a great way to protect your skin. By using this product, you're also doing Mother Nature a big favor.