Ahh, Paradise Island! An island of stunning white sand beaches, crystal clear turquoise waters, and spectacular coral reefs. It's the perfect destination for any scuba diver. Whether you're a beginner or an experienced expert in scuba diving, there is something here for everyone. Do you know what to expect when scuba diving on Paradise Island, Bahamas?
Not only do you discover underwater marvels like sponges and vibrant fish species, but you also experience thrills like diving with sharks. In this post, let's consider what to expect from a scuba diving adventure in Paradise Island, Bahamas. From where to stay and how to best approach the dive itself so that you can have the most incredible underwater experience possible.
Why are Bahamas A Good Place to Scuba Dive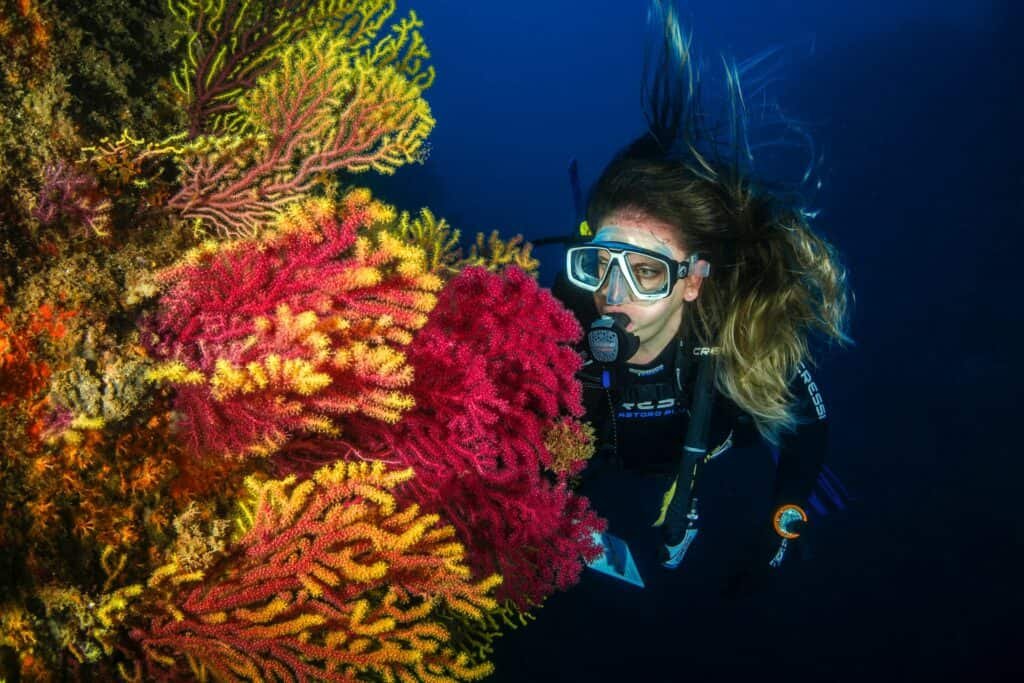 The Caribbean is well known as a paradise for scuba divers. With its crystal clear waters and vibrant coral reefs, the Bahamas should be at the top of any scuba diver's must-dive list. Here are some reasons the Bahamas is an ideal place to go scuba diving and what you can expect when diving there.
🤿Crystal Clear Waters 
The waters of the Bahamas are some of the clearest in the world, making it ideal for visibility when scuba diving. The average visibility in the waters around the Bahamas is between 30 to 100 feet, depending on where you dive and what time of year you visit. It means that if you go to dive trips like in Shark Wall, which has deep depths of up to 200ft, with a good quality camera and lights, you can capture stunning photos!
🤿The Marine Life 
One of the main draws for many divers is spotting marine life underwater. The abundance of fish inhabiting these coral reefs makes it an excellent spot for diving. You will encounter hundreds of tropical fish, including angelfish, parrotfish, clownfish, grouper, rays, and much more!
There are also huge schools of baitfish swimming around and turtles, sea cucumbers, and eels too! But beware because you may even spot a few friendly sharks swimming by!
In the Bahamas, you will be astounded by the number of sharks. There is no shortage here! From Caribbean reef sharks to hammerhead sharks and more, it's one of the most incredible places in this world for a shark encounter. Every corner of these islands teems with life beneath its glistening waters. If you're looking for an underwater adventure like no other, look no further than the stunning Bahamas.
Embarking on a journey to Bimini promises the opportunity of encountering great hammerheads. Cat Island is your destination if you're looking for an even more memorable experience! Here, divers can encounter majestic oceanic whitetips in their natural habitat. The spectacular Bahamas are also home to other shark species, such as lemon sharks, nurse sharks, black tips, tiger sharks, and bull sharks. Just another reason why it's worth visiting this beautiful place.
🤿The Dives Sites 
Dive sites abound around Nassau and on islands like Exuma Cays Land & Sea Park or Bimini Island. These sites offer something for every type of diver, from shallow reefs to deep dramatic walls with plenty of interesting sights. There are also plenty of wrecks to discover, such as those around Eleuthera Island or Norman's Cay, which provide fantastic opportunities for underwater photography or just exploring something different!
🤿Best Diving Conditions
Look no further than scuba diving in the Bahamas for unparalleled underwater visibility! Underwater depths rarely drop 25-30m (82-98 feet) below, while summer temperatures can soar to a balmy 31ºC (88ºF). During chillier months, you may need to don a wetsuit as the water temperature drops between 24-27°C (75 – 81°F).
Traveling to the Bahamas during December-April guarantees prime conditions for shark diving! As this is also the peak tourist season, it's ideal if you're looking to spot some of these majestic creatures.
If you're looking for a more serene vacation spot, summer may be the perfect time to explore since there is typically less rain and fewer crowds. Though hurricanes can occur from June-November, these storms are quite rare. Compared to the picturesque views beneath the sea, which remain unaffected by the weather on land, traveling during hurricane season should not be a deterrent when planning your getaway!
Nassau Paradise Island, Bahamas: What To Expect When Diving
If you're looking for a place to explore the wonders of the underwater world, look no further than Nassau Paradise Island in New Providence Island, Bahamas. This Caribbean hotspot is known for its thriving coral reefs and stunningly abundant fish life. Whether you're a novice scuba diver or an experienced ocean explorer, there is something here to enthrall you.
Let's take a closer look at what you can expect when diving in Nassau Paradise Island.
🦈Unforgettable Beaches 
Nassau Paradise Island features some of the most beautiful beaches in the world. From white sands to turquoise waters, you can almost see why people call it "Paradise." If you're new to diving, these beaches offer some of the best places to start your underwater adventure, as they are often shallow and provide plenty of opportunities to discover without going too deep.
🦈Stunning Sea Life 
Diving in Nassau Paradise Island is special because of its abundance of sea life. You will find everything from dolphins and sharks to coral reefs and starfish here. The diversity of marine life makes it an excellent spot for both beginners and experienced divers. If you're lucky, you may spot a rare species like the clown triggerfish or queen angelfish!
🦈Explore Wrecks 
For those who prefer exploring shipwrecks rather than coral reefs, Nassau Paradise Island has plenty to offer as well! Numerous wrecks scattered around the island have been submerged for hundreds of years.
Each wreck has its unique story and provides divers with a fantastic opportunity to uncover history while admiring some truly incredible underwater structures. Some of the most famous wrecks include The RMS Rhone (the largest on-site dive in the Caribbean).
🦈Safety First! 
Safety is always your number one priority, regardless of where you dive. Before heading out on your dive, ensure that everyone in your group follows all safety procedures properly. Also, it is vital to have a certified dive master with you at all times who can help ensure that everyone stays safe while enjoying their time underwater.
Other Diving Sites in the Bahamas
Most people know about the unique diving sites in Nassau, Bahamas. But did you know that there are some incredible dive spots beyond Nassau? There is something for everyone, from underwater caves and wrecks to shallow reefs and coral gardens.
🌊Exumas
The Exumas is a stunning archipelago of 365 islands in the southern Bahamas. The waters here are ideal for scuba diving, especially around the shallow reefs and coral gardens which offer plenty of marine life to observe.
Currents are mostly minimal around the Exumas. For novice divers, the shallow reefs and wrecks make this location perfect for your first foray beneath the waves. Experienced explorers will find an exhilarating challenge in drift dives with their thrilling swim-throughs!
🌊James Bond Wreck, Nassau
As the cinematic saga of James Bond continues with its latest installment, "Spectre," let us reflect on Nassau's place as "Underwater Hollywood" for several Bond films. Dive off New Providence's southwestern end and discover two iconic sites: the Vulcan Bomber from 1965 classic "Thunderball," and the Tears of Allah shipwreck featured in the 1983 movie "Never Say Never Again." Experience your cinematic history while diving into these famous film locations!
Sean Connery brought his signature suave to the classic films, yet divers can experience much more than a cinematic journey at these sites. With 40 feet (12 m) of crystal clear waters full of coral growth and an abundance of marine life, photographers and videographers have endless opportunities for capturing stunning images. Dive in because you won't regret it!
🌊The Exumas Cays Land and Sea Park 
The Exumas Cays Land and Sea Park are among the most stunning diving sites in the Bahamas, located between the Great Exuma and Little Exuma islands. The park offers pristine white sand beaches, crystal clear waters, an abundance of marine life, and some of the best reefs in the region.
You can explore colorful corals, sponges, sea fans, and gorgonians while keeping your eyes peeled for spotted eagle rays, turtles, moray eels, and schools of reef fish. It's a great place for both experienced divers as well as beginners!
🌊Tiger Beach
Tiger Beach is one of the most famous and popular diving sites in the Bahamas. Located off the coast of Grand Bahama Island, it's known for its crystal clear blue waters and diverse marine life. The site is home to a variety of large fish, from reef sharks such as Caribbean reef sharks, lemon sharks, and tiger sharks, to large manta rays, turtles, and dolphins.
The dive site is also known for its famous sandbar. It is a shallow area of white sand surrounded by coral-filled waters best for snorkeling and scuba diving. Whether you're looking for an adrenaline rush or just some beautiful underwater scenery, Tiger Beach is a great spot to explore the remarkable marine life of the Bahamas.
Divers will drift along the sandy ocean floor between depths of 20-50ft accompanied by a dive guide, and you may encounter sharks within minutes!
🌊Runway Wall
If you're looking for an epic dive spot, Runway Wall is it. Located off the coast of Nassau, this wall drops to depths of over 200 feet (60 m). With the reef wall serving as a runway for shark feeding, thus the name implies Runway Wall.
The dive site offers plenty of highlights, including schools of fish, colorful coral gardens, and various wrecks. Advanced divers can even discover the deeper parts of the wall to experience a unique view from below!
🌊Dean's Blue Hole
For experienced divers, the Blue Hole is a must-see when visiting The Bahamas – it's even been named one of the top three dive spots in Nassau! Located approximately nine miles east of the eastern tip of Nassau, this site provides an unforgettable experience.
As you descend into the blue holes, prepare to be awestruck by gorgeous coral heads of varying sizes and an abundance of tropical fish. The rock formations will fascinate you as soon as your journey begins! If you're lucky, during this dive, you may even spot turtles, stingrays, or perhaps the occasional shark, particularly between July and early August, which is when silky sharks arrive for their mating season.
🌊Current Cut
For those looking for a bit of an adrenaline rush, Current Cut is the perfect dive spot. This narrow channel between Nassau and Paradise Island runs along a reef wall that plunges to depths of 60 feet (18 m). Swimming through this passage can be quite thrilling. You'll experience powerful currents and witness plenty of fish and other marine life.
As you cruise across the two remote islands, after about 20 minutes or so, you will start to feel a calmness spread over the warm waters. Slowly emerge from your descent with your surface marker buoy deployed, and let your captain take you along this high-speed highway. Who knows what kind of surprises are in store?
Frequently Asked Questions
How much does it cost to go scuba diving in The Bahamas?
If you plan on taking a trip there to go scuba diving, the cost depends on how experienced you are and what type of dive you're looking to take. A wide range of lodging options can contribute to the overall cost, with some being more expensive than others, but typically these range from $100-$200 per night if you book ahead of time.
There are special offers for dive packages. It's not too difficult to find one-day, two-day, or even full-week packages ranging anywhere from $30 – $1000, depending on how many dives you want to do and where. Remember that additional fees are also for things like renting gear or paying for tank refills. Diving in The Bahamas can be a great experience and is reasonably priced for those who properly budget their expenses!
What should you not do before scuba diving?
Before jumping in for scuba diving on your next adventure, it's important to consider some key safety guidelines. These include eating and drinking plenty of water the day before to stay hydrated and ensure your body is ready for strenuous activity. Avoid any sort of rigorous exercise before diving, as this can tax your body and reduce how long you can stay underwater.
In addition, it is essential to get a good night's sleep before plunging beneath the depths. Finally, make sure to enquire from your instructor or dive guide about any other specifics you should not do before scuba diving. Following these simple tips should keep everyone safe and allow an enjoyable underwater experience.
Do you need a wetsuit to scuba dive in the Bahamas?
When planning a scuba diving trip to the Bahamas, one of the best questions to answer is if a wetsuit is necessary. While wearing a wetsuit can help provide some warmth in cooler waters and additional protection from abrasive surfaces, diving in the area is not typically necessary.
Typically, the temperatures of the shallow waters around The Bahamas are suitable for diving without a wetsuit. Even when you get down to greater depths, the ocean remains surprisingly warm thanks to its subtropical location. Of course, plan on staying underwater longer or diving more throughout your trip. Many dive shops offer lightweight full-body covers which could be beneficial in avoiding temperamental changes in water temperature over extended periods.
Final Words
The Bahamas is a fantastic place you should not miss exploring, especially beneath the sea! With its beautiful blue waters and abundance of marine life, it's no wonder why so many people flock here for their scuba diving adventures. As long as you take some basic safety precautions before getting in the water, you can surely have an amazing experience diving in The Bahamas. So, pack your bags and get ready for an unforgettable aquatic journey!