Who doesn't know about the Caribbean? This place is famed worldwide for many different reasons. First of all, it's been made popular by the series of movies featuring Johnny Depp as Jack Sparrow, the charming yet constantly misbehaving pirate. But, before the Caribbean was ever featured in those movies, it was featured in an Enya song (Caribbean Blue). And before it was ever featured in the song…it was extremely popular in its own right. After all, word traveled the world over about the amazing blue waters of the Caribbean. Simply mentioning that word would evoke mental images of the best seascapes, beaches, and islands. One thing that not a lot of people know, however, is that you can snorkel there too. Today we'll be talking about the best Caribbean island for snorkeling from beach.
The Caribbean sea is flanked by the Americas – Central, South, and yes of course, North. The tropical islands found in this region are, understandably, some of the best and most popular vacation destinations in the world. They are rather accessible, which is why many people have made these tropical isles part of their vacation itineraries. If you want more than just lounging at the beach but you aren't ready to commit to learning to scuba dive, you can snorkel instead – no doubt you will find the underwater sights ones to behold. For sure you would enjoy seeing the brightly colored sea creatures and coral beneath the blue waves!
Why Choose The Caribbean?
If you aren't yet convinced that the Caribbean is the vacation destination for you, let us give you some of the reasons why it should be.
Some of the Most Beautiful Beaches
Truthfully, hearing about the Caribbean summons up vivid imagery of white sand beaches looking out into crystal blue horizons. Yes, the beaches in this region are stellar, with their fine light (often white) sand and their sparkling waters. The tropical climate of the region also ensures that weather is almost always gloriously fantastic, which makes it another reason why it's such an idyllic place to go for vacation.
Snorkel or Dive
Regardless of whether you are more of a diving person or a snorkeling person, the seas of the Caribbean has something to offer for you. These waters are teeming with amazing marine life such as colorful fish and corals. In these waters you will also find bottle nosed dolphins, turtles, rays, and so much more. You don't even need to have any equipment of your own to have a great time snorkeling or diving in these places. Truly, all you need to do is show up, because you can rent everything that you need right there. You may even purchase equipment if you wish it.
One good reason why so many people enjoy snorkeling or diving here is not just because of the underwater ecosystem. It's also because the water is pleasantly warm and rather clear. It is for this reason that the activity of discovering new aquatic life and reefs underneath the surface becomes so much more fun.
Accommodation for Every Man
Many people might immediately associate the Caribbean with astronomical vacation budgets and expenses. However, what not many people know is the fact that the Caribbean has options for literally everyone. It doesn't matter if you've got thousands of dollars to blow on your vacation or not. There are, of course, luxury hotels and villas that cost into the thousands per night. However, there are other hotels that are much more affordable for those looking to vacation on a budget.
There are family friendly accommodations. Adult only locations are also available for people who want to get away without running into screaming children. There are properties located in world heritage locations that are included in the UNESCO list. You can even choose to rent a hut with a hammock to sleep in if you are adventurous or truly on a budget – this hammock will cost you 2-3$ a night. There truly is no need to be extremely rich to enjoy a vacation on these tropical isles.
Festivals
Many people come to the Caribbean for the beaches and the accommodations. Therefore, it comes as no surprise that not as many people are aware of the many, culturally diverse festivals held in the region yearly. The Caribbean is a place rich in culture, history, and diversity. They celebrate this fact with festivals that are amazingly colorful, with costumes and carnivals for you to see and enjoy. From parades in the day to dancing and partying all night, these festivals will surely give you an amazing time to remember.
Trinidad and Tobago have some really good festivals to start with. If you want, you can even join music festivals which are plentiful in the region.
Amazing Sunsets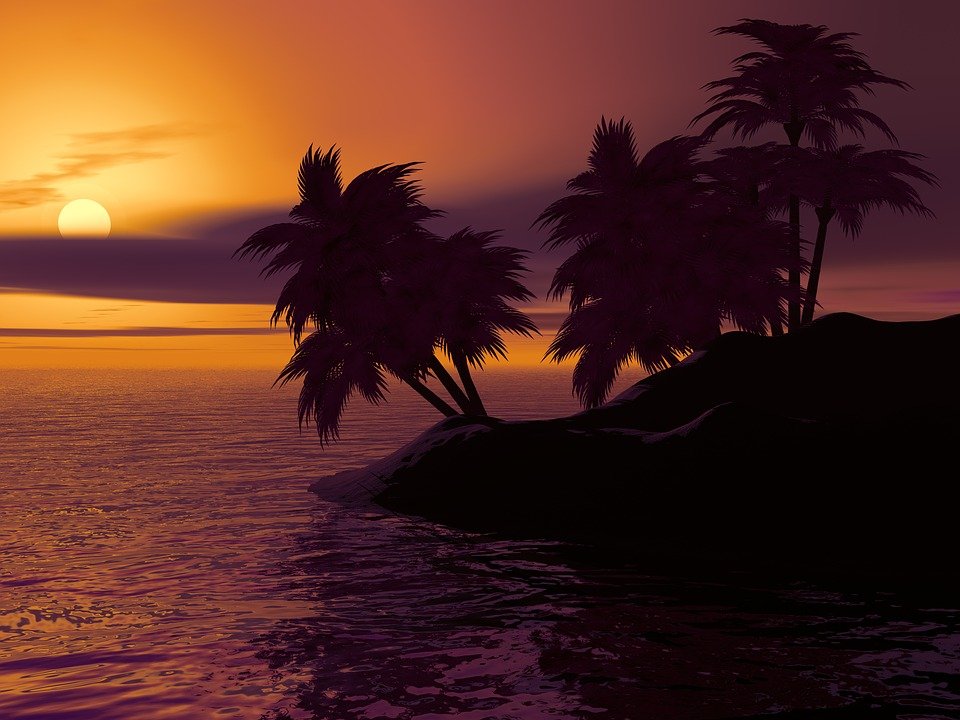 How can we not mention the amazing sunsets throughout the horizons found in the Caribbean? Every color you could ever imagine reflects over shimmering waters as the sun slowly goes down on the horizon. Ending your day with a Caribbean sunset is incredibly beautiful and relaxing. Just find a nice spot to sit on the beach and enjoy a cocktail.
Food, Glorious Food
In the Caribbean, you will find a ton of food options that will surely have something to offer for your taste. Even kids and picky eaters will be able to find something delicious in this place. You can go with traditional delicacies in the region, or you could also go for something more familiar. However, we do suggest going for some of the delicacies, especially since the sea food in this region is amazingly delicious and fresh. Do note, however, that a lot of the food in this cuisine is considered to be rather hot. If you aren't a fan of spicy food, ask for them to make the food mild, or perhaps ask about non-spicy recommendations.
Hop from Island to Island
There are honestly quite a lot of islands in the Caribbean cluster – roughly around seven thousand. Yes, seven thousand! Of course, not every single island is amazing, and not every island is inhabitable. Still, many of these islands offer a ton of culture, amazing views, and more. Take a flight to an island in the region and hop around using ferries so you can explore even further. You can even hire cars on islands that are more developed.
Culture Like You've Never Seen Before
If you are a fan of learning about new cultures and seeing the world in many new ways and perspectives, this region is the place to go. The Caribbean contains a ton of depth and culture for anyone to explore. You can even check out buildings (Georgian and Jacobian) that were built from coral – pink and white coral! History is bountiful in places such as Antigua and Barbuda, The Dominican Republic, San Juan, and Jamaica.
It is Extremely Beautiful
Of course, one of the biggest reasons to visit the Caribbean is its sheer beauty. Here you can find great islands for snorkeling – and surely you will see all sorts of creatures that will impress you.
What is the Best Caribbean Island for Snorkeling from Beach?
1. St. John, US Virgin Islands: Waterlemon Cay
Waterlemon Cay (pronounced as Key or KEE) has quite a fun and interesting name, doesn't it? Well, this island is certainly in contention for the top Caribbean island for snorkeling from beach. This place will help you to improve your snorkeling skills with its snorkeling trail. You can find this underwater trail in a place called Trunk Bay. There, you will find signs to help you identify any species of fish and creatures that you are seeing. Brain corals, elkhorn, parrot fish, puffer fish… you name it – there are signs to help you identify it.
You can then of course move on to Waterlemon Cay, where the path is slightly less popular. This off the beaten path place offers you turquoise water and amazing marine life in the reef. Find rays, turtles, sea fans, and brilliantly colored fish here.
To get to Waterlemon Cay, you can start in Leinster Bay, from the shore. Bring your snorkel gear with you and start hiking – there is a trail you can take that will bring you to Waterlemon Beach. Once you arrive, you can then head out into the waters to see the bonanza of sea life beneath the surface.
2. Grand Cayman – Stingray City
Stingray City is, as you might expect, home to a small population of stingrays – Atlantic Southern ones, to be specific. These rays will effortlessly and serenely glide around you, waiting for you to feed them in these shallow waters. Stingray City is basically a sandbar where dozens upon dozens of these stingrays come to meet the tourists (for food!). These rays can be huge – up to five feet wide from one end to another. They will happily feed on a piece of fish from your hands.
If you want the best, most intimate experience with these huge rays, you may want to avoid the winter season. Winter season brings with it all the cruise ships, which means that you will have to contend with a ton of other tourists. To avoid this tourist rush, go during the summer months.
3. The Grenadines – Tobago Cays Marine Park
If stingrays aren't so much your thing, but you want to see turtles, Tobago Cays Marine Park is a good place to start. Tobago Cays is a group of five different cays that are uninhabited, and surrounded with amazingly and almost impossibly blue/turquoise water. These cays are where you want to be if you want a good chance at spotting and befriending a sea turtle.
Head to Baradel Cay. Boats are prohibited in the waters of this Cay, particularly because green turtles love to hang out here. If you get tired of watching these turtles munch on sea grass, you can mosey on over to the Horseshoe Reef. Here, you will be on the fringe of the open ocean. You may find some rays (spotted eagle type) gliding by you while you gaze upon the diverse sea whips, sea fans, reef fish, and corals.
4. Grenada – Underwater Sculpture Park
In Grenada you will find the Underwater Sculpture Park, which is exactly as advertised. You can definitely count this as a very good option for snorkeling from beach, especially if you are particularly interested in seeing man-made art. Some of the things you may see here are: a man riding a bike (a salvaged one), a man working at a typewriter who is likely a newspaper correspondent, a circle of children (locals) who are all holding hands, and even still life – a fruit and vase sitting on a table.
The gallery of sculptures is found ten to twenty-five feet below the surface of the water, and was designed to be artificial reefs meant to attract wildlife. This is why you will also be able to see some amazing fish and marine life coming over.
Life has even begun to take over some of these underwater sculptures – sometimes they will wear blankets of sand. Many of them have interesting hairdos and even makeup, courtesy of colorful sponges and corals.
5. Dominica – Champagne Beach
In Dominica you will find a beach that doesn't quite have fine white sand. This rocky beach may not seem very appealing to those who want to relax on the shore. However, what many don't realize, that beneath the waves off this rocky shore, an underwater city brimming with life exists. This is a great island to go snorkeling from beach if you want to see wildlife aplenty. Just a short swim from the shore of this beach will bring you to a place that has surreal bubble streams rising from steam vents (volcanic) on the ocean floor.
The bubbles may be mesmerizing, but try your best to get your eyes off of them for a while so you can check out sea animals. Sea horses may be swimming about, hiding in sponges that are colorful to behold. You can swim to touch the sand beneath you, which is warmed due to geothermal activity.
6. Mexico – Isla Mujeres
This place is good for snorkeling if you are particularly interested in seeing some whale sharks. Of course, you will have to take a boat out to deeper waters to do it, but off the shores of Isla Mujeres you will also see some corals and fish. If you plan to visit the whale sharks (the largest fish in the world, with mouths that reach up to five feet wide), you must plan your trip somewhere in the months of June to August. This is when the sharks will be around, in small groups of perhaps twenty or even more. These whale sharks have even been known to get rather playful with some of the snorkelers.
If you're worried about these school bus sized fish swallowing you whole, there is no need for concern. Although their mouths are five feet wide, these docile creatures only feed on things such as algae and plankton.
7. Bahamas – Thunderball Grotto in the Exuma Cays
These days, saying the name Exuma Cays reminds people of the ill-advised and ill-fated Fyre Festival. So disastrous was this festival that several documentaries about it were created, to show just how bad things had gotten during the planning and execution of this festival.
In this grotto, you will find a hidden entrance – small and almost invisible – in rock wall. Once you go through this entrance you will find yourself in an amazing cave system, all underwater! You must be careful here because in some spots you may hit yourself on the low ceilings. But then, in other places, you may find yourself in caves with high, soaring ceilings. Some of these may even have holes through which the sunlight can shine through in rays to illuminate the beautiful schools of colored fish underneath the crystal clear water.
This grotto is so popular that two different James Bond movies were filmed here. One of them was Thunderball – from which the grotto then got its name.
8. Bonaire – Klein Bonaire
Last but not the least on this list is Klein Bonaire. This place is well known for divers, but is definitely not exclusive for them. If you prefer snorkeling, you'll find that the waters contain shallow reefs just a half of a mile off of the main island. This reef is teeming with life, from brightly colored tube sponges, to orange/fire cup corals, and of course even tropical fish. All of this is just under the surface, three to ten feet below.
The waters in Klein Bonaire are protected, because the area is also a nesting ground for turtles. As a result, you may even find some loggerheads and hawksbills on your travels. These turtles can weigh up to a solid 400 pounds – or even more!
The best part is that Klein Bonaire is out of the hurricane belt, which means you will not likely run into inclement weather here.
Conclusion
The Caribbean has some of the world's best vacation destinations – that much is for sure. If you want to be able to enjoy all that the area has to offer, consider snorkeling. Hopefully, this list has helped you to figure out which one is the best Caribbean island for snorkeling from beach – at least in your specific case. Have a happy vacation!