Diving in strong currents is a serious business. Aside from learning the proper kick and technique, you should also use the best fins for strong currents. This will help you navigate underwater without tiring your legs too fast. Unlike other fins, those for strong currents need to be stiffer, sometimes longer, to help you fight the strong waves.
In this post, we will help you find the right pair of fins that you can use. We reviewed three of the best options in the market for those who are serious about diving and are planning to go on a deep see plunge.
---
Handling strong currents
Many divers have experienced the nightmare of diving on strong currents. It can sweep them away, especially if they don't know how to fight it. A strong current can separate a diver from his or her group or buddy. When that happens in an open sea, the situation can take a very dangerous turn.
Some areas tend to experience rip currents and other unexpected changes in water movement.
It's important to dive into safe conditions and the underwater condition you're trained to dive in. Still, there are instances when you'll be caught in a strong current in the middle of a dive.
Since seawater moves incessantly, there are chances when you can't expect a sudden surge. Some of these currents are localized and temporary. All you need is to fight it over while waiting for the waters to calm down.
What if you're caught in the middle of a localized and strong current? Instead of panicking, you can do the following steps so you will remain safe until the current dies down:
*Swim close to something
It's much better to stay close near a wreck, reef, or any solid matter underwater. Take shelter on objects that can cushion the current. However, if there's nothing around to shield you, it's best to stay as close as possible to the bottom.
*Just go with the flow
If you're drift diving, it's best to ride the current. However, make sure that you're going towards an exit point. Otherwise, you'll be lost in the middle of the sea or you'll have to swim against the current to go back.
*Consider aborting the dive
If you're not too deep into the dive yet, it's much better to abort the plunge when the current is getting too strong to handle.
---
Which kick is ideal for strong currents?
When it comes to underwater surges, it's not just about having the best fins for strong currents. You should also master the proper kick. The motion of your feet will complement the quality of your fins.
Take note that the type of kick you use on strong currents will also affect your air consumption and level of fatigue.
In diving, there are two main types of kicks: frog and flutter. Below are the differences between the two:
*Frog kick
Frog kicks mimic the movement of a frog's leg. It's like doing breaststroke with your feet. The movement is horizontal and very popular among cave divers since it prevents divers from kicking the sand up and compromising visibility.
Also, a frog kick will keep your body afloat and in a straight position. If paired with proper buoyancy, frog kicks will reduce your air consumption. With a kick and glide technique, you can reduce fatigue and air consumption even further.
However, frog kicks aren't advisable for strong currents. And since it consumes horizontal space, you should avoid doing this near walls or coral reefs. It's only suitable for mild currents in open water dives as well as dives near the bottom.
To know more about frog kicks, Jose Cernuda from Greatdivers.com tells us more about this kick and how to do it:
*Flutter kick
On the other hand, the flutter kick is one of the basic kicks in the finning department. It's similar to the movement of your feet during freestyle swimming. Most divers will use futter kicks because it's the strongest of all kick techniques you can ever study.
Flutter kicks offer more buoyancy. Even before BCDs were made, flutter kicks are done to maintain excellent buoyancy underwater.
Moreover, flutter kicks provide high speeds, which is key in maintaining buoyancy. This is also a useful kick when wall diving and passing through an area covered with lush corals.
However, since flutter kicks are strong kicks, it's also one of the most exhausting. Proper practice is necessary to master this kick and to minimize air consumption. Also, you should avoid using this kick if you're close to the bottom as the up and down movement of the feet can kick up silt.
Still, flutter kick is the best technique during strong currents. The minimal movement of the feet will provide bursts of force and speed. This will help you navigate through strong currents so you can take shelter on walls, corals, and other objects nearby.
Once again, Jose Cernuda tells us more about the flutter kick:
---
What to look for in the best fins for strong currents
When shopping for the best fins for strong currents, you must consider the following points:
-Get the proper stiffness
When it comes to strong currents, you need a stiffer pair of fins. This way, the fin blades can fight the current and achieve better propulsion.
Still, this is a matter of personal preference and the type of kick that you practice. Nevertheless, many divers opt for stiffer fins if the underwater condition is a little harsher than normal.
-Mind the weight
Aside from that, you should also check the weight of the fins. Avoid a very cumbersome pair since it will tire your legs easily. Just look for the right balance of stiff material and weight. You may need to get used to an added weight if you are to get a stiffer pair, but not too heavy that it will consume too much of your air.
-Choose the right length
Length is also a common concern when it comes to the best fins for strong currents. Some divers prefer long or freediving fins when the current is strong so they can maintain their buoyancy.
However, long fins aren't suitable if you're diving on a coral-covered spot. The extra length may damage corals and scrape the ground, which will affect visibility.
On the other hand, some divers prefer blade or channel fins since it has a smaller surface, thus lower water resistance. Shorter blade fins are more suitable for swimming. It's up to your dive style, your finning technique, and your preference.
-Always select the proper fit
The fit of your dive fins is a make-or-break part. No matter how excellent your new fins' propulsion, it will be of no use if it's too small or too large for you. Always opt for a snug fit that will not choke your feet underwater.
At the same time, avoid very loose fins unless you're wearing a pair of dive boots in it. The last thing you want to happen is to lose a fin while underwater. This will not just affect your buoyancy but also your air consumption.
-Closed vs. open heel
Another consideration is either you need a closed or open heel fin. It's popular among divers and snorkelers alike due to its convenience and cheaper price. Closed heel fins can be worn like a sleeve in your foot.
However, the issue with closed heel fins is it doesn't allow adjustability. You have to be very precise with what you're going to buy. Aside from that, you can't wear dive boots in it, which can be an issue if you're diving in cold water.
On the other hand, you can also opt for open heel fins. The foot pocket of this fin is larger to allow dive socks or boots in. Usually, they come with adjustable ankle straps so you can tweak the fit based on your needs.
-Bonus: choose a color
Lastly, choose a color that you like. The color of your fins doesn't really affect its performance. Still, you can consider bright colors that your dive buddies can easily see underwater even on poor visibility. Nevertheless, this is just a bonus.
---
3 Best Fins for Strong Currents
#1 CHOICE: Mares Avanti Quattro
OUR TOP PICK: Mares Avanti Quattro Fins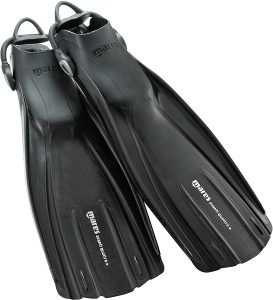 Product Name: Mares Avanti Quattro Fins
Product Description: If you're looking for the best fins for strong currents, you'll never go wrong with the Mares Avanti Quattro. It has a non-vented blade made of composite materials. It also has excellent thrusting power for better responsiveness. Aside from that, it has an open heel design with the new bungee strap from Mares. This removes ankle twisting that some divers experience. Its pocket is also made with an anatomical design so you can kick with power.
Propulsion

Fit and Comfort

Blade Quality

Value for Money
Summary
The best part about this pair of fins is it's easy to use even if you're doing flutter, frog, and other kick styles. It's a great choice for open dives, but not suitable for tec divers. 
Overall, this is a premium pair of dive fins. Just make sure that you get the right size to avoid most of the complaints that other users mention. Even if it doesn't look as chic as other options, the Mares Avanti Quattro is a high-quality choice. 
The only negative thing that we notice is that these fins are a challenge to put on and off. 
Pros
✔️New and improved bungee strap
✔️Suitable for almost all types of kicks
✔️Anatomical pocket
Cons
❌You need dive boots to wear this 
---
RUNNERS-UP: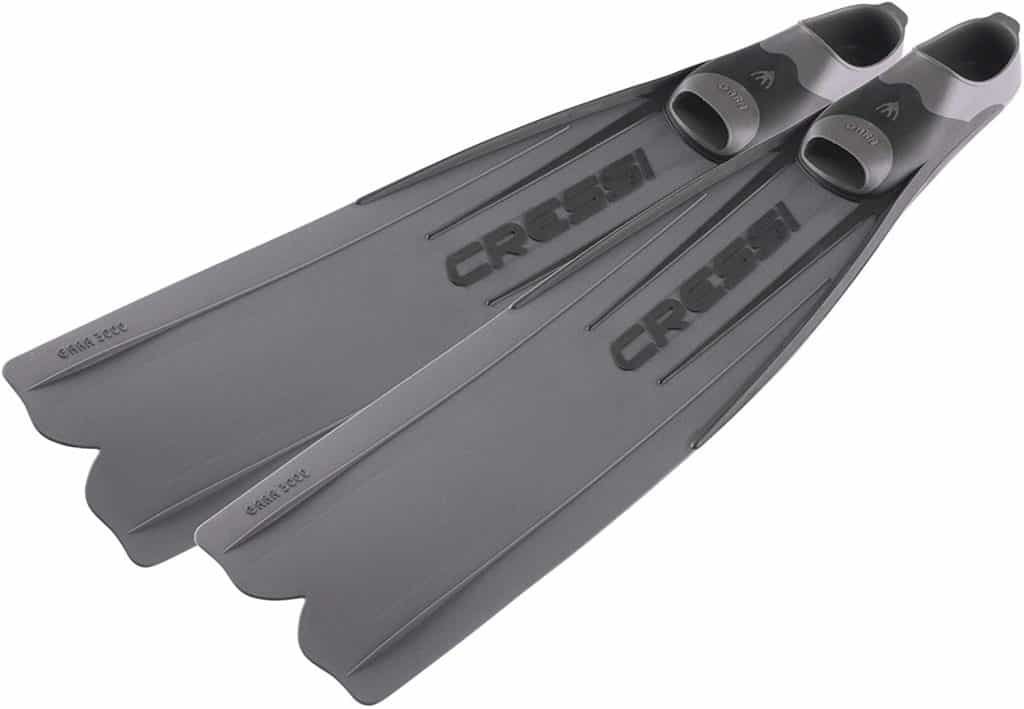 If you prefer longer fins, we recommend the Cressi Gara 3000. It has long blade so you can kick effortlessly. With the right technique, you can use this to fight strong currents.
The Cressi Gara 3000 boasts its patented molding process that guarantees the flexibility of the foot area. This way, your feet remain comfy while these flippers are on. This glides smoothly on water and provides excellent propulsion.
Moreover, this has a full pocket design that you can put on right away. It doesn't require dive socks or boots. The foot pocket is also very comfortable and if you want, you can use a thin neoprene sock in it.
This is designed to go the long distance. You will enjoy both speed and ease of kicking with these long Cressi fins. It's also perfect for rocky areas and strong currents because the fins will not wear you out fast.
Our only gripe is that they don't come with a carry bag. But considering its quality, it's not really a big issue.
PROS
✔️Excellent propulsion
✔️Very comfortable
✔️Ideal for strong currents

CONS
❌Doesn't come with a carry bag

---
IST Rubber Rocket Diver Fins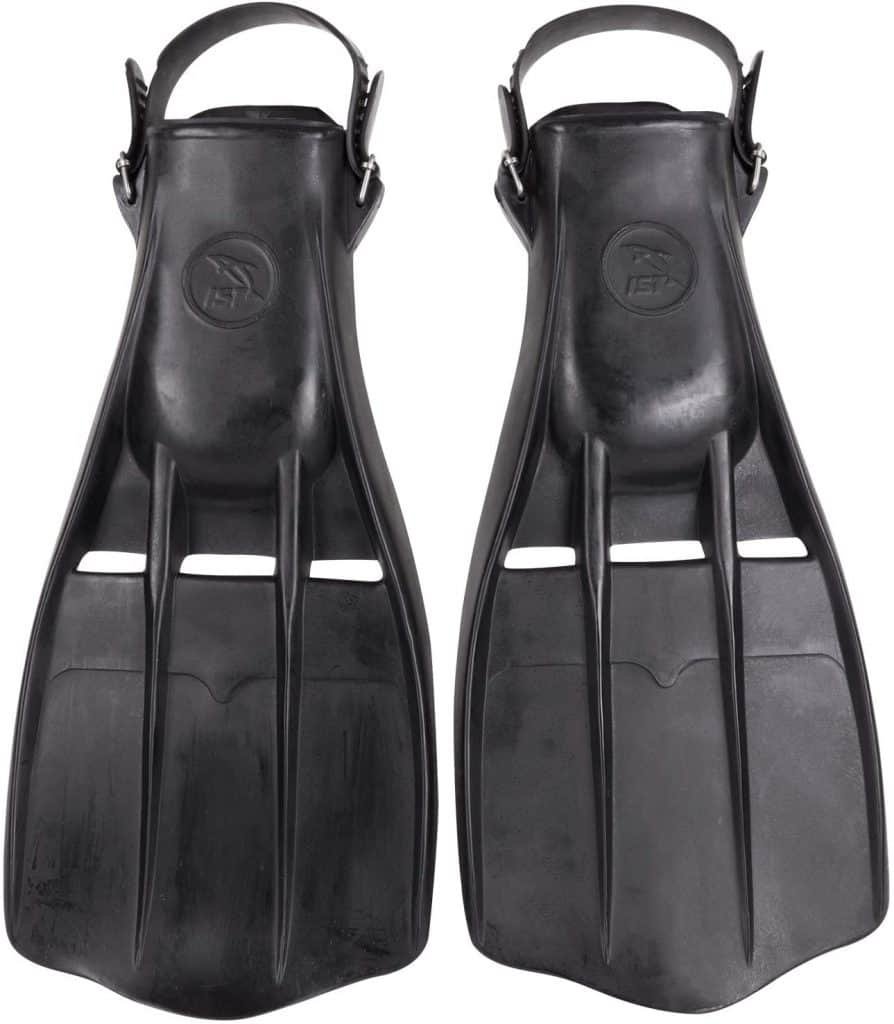 If you're looking for fins used by pros, you should consider the IST Rubber Rocket Diver Fins. This is trusted by the U.S. Navy and the Special Ops. It's made of strong rubber that can fight the strongest currents.
Moreover, it has a jet-style groove channel on which the water can flow so you can perform a power kick with minimal water resistance.
The open heel style of this IST fin allows you to wear booties and socks of any thickness. This brand's sizing also takes into account the boot size you can wear in it, which makes selecting very easy.
Another great feature of this blade is its tapered and curved blade that increases its propulsion. Aside from that, the strap of the fins is adjustable through its metal buckles.
Overall, the IST Rubber Rocket is made to defy strong currents, thanks to its dynamic engineering and rugged build.
PROS
✔️Durable and rugged build
✔️Adjustable straps
✔️Used by the U.S. Navy

---
Final words
With the best fins for strong currents, you will have an added edge in fighting rip currents. Paired with skillful finning, you can come out of harsh underwater conditions alive. As much as strong currents can be scary, there's always a workaround for every diver.
What do you think of these flippers? Have you used any of it before? Share your experience with us in the comment section!