There's a misconception that there's no need for a dive light if you're diving during the day. While this is true on shallow plunges, it's a different story if you are going on deep dives. The deeper you go underwater, the lesser sunlight gets to permeate into the water. So even during midday, it can be very dark underwater. And if you don't have the best dive light for the money, you'll be fumbling in the dark, which is dangerous for you underneath.
DIVE LIGHTS
BRAND
EXPERT RATING
CHECK PRICE
Light and Motion
SOLA Dive Light

Check Price

Mares Aluminum 15RZ
EOS LED Light

Check Price

BigBlue AL1200 Dive Light

Check Price

ORCATORCH D550
Scuba Flashlight

Check Price

Princeton Tec Sector 5
Dive Light

Check Price
Depending on your needs, your dive style, and depth, you must get a diving light with the right configurations. In this post, we will help you find the best lights on the market together with our top 5 picks for you to choose from.
---
Uses of Dive Lights
Dive lights aren't just for seeing things around, it's also responsible for the following things:
*Proper color illumination
As you go deeper into the water, color illumination becomes poorer. The color will start to disappear at 15 feet while orange will be hard to discern at 25 feet. Meanwhile, the yellow color will be difficult to define at 35 feet to 45 feet, depending on the water's visibility. Lastly, the color green will be difficult to see at 70 feet.
With a scuba diving light, you can easily see these colors. Seeing colors underwater makes every dive more enjoyable. Besides, no one wants to go sightseeing on a dark reef.
*Spotting marine life
Fish and other marine animals can pop in any direction. If you don't have a scuba diving light, you wouldn't have a glimpse of these creatures. Aside from your enjoyment, it's also important to watch out for some underwater beings that would be dangerous to get close to.
They are useful in spotting marine life inside underwater caves and reefs.
*Added safety
During very deep dives, you need a flashlight to increase your safety. Deep lengths can be very dark and it's easy to bump on objects and get injured. Also, your gears may get stuck on something. Without one, you will be fumbling in the dark. Worse, you will be bringing up silt that will affect the visibility of the water.
Moreover, scuba diving lights become indispensable during a night dive. At night, the underwater is pitch dark.
---
Dive Lights Buying Guide
If you're looking for the best dive light money can buy, you must consider the following points:
-Choose the type you need
First of all, there are many types of scuba diving lights, which depends on its purpose. The following are the most common types:
**Mounted dive lights
Mounted dive lights have straps worn on top of the head. This is useful so the divers no longer have to hold the dive manually. It's usually used on cave and wreck diving as well as night diving. This is similar to what bikers and hikers use.
**Primary dive lights
Primary lights are handheld options that you can point in a certain direction. It's usually very bright and large with a pistol grip and control. This offers a brighter coverage that can penetrate through the water even on the most turbid conditions.
**Secondary dive lights
Secondary lights are smaller than the primary ones. It's useful for daytime illumination if your primary light bogs down during a dive. This is made compact so you can stash it on your gears and so it wouldn't add too much weight on our body. Usually, it has a tubular construction with a wrist strap.
**Canister dive lights
Next, there are so-called canister dive lights. It's widely used by technical scuba divers since it comes with a battery pack, long wire, and more power for extended dives. The convenience of the light being separated from the battery makes it easy to attach on your gears.
**Photography dive lights
Lastly, there are diving lights specifically made for underwater photography purposes. This is usually connected to the camera so it will emit a flash of light on each shot. The good thing with underwater photography lights is it can be adjusted to suit the exposure level for the images.
-Check the lumens
Once you have chosen the type you need, the next consideration is how bright the light would be. The brightness is measured through lumens. Although some will use wattage as a mode of measurement, it's no longer reliable considering that there are already LED technology options in the market.
In short, the more lumens, the more light there would be on your scuba dive light. To give you an idea, here's how many lumens of light you'll get per wattage on LED lights:
*9 watts = about 450 lumens
*12 watts = about 800 lumens
*20 watts = about 1,100 lumens
*22 watts = 1,600 lumens
Take note that dive lights become more expensive as the lumens increase.
-Opt for the right beam angle
The beam angle of the dive light refers to the distance that the light travels on each side. The human eye has a beam angle of 180 degrees, but it will become restricted once you have your dive mask on. From 180 degrees, you're limited to 100 degrees during a dive. This is why you need scuba diving lights with an excellent beam angle to improve your range of vision.
However, it's not just about getting the biggest beam. You also have to consider the type of dive you're going to. The following are the recommended light angles on each type of dive:
Up to 12 degrees – This is suitable for wreck divers, cave divers, and limited visibility diving. It has a more focused light that can penetrate turbid waters. Also, this will not reflect silt particles.
Up to 20 degrees – This is suitable for most recreational scuba divers. It has excellent light and can cover a decent distance. You can even use it for shallow night dives.
Up to 75 degrees – This beam range is found on dive lights where you can zoom the angle in and out. It's useful for recreational dives and can be adjusted to as low as 12 degrees. This is a versatile choice if you don't want to purchase multiple lights.
Up to 140 degrees – Such a beam range is found on photography dive lights since it can flood the subject for excellent shots. It's rare for recreational divers to use this beam range.
-Check the Kelvin rating
Another thing that many divers overlook is the Kelvin rating. Kelvin is the measurement of the light's temperature, of how warm it would be. This is also an important consideration for underwater photographers since it will affect the quality of the images.
To give you an idea, 1,600 Kelvin is equivalent to the warmth of candlelight while 5,000 Kelvin is equivalent to afternoon sunlight.
-Get the right depth rating
Aside from getting a bright light, you also have to check its depth rating or water-resistance. Always consider your diving habits and the maximum depth you usually go. Is it within 100 feet or more?
A dive light that's not rated for the depths you're diving will cause a problem. It can experience leaks and breakage due to the intense pressure.
-Select the best burn time
Lastly, you should check how long it will last. You wouldn't want your diving light to run out of juice mid-dive.
Most are battery-powered. The best are those that can last beyond 90 minutes before showing signs of power loss. Below, we reviewed the best options that will keep your underwater adventures well lit for long.
---
Best Dive Light for the Money – Top 5 Picks!
#1 CHOICE: Light and Motion SOLA Dive 1200 S/F
OUR TOP PICK: Light and Motion SOLA Dive Light
Product Name: Light and Motion SOLA Dive Light
Product Description: If you're looking for the best dive light money can buy, consider the Light Motion SOLA Light. It's a mounted dive with up to 1,200 lumens, but you can also set it to 500 lumens and three power modes. This is also lightweight and perfect for the traveling diver. Aside from that, this is powered with a rechargeable Li-ion battery that burns for up to 270 minutes. It also has 60 degrees wide beam that's more than enough to light your underwater adventures.
Lumens

Beam Angle

Burn Time

Operation

Depth Rating
Summary
This dive light is rated for 90 meters (295 feet) so it's a great choice for deep dives. It's also lightweight for just 285 grams so rest assured that you will not feel strained with this dive light on. The package also comes with the head strap so you can wear it straight from the package. 
We also like that you can adjust the intensity of the light so you can use it for wide and focused angles. It can be mounted on the camera, too, even if it's not made for it. 
Pros
✔️Can burn for up to 270 minutes
✔️Depth rated for up to 90 meters
✔️Can be adjusted from 500 to 1200 lumens
RUNNERS-UP:

Mares Aluminum 15RZ EOS LED Light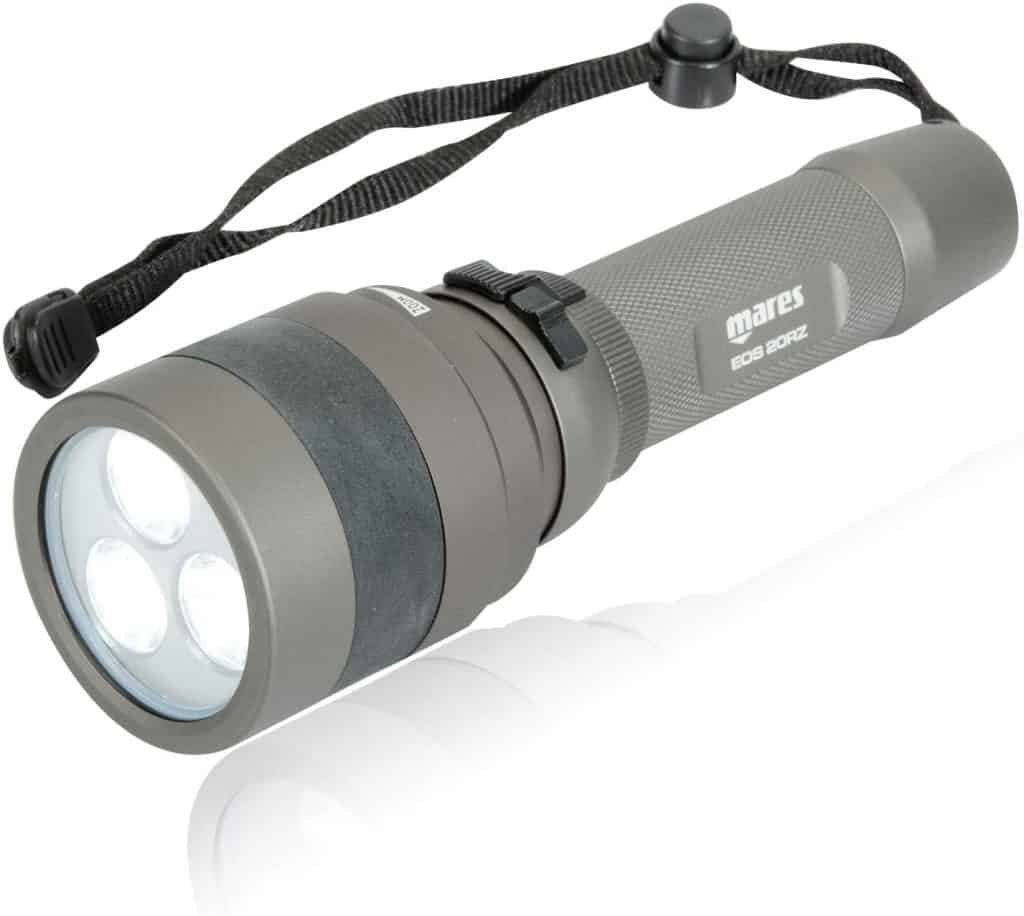 If you're looking for a secondary light, we recommend the Mares EOS LED Light. The EOS series is available in 1500 lumens with a wide light beam. It's also equipped with a magnetic multi-function switch as well as a safety lock.
The case of this Mares dive light is made of hard-anodized aluminum that can resist impact and other harsh elements. It also comes with a recharging cable as well as a built-in battery. This may feel a little bigger for some divers, but it does the job underwater.
When in use, the Mares Aluminum LED light can be used in four modes: flash, low, on, and off. It comes with a tubular handle with an adjustable strap so you wouldn't drop it mid-dive.
Aside from diving, this flashlight also works for spearfishing. It has a 125-minute burning time and a decent depth rating for most recreational dives. Overall, it's a functional emergency light, though we wish it has an SOS flash setting on it as well. Other than that, we have no trouble using this dive light.
PROS
✔️1500 lumens
✔️Comes with a safety lock
✔️125 minutes burning time

CONS
❌A little large than other secondary lights

---
BigBlue AL1200 Dive Light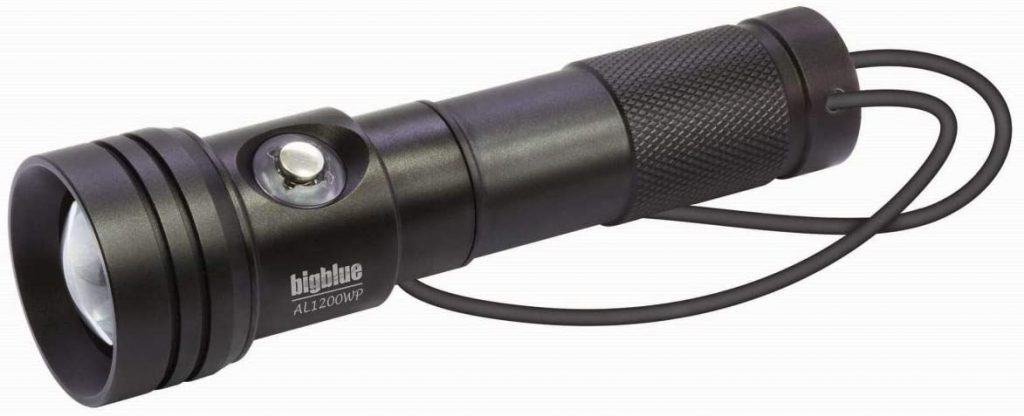 Another option that we recommend is the BigBlue AL1200. This dive light has 1200 lumens as well as an 85-degree beam angle. With 6,500 Kelvins, this is an unbeatable option for a backup light.
The package comes with the dive light, a charger, a lanyard, a red and yellow filter, and a mounting clip. The casing is made of aluminum alloy that doesn't rust easily. It also has a removable rechargeable li ion battery.
We also like that this is compact and reasonably lightweight for most dives. You can also use it as a light when taking videos. The light distribution is also even so you'll get a clear view of the underwater. It allows one-hand operation for your convenience
If you're looking for a dive light that will last for years, the BigBlue will not disappoint. Aside from the 85-degree beam range, this specific model is available in extra wide and narrow versions.
When used on the highest lumen output, it can burn for up to two hours.
PROS
✔️Comes with color filters
✔️Even light distribution
✔️Long burn time

---
ORCATORCH D550 Scuba Flashlight
If you want a secondary dive light that you no longer have to hold, you should consider the ORCATORCH D550. This one has a maximum output of 1000 lumens for a super bright underwater experience. Also, it can be used in three modes: high, low, and strobe.
The best thing is, it can run for up to five hours per charge. For such a portable and compact light, this is already a big win. Also, this is depth rated for up to 150 meters (492 feet), which is ideal for deep dives.
The body of this dive torch is made of aircraft-grade with a diamond grade hard-anodized surface. Meanwhile, the lens is made of double-side coated glass with a light transmission of up to 91%. Aside from that, the D550 has a tail magnetic switch for easy operation.
The package includes the D550 light, 2 Li-ion batteries, charger lanyard, waterproof double O rings, after-sale card, wrist strap, and an Orca sticker.
Lastly, it weighs 183 grams without the battery, which is reasonably lightweight. This is a great purchase for divers looking for a trusty gear and those on a budget.
PROS
✔️Long burn time
✔️Durable casing
✔️Excellent depth rating

CONS
❌Very sensitive push button

---
Princeton Tec Sector 5 Dive Light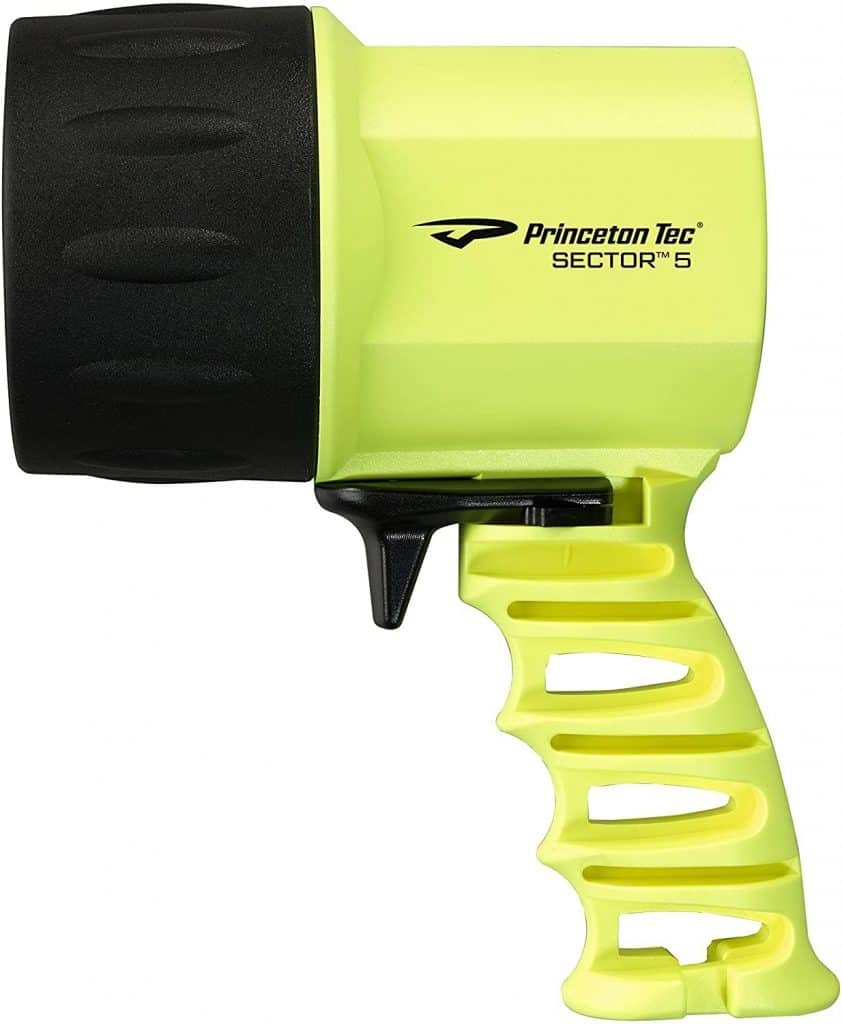 Lastly, we recommend the Princeton Tec Sector 5 Dive light if you're looking for a primary light. It comes with a pistol construction with water channels on the handle to reduce water resistance and to improve grip. Nevertheless, the highlight of this dive torch is its 500-lumen output.
Aside from that, you can use this one in two modes. The first is momentary on by half-pulling the trigger and constant on by pulling the trigger fully.
We also like the new trigger switch that makes the light easy to operate even if you're wearing dive gloves. Overall, this is a good choice for recreational and shallow dives.
Moreover, it has a 24-hour burn time per charge, thanks to its four C-Cell batteries. Although powerful, it's not as bulky as other options.
The only thing we noticed is it's a little heavy, which is quite understandable since it uses a lot of batteries for extra burn time. Other than that, we have no major gripes. We even like that it's available in four colors: neon yellow, pink, black, and blue.
PROS
✔️Long burn time
✔️Two illumination modes
✔️Ideal for recreation dives

---
Final Word
The best quality dive light will let you enjoy the underwater life. Also, it increases your safety, especially during deep and night dives. Just make sure that you get one with the right lumen output, beam angle, and features that you can use underwater.
What do you think of our five options here? Have you used any of it before? Share your thoughts with us!