Why tire your arms out if you can pedal your kayak? Pedal kayak will free your hand so you can fish, arrange gears, and cover greater distances. This kayak type is gaining popularity due to its convenience. And if you're looking for the best options, I reviewed the three best-selling options in the market.
KAYAK
BRAND
EXPERT RATING
CHECK PRICE

Our Top Pick!


BKC PK14 Angler
with Pedal Drive

Check Price

Pescador Pilot
12 Kayak

Check Price

Perception Crank 10
Sit-on-Top Pedal Kayak

Check Price
---
How Do Pedal Kayaks Work?
These kayaks have a pedal drive that lets you row with your legs. There are fins underneath the kayak connected to the pedal drive. This will propel you into the water without having to use the oars.
Moreover, the mechanism of a pedal kayak is similar to a bicycle. However, you push backward and forward and not downward as with bikes.
Also, they come in two different pedal drives: Mirage-based and propeller-based.
With the Mirage-based pedal drive, two identical fins move sideways, backward, and forward. These fins vary in size based on the length of the kayak.
On the other hand, propeller-based kayaks have a propel pedal drive. This is used to move it forward and reverse. The good thing here is that the propeller isn't very large, so you don't have to exert too much effort.
Overall, pedal kayaks are convenient, but it does come with one big downside. It's pricier than fishing kayaks due to the additional mechanism. Also, you have to mind the underwater clearance so you won't damage the fins underneath.
If you're in the hunt for the best pedal kayak, the three options I reviewed below will surely nail it for you.
---
Best Pedal Kayaks Money Can Buy – Top 3 Picks!
#1 CHOICE
OUR TOP PICK: BKC PK14 Angler Tandem Kayak with Pedal Drive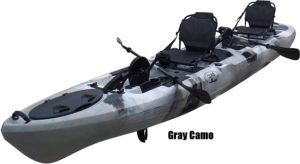 Product Name: BKC PK14 Tandem Kayak with Pedal Drive
Product Description: If you're looking for the top pedal drive kayak, you should consider the BKC PK14. This is a 14-feet kayak with bicycle-style rotational pedals so you can row around the water efficiently. It also has hand-operated rudders so you can control your tracking while pedaling. Moreover, this has a dual pedal system that allows you to move on the water faster. It uses a propeller system that glides smoothly through the water. You can also reverse by pedaling backward – that easy! If you want, you can also upgrade this kayak with a trolling motor. It has enough space at the back where you can mount on the engine if you're not using it for storage. The best thing about this kayak is its accessories. It has two aluminum frame seats, three waterproof storage hatches, two adjustable paddles, and three rod holders. You will also enjoy four accessory plates, two paddle parks, and a bungee cargo tie-down.
Durability

Buoyancy

Comfort

Pedal Quality

Value for Money
Summary
Overall, this kayak is made from a single-mold, high-density PE material. Whether you're cruising on a lake, river, or ocean, this kayak can put up with the elements.
In addition, this kayak can support up to 670 lbs. of load weight that includes two passengers and their belongings. This can ride through currents, so it's a very durable vessel.
If you're looking for a two-person kayak with pedals, the BKC PK14 is a nice catch. It's not the cheapest kayak in the market, but boy, it's worth every dime!
Pros
A dual pedal system with reverse
Supports up to 670 lbs. of weight
It can be upgraded with a trolling motor
Cons
It's truly cumbersome but understandable since it's very durable
---
RUNNERS-UP
Perception Pescador Pilot 12 Kayak with Pedal Drive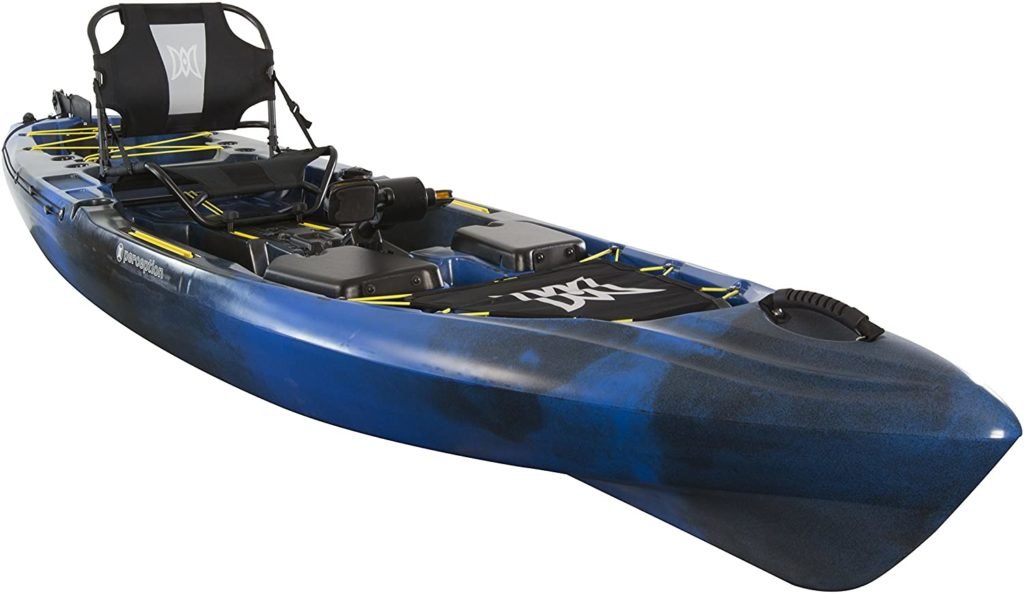 If you're planning a solo ride, you should consider the Perception Pescador Pilot 12. This is a 12-feet kayak with a pilot pedal drive. You can fully recess the drive into the hull for zero draft and comfort.
Moreover, it has a solid, one-piece construction that doesn't leak. It also has unbeatable buoyancy for mild to moderate currents.
The Pescador Pilot 12 also has large rear and front storage spaces. The rear storage is webbed to prevent your things from falling into the water. Meanwhile, the front space can be used to mount fish finder consoles, gear tracks, and more. It also has four rod holders for avid anglers.
Overall, this one can support up to 475 lbs. For a single-person kayak, this is already a lot. The kayak itself is considerably light at 85 lbs.
I also like the captain's chair, which is removable in case you want a different seat. In my experience, it's very breathable and decent enough for short trips around a lake.
Unlike the Pescador Pro 10, the Pescador Pilot 12 is longer and wider. It also has a higher deck height of 16″ unlike Pescador Pro 10 with 14″.
However, you should note that it is only suitable for slow-moving rivers and flat-water lakes. Coastal waters will also do as long as the waves are light.
---
Perception Crank 10 Sit-on-Top Pedal Kayak
My last pick for this roundup is the Perception Crank 10. This is a single-person, sit on top kayak with a total length of 10 feet. It's much shorter than the two other kayaks I reviewed, but don't underestimate its capabilities.
This has an efficient pedal drive system that lets you move forward and backward. It also has one-handed rudder control so you can easily navigate through the water.
Moreover, this has two molded solo mount recesses. You can use Perception Solo Mounts to set up your fishing accessories and other devices.
Aside from that, this pedal kayak is made of solid mold material. It's 35″ wide with a total length of 87 lbs. It can also support up to 350 lbs. of user weight, which is already reasonable for its length and price.
When it comes to storage, the Perception Crank 10 isn't short of options. It has front and rear spaces where you can stash your equipment. There's also a transducer scupper in the hull so you can use your depth and fish finders with ease.
I also like the lawn-chair design of the included seat. It also has side paddle parks to prevent losing your oars. Lastly, it is equipped with rigid carry handles for easy transport.
Take note that this is best for recreational use in lakes and ponds. It also works for slow-moving rivers and calm coastal waters.
---
Pedal Kayak Buying Guide
When looking for a pedal kayak that offers the best value for money, you have to factor in the following aspects:
✔️Consider the length
The first thing you should think of is the length of the kayak. It can range from 9 to 14 feet, but there are longer options that reach up to 16 feet.
The advantage with longer kayaks is it offers better stability, and it glides faster through the water. Aside from that, it's easier to paddle with a higher weight limit. However, since it's longer, it's harder to transport, and it tends to be pricier.
On the other hand, shorter kayaks are easier to move around. While it takes more effort to paddle, it's a common option for recreational passengers. It's also cheaper than longer vessels.
✔️Opt for efficient pedal drives
There are many pedal kayaks in the market, but not all of them have pedal drives made to last. Make sure that the pedal system is durable and made by known brands. This will save you from additional expenses for repairs.
Aside from that, the pedal system should let you move forward and backward.
Another important consideration is whether you'd want a single or two-person kayak. Most of the time, two-person kayaks are longer. You can also find two-person kayaks that can be transformed into a single-passenger.
✔️Single or two-person?
Take note that two-person pedal kayaks also come with dual pedal systems. The passengers have to coordinate their pedaling to prevent ruining the system.
Aside from that, they don't come cheap. But if you're willing to spend, you should consider the BKC PK14 Tandem Kayak I reviewed above.
✔️Check device mounts
Aside from its size and capacity, you should also look for device mounts. This will come in handy when fishing. Try to look for fishing rod holders, paddle parks, and transducer scuppers.
Take note that these features are optional and will largely depend on your needs.
✔️Look for storage
Storage is essential when kayaking. Regardless if you're just gliding by or fishing, you'll surely bring your possessions. Webbed storage is ideal for items you want to keep handy. If you're worried that your things will be soaked wet, a waterproof hatch is the better choice.
✔️Check the weight limit
It's very important to check the weight limit if you don't want to sink in the middle of the water. The weight limit sets the maximum load you can put on the kayak. This includes the bodyweight of the passengers as well as their belongings.
The rule of thumb is that you should only occupy 80% of it's total weight allowance. The remaining 20% is a 'give' as you move around or when current hits you.
For example, if the kayak can support up to 400 lbs., you should only load it up with 320 lbs. of weight.
The good thing is that you can find kayaks that can support weight ranges of 350 lbs. and even up to 700 lbs. This is already a lot of weight allowance, even for tandem kayaks.
✔️Price and warranty
For me, the price is always the last consideration. Always opt for high-quality, reliable, and suitable options based on your needs. While you can buy the cheapest kayak in the market, it may not provide the best performance.
---
Frequently Asked Questions
Q: Is a pedal kayak worth it?
A: Yes, it is worth it if you want added convenience. It can still be used as a paddle kayak, but it's always great to have a pedal drive at your disposal. Anglers will benefit a lot from it, since they can free their hands while navigating the water.
Q: Can I add pedals to my kayak?
A: Unless your kayak is made with a pedal drive, it's impossible to add one to it. If you want to navigate without tiring your hands, you can rig up your old pedal fishing kayak with a trolling motor. You can also perform DIY modifications, but you should proceed at your own risk.
Q: How to transport a pedal kayak?
A: Unlike typical kayaks, you have to be careful in transporting a pedal type. You have to protect the pedals from damages, especially the part that protrudes from the hull. Make sure that there's ample undercarriage allowance so the propellers won't be crushed.
Q: Should a kayak be transported upside down?
A: Most rotomolded kayaks can be transported upside down, especially if it has a pedal system. If you have a composite kayak, you should transport it with its bottom down with cradles. This is because composite kayaks are prone to deformation if placed upside down for long periods.
Q: Are pedal kayaks faster?
A: Yes, they are faster than paddled ones. In fact, pedal types are twice faster than paddling since the push pedals generate more force than paddling alone. This gives you better tracking and an easier time covering great distances on the water. This is paired with the convenience of keeping your hands free to set up your equipment.
---
Final Words
A good pedal kayak can make your next trips more exciting. Since your hands are free, you can now sip a cuppa while navigating the waters. You can also prepare your equipment without having to alternate between paddling.
What do you think of the products reviewed here? Which one do you prefer?