Do you want to get better with your swimming skills? The best training fins for swimming will make a big difference. The right swim fins will impact how well you can track on water, not to mention that it will also reduce leg cramps.
Below, I reviewed five of the best fins you can use for swim training. I also discussed a guide to help you choose the best pair for your needs.
TRAINING FINS
BRAND
EXPERT RATING
CHECK PRICE

Our Top Pick!


Hydro Tech 2 Ocean
Training Fins

Check Price

Aqua Sphere Zip VX
Training Fins

Check Price

Aqua Sphere Microfin
HP Training Fins

Check Price

Arena Powerfin PRO
Training Fins

Check Price

Speedo Rubber
Training Fins

Check Price
---
5 Best Training Fins for Swimming
#1 CHOICE
OUR TOP PICK: Hydro Tech 2 Ocean Training Fins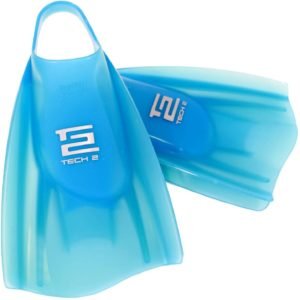 Product Name: Hydro Tech 2 Ocean Training Fins
Product Description: When it comes to the best swim training fins, Hydro Tech 2 is my go-to pair. These fins will give power to your leg movements for better speed and less strain. Moreover, these fins are made of T-form material. This is a silicon-based material but very soft, so it bends well underwater. It's very comfortable to wear since it flexes laterally and twists on both up and down kicks. Aside from that, these fins mimic the propulsion methods of sea animals. Experienced swimmers will notice a big difference with these fins. Overall, this is suitable for bodysurfing and bodyboarding, whatever the water conditions are.
Material

Fit and Size

Propulsion

Flexibility
Summary
I also like how the footbed curves on the toes make the fins more comfortable to wear. The fins are also molded to fit a specific foot (left, right), so it's not switchable.
These fins weigh 3.2 lbs. per pair and available in a wide range of sizes. However, I want to warn you that these fins run half a size smaller than the standard fit.
Aside from that, you should avoid getting these fins scraped on corals. It can get torn due to the soft material. But if you're training in a pool, this wouldn't be a problem.
Pros
Made of super-soft material
Flexes and twists underwater
Very lightweight and comfortable to wear
Cons
The material will tear in chunks if it gets snagged on sharp surfaces.
---
RUNNERS-UP
Aqua Sphere Zip VX Training Fins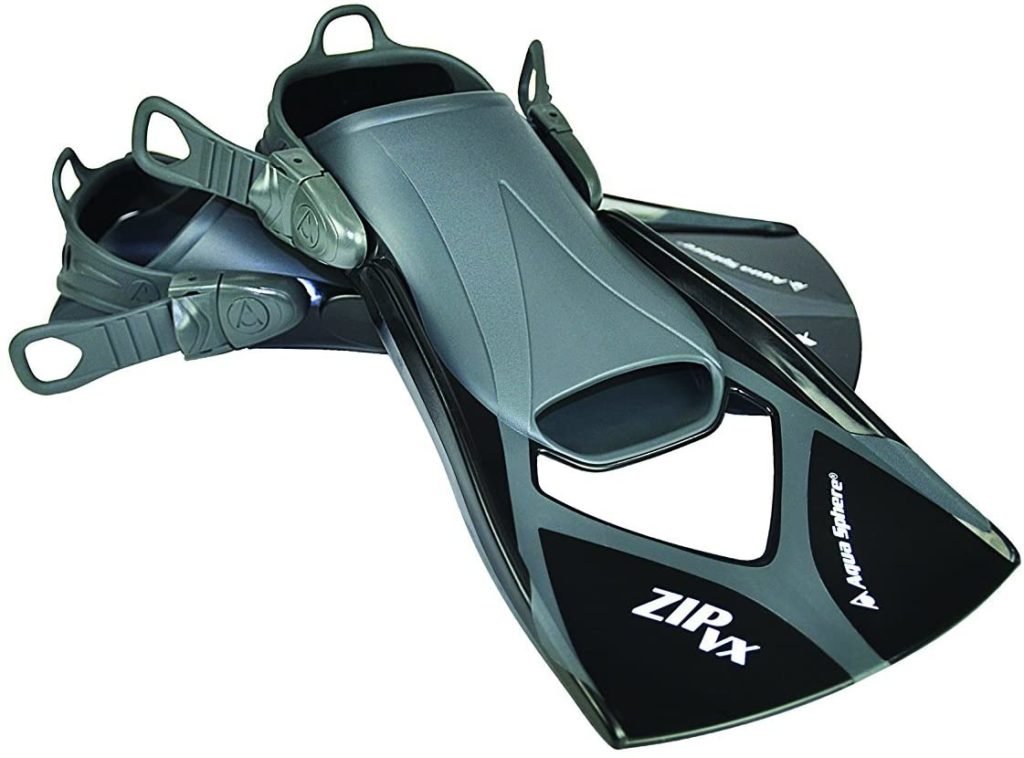 Another pair of swim fins I swear by is the Aqua Sphere Zip VX. This boosts your natural kicking motion to create a springboard effect that will improve the leg movement's efficiency. I also like the hole in the blade that you can use to increase your thrust power underwater.
These fins have narrow blades for improved kicking technique and less fatigue. It's also equipped with adjustable buckles to achieve the best fit before you swim.
Moreover, they have non-slip pads along the rails for better traction. This comes in handy when you need to push off the wall in the pool.
Overall, these fins will improve your ankle flexibility underwater. Whether you're diving into an Olympic pool or traveling, these swim fins are a great option.
If you've had the Aqua Sphere Zip fins before, you'd surely miss the padded heel straps. This new version leaves marks on my feet after training, but it doesn't hurt, so I don't mind.
Other than that, this pair is an excellent choice for most swimmers. These are pretty durable fins that can take the beating of rigorous training. For its price, I really don't have a major complaint.
---
Aqua Sphere Microfin HP Training Fins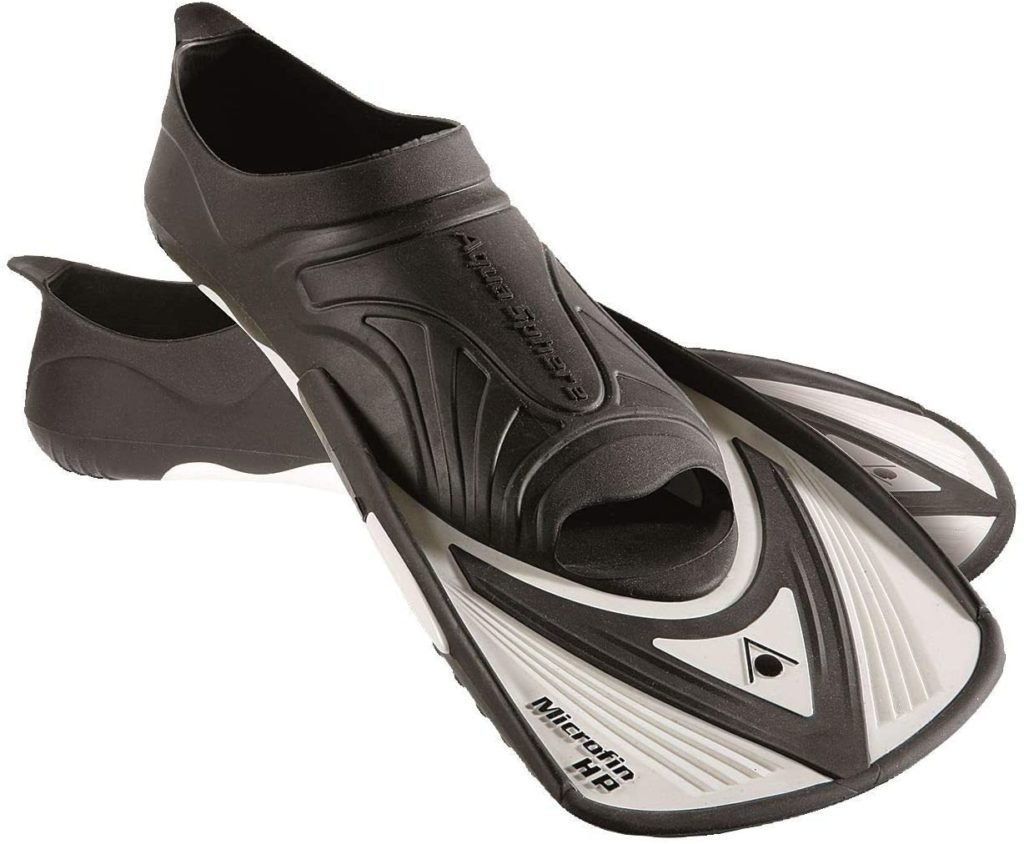 Another Aqua Sphere fin I recommend is Microfin HP. This one has rigid soles to prevent cramping. It also has a closed feet pocket, in case the Zip VX's heel buckles are uncomfortable for you.
The entire fin is made of TPR polymer material that lasts for years. It also has anti-slip rubber pads so you can flip and turn off the wall with excellent thrust power.
Moreover, these swim training fins have shorter blades to keep your feet on top of the water. It will help tone your muscles and strengthen your kicks. I really like the foot-to-fin power transfer, so it doesn't require much effort to track underwater.
If you are to get these, I suggest that you use neoprene booties. There's no problem using them as-is, but the booties will prevent the heel from rubbing into the fins. It will save you from blisters, especially during long training sessions.
Although it's not a big deal, I appreciate that they come with plastic inserts. This keeps the fins in shape during storage.
The only thing I noticed is that these swim fins need a better size guide. It tends to run smaller than what's indicated in the chart.
---
Arena Powerfin PRO Training Fins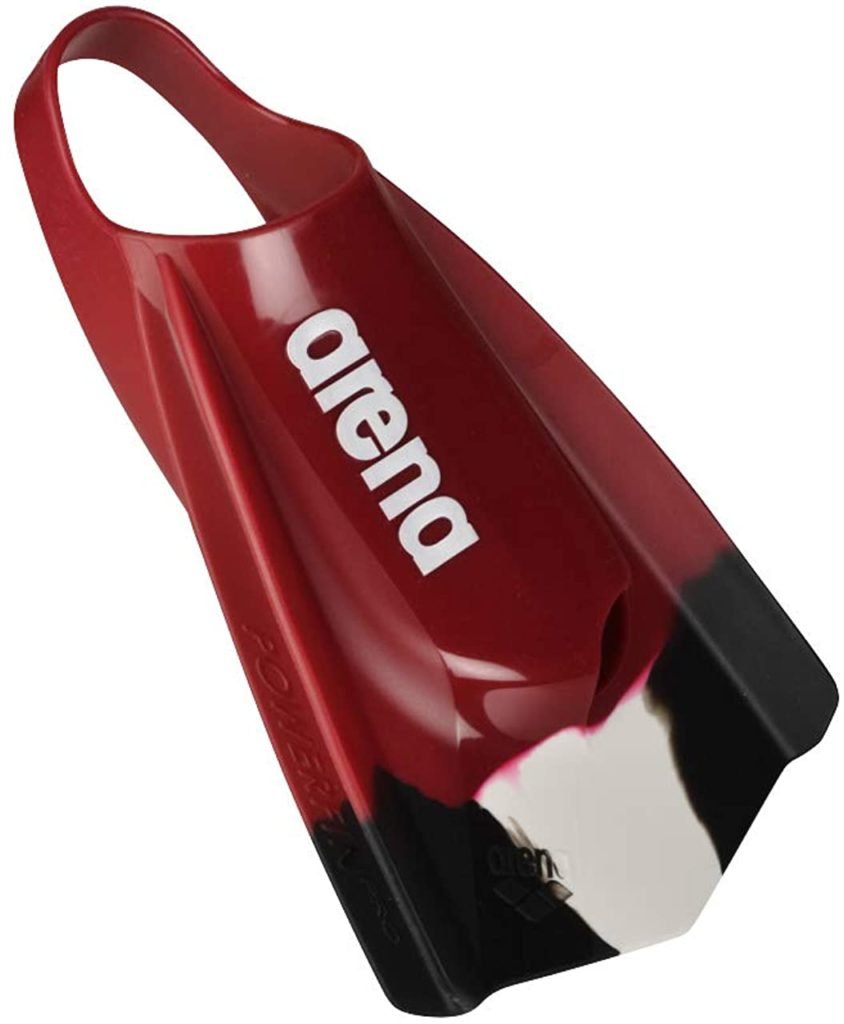 If you're a professional swimmer looking for a pair of training fins, the Arena Powerfin PRO might be the one you're looking for. This has an innovative blade design, including hydrodynamic slits on top, so that you can swim faster with stronger leg kicks. It also gives you better control underwater.
Moreover, this has an open heel design to boost your ankle flexibility. It also allows faster upward motions and a stronger downward kick. If you're working on your leg strength, these fins are a great option.
Aside from that, these swim fins have a specific fit for both left and right foot. The footpads are molded properly for comfort, so it's not switchable.
Just note that these fins don't float. If you lose it in open waters, it can be difficult to get back. But other than that, these are stellar fins. You can even choose from different colors if you want to add an aesthetic touch to your training.
The only thing I noticed is that they are slightly heavier than other trainers I've used. Still, it works well, and it will last for years if you store it right.
---
Speedo Rubber Swim Training Fins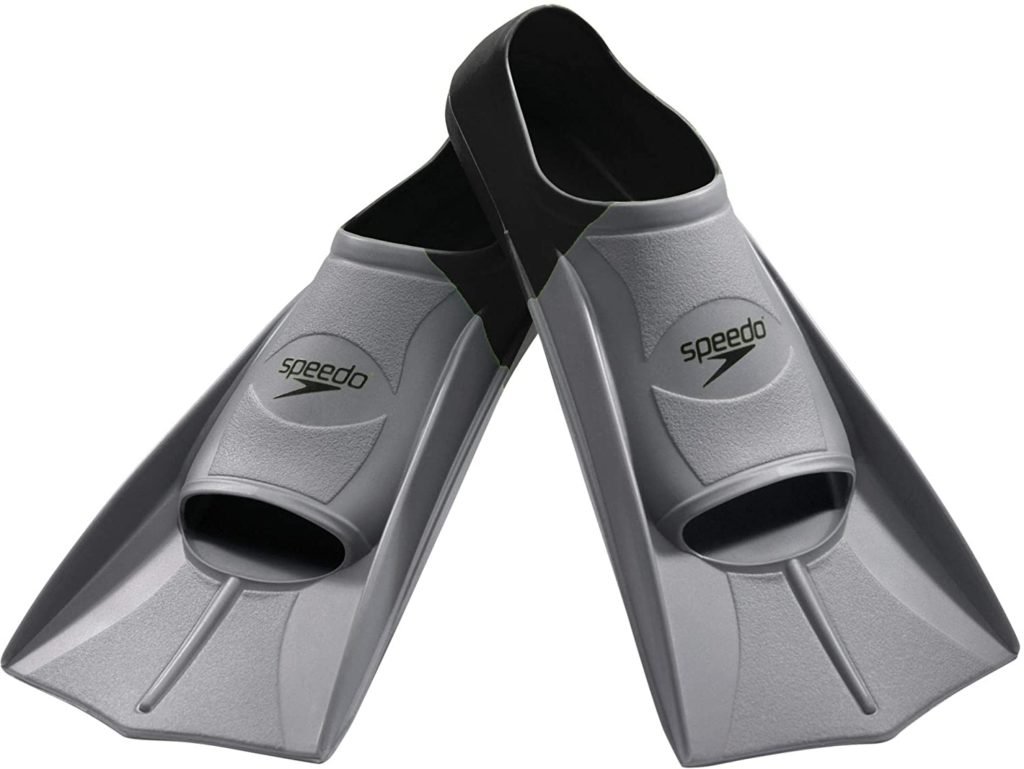 If you're on a budget, you can try the Speedo short blade rubber training fins. These are closed heel fins but with an open toe design.
These fins are made of soft silicone with a short blade profile. This will help you develop a strong and faster flutter kick. And since the material is soft, the heel part doesn't chafe, and it remains comfortable even on extended use.
Aside from that, the fins' heel area is softer, and I didn't have any problems. However, you should know that they run small, so you should consider ordering one size up. This is the case, especially if you're planning to wear neoprene booties on these fins.
Whether you're training and still learning how to swim, these fins are perfect options. It adds resistance to your kicks, so it becomes a great workout tool as well.
If you have larger feet, you may find it hard to put these on for the first time. It doesn't have a pull tab of some kind, which is something to keep in mind.
---
How to Choose the Best Swim Fins for Training
When it comes to best swimming fins, you have to consider a few aspects. The following are some of it:
✔️Length of the fins
The first thing to think about is the length of the fin blade. For training fins, it should be shorter than what you would typically use in open waters.
The shorter blades help strengthen the legs since it displaces less water in every kick. With that, the legs would have to work harder, therefore becoming stronger in the process. Once you use longer fins, your legs will be stronger underwater.
✔️Open vs. closed heel
Another important consideration is whether you'll get open or closed heel swim fin.
Open heel fins prevent chafing, which is common with closed heel type. It usually uses adjustable buckles so you can tweak it for proper fit. Aside from that, they give better ankle flexibility and a wider range of motion.
On the other hand, closed heels are ideal for colder days. It protects your feet from direct contact in water. You can also wear neoprene booties underneath for better foot protection.
In the end, it's all about your preference and what works well for you during training.
✔️Fin material
Training swim fins are often made of either silicone or rubber. The good thing with silicone material is it's very soft. It twists and bends underwater without breaking. However, silicone fins need better care because it can tear if caught on a rough or sharp surface.
Meanwhile, you can also find rubber fins, which are stiffer than silicone. These are long-lasting, but the common problem is chafing on the heel and top of the foot.
Take note that swimming fins are not meant to last forever. Whatever material you're buying, proper upkeep is the key to lengthen their lifespan.
✔️Fin stiffness
They are available in a wide range of stiffness. Professional swimmers who value speed will thrive in stiffer fins. However, you should know that the harder they get, the harder it is to kick. This can both be an advantage or a downside, depending on your training needs.
If you're not training for a competition, you can use softer fins. These are common options for beginner swimmers who find stiffer fins intimidating.
✔️Size and fit
Lastly, make sure that the swim training fins suit you well. Like shoes, a poorly fitting pair of fins will cause discomfort and injuries on your feet. This will compromise your performance underwater and may impede your training.
Getting the right fin size can be tricky since each brand has its own sizing charts. But if you've been buying fins for a while, you'll have an idea about what suits you well.
---
Frequently Asked Questions
Q: Are fins good for swim training?
A: Training swim fins are helpful when practicing your strokes and kicks. It takes away too much strain on your legs while giving you better traction and power underwater. Unlike full-sized fins, those made for training have shorter blades to keep the user afloat. Also, short blade fins are easier to use and help strengthen the leg muscles even more.
Q: What is the benefit of swimming with fins?
A: Swimming with fins allow you to have better speed compared to not wearing one. Aside from making you swim faster, they will also improve your kick power and endurance. This is the reason why athletes train with fins on so their legs will remain strong and in shape even during the off-season.
Q: Are short fins better than long fins?
A: It's not about which one is better, but which one suits your swimming needs. Shorter blade fins are used for training. It also allows users to swim faster compared to wearing long blade pair of fins. On the other hand, long fins are ideal for better propulsion, especially for beginner swimmers.
Q: Are split fins better?
A: Split fins create a spring-like action underwater. It reduces resistance and drag because the water can pass through the slits. With that, they offer better efficiency and ease of kicking. Still, it's not for everyone, and it may not suit all swimming applications.
Q: Why do freedivers use long fins?
A: Freedivers use long fins because it displaces more water in every kick. That means they can cover more distance in every kick, which is important because they don't use oxygen tanks. By using long swimming fins, freedivers will use less oxygen and borrow more time underwater.
---
Final Words
The best training fins for swimming will improve your leg strength and endurance. Just make sure that you find the design, fit, material, and length that suits you well. The five options reviewed above are excellent pairs you can consider.