As a stunning archipelago, Hawaii offers a wide range of activities. From water sports, hiking, trekking, camping, kayaking, and more, you'll never run out of things to do in this tropical paradise. As you go around, your feet will surely take the brunt of outdoor elements, especially moisture. To ensure that you're comfy and on-the-go, you should wear the best water shoes for Hawaii.
Below I reviewed five of the best picks in the market. See which one suits you well!
---
Benefits of Water Shoes
Unlike typical shoes, water shoes are made to withstand prolonged exposure to moisture. You can soak it in the ocean, and it will remain durable and protective. If you're wondering whether you should get one, these benefits will help you decide.
It keeps you from slipping. Are you planning to explore the rocky waterfalls at Akaka? If so, you should wear a reliable pair of aqua water shoes. As they are non slip, it will give your feet added traction so you won't sustain injuries.
It provides insulation. While Hawaii is a tropical place, your feet can still get chilly after a long day of soaking in the water. To ensure that your feet will be toasty, a pair of water shoes will help. It doesn't keep your feet bone-dry, but it sure shields your skin from the wind.
It protects your soles. Unless you want to stub your toe or step on a sharp shell, a pair of water shoes will be a great investment. It will save your soles from painful wounds that will hamper your vacation.
It's a versatile wear. Water shoes can be worn while swimming, boating, kayaking, paddle boarding and hiking. You can wear it in just about any recreational activities you can do in Hawaii.
If you're looking for reliable water shoes, you can consider the following:
---
5 Best Water Shoes for Hawaii Vacations
#1 CHOICE
OUR TOP PICK: Vibram KSO EVO-W Water Shoes
Product Name: Vibram KSO EVO-W Water Shoes
Product Description: For me, the best hikinh water shoes for Hawaii are the Vibram KSO EVO-W. It's made of XS Trek Vibram Rubber with PU film for added protection. This is paired with a textured anti slip rubber sole and a textile upper. One thing I like about this Vibram shoe is it has individual slots for the toes. This gives added traction when climbing rocks or swimming through moderate currents. Moreover, this shoe is very flexible and feels like a second skin when worn. I like the EVA+Drylex sock liner, which dries pretty fast even if it's soaked in water. Aside from that, this has an air mesh material on top, which keeps the shoes breathable. It also has fast lacing so you can slip it into your feet without the hassle.
Protection

Breathability

Durability

Comfort
Summary
Overall, these shoes are designed for unpredictable terrains. Wherever you are going to Hawaii, these Vibram shoes will suit you well.
You can also choose from a variety of colors and sizes to suit your taste. Whatever color you choose, all of them are machine-washable in a cold setting. However, you should only air-dry these shoes to prevent damages to the material.
If you have tubby toes, you may consider getting half a size up for comfort. Other than that, the sizing chart is pretty spot on.
Pros
Quick-drying insoles
Made for unpredictable terrains
Individual slots
Cons
It runs half a size small
---
RUNNERS-UP:

Speedo Seaside Lace 5.0 Water Shoes
Another pair of water shoes I swear by is the Speedo Seaside Lace 5.0. This is made of 70% textile and 30% neoprene. Its soles are made of synthetic material that can endure the most unpredictable terrains.
Moreover, this shoe bears Speedo's TRAC TPR outsole that streams water away from the shoes. It reduces your risk of slipping, especially when walking on rocks and slippery surfaces.
Aside from that, this has a breathable mesh upper that keeps your feet ventilated. It also helps the insole dry fast so it won't develop a bad odor.
The Speedo Seaside Lace 5.0 has a bungee lacing system for a secure fit, so it keeps locked in place. You can walk, run, and even swim in confidence with this feature.
Also, these shoes have a pull tab so you can easily put them on and off. It's also very lightweight and feels like a sock but with a much better level of protection.
Overall, these are great water shoes. However, I noticed that the soles are thinner than most water shoes I've had. Unless you're going to step on a blade, I don't think this will be a problem on a Hawaii vacation.
---
Teva Omnium Water Sandals
If you don't want a fully enclosed pair of shoes, you can try the Teva Omnium Water Sandals. This is made of 100% synthetic material blended with mesh. Aside from that, it has a rubber sole that offers excellent traction, whether you're trekking, climbing, or swimming around Hawaii.
The Teva Omnium Water Sandals have a 1.5" heel, which is comfortable for most users. It also has a closed toe design to prevent stubbing your feet. This is paired with grosgrain webbing overlays with a mesh lining.
I also like the multiple water drainage ports that prevent water from getting trapped inside the shoe. The midsole is also made of EVA foam with a shock-absorbing ShocPad technology along the heel.
Moreover, these water shoes have bungee lacing with a quick-release buckle strap. It's very easy to put on and off but remains steady even if you're doing rigorous activities.
Overall, these are comfortable to wear and even feels like a pair of slippers. I've had more expensive water sandals in the past, but those are no match with this pair from Teva.
The only thing I noticed is that it's a bit hotter to wear, but if you're soaking in water, this could be an advantage.
---
Merrell WaterPro Maipo 2 Water Shoes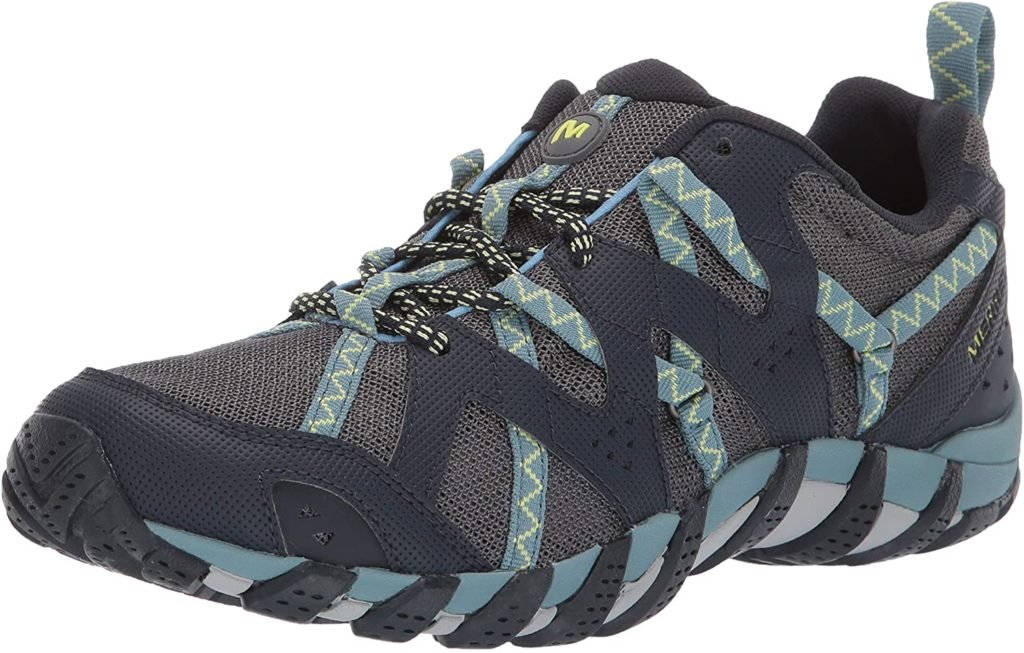 For those who are going for a long trek or a challenging hike in Hawaii, the Merrell WaterPro Maipo 2 is a topnotch choice. This is made of textile material with a Vibram TC5+ outsole. This guarantees unbeatable stability and traction even as you get soaked in water.
Moreover, this has the Kinetic Fit BASE EVA insole that you can remove as you wish. It also has a water-friendly top cover to keep your feet comfy in wet conditions. Aside from that, this has a low-top shaft from the arch, which is still comfy for most purposes.
One thing that really caught my eye is the webbing design of these shoes. It has a breathable mesh top as well as aesthetic webbing to keep the shoes durable.
Just note that these are tie shoes and not a bungee one. Other than that, these shoes felt great on our waterfalls trip to Hawaii. It's breathable, lightweight, and fast-drying.
The only thing I noticed is that these shoes have a wider fit. But with a neoprene sock, this would fit just as you like. Also, the extra room doesn't cause blisters, so I don't see it as a downside.
---
Zhuanglin Quick-Drying Aqua Shoes
If you're stretching the budget for your Hawaii vacation, you should consider the Zhuanglin quick drying aqua water shoes. These shoes have a Solyte midsole so you can move with ease during your vacation. It also has an excellent bounce-back feel.
Moreover, this has a Water Grip rubber outsole that ensures great traction on wet surfaces. It's also equipped with a ComforDry sock liner that cushions the feet well. This will also keep your feet cool, dry, and less painful on long walks.
Aside from that, this has a mesh upper and tiny drainage holes on the soles for breathability. This will also allow water to bail if you're swimming or crossing a river.
Overall, these are flexible shoes that don't take much effort to wear. It's also perfect for those with knee problems and users that require better arch support.
These are bungee-laced, so it's very easy to put on and off. There's no need to stop from time to time just to re-tie the laces.
The only downside I noticed on these shoes is the chemical smell straight from the package. I had to wash, and air dry it first to remove the smell.
---
How to Choose the Best Water Shoes
When buying a water shoe, you should consider the following aspects:
✔️Style
Water footwear is available in different types, which has specific purposes. The following are the most common:
Water shoes. These are full-fledged shoes with soles and upper. It looks like a typical pair of rubber sole shoes but durable enough to get soaked. It also has excellent breathability and water-bailing features to keep your feet dry.
Water sandals. Water sandals are like water shoes, but it has openings like typical sandals. It's suitable for those who want to keep their feet dry and well-ventilated. However, it's less protective since a part of your feet is exposed to outdoor elements.
Wet shoes. Lastly, wet shoes are more like thick aqua socks worn by divers. These are booties that can be used for swimming but not for hiking and surfaces with sharp textures.
✔️Size and fit
Another thing you should consider is the fit. Just like buying any shoes, you have to get the proper size to prevent hurting your feet. The good thing is that most water shoes have the same sizing as with other footwear. But to be sure, you should check the individual sizing charts of each brand.
You have to be careful as some brands tend to have sizes that run a bit smaller than most. I suggest checking the feedback of other buyers first.
✔️Material
Next, you should check the material of the water shoe. For the soles, rubber is a topnotch option since it's durable and gives good traction. You can find synthetic soles, which works well, but may feel a bit stiffer.
Aside from that, look for a breathable upper with a mesh layer. This will protect your feet from outdoor elements while keeping your feet ventilated.
Lastly, you should check the inner sole. It should have a soft material that will keep your feet comfortable even for long hikes and swims.
✔️Waterproof/water-resistance
Take note that water shoes aren't waterproof, but it can have a certain level of water resistance. This will prevent water from splashing straight to your feet. Aside from that, water shoes are made to be quick-drying, so it will not make your feet chilly. It also prevents bad odor from forming.
✔️Bungee vs. tie laces
Another thing you should check is the laces of the water shoes. It's usually available in either bungee or tie designs. Bungee laces are convenient because it locks the laces in place. It doesn't unravel, which is perfect for swimming.
On the other hand, there are water shoes for hiking with standard tie laces. This works too, but you have to tie it really good so it won't loosen during a long hike or a swim.
✔️Weight
Lastly, consider the weight. This will affect how comfortable the shoes will be, especially if you're hiking or swimming by the shore. I always opt for lightweight pairs that feel like socks or slippers. It's easier on the feet, and it doesn't tire me out easily.
---
Final Words
With the best water shoes for swimming in Hawaii, you can enjoy your vacation without injured feet. You can go for a swim, hiking, and walking around in confidence. These shoes will protect your feet no matter what trail you go on.
What do you think? Which one do you prefer for your vacation?