Are you looking for the best swimming goggles with nose cover? If so, you're on the right page! Here, I reviewed three of the best swimming goggles so that you will enjoy your next plunge even more. This will prevent water from getting into your nose and disorienting you underwater. Such gear is a staple for kids and beginners who are still learning their way in the water.
---
Purpose of Swimming Goggles
Swimming goggles aren't just for vanity. It serves as essential gear for your safety. The following are just some of the uses of swimming goggles.
Preventing irritation. The main purpose of swimming goggles is to protect your eyes from water. Whether you're swimming in the pool or the sea, the water can irritate your eyes. This will also spoil your chance of seeing what's underneath.
Keeping your eyes clear. Even though you cannot wear your glasses underwater, the good thing about swimming goggles is that you can still wear your contact lenses. Some are available with prescription glasses, so you can clearly see underwater.
Keeping water out of your nose. The major benefit of the best swimming goggles with nose cover is keeping the water out. When your first started learning how to swim, you surely experienced snorting water. It hurts, so a pair of goggles with a nose cover will come in handy.
Whether you're learning to swim or enjoying a regular dip, a pair of swimming goggles are a must-have. Below, I reviewed three of the best options you can find in the market, complete with a nose cover.
---
3 Best Swimming Goggles with Nose Cover Reviewed
#1 CHOICE
OUR TOP PICK: COPOZZ Snorkeling & Scuba Glass Goggles
Product Name: COPOZZ Snorkeling & Scuba Glass Goggles
Product Description: The COPOZZ Snorkeling & Scuba Glass Goggles might be the best swimming goggles with nose cover. This has a double panoramic lens so you can see underwater clearly. Overall, this has a full 180-degree view so you can make the most out of your swim. Aside from that, the goggles are made of tempered glass lenses. It's shatter-resistant and can be used for deep swims without worrying about the pressure. The lens is also scratch-resistant, unlike cheap polycarbonate materials. Moreover, this has an improved nose cover that fits most users. The goggles itself is fitted with a skirt and strap to prevent water from leaking. Overall, it's durable, and it doesn't have any strong plastic or rubber smell.
View angle

Protection

Durability

Value for Money
Summary
This is also bundled with a snorkel tube with two one-way purge valves. Once you dive into the water, the top valve seals automatically, so the water will not get in as you swim. Meanwhile, the bottom valve allows easy breathing. It also has a comfy silicone mouthpiece.
In addition, these goggles have an adjustable headband to achieve the most comfortable fit. But before you wear this, make sure that you treat the lens to remove the manufacturer's oils.  You can use a small amount of toothpaste for this process. After that, the lens will be noticeably clearer, and it will squeak when you try to swipe your fingers.
Pros
Tempered lens glass
Adjustable headband
Bundled with a snorkel tube
Cons
It doesn't come in a box but not really a biggie
---
RUNNERS-UP:

EXP VISION Pano 2 Premium Swim Goggles
The EXP VISION Pano 2 is an exquisite pair of swimming goggles. It's a panoramic swimming mask with three lenses. It offers a full 180-degree view so you can enjoy the underwater sceneries while swimming or snorkeling.
Unlike other goggles, this one has glass side panels so you can see everything around you. It has minimal to no blind spots, which is impressive for a pair of swimming goggles.
Aside from that, this is fitted with an anti-fog lens with no tint, so it's ultra-clear. It's also made of tempered glass, so it's resistant to scratches and shattering. The lens doesn't fog either, so it guarantees 100% clarity whatever the water condition is.
These goggles don't leak, thanks to its silicone skirt that provides a perfect seal around the face. It fits well without feeling too tight or leaky.
Moreover, the EXP VISION Pano 2 has a heightened nose cover to suit most users. Take note that these are designed for Americans, so if your nose is on the larger side, it might not fit well.
Also, this comes with a quick-adjust head strap. The strap is wide and can fit most face shapes. It also remains comfortable, even for long swims.
Lastly, the EXP VISION Pano 2 is covered by a 30-day money-back guarantee. It also has a lifetime breakage warranty, which speaks a lot about the quality of these goggles.
---
SwimStar Snorkel Set with Nose Cover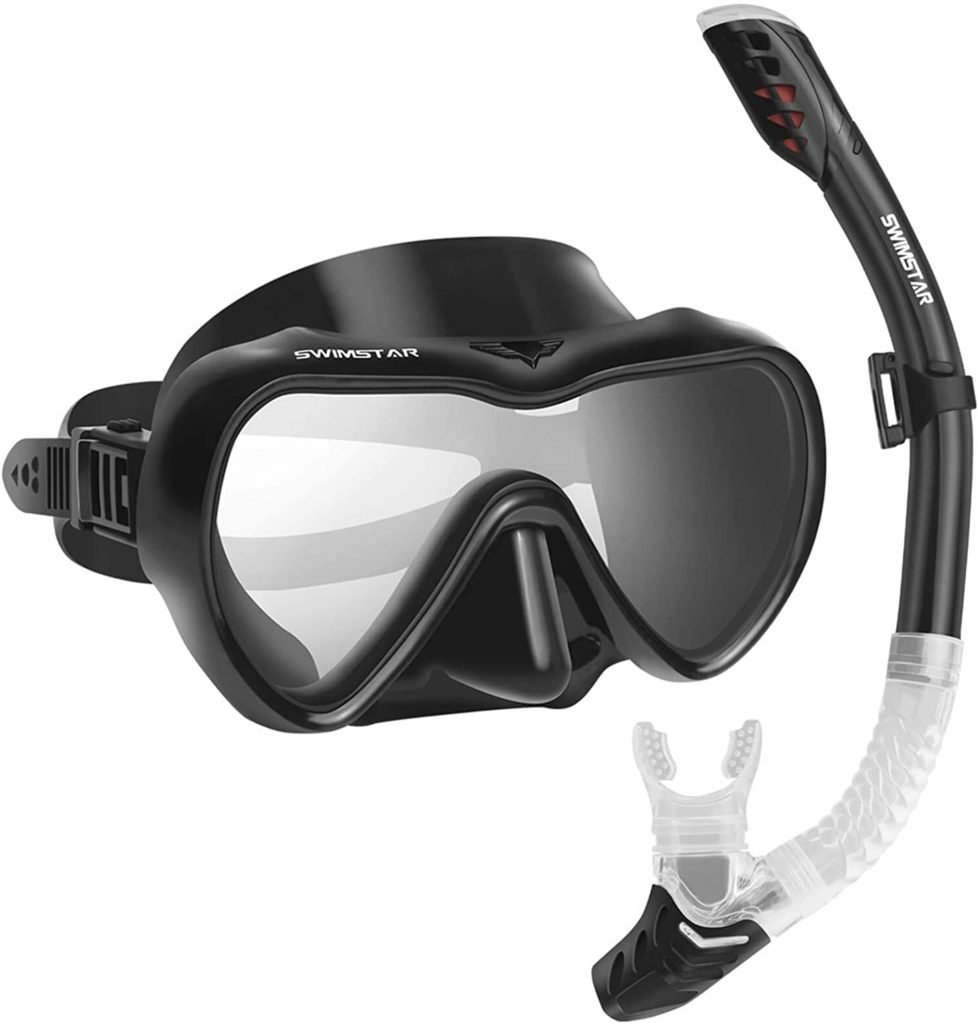 The SwimStar Snorkel Set with Nose Cover is a topnotch option for avid swimmers. The goggles are made of tempered glass lenses with an anti-fog coating.
The goggles are fitted with a comfort-fit silicone skirt that keeps the water out of your eyes and nose. The nose cover is made to suit most users, though people with bigger noses may not find it a good fit.
Take note that this is a one-window tempered glass. It may not give a full 180-degree view, it's still an excellent choice for recreational swimming and snorkeling.
Aside from that, this is bundled with a snorkel valve. It has a comfortable mouthpiece with a full-dry valve. Also, the one-way purge valve prevents water from entering the tube. On top of that, this snorkel valve has a Speed Fit button so you can use it on the fly.
Moreover, the skirt of the goggles conforms to the facial shape. This ensures a watertight fit even as you stay in the water for long.
Overall, the goggles are amazing, but the snorkel valve irritated my gums a bit. It's probably due to my jaw shape, but it's still worth noting here. And to prevent the lens from fogging up, make sure that you follow the user manual.
Lastly, you'll get a user manual and a carry-on bag together with the goggles and the valve.
---
How to Choose Swimming Goggles
When looking for the best swimming goggles with nose cover, you should factor in the following aspects:
✔️Size
Whatever swimming gear you're purchasing, it must fit well. Very tight goggles will hurt your face and potentially damage your eyes.
Swimming goggles are usually available in a wide range of sizes, with most equipped with adjustable headbands.
If this is your first time to buy a pair of goggles, it may take a few trial-and-error to find the one that suits you well. Each brand has its sizing specifications that go beyond small, medium, or large.
✔️Lens design and color
Next, you should check the lens design of the goggles. Some have multiple lens construction to give you a wider view. Others have a single lens for a cheaper option.
Whatever your option is, make sure that the goggles are made of tempered glass. This material will resist scratches and impact.
Aside from that, you should decide whether you want tinted or clear goggles. Tinted goggles reduce sun glare so that professional swimmers can swim without any distractions.
On the other hand, clear goggles let you see what's underneath. It gives a clear view of the water, which is perfect for recreational swimmers.
✔️Anti-fog feature
One of the most important features of swimming goggles is their anti-fog feature. This is made of a special coating that repels condensation. It ensures that you'll have a clear view of the surroundings as you swim. Whether you're swimming in the pool or open waters, an anti-fog feature is a must.
✔️Waterproof skirt
While goggles are often made to cover the eyes, some are fitted with a waterproof skirt. This prevents the water from leaking inside and entering the eyes and nose. These goggles are popular for snorkeling, but it's also a good choice for swimming, especially for beginners.
The waterproof skirt should conform to your facial shape comfortably. I always prefer a silicone skirt because it doesn't have any weird smell, and it doesn't irritate the skin.
✔️Nose cover
Also, you should check the size of the nose cover of the goggles. Those with larger than typical noses may find it difficult to find goggles with nose cover that fits them. So aside from the size of the goggles itself, it's essential to factor in the room dedicated to the nose.
Many goggles with nose covers I bought have nose sizes designed for Americans. These are relatively smaller than European versions, so it's something to keep in mind.
✔️Headband
Check the headband of the goggles you're going to buy. It should be adjustable so you can have the fit that suits your head. And like the skirt, this should be made of durable and hypoallergenic material.
✔️Price and warranty
Lastly, consider the price of the goggles. It doesn't usually go for dirt-cheap googles because it got worn out and damaged pretty fast. So if you're an avid swimmer who's looking for goggles that will last for years, I suggest that you invest in quality.
Besides, goggles will not cost a fortune. You can get an athlete-quality pair for a small price. It's a matter of finding the right balance between the price tag and the goggles' quality.
---
Frequently Asked Questions
Q: Why do snorkel masks cover the nose?
A: Snorkel masks or goggles have covered noses to allow the user to breathe underwater. This is used in line with a snorkel valve that sticks out of the water. Also, having a nose cover keeps the user conscious that he or she has to breathe through the mouth. It prevents users from snorting water while reducing the risk of drowning.
Q: Do swim goggles cause wrinkles?
A: After a long swim, you will notice deep creases on your face after removing the goggles. This is usually followed by puffiness and redness on the face. Usually, this goes away after a few hours, but regular swimmers may notice darkening spots along the area where the goggles' rims fit. If you're worried about wrinkles, I suggest moisturizing the creases regularly.
Q: Are swimming goggles bad for your eyes?
A: Swimming goggles are meant to protect your eyes, but poorly fitting ones can defeat this benefit. Experts suggest that very tight goggles can increase the pressure in the eyes to unhealthy levels. This can cause eye damage if worn for long periods regularly. This is why buying properly fitting goggles are a must, whether you're a professional swimmer or not.
Q: Can you swim without goggles?
A: Of course, you can swim without goggles. However, this will expose your eyes to irritants, much so if you're diving in saltwater. Since water safety should always be the priority, there's nothing to lose if you'll wear a pair of goggles. It would even let you enjoy the underwater sceneries even better if you're swimming in the sea.
Q: Should I wet my goggles before swimming?
A: Many swimmers spit on their goggles before wearing it to add a thin layer of moisture to the lens. This is said to prevent fogging. Others wash the lens with a small amount of shampoo and rinse it. The shampoo will leave a transparent film on the lens, which will prevent it from fogging up. If you're not a fan of spitting on goggles, the shampoo is a much better choice. Just don't rinse the shampoo in the ocean.
---
Final Thoughts
The best swimming goggles with nose cover will give you added protection in the water. It will prevent water from getting into your nose and eyes. Just make sure that you get a pair with the right size, material, and features. The three options I reviewed above are just some of the durable picks in the market that you can consider.
What do you think of these swimming goggles? Which one do you plan to use?