If you've visited Hawaii before, you'd surely want to come back. But for those who are yet to discover the wonders of the archipelago, the best place to scuba dive in Hawaii should be on their list. Like the beauty of its shores, Hawaii is a whole different world underwater. It's a universe of marine animals waiting for you to lay eyes on.
Hawaii is an archipelago consisting of 137 islands, 6 of which are considered major landmasses. A few days aren't enough to witness the entire glory of this U.S. state. But if you want to get started with the best diving spots, you shouldn't miss these seven places scattered all over the island group. Pack your gears and let's take a plunge below:
1. Kona
Kona is famous for its manta ray dives. It's a haven for visitors who want to get up close with the pelagic creatures that can't be found in other places.
Overall, Kona has over 50 dive sites, which adds to its mystic as a vacation spot. Take note that manta ray dives here are done at night for higher chances of spotting a whole school of manta rays.
During these dives, manta rays will sweep through the light beams coming from the divers. It's a breath-taking and captivating scene in the depths of dark waters.
There's no shortage of dive shops around Kona. If you want to start with tourist favorites, you can schedule your plunge in Long Lava Tube or Eel Cove. Local divers often organize dives, while you can also avail it through your hotel if they offer it in their package.
Most of the time, dives in Kona are done in a ratio of four divers to one divemaster. If you're a large group, you'll be divided into multiple divemasters to ensure safety.
2. Oahu
Oahu is where Pearl Harbor was located before it got bombed during World War II. With such events, there's no doubt why this place is called the 'Wreck Capital of Hawaii'. Many ships during the World War II attack sunk under its waters.
Far from its tragic history, Oahu is now attracting visitors who want to witness the underwater sceneries from years past.
The most popular wreck here is the airplane Corsair, which sank in 1946 after crashing into the waters. You can also visit the San Pedro wreck, which was sunk deliberately for tourism purposes. It's located side by side with the YO-257 wreck.
 Aside from wreck dives, Oahu is also popular for its shark cage dives. This is often organized on the north shore of the island. On such dives, you will see hammerhead sharks, tiger sharks, Galapagos sharks, and more. Hawaii is home to 40 shark species, so imagine the underwater scenery!
3. Molokai
Those who are trained and experienced in drift diving should head to Molokai. This is where you'll find deeper walls where hidden beauty can be seen. While these dives aren't for beginners, it's worth the try for seasoned divers who want to see pelagic creatures.
The spot called Fish Bowl is the most popular dive site here in Molokai. It's a 40 to 60-feet dive with up to 100 feet of visibility. To get here, you need to ride a boat or liveaboard.
Under the Fish Bowl site, you'll see colorful reef fishes, octopuses, sharks, and rays. It's the same reason why it's given such a fitting name.
There are many dive shops that offer trips to Molokai's Fish Bowl. Just make sure that you are trained well for such dives because the water here isn't the easiest in Hawaii.
4. Kauai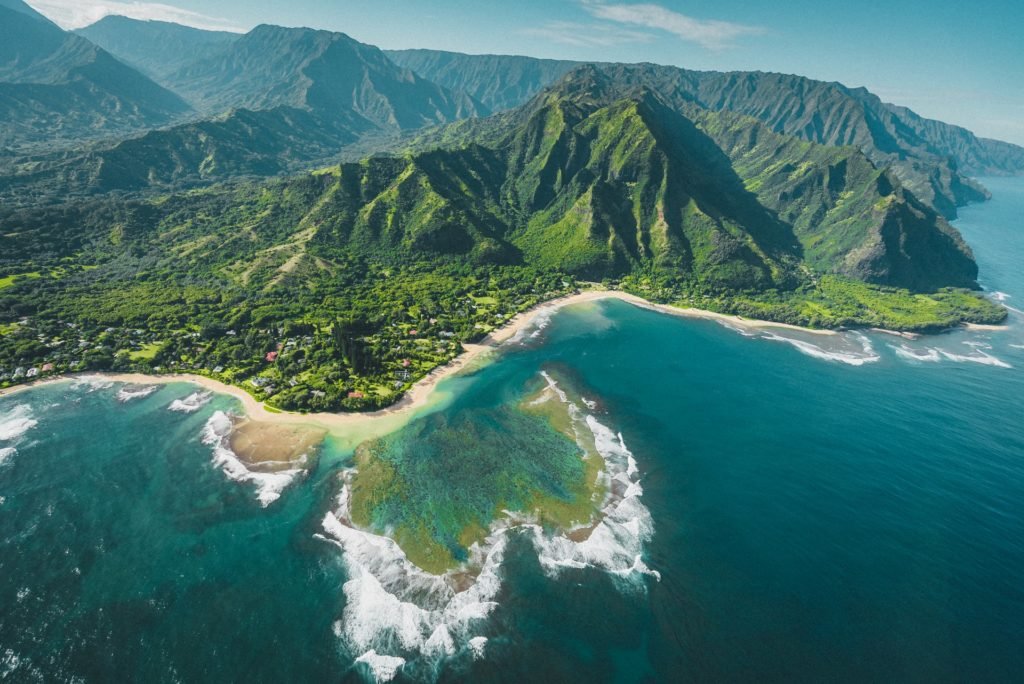 For those who are obsessed with sea turtles, Kauai is the place to be. There are multiple dive sites here that are home to a range of turtle species as well as sharks and other marine life. Most of the underwater creatures are unbothered by the presence of humans as long as you'll respect their space.
Some of the most prominent dive sites in Kaui are the Sheraton Caverns, Koloa Landing, Fast Lanes, Zach's Pocket, and General Store. All of these sites offer an eye candy of colorful marine life.
Also, Kauai is popular for the endangered Hawaiian green sea turtle. Many divers have chanced upon this rare beauty during one of their dives.
5. Maui
Maui is one of the most popular islands in Hawaii. Maui is also known as The Valley Isle, which is the second-largest island in the state. It boasts of stunning beaches and breath-taking views. But underwater, Maui is a whole new paradise.
Wreck dives are one of the crowd favorites here, especially the Carthaginian and St. Anthony wreck sites. The good thing is that these wrecks are considered recreational and easy to reach, even for those who aren't very seasoned divers.
Maui is also home to beautiful coral reefs and Hawaii's state fish, the humuhumunukunuku apua'a. It's as unique as its name!
If you want to stay close to the best diving sites, Maui is a diverse spot to choose from. You can also try a myriad of watersports in between dives.
6. Molokini
Molokini is a small island located about three miles from the southwestern coast of Maui. This is a crescent moon-shaped island home to up to 250 species of various tropical fishes.
One of the must-see spots here is the Molokini Crater. The crescent-shaped island we see from the top is actually a half-submerged volcano. Don't worry because its last recorded eruption was more than 230,000 years ago. Nowadays, it's considered safe to visit as long as you book a legitimate dive trip.
Most tours to this island are available through the Lahaina or Maalaea Harbors. These are located both in Maui but 12 miles apart.
While barren at the top, the Molokini Crater is something an experienced diver won't like to miss. Snorkelers are also welcome to explore the shallow waters. Just make sure that you wake up early because the morning waters are the calmest in Molokini.
7. Lanai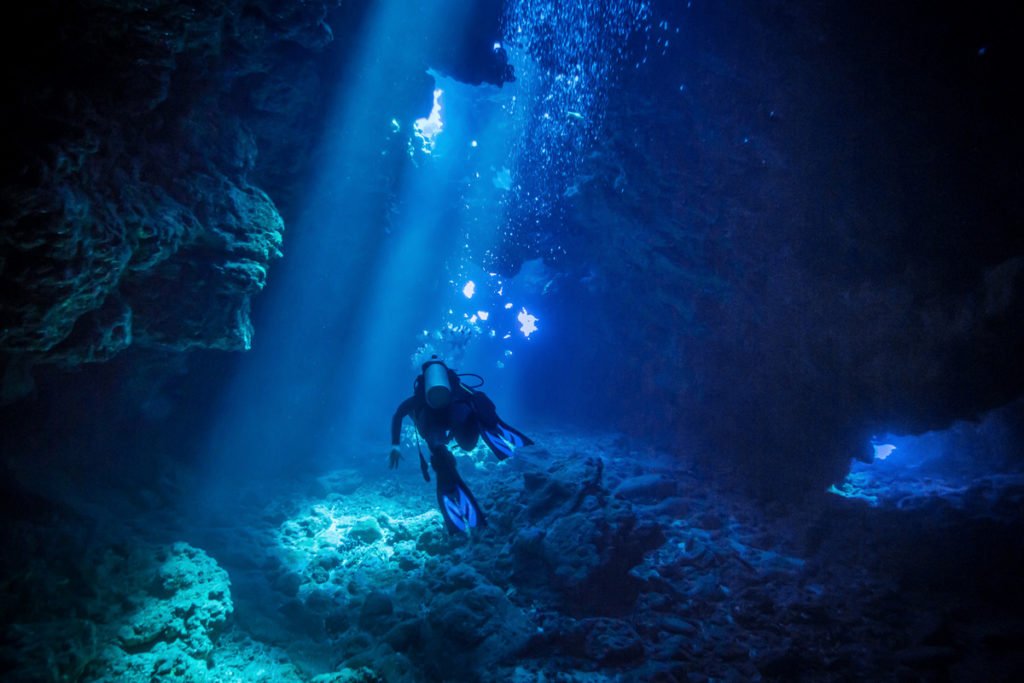 Lanai is the smallest inhabited island in the entire state of Hawaii. It's located about nine miles off Maui, but it feels like a whole different world. It's a quiet respite and a paradise for divers who crave the best underwater life they can ever see.
Since it's located quite close to Maui, it's easy to find trips to Lanai. Dive shops also organize trips here for guided explorations.
On your way to the island, you can chance upon pods of dolphins and even humpback whales.
When it comes to dive sites, the First Cathedral is the most popular here. Underwater, it looks like a two-story cavern that resembles a cathedral. It's a majestic sight as sun rays pierce through the holes on the rock formation.
Freedivers will also enjoy the Steve's Cave dive site. Here, you can see schools of colorful fishes with a maximum depth of up to 70 feet.
The good thing with Steve Cave is it's suitable for beginners to intermediate divers, depending on the depth. This is a lava tube that runs through the famous Pacific pinnacle, so there's no wonder why it's home to such beautiful creatures.
---
Best Time to Dive in Hawaii
Hawaii remains an attractive vacation spot all-year-round because of its tropical climate. The peak season for diving is December, when the warmer isn't too cold or too hot. However, this period is also when crowds gather. It stretches up to March, which could be a downside if you want a quiet stay.
This period is also the holiday season, so it's a commonplace for tourists to flock for Christmas and New Year celebrations.
If you want to avoid the large crowds, you can visit from April to June as well as September and the early part of December. During these periods, the crowd isn't as heavy as the peak season.
Just note that the months of June to August are the summer season. Schools are out, so many families are vacationing from the contiguous United States.
Overall, you also have to factor in the hurricanes and weather disturbances that may occur anytime during the year. The Central Pacific hurricane season usually hits from June to November, so dives will be weather-reliant at this period.
It's essential to coordinate with a local divemaster to receive proper advice. They know the place well, and they will advise if it's safe or not to continue with the trip.
---
Diving Conditions in Hawaii
As mentioned earlier, dives in Hawaii are always weather-dependent. During the peak season, dives are often predictable due to the calmer seas and stabler temperatures.
On most days, the water temperature would be around 75F to 80F, which is pretty cozy for most divers. It's not too warm or too cold, so it's easy to move underwater.
Also, any diver levels will find a spot to explore here in Hawaii. There are many dive sites here that suit beginners to advanced divers. You can find dive sites here with depths ranging from 10 feet to 130 feet.
Moreover, the visibility underwater can be as deep as 100 feet in the best condition. When there's run-off or heavy rains, it can be minimal at 50 to 70 feet, or even less.
---
Final Words
It's hard to choose the best place to scuba dive in Hawaii because all of it has something to offer divers. But why choose one if you can visit many of them? From Maui, Kona, Oahu, Kauai, Lanai, and more, there's something to see both on land and underwater.
What do you think of these dive sites? Which one are you planning to visit? Let us know below!