Do you want to take a break from diving? Paddle boarding is surely an enjoyable activity. You can enjoy the beauty of the waters while letting your body rest from previous dives. It's also relaxing and a low-impact activity that both beginners and old-timers enjoy. But before you can cruise through the waters, you need the best paddle board for the price.
PADDLE BOARD
BRAND
EXPERT RATING
CHECK PRICE

Our Top Pick!


Bluefin Cruise
Stand Up Paddle Board

Check Price

ISLE Cruiser Rigid
Stand Up Paddle Board

Check Price

iROCKER Inflatable
Stand Up Paddle Board

Check Price
If you're in the market for a reliable paddle board, it's best to avoid the cheapest units. I once purchased a $100 board only to sink a few meters away from the shore. Aside from being a waste of money, it spoiled my vacation. From then on, I only invest in reliable SUPs, even if it means shelling out more bucks.
Here, I reviewed three of my favorite paddle boards. While it's not the cheapest, it's still reasonably priced. Every cent is worth it since each of these boards will float and cruise on the water smoothly.
---
Best Paddle Boards – Top 3 Picks
#1 CHOICE
OUR TOP PICK: Bluefin Cruise Inflatable Stand Up Paddle Board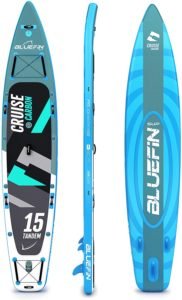 Product Name: Bluefin Cruise Inflatable Stand Up Paddle Board
Product Description: If you're looking for a good paddle board for the right price, nothing beats the Bluefin Cruise SUP. While inflatable, this board will give rigid types a run for its money. This is a 15-feet board made of composite rail and 1000-denier exon surface laminate. And to ensure durability, this board has pro-weave drop stitching. Moreover, the Bluefin Cruise has a Flex Reduction System (FRS) made of robust carbon fiber. It has a diagonal twill pattern to ensure stiffness while inflated. Despite that, it remains light and easy to carry around. In addition, this board has Air Duo inflation. This uses an independent inflation loop to make it more durable. It also allows higher air volume, so the board almost feels like a rigid type despite being inflatable. This will also make inflation twice faster as compared to other pumps.
Material

Buoyancy

Stability

Value for Money
Summary
The Bluefin Cruises also has the Box Fin System underneath. This guarantees excellent tracking on water. This is paired with two carbon paddles, which floats, too. I also like that the paddles can be combined so you can use the paddle board like a kayak.
You will also receive loads of accessories for this paddle board. It's bundled with an ankle strap, fins, a pump, two kayak seats, and a storage backpack. And if that's not impressive enough, the Bluefin Cruise SUP is also covered by a 5-year warranty.
Overall, this SUP board is a favorite among beginners and avid paddlers. If you're going to ask me, this is already affordable.
Pros
Air Duo inflation for a stiffer board
Flex Reduction System for rigidity
Bundled with many accessories
---
RUNNERS-UP:

ISLE Cruiser Rigid Stand Up Paddle Board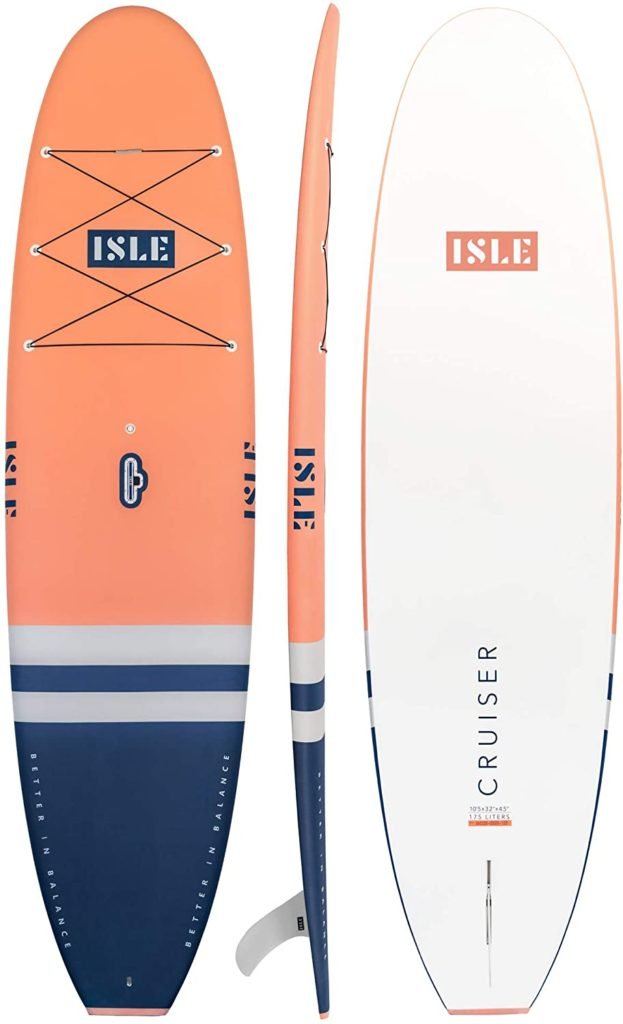 Another I recommend is the ISLE Cruiser. This is the best pick if you don't want inflatable SUPs.
This is made of molded foam core with wood stringers. It's guaranteed to be rigid with a slick bottom to boost its tracking. I also like the soft top that makes it easy to stand up for extended periods.
Moreover, this is a 10'5″ board, which is shorter than the one I reviewed from Bluefin. If you're a beginner, this is an excellent choice, although transporting it is a bit more challenging. Still, it only weighs 28 lbs., which is surprisingly light for a rigid SUP.
Aside from that, the ISLE Cruiser has a center fin for improved speed. It also has a Gortex vent plug that lets air escape from the board's core brought by rapid temperature changes. This prevents delamination and damages to the SUP board.
The ISLE Cruiser is also bundled with accessories. It comes with a carbon paddle, which is adjustable from 65″ to 86″. Aside from that, you'll also receive an 8″ ankle leash and nylon center fin.
Overall, this is perfect for beginners and intermediates alike. You can also use this for casual paddling, surfing, yoga, fishing, and other water activities. And since it's not inflatable, it's ready to use without requiring an air pump.
---
iROCKER Inflatable Stand Up Paddle Board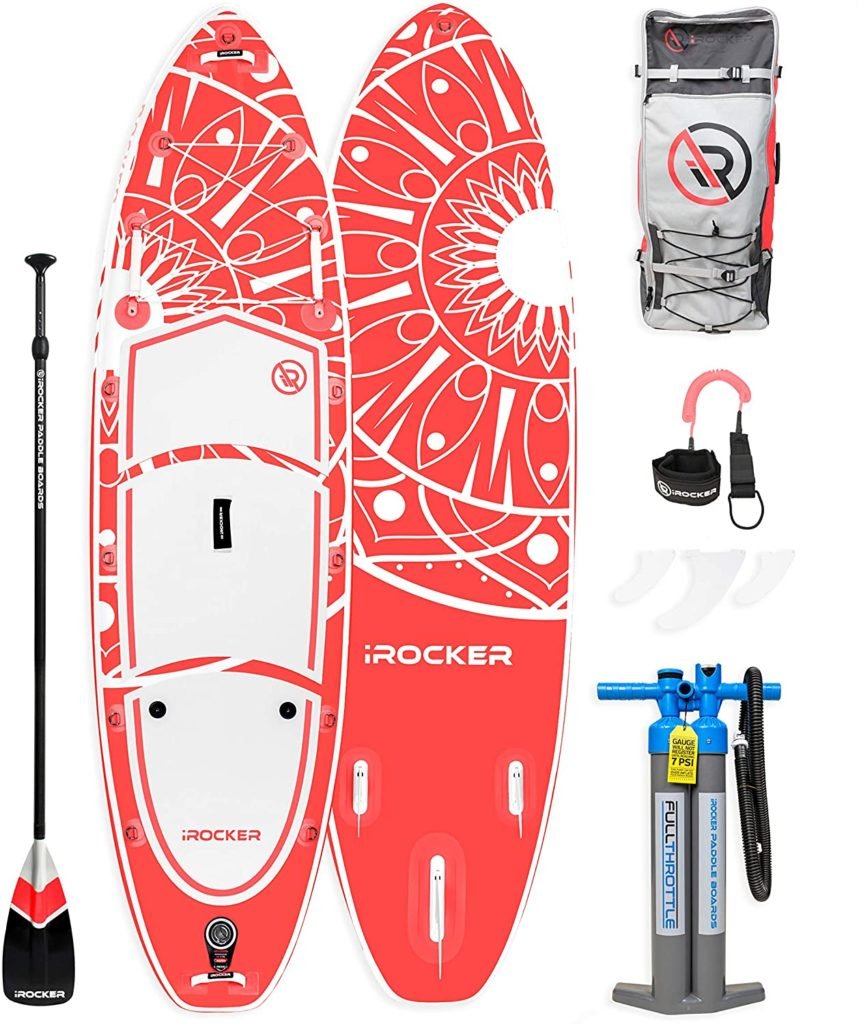 If you're looking for a short, inflatable SUP, you should definitely try the iROCKER Paddle Board. This is 10-feet long, 6″ thick, and 32″ wide. It has a triple-layer composite construction paired with drop stitching in the core to ensure its durability at all times.
Moreover, this has dual fusion heat-welded seams to prevent leaks. It's also made with a dual-chamber core that can be inflated using the triple action hand pump included in the package.
What I really like about this one is the action mounts. It lets you install bungee cords and D-rings to secure your belongings. So aside from typical paddle boarding, you can also use this for fishing.
Aside from that, the iROCKER SUP comes with an adjustable carbon paddle. It floats so you won't lose it in the middle of the water. You can also convert the paddle so you can use the board as a kayak.
Also, this SUP has a maximum weight limit of 370 lbs. It's built for all water conditions and extra-durable, even for regular use. The deck pad is EVA (anti-vibration) for excellent traction. There are also multiple handles for convenience.
Lastly, this comes with a two-year warranty and a bunch of new accessories for your enjoyment. For this price range, this board is definitely a steal.
---
Stand Up Paddle Board Buying Guide
When buying a paddle board, you should consider the unit's quality and overall build. The following are some of the most important considerations:
✔️Inflatable vs. rigid
They are available in either inflatable or rigid types.
Cheap inflatable paddle boards are popular for their convenience since they can be stored in a backpack. Also, inflatable types are light and easy to carry, from water to land. However, inflatable types aren't invincible to punctures.
On the other hand, rigid types are good options if you don't want the hassle of pumping a board every time. It's often made of a mold foam core with drop stitch. While rigid stand up paddle boards are ready to use all the time, it can be cumbersome and difficult to transport.
The choice depends on your preference. Both are useful as long as you invest in a durable unit that's made to last.
✔️Length and weight
Another important consideration is its length. The following are the common board sizes and what it offers:
Short. These are under 10 feet long. It's perfect for kids and short users who want a maneuverable vessel. But since it's smaller, it tends to be slower than longer options.
Medium. These can be anywhere from 10 feet to 12 feet. It's suitable for most users, but taller and heavier users should check the weight capacity first.
Long. These boards are at least 12.5 feet long. It's ideal for fast paddling since its narrower design cuts through water smoothly. However, long paddle boards require more practice since it takes effort to maneuver.
✔️Board material
Next, check the board material. I've purchased many cheap paddle boards in the past, and I know how the material can widely affect its performance on the water. The following are the widely used materials in the market:
PVC. This is used on many inflatable SUPs. It's durable as long as it's stitched, welded, and glued properly. Military grade pvc is also lighter and easier to maintain.
Plastic. These are used on rotomolded paddle boards. Also, most rentals I've used before have this material. It works, but it's heavy. The main consolation here is the cheaper price.
Fiberglass. If you're buying a rigid paddle board, fiberglass is the best material. It has EPS foam inside for added buoyancy.
Soft tops. These are boards with a hard bottom and soft tops. It's easy to use and can be found in most rental shops.
✔️Paddle
Aside from the board itself, you should also check the quality of the paddle. This will affect how easy it is to maneuver the board.
Fiberglass shafts are the best options since it's lightweight but durable. A floating paddle is also a big plus, so you won't lose it in the water.
Also, many paddle boards are bundled with convertible paddles so you can use the vessel like a kayak.
✔️Weight capacity
Just like any water vessel, it's important to check the weight limit. This will ensure that the board can carry you well on the water.
Most paddle boards are rated from 250 lbs. to 370 lbs. Other boards can have a higher weight limit than this but expect it to be more expensive.
You shouldn't get one with a weight capacity that's the same as your weight. The rule of thumb is that there should be a 20% allowance so the board won't sink.
✔️Accessories
Lastly, it should come with accessories. An ankle strap is a basic accessory, so you won't lose the board in case you topple into the water. A pump is also necessary if you're buying an inflatable SUP board.
Other boards are bundled with carry bags, bungee cords, D-rings, and more. These are optional accessories but always helpful to have at your disposal.
---
Frequently Asked Questions
Q: Is SUP a good exercise?
A: It is an excellent exercise because it tones your core and improves your balance. The paddling motion also exercises your shoulders, arms, knees, and hands. It's low-impact but very helpful as a mode of exercise.
Q: Is it okay to leave an iSUP inflated?
A: Yes, it's okay to leave and store your inflatable paddle board inflated. However, you shouldn't expect it to hold its shape and stiffness. After some time, the board will leak some air, so you need to pump it a bit on the next use. Also, you should store it in a dry and cool place to prevent damage to the material. If you're planning to store the inflatable board for more than a month, it's best to deflate it.
Q: Is stand up paddle boarding hard to learn?
A: No, it is fairly easy to learn. People of all ages, experience levels, and fitness can learn how to enjoy this activity. If you're a beginner, you should start on calm waters so it would be more predictable. Proper instruction will also help a lot to prevent accidents.
Q: Can you paddle board without a fin?
A: Technically, yes, but the tracking would be awful. You need a fin to make the board maneuverable and speedy. It also adds stability to the board, especially on moderate to strong currents. The absence of a fin will also send the board spinning in circles.
Q: How do I maintain it?
A: Proper upkeep is the key if you want to stretch the lifespan of your paddling board. Always wash it with clean water after each use. This is regardless if you used it on fresh or saltwater. Also, keep it in a dry and cool place away from chemicals. You should also dry the board first before storage.
---
Final Words
With the best paddle board for the price, you can enjoy cruising through the water in confidence. Unlike cheap options, durable SUPs can last for decades. It will also keep you afloat on any water condition. Just make sure that you invest in a high-quality board that fits your expertise, weight, and budget.
What do you think of these products? Share your thoughts!