Swimming can be a fun activity, not just for grown-ups but also for toddlers and kids. It's a good sport that will help develop a child's motor skills, coordination, and strength. With proper guidance and teaching, your little one can be a topnotch swimmer in no time. But to make sure that your kids are ready to plunge, you should get them the best swim goggles.
GOGGLES
BRAND
EXPERT RATING
CHECK PRICE

Our Top Pick!


SWIM ELITE Kids
Swimming Goggles

Check Price

Frogglez Youth Swimming
Goggle Mask

Check Price

Frogglez Kids Swimming Goggles
with Pain-Free Strap

Check Price

Careula 2-Pack Kids
Swimming Goggles

Check Price

Seago 2-Pack
Swimming Goggles

Check Price
Goggles are one of the most important gears when swimming. It protects the eyes, which is very important for toddlers that are still learning how to swim. Swimming pools have chlorine, while beaches have saltwater. All of these can irritate your child's eyes, which will make swimming less enjoyable.
Unlike adult swimming goggles, those made for kids have a special fit. Some even come with a pain-free strap so their young skin won't get chafed.
If you're looking for kids goggles, these five I reviewed here won't disappoint:
5 Best Swimming Goggles For Toddlers & Kids Review
#1 CHOICE
OUR TOP PICK: SWIM ELITE Kids Swimming Goggles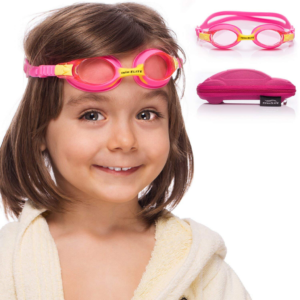 Product Name: SWIM ELITE Kids Swim Goggles
Product Description: When it comes to the best swimming goggles for toddlers, I swear by the SWIM ELITE. My two-year-old loves this, and she would even wear it around the house. This is made of a thermoplastic rubber frame with a glass lens. To ensure its durability, the lenses have an impact-resistant coating, which is very important for kids. It also offers UV protection when swimming under intense sunlight. This is paired with an anti-fog coating so your kid can see clearly underwater. And with its 180-degree view, this is very comfortable for just about any child. Moreover, these goggles have a soft cushion on the frame to prevent skin irritation. The bridge on the is also soft and comfy, so your child will have fun using this while swimming. I also like the soft suction that the frame creates to keep water off the eyes.
Protection

Material

Fit

Quality
Summary
Aside from that, it's fitted with an adjustable strap so that the goggles will fit any kid well. The goggles are also bundled with a silicone case shaped like a car. This gives an added appeal for young children.
The best thing here is that if you or your kid isn't happy with the goggles, SWIM ELITE will give you a full refund. They will give this guarantee, no questions asked!
These goggles are available in different colors to suit your toddler or older child's preference. The color of the goggles also matches the color of the hard case.
Pros
Made of hypoallergenic material
Bundled with a hard case
No-questions-asked refund guarantee
Cons
It tends to run small, so it's best for toddlers only and not for older kids, as stated.
---
RUNNERS-UP:

Frogglez Youth Swimming Goggle Mask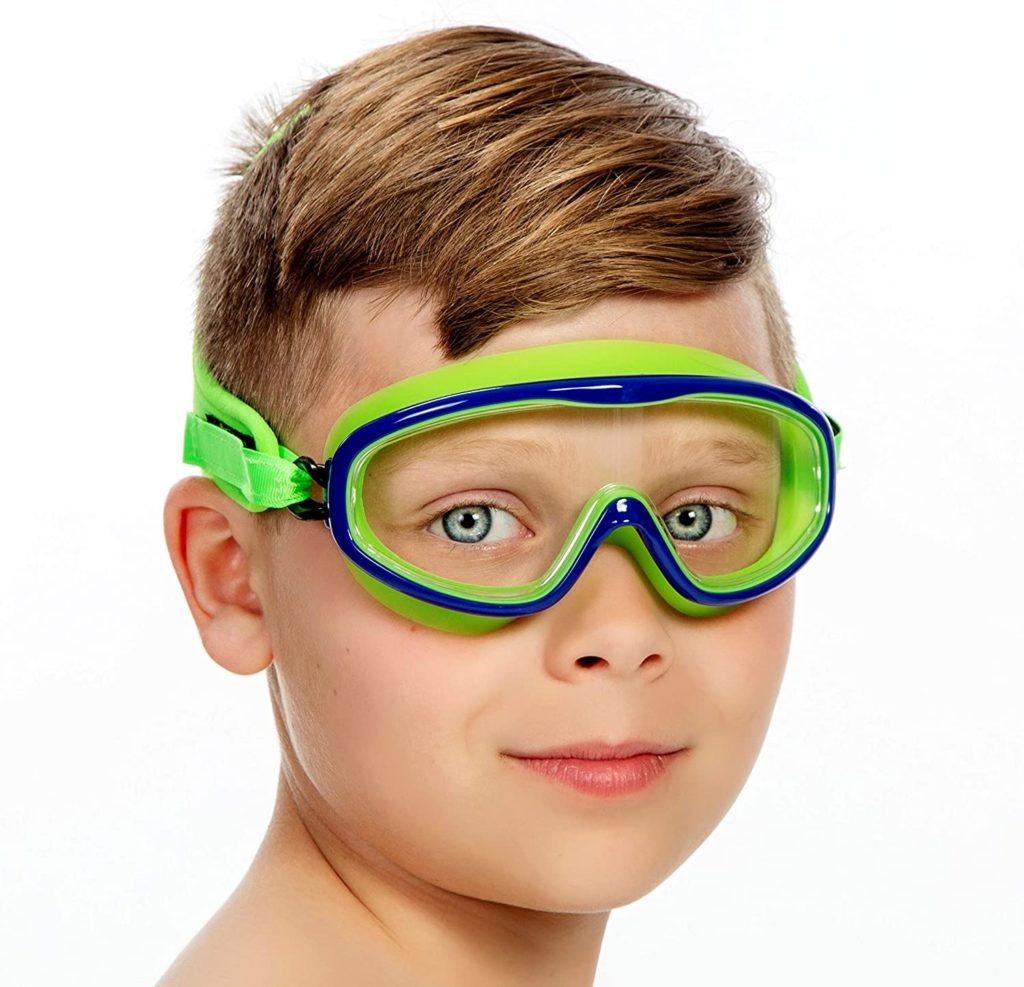 If your toddler doesn't find traditional goggles comfortable, you can get the Frogglez Goggle Mask instead. This has a polycarbonate wide lens that lets your toddler look around with ease. Also, it takes the pain and discomfort near the eye socket.
Aside from that, this is crystal clear, even if it's not made of glass lenses. It also has excellent UV and impact protection. This is free of any harsh chemicals or latex, so it's unlikely to irritate your child.
Moreover, this has the patented split strap that keeps the goggles steady as your child swims. It also ensures that the silicone edges will retain their suction so water won't get into your kid's eyes.
My son also likes the pain-free strap that's easy for small fingers to adjust. It also prevents hair-pulling, which is notorious on silicone goggle straps.
This is very comfortable, and it's even recommended by my friend who is a swim instructor. Overall, this fits kids starting at age 3 to 10. Your child will grow with these goggles for years!
If your child has a small face, these would be fantastic goggles. It's highly adjustable and not too tight or too loose.
The only issue I see is the polycarbonate lens. You have to store it properly to prevent scratches that could make the lens blurry.
---
Frogglez Swim Goggles for Kids with Pain-Free Strap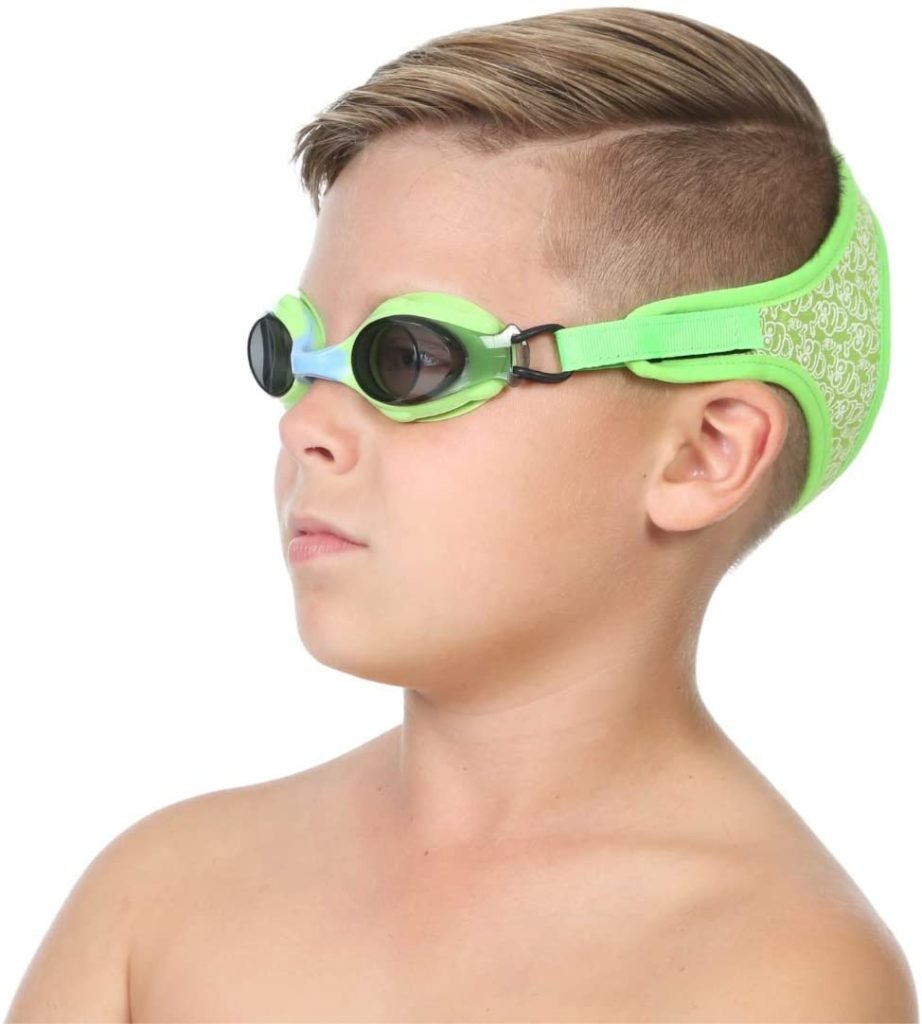 Another pair I like from Frogglez is these leak-proof traditional goggles. It has a polycarbonate lens with a silicone seal to prevent water leaks while swimming.
Also, this is paired with Frogglez's patented split strap design made of neoprene. This prevents hair-pulling while keeping the goggles comfortable for extended use.
Moreover, these goggles are recommended for 3 to 10 years old or around 16 to 22-inch head girth. If your toddler has an unusually large or small head, you should measure it before buying these goggles.
Aside from that, the polycarbonate lenses are made with anti-fog coating and UV protection. It's impact-resistant, too, so it won't shatter even if your kids throw it away.
I also like that it's latex-free because my son's face gets itchy when he's wearing goggles with latex frames. If you have a big kid, these goggles will rock. My nephews are burly kids, and these goggles fit them well. They wear it every chance they get.
These goggles are also easy to put on and off, even for a 3-year-old. It's also super easy to adjust, so you wouldn't have a problem.
Other parents find the higher price point a bit intimidating. But if your little one is taking swimming lessons, I suggest that you invest in high-quality gears. It's worth it since it's a matter of your child's safety.
---
Careula 2-Pack Kids Swimming Goggles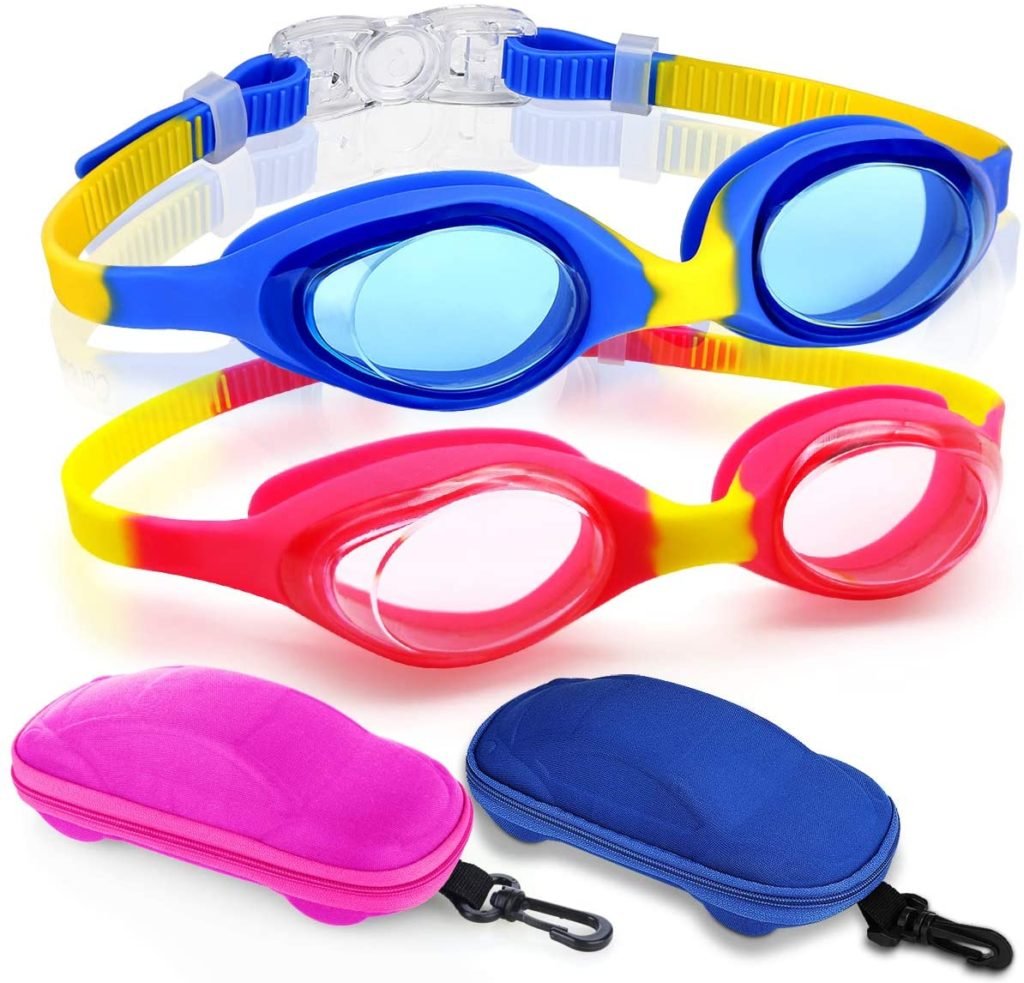 If you want to save some money, you should consider the Careula 2-Pack Swimming Goggles. You'll get two goggles for the price of one. This is a big money-saver, especially if you have two toddlers taking swimming lessons.
These are made of polycarbonate lenses with hypoallergenic silicone frames. The edges are soft and create a gentle suction that prevents water from leaking. I also like that the gasket seal is specially curved for kids to prevent eye pain.
Aside from that, this has soft silicone straps that don't hurt your child's head. It has a non-slip design, so it stays in place even as your child swims and moves around. The material is elastic, so it won't break even if your child plays with it.
To add, the nose bridge is also soft to prevent chafing, especially on long swimming lessons.
Moreover, these goggles have UV protection and anti fog lenses. It will let your toddler see underwater while filtering the harmful sun rays.
Another great thing about these goggles is it's paired with individual hard cases. It's shaped as cars, which is added appeal for kids. This is similar to the one from SWIM ELITE, but for a lower price.
Lastly, these goggles have a 12-month warranty to protect your purchase. For this price range, there's nothing else I could wish for.
However, this fits a little small than usual goggles. It's recommended for ages 2 to 10, but I'd keep it for the toddlers due to the smaller fit.
---
Seago 2-Pack Swimming Goggles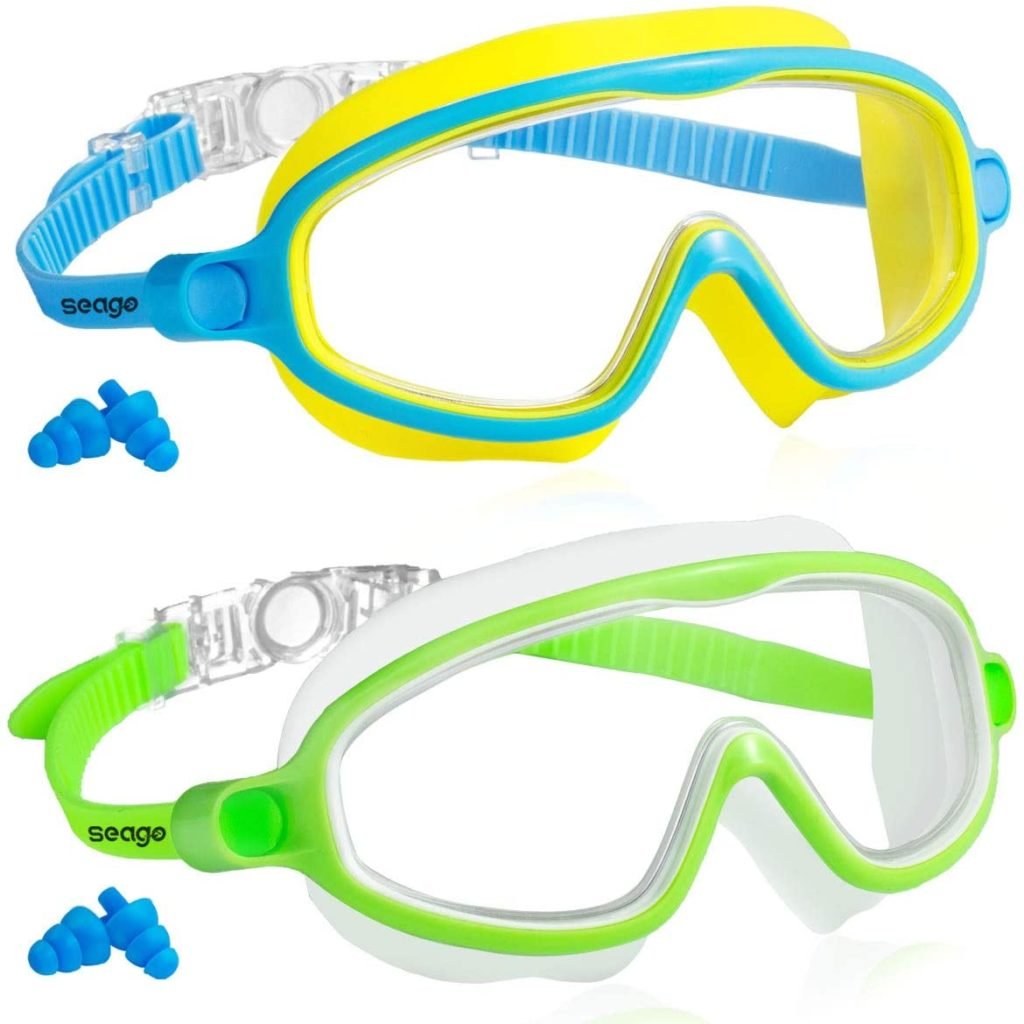 If you're on a budget, the best swim goggles would be the Seago 2-Pack Swimming Goggles for Kids. These are goggle masks that will keep your toddlers comfy during swimming lessons.
This is made of PC lenses with soft silicone frames. It prevents 'raccoon or goggle eyes' that happens when separate lenses squish the sides of the eyes. This is also latex-free, which will prevent irritations.
Moreover, this has UV protection that absorbs harmful rays so it won't get into your child's eyes. It also has an anti-fog coating that keeps the lens clear even under direct sunlight.
These goggles also suit different face shapes, so it fits almost every toddler. The nylon straps are adjustable, so you can easily put this on your child. Your kid will also grow with these goggles. According to Seago, this fits 3 to 15-year-old users, which is the widest range I've seen so far.
I also like that the goggles come with nose and earplugs. It's an excellent starter set for two kids who are taking swimming lessons.
Also, you'll get two goggles, which are very affordable for this price range. And while it's affordable, it remained durable and high-quality.
---
How to Choose Kids Swim Goggles
When shopping for the swim goggles for toddlers, it's important to consider these aspects:
✔️Size is everything
The first thing you should check when perusing goggles is their size. Regardless of how durable the material is, the size will be the defining factor of its usefulness.
Make sure that you measure your child's head circumference. You will compare this measurement to the fit range of the goggles.
The good thing is that kids' goggles are highly adjustable. Many fits 15″ to 22″ head sizes, which is suitable for most toddlers. This is a more accurate way of sizing instead of relying on the typical small, medium, or large size estimates.
✔️Check the material
Another important consideration is the material of the goggles. It should be safe for children and can withstand extended use. For this part, the following are the thing to keep in mind:
Lens. The lens of the goggles can be made of either glass or polycarbonate (PC). Both works, but the PC material is cheaper. It's also more lightweight, making it ideal for young kids. Glass is also a good option since it's less prone to scratching than polycarbonate.
Frame. The frame should be made of hypoallergenic silicone. It should be curved and flexible to suit the facial features of the child. The frame should also create a mild suction to prevent leaks while your kid is swimming.
Strap. The goggle strap can be made of similar silicone on the frame. Meanwhile, other pairs are fitted with neoprene, pain-free straps. These are made to prevent hair-pulling. While it looks goofy, it offers more comfort for toddlers.
✔️Mask vs. traditional goggles
Swim goggles for kids are available in a mask or traditional style. Mask goggles borrow the design of scuba masks since it has a single curved lens, so both eyes are joined in one viewing lens. This removes the pressure along the nose bridge.
On the other hand, traditional goggles are still ideal. It's less bulky than goggle masks and cheaper too.
✔️Get UV protection
Ultraviolet protection is important, so your toddler's eyes won't get irritated. This is very important if you're swimming on a hot day or on the beach. The UV protection will reduce the glare that may confuse or scare your little one while swimming.
✔️Look for an anti-fog coating
An anti-fog coating prevents condensation from building up inside the lenses. This ensures that your kid will have a clear view of the surroundings, especially underwater. Such a feature will also come in handy during sudden temperature changes.
✔️Impact protection is a plus
When it comes to kids, you'd need the most durable goggles you can ever find. Added impact protection will give you peace of mind that your child is safe. Also, this feature will prevent the goggles from breaking in case your toddler throws them.
✔️Ease of use
Kiddie goggles should be easy to put on and off. This will let the child fix the goggles in case it get out of place while swimming. Also, easy to use goggles are usually more comfortable since it's less fiddly.
✔️Price and warranty
Last but not the least, consider the price of the goggles. For kids, you don't really have to spend a fortune. Your toddler isn't a triathlete or Olympic swimmer yet. A protective pair is more than enough for swimming lessons. After that, you can buy a new one when your child outgrows the initial goggles.
Also, you'll need to try a few goggles before finding what works for your child best. Spending a lot right away isn't a good decision in this case.
---
Frequently Asked Questions
Q: Should toddlers wear swim goggles?
A: You should only put on goggles on toddlers that are two years old and above. If you are to put on goggles on your toddler, make sure that it's soft and well-fitting. You shouldn't make it too tight because it will put a lot of pressure around the eyes. The rule of thumb is that you shouldn't let your toddler wear goggles if they can't stand putting them on for 15 minutes.
Q: Do swim goggles cause eye bags?
A: The frame of the goggles will sink deep under the eyes, which will appear as if you have eye bags. If you only swim several times a month, the right pair of goggles will not give you eye bags. Also, make sure that the skirt around the goggles' frame is soft so it won't damage or irritate the skin. This is especially important when purchasing goggles for younger kids.
Q: How do I get my toddler to wear goggles?
A: You should allow your little swimmer to play with the goggles first. This will let the child become familiar with the protective gear. You can also demonstrate how to put the goggles on by using your own pair. And before your child's swimming classes start, you should get him used to wearing it. Using the goggles during playtime is the easiest way to get a toddler to wear it without too much prodding.
Q: How long should kids swim goggles last?
A: For avid swimmers, a pair of swim goggles can last for up to six months. It also depends on the material and quality of the goggles you're going to use. The lifespan of the goggles is also dependent on how well you keep them. If you want your eye swim protection to last longer, you should wash it with clean water after each use. This is to remove the chlorine from the pool or the salt from the sea.
Q: Will swimming goggles damage kids' eyes?
A: No, if it's fitted properly. Swim goggles are eye protection, but it can be counterproductive if you let your child wear a tight-fitting pair. Many youth goggles in the market are sized based on age. This can be tricky as each kid is different. The best way to measure goggles is to check the girth range and compare it to your child's head measurements.
---
Final Word
The best swimming goggles for kids will protect your child's eyes. It will also let your little one enjoy swimming since their eyes won't get irritated. Just make sure that the size, material, and design are suitable for your child. You can also ask your toddler's swimming teacher for recommendations.