Stand up paddle boarding is a fun and easy-to-learn water activity. Even non-swimmers can enjoy cruising as long as they are wearing the best paddle boarding life vest. These floatation devices are lifelines that will keep you afloat if you fell from your SUP. Regardless if you're a good swimmer or not, wearing one is always a great decision. It's an added layer of protection so that fun won't turn into tragedy.
LIFE JACKET
BRAND
EXPERT RATING
CHECK PRICE

Our Top Pick!


O'Neill Wetsuits
Reactor Life Vest

Check Price

Eyson Inflatable
Life Jacket

Check Price

O'Neill Superlite
Life Vest

Check Price

Airhead SWOOSH
Kwik-Dry Life Vest

Check Price

XGEAR Water
Sports Life Vest

Check Price
---
Why You Should Wear a Life Vest While Paddle Boarding
For those who are paddle boarding for long, it might feel like a hassle to wear a life vest. Besides, there's no law or rule that obligates paddlers to wear one. However, the following are the reasons why you should consider wearing a floatation device.
It will save your life. The main purpose of life vests is to keep you afloat on the water. In case you fall from your board, you will float to the surface. Take note that you can hit your head on the board, which will disorient you. In this case, a life vest will save you from drowning.
It gives you confidence. For non-swimmers or first-time paddle board users, a life jacket gives assurance that they are safe no matter what. This is very true, especially if you're letting your child use a SUP.
Your pals aren't good swimmers. If no one in your group can swim well in deep waters, I suggest that you wear a life jacket when paddle boarding. This will potentially save you and someone else's life.
The water conditions are rough. If you're paddling in moderate to strong currents, you should consider wearing a life jacket. You'll never know when a strong wave will come crashing at you.
---
Best Life Vests For Paddle Boarding – Top 5 Reviewed
#1 CHOICE
OUR TOP PICK: O'Neill Wetsuits Reactor Life Vest
Product Name: O'Neill Wetsuits Reactor Life Vest
Product Description: If you're looking for the best life vest for paddle boarding, you should consider the O'Neill Wetsuits Reactor Life Vest. This is USCG-approved as a personal flotation device. It's ideal for watersports like paddle boarding, waterskiing, and swimming. Moreover, this has a segmented foam core paired with anatomical flex points. This allows unrestricted movement so you can paddle with ease while staying safe. Aside from that, this is fitted with quick-release buckles with a heavy-duty front zipper. This is easy to put on and off without compromising your safety.
Buoyancy

Comfort

Fit

USCG approval
Summary
The O'Neill Wetsuits Reactor Vest also has a relaxed fit, so it suits almost any water sports enthusiasts. It's also made from neoprene, which is snug but light. When soaked wet, the neoprene material will expand so it won't be pulled away from your body.
I noticed that this is a bit loose at the bottom, but it's actually a good thing for those with big tummies. This also runs a bit short, but I suggest that you get the black color since it's the longest of all the color options.
Overall, this has an excellent quality that lasts long. It's a great find for a competitive price.
Pros
Segmented foam core
Relaxed fit for unhampered movement
USCG-approved
---
Runners-up:

Eyson Inflatable Life Jacket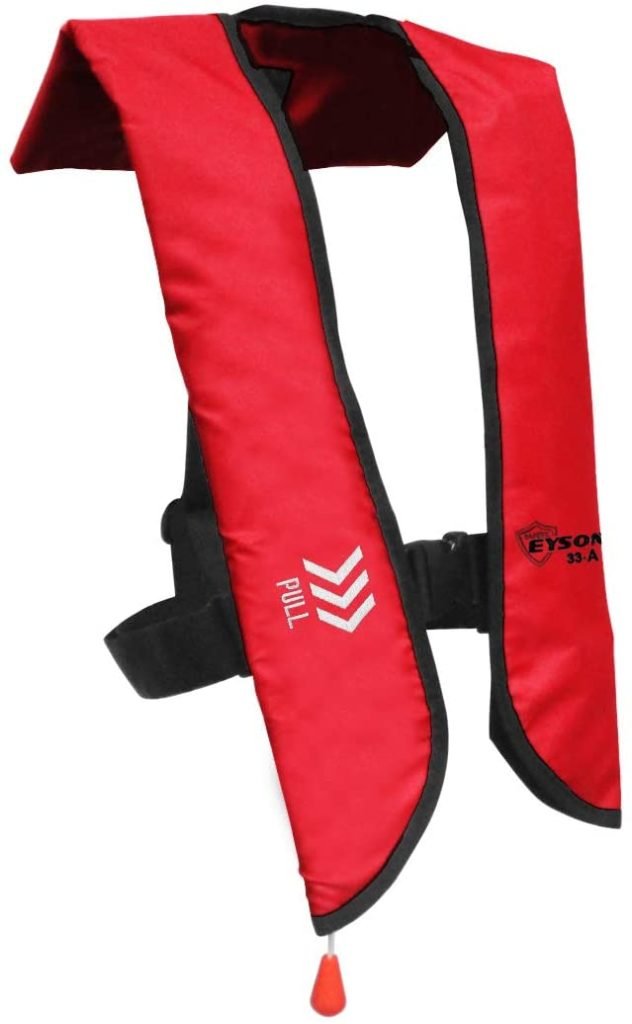 Another life vest I swear by is the one from Eyson. This is an inflatable vest in case you want an option that's easy to store and carry around. This is CE-certified and has passed SOLAS standards.
Moreover, this is made of lightweight but durable Ripstop fabric. It also has 3M reflectors, so you'll remain visible in the water in low-light conditions.
This has a 150N buoyancy that suits adults under 330 lbs. It's also easy to inflate by simply blowing into the oral tube. This one also dries well, which is an excellent feature for beach and recreational use.
Aside from that, the outer cover of this vest is made of polyester and neoprene. It remains comfy and gives added warmth during cold days. And for less than five seconds of inflation, this life vest is ready to use. Just make sure that you re-inflated it after 48 hours to keep its optimal buoyancy.
For this package, you'll receive the vest, one oral tube, one cylinder, and one whistle. You'll also get one water-sensitive auto inflatable bobbin. It's for auto use only, though.
Take note that this vest isn't USCG-approved, so it's purely for recreational use only. Also, you should only paddle in shallow waters when wearing this vest.
---
O'Neill Superlite Life Vest
Another O'Neill life vest I recommend is the Superlite. This is USCG-approved as a Type III personal flotation device. Like the first one, this is ideal for recreational watersports
This is made with anatomically cut foam flotation paired with a polyester outer shell. This is durable, buoyant, but very comfy to wear. It's also lightweight and doesn't have the bulk of other USCG-approved vests.
Moreover, this has 1.5" webbing belts all over the torso area. It uses quick-release buckles so you can easily adjust the fit or remove the vest if need be.
Unlike the O'Neill Reactor Vest, the Superlite has a tighter fit. If you prefer a more relaxed fit, consider ordering one size up.
At the bottom of the vest, there's a key loop that you can use to attach a leash. Overall, this is very buoyant and my 200-lbs. friend is having a great time floating and paddling with this vest.
In addition, the O'Neill Superlite vest dries quickly. The outer shell is also water-resistant to keep your chest dry in case water splashes from the paddle.
---
Airhead SWOOSH Kwik-Dry Life Vest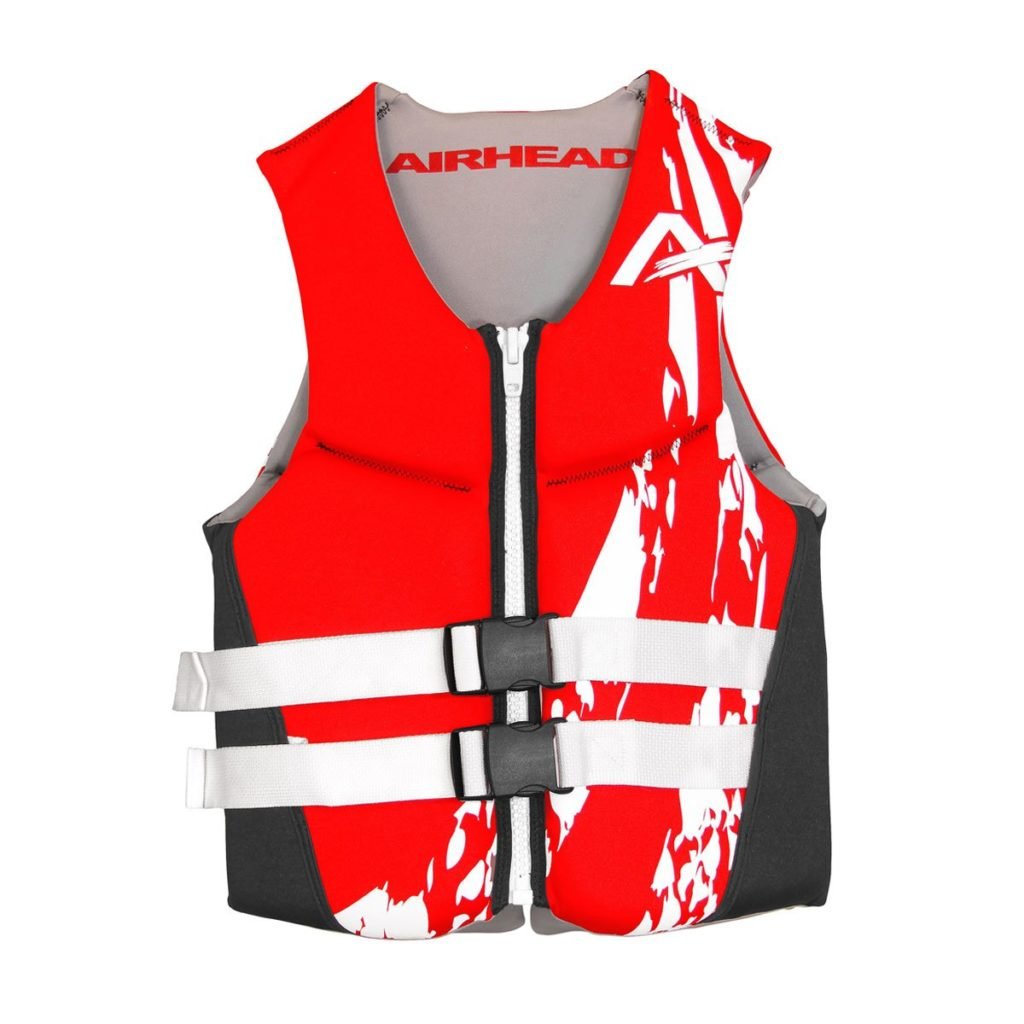 If you're looking for an affordable option, I suggest that you try the Airhead SWOOSH Kwik-Dry Life Vest. This is a USCG-approved Type III flotation device. You can use it for any recreational purposes, including paddle boarding.
Moreover, this has a zipper closure and two buckle belts. It's easily adjustable for a comfortable fit. This is also made of Neolite Kwik-Dry fabric, so it keeps you dry and cool as you paddle through the waters.
Take note that this is a close-sided vest, so it protects the side of your body from water splashes. However, this might feel a bit hot during summer days.
Aside from that, this vest is available in three colors: red, green, and blue. It's also affordable for this price range and design.
Just note that this vest runs small, so consider getting one size up. If you want a loose fit, two sizes up might do the trick for you. For those who are looking for a life vest for the 'bigger boys', the Airhead SWOOSH may not be the best bet.
---
XGEAR Water Sports Life Vest
My last pick for this list is the XGEAR Adult Water Sports Life Vest. This is USCG-approved for watersports.
The XGEAR vest has a durable nylon Oxford shell. Inside, it has PVC foam flotation in front and light EPE foam at the back. This provides maximum flotation without the bulk.
Aside from that, this has four 1.5" belts that keep the vest snug on your body. It is very easy to put on and off with the quick-release buckles.
You will also receive a survival whistle to pair with the life vest. I also like the interior pocket with Velcro enclosure where you can keep some of your valuables. Also, there's a D-ring at the bottom where you can attach a leash or other accessories.
Just make sure that you get the right size. You need to measure your chest width and compare it to XGEAR's sizing chart.
If you happened to buy a larger size than what you need, you could make it work by adjusting the buckle belts.
Overall, this is a decently priced item with premium quality.
---
How to Choose a Life Vest
Life jackets are lifesavers. To ensure that you're wearing optimal flotation, you must look for the following aspects:
✔️USCG approval
The first thing you should look for is the USCG approval. While this isn't required, a USCG-approved vest provides optimal buoyancy on open waters. To give you an idea, here are the USCG approval types:
Type I. This personal flotation device (PFD) has the best and highest safety level. It's for offshore use with 22 lbs. of flotation. It will also turn your face up in case you become unconscious on the water.
Type II. This PFD is a near-shore vest with 15.5 lbs. of flotation. It can still turn your face up, but not as reliable as with Type I.
Type III. This is the most common USCG rating for recreational life vests. It's good for calmer waters and quick rescue. It has the same buoyancy as Type II.
Type IV. This is a throwable, not wearable, flotation devices like buoys, rings, and cushions.
✔️Inflatable vs. foam flotation
Another thing you should consider is whether you'll get an inflatable or standard foam flotation. Inflatable types are easy to store, but you'd have to inflate them each time. The consolation here is its lighter weight.
On the other hand, foam flotation vests are ready to use and are widely USCG-approved. The good thing with foam flotation is it's not prone to punctures like inflatable types. However, it does have added bulk.
✔️Material
Next, you should check the material of the life jacket you're going to get. A blend of nylon, polyester, and neoprene is the most common. These materials are durable and lightweight, not to mention that it stays snug when soaked on water.
Whatever the material of your chosen vest is, make sure that it can put up with saltwater and regular use.
✔️Sizing
Sizing is always a tricky part of any wearable accessory. So, it's important to refer to the brand's specific sizing chart. You usually need to measure your chest width to get the proper fit. If you're in doubt of the sizing's accuracy, make sure that the vest has adjustable belts.
✔️Price
Lastly, consider how much you're willing to spend. You don't have to spend a luxury just to get a flotation device that works. You only have to invest in a vest with ample flotation and durable material.
---
Frequently Asked Questions
Q: Is paddle boarding dangerous?
A: There's always a risk in watersports. For paddle boarding, you can minimize such risks by wearing a life vest. This will be your safety net in case you fell into the water or get disoriented during the fall. There's a good reason why life vests are made – to save people's lives. Use it for your own benefit.
Q: Is it required to wear a PFD when paddle boarding?
A: For most of the United States, it's not required to wear PFDs for adults while paddle boarding. However, some resorts may impose an exclusive rule. You should also check local ordinances with regard to wearing flotation devices.
Q: Will a life jacket keeps you afloat?
A: Yes, life jackets are made to keep you afloat, so you can swim back to shore. It will also keep a person's face up in case he or she lost consciousness during a bad fall. Just make sure that you get one with the right flotation level that will float you face up.
---
Final Words
With the best life vest for paddle boarding, you can cruise in the waters with added safety. There's nothing to lose in wearing a life jacket. Instead of waiting for accidents to happen, it's best to be prepared with a flotation device. You're going to thank yourself later.