Triathlons are not for the faint of heart. It requires stamina, strength, and the right choice of gear. One of the essential gears for this sport is the best swimming goggles for triathletes. It will protect the athlete's eyes from whatever hazard and irritation the water brings. This way, athletes can perform at their best.
A quick search for goggles will reveal literally thousands of options. However, not all of them are ideal for triathlon use. What you need is a pair that will endure harsh outdoor elements and the roughest seas.
Below, I reviewed three of the best googles that triathletes can wear. See which one of these could be the best pick for your next triathlon:
GOGGLES
BRAND
EXPERT RATING
CHECK PRICE

Our Top Pick!


FORM FSG1 Smart
Swim Goggles

Check Price

MP Michael Phelps
XCEED Goggles

Check Price

Arena Cobra Ultra
Racing Swim Goggles

Check Price
---
Why Do Triathletes Need Special Goggles?
Unlike recreational swimming, triathlon exposes athletes to harsh environments in open waters. Swimming in these conditions is far more challenging than being in a pool.
A triathlete requires goggles with topnotch vision. This way, they can swim and enjoy the utmost clarity of vision for the best performance.
Aside from that, open water goggles have tinted and curved lenses. This gives athletes eye protection against sun glare while maximizing their field of view.
Moreover, triathlon-grade goggles are made with premium materials. It should withstand wear and tear, force, and long exposure to saltwater.
Above all, the goggles should be comfortable to wear for long periods. This is why many goggles designed for athletes have special features you can't find on typical pool goggles.
If you're looking for goggles to use on your next triathlon, the three pairs I reviewed below surely give the best value for money.
---
Best Swimming Goggles For Triathletes – Top 3 Picks
#1 CHOICE
OUR TOP PICK: FORM FSG1 Smart Swim Goggles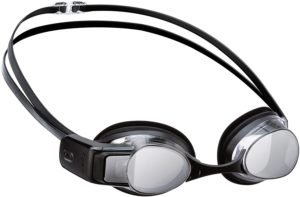 Product Name: FORM FSG1 Smart Swim Goggles
Product Description: When it comes to the best swimming goggles for triathletes, nothing beats the FORM FSG1 Smart Swim Goggles. It's not your typical swim protection – it's equipped with a futuristic smart display on the lens. So while you brave the open waters, you can directly see your metrics without impeding your vision. Aside from that, this has a Pool Swim Mode that displays and records 12 customizable metrics based on your liking. This includes heart rate, calories burned, distance, pace, and a lot more. It's like a fitness watch fitted right before your eyes! This is also compatible with Garmin smartwatches as well as Apple Watches, where you can unlock more features. So far, my favorite is the real-time GPS reading, which allows someone on land to identify where you are on the water. You can also use the FORM Swim App to review your metrics.
Clarity & Visibility

Material

Durability

Value for Money
Summary
The FORM FSG1 Swim Goggles has lenses with anti-fog and chemical-resistant coating. It's fitted on a thermoplastic frame with silicone eye seals and a custom nose bridge available in seven sizes. Rest assured that you'll achieve comfort and topnotch performance.
Overall, these smart goggles are waterproof for up to 32 feet or 10 meters. It has a maximum battery life of 6 hours per charge, which is enough for tough and long triathlons.
Moreover, these goggles are bundled with a carrying case and a charging cable. Your purchase is also covered by a 1-year limited warranty.
Pros
Real-time metric display
16 hours of battery life for the smart features
Permanent anti-chemical and anti-fog lens coating
Cons
The user manual can make use of improvements.
---
RUNNERS-UP:

MP Michael Phelps XCEED Swimming Goggles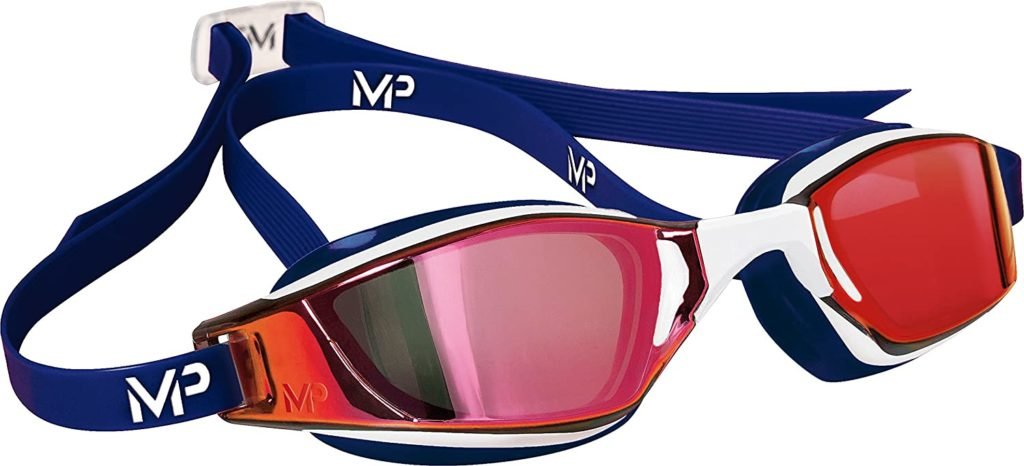 If you're serious about triathlons, you should definitely get the MP Michael Phelps XCEED Swimming Goggles. These are the goggles Michael Phelps wore in the 2016 Rio Olympics, which just proves its performance. In that tourney, Phelps won five golds and one silver!
This pair is developed by Michael Phelps and Bob Bowman. It's made with exo0core technology that combines two proprietary materials to produce durable and reliable goggles.
Aside from that, the XCEED has a Softeril gasket that ensures a watertight seal without compromising comfort. This is paired with a semi-rigid exoskeleton that keeps the goggles stable even in the toughest water conditions.
Moreover, these goggles have an interchangeable nose bridge for utmost comfort. Meanwhile, the lens is curved for an expanded field of view. It's also coated with a titanium metal layer to boost sun glare protection.
The XCEED goggles have a quick-adjust silicone strap that's easy to put on and off. You'll be on the water in no time, which gives you an edge against your competitors.
Overall, these triathlon goggles have topnotch visibility, which is already cheap for this price range. I just wish they can improve the strap since the ribbing makes it hard to tighten. Other than that, my money is still on XCEED. The bonus part is you can choose from four different colors to suit your style.
---
Arena Cobra Ultra Racing Swim Goggles

If you're on a budget, the best swimming goggles for triathletes is the Arena Cobra Ultra Racing Goggles. This is made of 70% polycarbonate, 20% silicone, and 10% thermoplastic elastomer. It also sports fogless lenses that will provide topnotch visibility on the water.
Aside from that, these goggles have a super-hydrodynamic shape that remains comfy on the longest swims. It also comes with silicone seals that guarantee leak-free performance.
The Arena Cobra has silicone straps that are easy to adjust. Its nose bridge is also interchangeable, and the lenses are slanted for a wider view. I also want to praise the stable temples, which prevent the goggles from slipping and getting out of place while swimming.
Moreover, this has swipe anti-fog technology. You just have to rub the lenses with your fingers to activate the fog-proof feature.
The best part is that these goggles are available in multiple color options. You can also get this in non-mirror and mirror designs to suit your needs.
Overall, these are great goggles, but my main issue is that the lens tends to scratch easily. But given proper care, this pair will last long. Just note that you'll have to purchase the goggles separately if you wish to have one.
---
How to Choose Goggles For Triathletes
When it comes to the best swimming goggles for triathletes, the following are some of the important things to look for:
✔️Type of goggles
There are two types of swim goggles: pool and open water. For triathletes, the safest option is open water goggles since it offers better protection against outdoor elements.
If you're aiming to join Ironman or any triathlon, I suggest opting for open water goggles. These are more hydrodynamic than pool goggles. Aside from that, it has better glare and UV protection, which is a big challenge in an outdoor and natural setting.
✔️Size and fit
Another thing you should consider is the size of the goggles you're going to get. For triathletes, the fit of the goggles is a make-or-break part of their performance. While the field of view and clarity are crucial, you should also pay close attention to how comfortable the goggles are.
Most goggle brands have specific sizing charts where they indicate how you should measure your choice. The good thing is that most triathlete goggles are adjustable and can be found in a variety of sizes to suit your face shape.
✔️Lens material and tint
The lens material and tint are also deal-breakers for triathletes. The most common material is polycarbonate, which is affordable and lightweight. However, it's also prone to scratching if you don't store it well.
There are durable glass lenses for those who are serious about triathlons, which can also be bought in prescription grades for those with poor eyesight. These cost more, but it tends to last longer and deliver better performance than polycarbonate alone.
Aside from the material, you should also consider the tint. This will add protection to your eyes against sun glare and UV rays. Gray and copper tints are excellent options for most athletes. But on low-light conditions, a clear tint might be the better pick.
✔️Anti-fog feature
An anti-fog coating is very important to ensure that you'll have an unimpeded vision as you swim. This special coating can be activated using the friction of your hand or a special solution. It's best to choose goggles with a permanent anti-fog feature for your convenience.
✔️Strap material and adjustability
Most goggles have silicone straps that can endure outdoor elements. It's also hypoallergenic and gives a nice grip on the temple to keep the goggles in place.
On the other hand, there are also Swedish-type goggles that use fabric laces. It works, too, but not for serious triathlon competitions.
✔️Visibility
The goggles you choose must have topnotch visibility and field of view. Slanted and curved lenses are excellent choices since it offers a wider perspective. Just make sure that it's paired with an anti-fog feature and durable materials.
✔️Price
When it comes to triathlon goggles, I don't mind spending top dollar if it means enjoying excellent eye protection. Unlike swimming in a pool, triathlon exposes you to greater risks. With this, you need to seek as much protection as possible.
Overall, price should be your last consideration when buying triathlon protective gear. Always prioritize the quality and performance above all.
✔️Bonus: smart features
Lastly, you can also look for triathlete goggles equipped with smart functions. One good example here is FORM goggles, one of which I reviewed above.
These goggles have a futuristic display right on the lens. With this, you can read your metrics in real-time like a cyborg from the movies!
Aside from that, smart goggles also allow mobile connectivity to review your metrics and record your progress. However, the catch here is that smart goggles come at a higher price due to the added features.
Frequently Asked Questions
Q: Do triathletes wear goggles?
A: Triathletes wear goggles as part of their protective gear. Open waters can be pretty harsh, not to mention saltwater stings the eyes. They give a lot of attention to the pair they are going to use to ensure that it will improve their performance.
Q: What goggles did Michael Phelps use?
A: Michael Phelps used his MP XCEED swim goggles during the 2016 Rio Olympics. It's a signature pair made by Aqua Lung. The MP XCEED has topnotch visibility and a comfortable build to suit every swimmer and triathlete.
Q: What is the best swimming goggles color?
A: Usually, triathletes go for smoked tints since it deflects glare from sunlight. You can also use amber-tinted goggles for the same effect. It all depends on what you find comfortable and stylish at the same time.
Q: Are Form goggles Ironman approved?
A: Form goggles can be used on Ironman and other sanctioned triathlons. They are made for open water use with added smart features that will amp up your performance. When in doubt, it's always best to inquire with the organizing committee about the approved gears.
Q: How do Swedish goggles work?
A: Swedish goggles use cotton strings instead of silicone straps. It has to be tied a certain way to prevent the water from leaking. It's a tricky choice and not a very popular choice among triathletes.
Q: Are mirrored goggles better?
A: Mirrored goggles reflect light away, so it doesn't ruin your view. This means you'll have a shaded vision on a sunny day, which is very helpful for triathletes. However, during low-light conditions, the mirrored lens will keep on deflecting light, which can make your view too dark than needed.
Final Words
The best swimming goggles for triathletes will provide protection during the most challenging open water swims. It's important to find one with the right material, fit, features, and value for money. This way, you can compete on your next triathlon with confidence.
What do you think of these goggles? Which one are you planning to use?