We sometimes like to say that snorkeling is the gateway to scuba diving. After all, through snorkeling most people get to see a peek at the beautiful life that exists below the sea's and the ocean's surface. Snorkeling allows you to swim with the stunning multi-colored fish that populate the water. Snorkeling may at times be enough to catch a glimpse at some of the more famous species of fish in the ocean. If you have never been snorkeling or diving and you are wondering where to start, perhaps you'd like to learn about the best coral reefs in the world for snorkeling?
Many travelers often go from historical site to historical site and from attraction to attraction. But when many end up feeling tired and exhausted from days of walking and trekking, and when people begin to feel exhausted about visiting another museum; and if every market has already been visited… The water is often the relief and the balm for the soul. Truth be told, many around the world find the water to be incredibly soothing and relaxing. No wonder snorkeling is such a popular tourist activity. Join us as we talk about the best snorkeling coral reefs, along with some tips to help you make the most of your trips!
Tips for Snorkeling – How to Have an Easier Time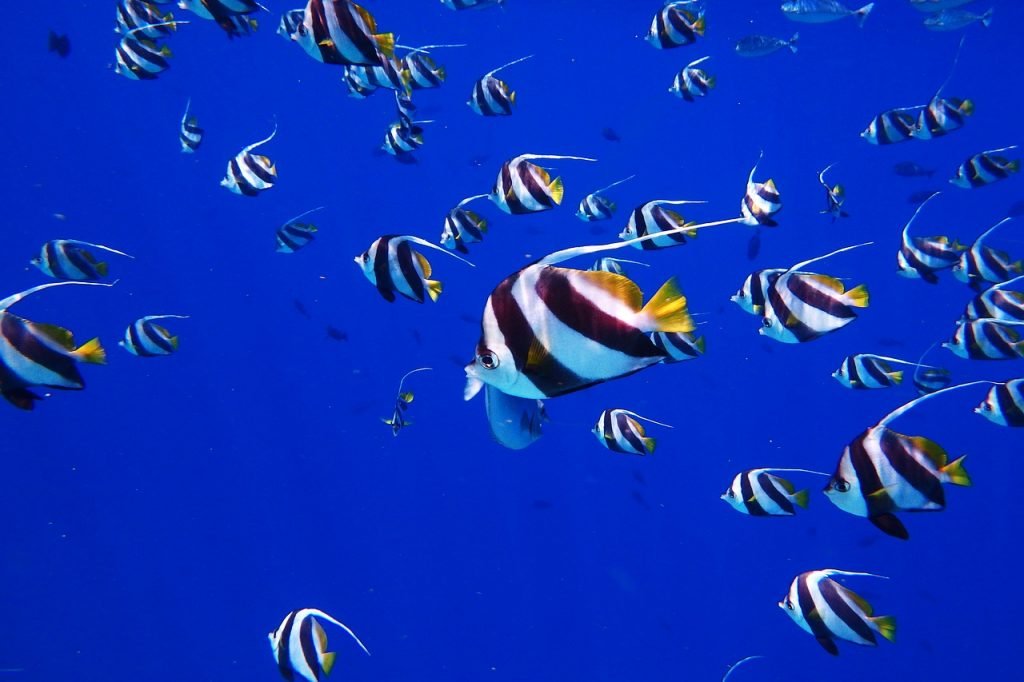 When it comes to snorkeling, you can do a few things to make your life much easier. That way, you can take your mind off a lot of other things and instead focus on your leisurely swimming. You can also focus instead on the creatures you might see underwater.
Here are some tips to help you plan your best vacation ever!
Wear Coral Reef Safe Sun Protection
Naturally, sun protection is necessary when you are going out snorkeling. The same applies if you are simply going out for a day on the beach. However, please be mindful in purchasing the right kind of sunscreen that is safe for coral reefs. Certain sun protection products that contain some harsh chemicals largely contribute to coral bleaching and the destruction of our beautiful underwater seascapes. Help to keep the top coral reefs for snorkeling alive by making sure to avoid products that are not labeled safe for reefs. Doing this helps to preserve the delicate balance of the water's ecosystem.
Make Sure You Have a Life Vest
If you are not so confident about your swimming capabilities, a life vest is absolutely necessary. The same goes if you plan to go snorkeling alone (which we absolutely also do NOT recommend). In fact, regardless of how confident you may be in your swimming skills, get a life vest anyway. Most travel companies that provide island hopping or snorkeling retreats do have life vests available for customer use. However, it's best if you contact your tour provider ahead of time to make sure that they do. A life vest can be the difference between life or death. They also add more visibility in case you lose your way or if there is someone kayaking towards you, for example.
Purchase or Rent Flippers to Make Swimming Easier
The next tip that we have on this list is renting or purchasing flippers for your snorkeling trip. There's no denying that flippers can make you swim so much more efficiently. If you want to make the most out of your day on the water, flippers can help you to cover more ground. The increased swimming speed will allow you to see more sea creatures. However, please do make sure that you do not wander off too far from shore (or from your tour group!).
If you choose not to use flippers, might we suggest using a pair of aqua shoes? These water shoes will protect your feet from sharp rocks and poky sea urchin. It will make it easier for you to gain traction on rocky shores you need to traverse to get out of the water. However, in wearing aqua shoes please be careful when it comes to stepping on or around coral reefs in order to protect them.
Do Your Research About the Area
One more thing that can help enrich your experience is doing research about the area you are visiting. Find out the customs and traditions in the area you are going to. Learn what sort of species you can expect to see underwater. Know what the hot spots are and learn what to avoid. In doing this, you can avoid getting scammed or taken advantage of by unscrupulous companies and locals who may overcharge you. You can also find out about what dangers exist in the area, if any!
Keep Your Valuables Safe
When you are out on the water, it can be difficult to keep track of your valuables. Unless you have someone with you that you trust to leave them with, it's best to keep your valuables on you or nearby you. You can do this by purchasing a dry bag. A dry bag is essentially a waterproof bag that seals up completely in order to a) float in the water and b) keep the water out completely. As long as it is sealed properly, no water should get into your dry bag. In this bag you can keep things such as your dry change of clothes, your towel, your wallet, and your electronic devices (at least the ones that are not waterproof, that is).
These bags are available in multiple sizes so that you can pick one that suits your needs. Remember, however, that you will need to account for the space that the air will take up when the bag is sealed. It is for this reason that we suggest purchasing a bag a size or two bigger than what you think you need.
Lovely to Look at, Not to Touch
Marine life is truly a beauty to behold – but leave it at simply beholding as much as you can. Sea animals should be left alone as much as possible. Don't poke or prod at them, and don't attempt to catch them in your hands. This is as much for their safety as it is for yours; many sea creatures are venomous and can pose a health risk. Some of them may even be fatal to you, if you are not careful. Therefore, protect the sea life as you protect your own by not touching any underwater animals!
Take Nothing But Pictures, Leave Nothing But Memories
When you go snorkeling, it may be quite tempting to pick up a rock or a shell and take it home. After all, what harm would taking such a small thing do, right? You're just taking it as a souvenir, it shouldn't be a problem. Well, it's important that you don't take anything home when you visit the ocean to snorkel. Unless it's errant man-made garbage such as plastics, that is. In that case, take all the plastic you can back to shore with you for proper disposal instead.
With that being said, another thing you should do is to not leave anything behind when you snorkel. Preserve the great coral reefs in the world and keep them pristinely beautiful. Dispose of your trash properly and make sure that you leave no trace of your presence once you leave. This part applies in most cases, to be honest – we believe that everyone can live by this line: "take nothing but pictures, leave nothing but memories".
Best Coral Reefs in the World for Snorkeling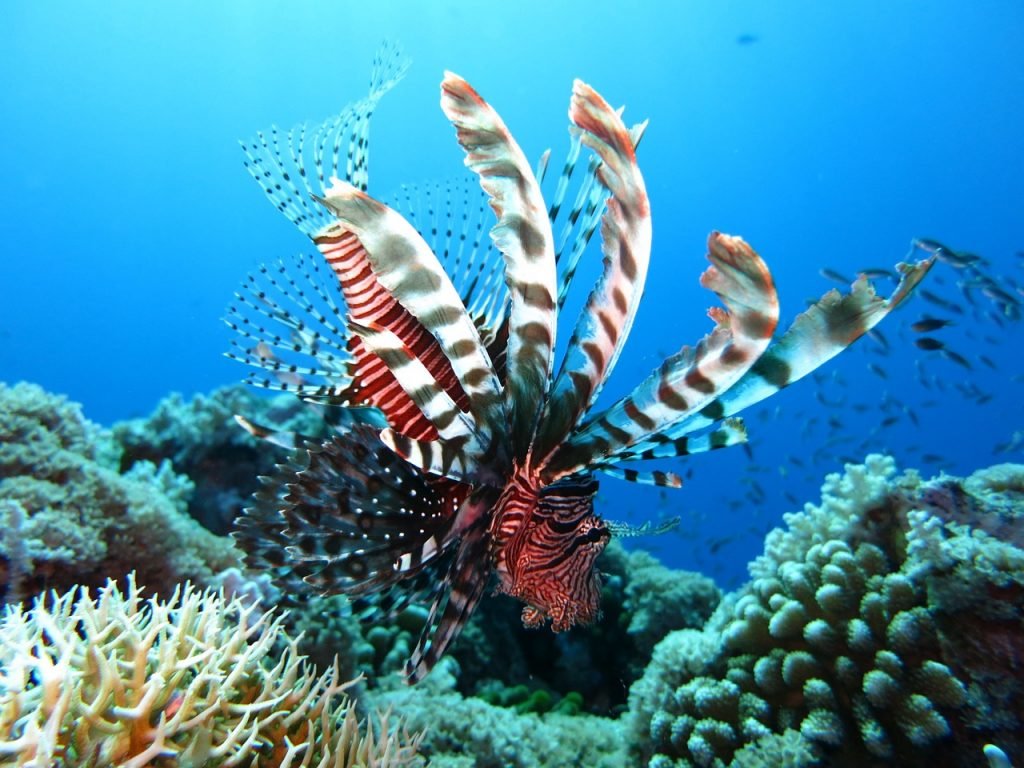 The tips we've mentioned above will help you have a fantastic vacation when you go snorkeling in one of the places that we are about to mention below. These are the best coral reefs in the world suitable for snorkeling – bar none. There are so many other locations where you could snorkel and see the wonders of the oceans, so please do not limit yourself to this list! If the location you are interested in is not on this list, please do not dismiss it just because it's not one of the best – it very well could be a glorious place.
Please remember this list is only meant to be a guide, of some of the most beautiful places rated by travelers in the past. We've been to many other places in the past that were amazing secret finds, with far fewer people to ruin the wonder and isolation. Also note that these locations are listed in no particular order!
Brazil: Ilha Grande
One of the best coral reefs in the world is Ilha Grande, in the country of Brazil. Ilha Grande is just off Brazil's coast, halfway in the middle of Rio de Janeiro and Sao Paolo. This place feels mostly as though it is untouched, with its jungles filled with monkeys and amazing wildlife. The waters surrounding this place are brilliantly blue and are full of fish that are vividly colored. Ilha Grande is a tropical fantasy island that you will surely enjoy taking a vacation to. Don't worry – if you don't like roughing it camping or even "glamping", you can find hotels on Ilha Grande. Therefore, there is no cause for concern – you can visit this island and enjoy most of the comforts you want. There are options for lodging available near a lot of Ilha Grande's 100~ unspoiled beaches.
In Ilha Grande, you can dive into Lagoa Azul's warm waters. Lagoa Azul, or Blue Lagoon, will provide you with beautiful sights of underwater coves, seahorses, turtles, and angelfish. You can follow the creatures through the sunken jungle. If you're brave enough, you can even do a little bit of free diving to take a bit of a closer look at the sights offered below the water's surface. Of course, we don't recommend you free dive unless you have the knowledge or experience. Please proceed with care!
Furthermore, the Ilha Grande is also home to a lot of shipwrecks – dozens of them in fact. These ships are the remnants of the times when the Portugues and the pirates used to battle. So if you want to see some older shipwrecks and a bite of history, Ilha Grande is an amazing place to visit.
Ilha Grande at a Glance
Ilha Grande is an UNESCO World Heritage Site. Yes – this status was awarded to them on July fifth of this year 2019. As a result, ecotourism (on the small scale) is being encouraged to help boost the visibility and economy on this lovely little island. Note that Ilha Grande has no roads, and as a result you will most likely be trekking or hiking to get anywhere that you need to go. In fact, this island has 93 miles or 150km of hiking trails established to help you get from one township/village and hamlet to another.
If you don't know how to start planning your vacation to this place, you can begin at Vila do Abraao. Here, you will find most of the facilities for visitors, as well as the headquarters of the park. You can reach Vilo do Abraao by taking a catamaran, or by hopping on one of the local ferries. From Vilo do Abraao, you can make the trek to one of the most popular beaches: Lopes Mendes beach. This beach is popular amongst tourists to the island. It can be reached by taking a hike lasting two hours, from Abraao.
Finally, if you do not want to plan your trip on your own, you can partake in some of the packages offered by travel companies. Yes, these days there are now sight-seeing tours available that will take you around Ilha Grande's mountain trails, waterfalls, and beaches.
Belize: Ambergris Caye
Another one of the best corral reefs in the world for snorkeling is found in Ambergris Caye, in the country of Belize. This coral reef is one of the largest in the world (outside of the reefs of Australia, that is), coming in at a size of about one hundred and eighty five miles. If you take a trip here, you will get the opportunity to see creatures such as rays and eels live and in color – up close and personal! Of course, let's not forget the bounty of bright-colored fish that populate these waters as well. Along the coast of this Carribean island, you will find hundreds of atolls and cayes that are full of coral. Yes, beneath Ambergris Caye's beautiful turquoise waters, you will find some of the most colorful coral.
If you are a diver or a snorkeler, you will find that the best places to go are in Ambergris Caye. You will find a shark-ray alley full of nurse sharks to share the waters with here, as well. And so if you want to live out a fantasy of swimming with sharks, you can do so right here without risking your life. Furthermore, you can also visit the Hol Chan Marine Reserve.
Belize's Ambergris Caye will surely give you the Caribbean charm you are looking for, with its turquoise waters and beautiful seascapes.
Ambergris Caye at a Glance
Ambergris Caye (pronounced as KEE) is basically Belize's largest island. It is located to the north east of mainland Belize, and is basically found in the Caribbean Sea. This island is 25 miles or 40 kilometers long from one end (north) to the other (south). It is only 1 mile wide. The center of this island is a mangrove swamp.
There is only one town or larger settlement on Ambergris: San Pedro Town. However, you can find some smaller villages and resorts sprinkled around Ambergris. In fact, there are two resorts a bit north from San Pedro that hosted Fox's Temptation Island for its first season, back in 2000-2001.
The main attraction in Ambergris Caye is the Belize Barrier Reef and its accompanying beaches. This reef, as we've mentioned, is the second largest known reef on the planet, second only to Australia's Great Barrier Reef.
An airstrip, though small, is available on the island and is serviced by Maya Island Air and Tropic Air. Therefore, you can reach Ambergris Caye by plane, flying from the city of Belize. If you don't feel like hopping in a small aircraft, you can take one of the sea ferries, which are not slow by any means. Also, if you want to travel from Mexico, you can – Chetumal, Mexico has a ferry that will take you to Ambergris Caye.
Fun fact: Due to the island being so small, the main method of transportation is the golf cart.
Hawaii: The Big Island
It feels natural, and it only makes sense, to include Hawaii on this list. After all, almost the entirety of Hawaii's archipelago offers amazing sights to behold. Snorkeling locations abound on this archipelago that is well known in the world for its beautiful sights and sounds. However, out of all the amazing places you could go in Hawaii, the one that deserves the title as one of the best coral reef for snorkeling is The Big Island. This island is larger (in combined square footage) than all of the other Hawaiian islands combined. As a result, it has so much more to offer!
In Kealakekua Bay, an underwater state park can be found. In this park you will find colorful fish and coral in live technicolor. If you're a bit of a history buff, you will surely enjoy the fact that it is also the very spot in which Cpt. James Cook landed when he first came to this island. You can snorkel around or take a dive underneath the monument of Captain Cook. There, you will find turtles, dolphins, and so much more.
If you want more underwater type adventures, you can head to Honaunau, where the crystal waters hide coral gardens beneath (along with colorful tropical fish and some dolphins!).
The Big Island at a Glance
The Big Island is located towards the most southeast of Hawaii. Its name pretty much tells you that it is, indeed, a large island, with a land mass of a bit over 4000 square miles. In fact, so large is Big Island that it is actually the biggest island that is a part of the United States.
The Big Island has waterfalls, botanical gardens, cultural centers, Hawaii Volcanoes National Park, a royal palace, an astronomy center, various museums and parks, observatories, zoos, and more. Therefore, if you are looking for an epic vacation where you can see great coral reefs and then visit a ton of other attractions, Hawaii's The Big Island is the place to be. Afterwards, you can always visit the rest of Hawaii, too!
The Philippines: Palawan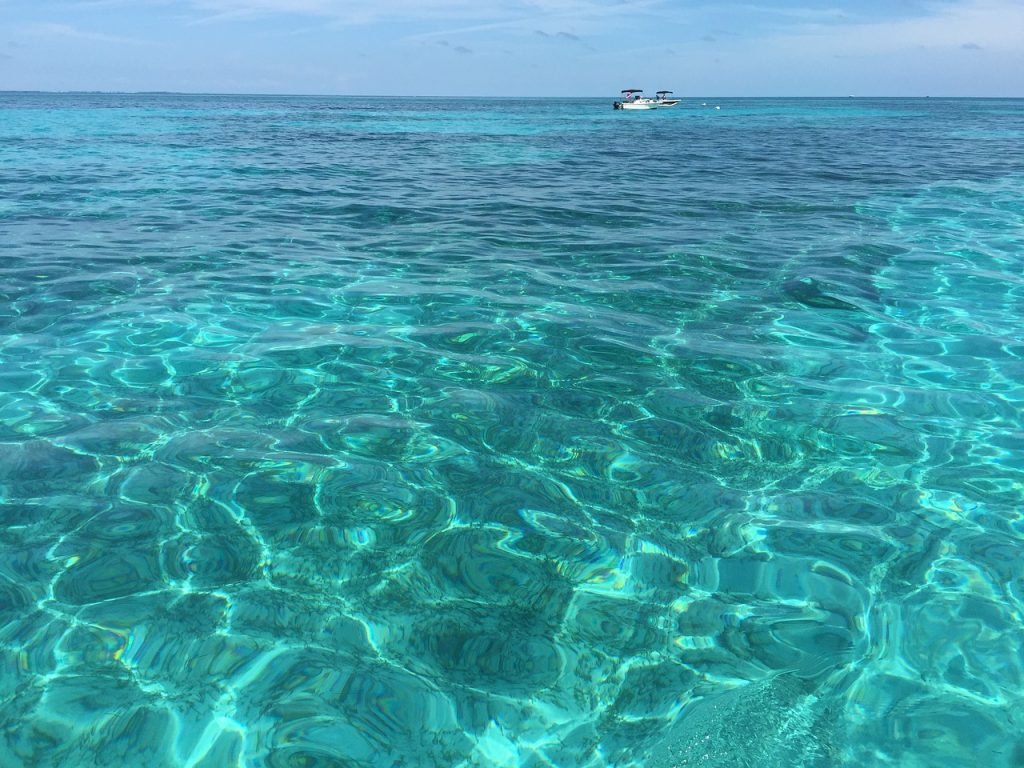 Some of the top coral reefs in the world and even some of the best sights for scuba diving, can be found in the Philippines. However, in the Philippines itself, one of the most popular and recommended places is the island of Palawan. The Philippines may sound as though it's not the best place to swim or snorkel in, but the fact is it most certainly is. This country is an archipelago, surrounded by waters of the seas and the oceans all around. As a result, incredibly diverse ecosystems abound on this tropical country located just south of the equator.
Wildlife and breathtaking sights are all around the country. Snorkeling spots and opportunities are bountiful. In the Philippines you can make amazing memories that you likely won't be able to do in many other places in the world. You can dive into the waters to swim with some gentle whale sharks at the Bay of Donsol*. You may also visit coral reefs such as those in Apo Island or just outside Noa Noa Island. However, Palawan as an island in its entirety offers many amazing views, beaches, and islands. You can even go island hopping.
Palawan at a Glance
There are three main locations in Palawan that are most popular with tourists – Puerto Princesa, Coron, and El Nido. Puerto Princesa is gamed for having an underground river that you can tour, while El Nido is extremely popular as an island-hopping and scuba diving destination. El Nido's beautiful sights are so world renowned that some scenes from one of the Bourne movies were shot there. Coron offers some of the best freshwater lakes and coral reefs as well.
Needless to say, Palawan has something to offer to every type of adventurer. If it's underwater adventures you seek, you will find it here. You can go to Honda Bay in Puerto Princesa, or you can take a dive in some of the island's lagoons that are filled with gorgeous tropical fish. You can even visit and explore the Tubbataha reef. Some places in Palawan have some of the best underwater shipwrecks for you to dive and explore as well, should you be into that.
If you want an amazing tropical vacation where you can see awesome coral reefs, visit Palawan. An added bonus is the fact that the Filipino are extremely hospitable and will welcome you with arms wide open!
Palawan is easily accessible via the Puerto Princesa International Airport. However, many tourists choose to travel to Manila (the capital of the Philippines) first, then fly out from the Ninoy Aquino International Airport to Puerto Princesa.
A note about whale sharks:
*Please remember that in doing this, you must not touch the whale sharks or 'ride' them. Tourists have done so in the past. Although whale sharks are gentle giants that will not harm you in any way, we still implore that you follow one of the tips we have written above, which is to not touch the wildlife. Doing so may stress them out and negatively affect them. If possible, please also do not indulge in feeding the wildlife.
U.S. Virgin Islands: Buck Island, Saint Croix
Buck Island in St. Croix (in the U.S. Virgin Islands) is another place where you will find some great coral reefs. Here in this national park, you will be able to find some friendly octopi. Yes, national parks can have more than just mountains and lakes.
On Buck Island, you can snorkel underneath the brilliantly blue waters between elkhorn barrier reefs. You can follow some vividly colored parrot fish along some underwater trails that are found in this sunken treasure (no wonder it's a national park!). There are three different species of amazing sea turtles that nest at this national park. Brain coral is everywhere underneath these blue waters, as well.
The shallow and gentle waters of this destination are great for snorkelers who are only just beginning to explore the amazing underwater seascapes the world has to offer. So amazing is this park that you will find some endangered animals such as least terns and brown pelicans making it their home.
Buck Island at a Glance
Buck Island in the Virgin Islands is an uninhabited place found off the northeast coast (north of this coast) of St. Croix. It is on the list of the U.S. government's protected areas, and it is easy to see why. This island is considered to have one of the best underwater "gardens" found in the Caribbean.
This national park usually receives about fifty thousand visitors per year. The reef, which is 4554 acres long, offers plenty to experience and explore in and underneath the water. If you want to explore this island, you must do so by using some of the authorized concessionaires that provide the guided tours. This is mandated by the National Park Service in order to make sure the beautifully complex ecosystem of this island continues to bloom and thrive.
Here, tourists are encouraged or even in some cases required, to wear sun screen free of oxybenzone. In other words, the sunscreen must be reef safe and non toxic.
The Maldives
It is truly difficult to make a list of the best vacation destinations without mentioning The Maldives. This small country is known the world over for being a tropical beach and water destination. In fact, it is so popular that many of its amazing hotels and lodging experiences (cabanas on the water and hotel rooms underwater, for example) are frequently featured in videos on the internet. In fact, this country is so popular as a vacation destination that it's frequently featured in lists just like this all over the world, both in print and online. It's easy to see why The Maldives is constantly on lists of greatest vacation destinations. After all, the amazing views you can find here are truly some of the best in the world.
This archipelago is home to over seven hundred species of tropical fish and other fish including butterfly fish, wahoos, and tuna. In the waters of The Maldives you can also find things such as anemones, turtles, and sharks. You will even run into some octopi, if you are lucky. No wonder you can find beautiful coral reefs in The Maldives.
If not all of you are interested in snorkeling, you can also find other activities in The Maldives. For example. There are undersea gardens and visible wildlife that you can enjoy from outside of the water. The waters of the Maldives, after all, are incredibly clear.
The Maldives at a Glance
The Maldives, or the Republic of Maldives, is a rather small country that is found in the South of Asia. It's found in the Arabian Sea (in the Indian Ocean, that is). To give you a better idea of where this tropical paradise is, it is southwest of India and Sri Lanka. The Maldives is a chain of atolls (26 of them, to be exact) that goes from the Addu Atoll (south) to the Ihavandhippolhu Atoll (north). The Maldives is so small that it is in fact considered one of the smallest in the world (it certainly holds the title of the smallest in Asia).
If you are a traveler planning to make your way to The Maldives for a vacation, don't be afraid. It may be daunting to look up this country and find all of the extremely expensive luxury villas and resorts that no regular Joe would ever be able to afford. There are many misconceptions about Maldives, one of them being that it is far too expensive for the average person. However, the truth is that there are many options that can fit almost any budget. Maldives is also safe, but we recommend that you do some research into local culture before you fly down!
The Maldives offers many different types of experiences for every type of traveler. For those who are looking to do everything on a shoestring budget, don't fret. It is possible, for sure! Fortunately, there are tons of guides available online for planning all sorts of trips to this country, with all sorts of budgets in mind. See this guide: https://www.thepoortraveler.net/2016/07/maldives-resorts-holiday-tours-budget-backpacking-guide-maafushi-itinerary/
Indonesia: Komodo Island
Komodo Island in Indonesia is so named because of the tons of giant lizards (Komodo Dragons) that inhabit this island and call it their home. Komodo Island is thus appropriately known for the reason that tourists can come up close and personal with these reptiles. Most visitors, in fact, will spend most of their time visiting these reptiles. However, this Indonesian island is home to more than just the Komodo Dragons.
As a matter of fact, you will find plenty of underwater life underneath the blue waters of this attraction.
If you go to Pink Beach, you can swim with schools of grouper fish, with rays, and even with hawksbill turtles. You can find them all in the undersea garden growing in Pink Beach. On the other hand, you can choose instead to visit the waters of the sea that surrounds Komodo National Park. In these seas you will find unparalleled underwater attractions that you can explore. There are more than two hundred and sixty kinds of coral, and over one thousand species of fish.
On Komodo Island, or in its waters rather, you will also find fourteen different types of (endangered and threatened) whales. You will also find giant turtles and dolphins. For snorkelers, you will also find sharks, rays, and blooming coral reefs.
Komodo Island at a Glance
Komodo National Park is home to the Komodo Dragons, at least on land. Under the water, Komodo National Park is home to some of the best coral reefs on our planet. Scuba divers love this island as well, for the amazing waters off its shore. In fact, Komodo National Park is included on the list of the world's 7 New Nature Wonders. Indonesia considers Komodo Island to be (1 of) the pride of the country's Ministry of Tourism.
Komodo Island is actually comprised of three different main islands, Padar, Rinca, and Komodo Island. There are plenty of smaller islands surrounding it as well. RInca and Komodo are the home of over five thousand Komodo Dragons. The islands' flora and fauna are some of the finest in Indonesia. This place is incredibly beautiful and certainly deserves a spot on your shortlist of vacation destinations.
If you want to go to Indonesia but don't want to go to the somewhat oversaturated destination of Bali, Komodo Island is a fantastic option.
Ecuador: Galapagos Islands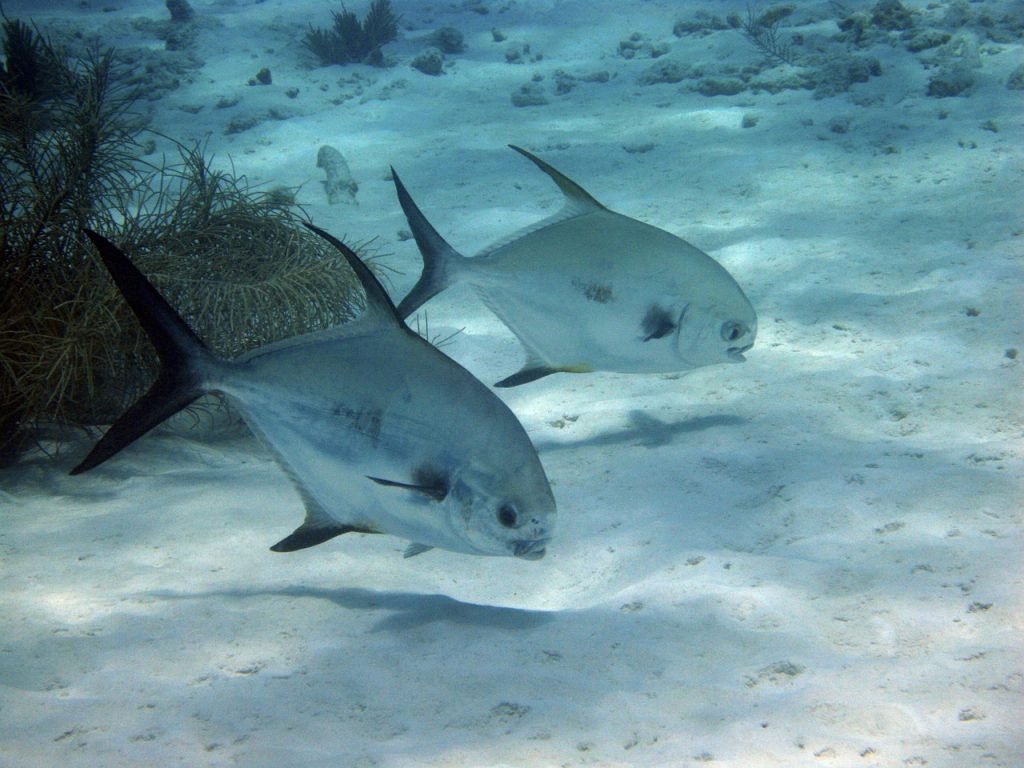 The Galapagos Islands can be find in Ecuador, where tons of wildlife can be found. On these volcanic islands you are likely to catch a glimpse of tortoises, iguanas, and finches. The tortoises on these islands are the very same ones that gave Charles Darwin inspiration. However, this is not all that the islands have to offer. In fact, underneath the blue waters off the shores of these islands, you will find a treasure trove of glorious marine life. The marine life underneath the Galapagos Island waves is diverse and includes things such as orcas, dolphins, sea turtles, humpback whales, fur seals, (Galapagos) penguins, and even some sea lions.
If you're brave enough, you can even swim in the Devil's Crown, which is a sunken volcano cone found near the island of Floreana. In these waters, you will find moray eels and many types of vividly colored fish.
Galapagos Islands at a Glance
The Galapagos Islands are on the bucket lists of many aspiring travelers the world over. Its popularity is for quite an obvious reason – on this island there are few natural predators. On top of that, it is here that you will find a ton of friendly and playful wildlife that you can get up and personal with such as sea lions and even gigantic sea tortoises. The Galapagos is an archipelago made of 19 islands and a ton of other smaller islets.
This destination is so popular and so beautiful in fact that it is on the UNESCO World Heritage list twice. As a result, both the land and the sea of this location is protected. Each of the nineteen islands of Galapagos has its own landscape, rather unique from one another. Some may be barren black, where others may have volcanic rocks. Other islands may have white sand beaches that melt into the seascapes of brilliantly blue waters going off into the horizon.
If you want to visit these islands, avoid June, July, August, and the middle of December going into the middle of January. These months are the peak of tourism to the Galapagos, and as a result you will find the islands crowded. Furthermore, everything will be more expensive. If you want calm seas, visit during December through to May. Divers say, however, that the best time to visit Galapagos Islands is during June to November, where the water is cooler. The seas might be rougher, but it is the best time to catch a glimpse of hammerhead sharks and whale sharks.
Australia: Great Barrier Reef
We can't make this list without mentioning this one. What list would this be without the famed Great Barrier Reef? The pride of Australia has been in the news plenty as of late, with news ranging from the devastating to the wholesome.
The Great Barrier Reef is the largest coral reef in the world, and the largest reef ecosystem as well. Here you will find up to two thousand and nine hundred individual coral reefs stretching over one thousand four hundred miles. The Great Barrier Reef is home to tons of brilliantly colored coral, amazing marine life, manta rays, barracudas, and even shipwrecks that have crashed many years ago.
The Great Barrier Reef is a snorkeling destination that is certainly a "must visit" that so many people in the world cannot resist putting on their bucket lists. If you're a bit lost as to where you want to start your travels, you can begin at Whitsunday Islands, which can be found right off of Queensland's coast.
BONUS – Palau: Eil Malk Island
Palau is well known the world over as a fantastic tropical destination. Out of the many different bodies of water in and around Palau, only one of them (a marine lake) is open to visitors snorkeling. However, this marine lake is absolutely worth the visit. Jellyfish Lake, which is found on Eil Malk (an uninhabited island), certainly tells you what to expect on your trip: millions of jellyfish. The golden jellyfish in this lake have thrived in isolation for hundreds or even thousands of years.
Although this isn't exactly a contender for the top coral reef the world has to offer, we still thought that it would be a great mention. Swimming amongst these harmless jellyfish may be a huge fear for some, but for others it is a truly otherworldly thing to experience.
Jellyfish Lake will offer you an extraordinary experience where you can snorkel and be swimming with these millions of jellyfish. The species of jellies in this lake are safe and their stings can barely be felt by humans – they are also non-poisonous.
Conclusion
The best coral reefs in the world for snorkeling are truly only some of the wonders which our planet has to offer. Our planet is a glorious and beautiful one, full of many different things to see and do. It is truly our responsibility to take care of our planet so that more generations to come will be able to experience the beauty of the places on this list – and many more places around the world.