If you're looking for an activity for you and your kids to do on your next vacation, snorkeling is a good one to consider. First of all, snorkeling is an activity that is for everyone – people of all ages! Snorkeling can be done by the kids, the parents, and even the grandparents! For a family activity that truly everyone can enjoy when on vacation, snorkeling is the way to go. Naturally, snorkeling gear can vary greatly from person to person. It all depends on preference of course, but it only makes sense that some equipment is age appropriate. And so if you plan to go snorkeling with any regularity, you may want to find the best snorkel gear for kids. It's a one-time purchase that will last for years to come. After all, junior snorkel sets will make for a much more memorable time.
Most people would not want to invest in the best snorkeling sets for kids. After all, children are still growing. It is for this reason that it can be not the best idea to buy gear for them because, well, they might just outgrow it in the long run. However, if you have more than one child, then you may find longer use out of the gear. And of course, you can always disinfect it and sell it later on down the line if you so desire.
The best part is, you don't even need to spend a ton of money to get the best snorkel set – some of the products on this list aren't all that expensive!
Why Should I Buy Snorkel Gear? Can't I Rent it Instead?
Most people who go on vacation and go snorkeling often decide to just rent most of their water equipment. There is absolutely nothing wrong with this. In most cases, renting is perfectly alright because after all, you don't really need the items in the long term. Furthermore, this type of equipment can be bulky and a pain to pack, and even mores o to bring on vacation with you. However, there are some pitfalls to renting equipment. In my experience, there are many reasons why having your own is much better than renting – let me list some of them.
Sanitation
The biggest reason I would say for having your own gear is the issue of sanitation. Even if you were renting the kids snorkel set, you don't know where those item have been. They could have been stored badly in unclean places. They could've never been cleaned and disinfected in the whole time they've been in service. Furthermore, what happens if the person who used the item before your child was sick? Would you risk your child's health in that manner?
Renting equipment is often cheaper. If you plan to rent instead of purchase, that's completely fine – just make sure that you inspect the equipment properly. Remember to disinfect it well before you allow your child to put the mouthpiece in his mouth!
Fit
Another reason why I don't like renting snorkeling or diving equipment (for myself or for my kids) is the fact that fit is not guaranteed. There were cases where I went on vacation and brought my children with me. I brought my own snorkel sets, but I thought that it would be better to rent some of the snorkel gear for children instead. However, when we got to the location and began searching for gear to rent, I was in for a disappointment. My children ended up having an unideal snorkeling experience because I simply could not find gear that would fit them properly.
We went to several shops that offered gear for rent, but each one we went to had gear in sizes that were either too big or too small for my kids. And as anyone who's ever worn goggles or snorkel masks in the past would tell you, it sucks in a major way for your mask to leak.
Condition of Equipment
One more thing that I can say is a deterrent for renting is the fact that sometimes, you get left with the gear that's in bad condition. There have been times when I've gone snorkeling that I was first in the shop and rented the best condition gear. Then there were the times where I found some great gear, but ended up getting the ones that were beginning to fall apart due to age and wear. To have the best time renting equipment you have to a) be able to find the right fit and b) be able to find equipment in good condition. And then you have to disinfect everything. What a bother!
How Do I Choose The Best Snorkel Sets for Kids?
Deciding in between renting and owning can, at times, be rather confusing. However, you can choose one and then do your research as to whether you will be able to rent it at your destination. If you cannot, then perhaps it may be a better idea to purchase it instead. Nevertheless, here is a quick primer on how you can choose the right gear.
There are different components to a set for snorkeling, which basically include: the fins, the snorkel, and of course, the mask. However, there are also some tools that are optional, such as a snorkeling vest or even perhaps a wet suit. In today's reviews, these two optional items will not be included. However, we will make a mention as to how you can distinguish quality – just to make your life easier.
Choosing The Right Snorkeling Mask
The difference between a bad experience when snorkeling and a good one can honestly be determined by a full face snorkel mask with good quality. This applies not just for your child's mask, but for your own too! A mask for kids that is high quality and that fits your face snuggly and properly will prevent leaks while remaining comfortable. The tight seal will ensure that the best possible visibility is maintained throughout the rest of the duration of the swimming. Therefore, when you purchase a kids snorkel set you should try the mask on your child. Check the mask's skirt (the silicone or rubber around the edges of it, which sit on your face) to see if it fits well. Additionally, you can check the same skirt for any damage where water could leak through.
When it comes to searching for features in a kids snorkel mask, the only thing that would really matter is having the ability for defogging. This way, visibility will be at the best possible on the entire duration. Any fuzziness in vision caused by fog will be reduced, allowing your child to better see all of the underwater beauty.
Remember: to check for proper fit, the mask should be in contact with your child's face everywhere. No gaps should be present. Take an especially close look at the corners of the nose and mouth, because those places may commonly leak. Also, pull your kids' hair away from their face to create an airtight seal.
Choosing The Right Snorkel
The next and likely second most important part of the kit is the snorkel itself. After all, it wouldn't be snorkel gear without the snorkel! It is the snorkel, or essentially the breathing tube with the mouthpiece, that allows you or your child the ability to breathe while underwater. So, if you are looking to purchase a snorkeling set, it's best that you find one the right size with the right features. Many companies make snorkels that are kind of big for children, which makes it impossible for them to get a proper bite. Some kids may be able to get that bite, but due to the size of the snorkel it could grow uncomfortable for them – and fast!
When it comes to finding a snorkel, a good idea is to get a "purge snorkel", which will allow your child to remove water that makes it into the tube accidentally. That way, they do not aspirate the water. Of course, you must teach them how to purge the liquid as well.
Alternatively, you can purchase a different kind of snorkel – a dry snorkel – instead. This will keep the water out from the get go, which means that it won't enter the tube in the first place. Some of the sets we will be reviewing below come with dry snorkels.
Recommended Read: How Old Do You Have to Be to Snorkel?
Out of both purge and dry top snorkels, I would recommend the dry top snorkel. This will prevent water from getting into the tube to begin with, and the choking hazard (and drowning hazard) will be greatly lessened.
Choosing The Right Fins
Many would argue that fins aren't exactly all that necessary when it comes to snorkeling. After all, you need only to swim slightly under the surface to see the beauty below. And you can swim slowly if you so wish. When I snorkel I personally prefer not to have fins.
However, if your kids want to be able to swim faster so they can follow some fish to take a closer look at them, snorkel fins will help. If you don't get the best kids snorkel set that comes with the fins, you might end up noticing a lack of speed when under the water.
Sizing for kids' fins, however, can be rather difficult. This is because children's feet grow continually, and as a result any snorkeling fins may get outgrown rather quickly. And so, when you are sizing fins for your child's foot, you must choose a pair that fits in a "Goldilocks"manner – not to tight, but also not too loose. Also take a look at the flexibility of the fins. For kids that are new to swimming and snorkeling, flexible open heel fins are better. However, if you want to move a lot faster, rigid fins are the way to go.
Choosing The Right Wetsuit
As I've mentioned above, wetsuits aren't particularly necessary for children's snorkeling. The truth is, it's usually only recommended because it can help to keep your kid warm when they are underwater. Therefore, a wet suit will allow them to stay under the water much longer, especially in comparison to a swimsuit. You do have to make sure that the wetsuit will fit properly – you can do this by ensuring a snug fit around their legs, neck, and arms. This way, water will be kept out of the suit.
An added bonus to having a wet suit is the fact that it can later on be used if your child decides to pursue scuba diving. However, because your child is still growing, they may outgrow a suit fast. The decision on whether to purchase a wetsuit or not is in your hands!
Choosing The Right Snorkel Vest
If your child isn't that confident of a swimmer but you still want them to be able to enjoy their time in the water, a snorkel vest may be necessary. A snorkel vest is essentially kind of a life vest which will keep your child afloat with much less effort coming from them. This way, all they need to worry about is submerging their faces underwater to see the sights. Then, to move, they will have a much easier time propelling themselves (with or without fins) simply because they don't have to concern themselves with floating.
Consider a vest for you or for your kids just to give you a more relaxed snorkeling experience. It also increases visibility so accidents can be avoided.
The only downside we would say is the fact that this can be quite bulky to travel with!
5 Best Snorkel Gear for Kids Review
If you're convinced by now that you want to purchase gear for your kids instead of renting them, I've got your back! I put together this list of some of the best equipment you can find in varying price ranges so that you can find one to suit your budget. I also made sure that most of this gear is adjustable so you can at least get a few years of use out of them, especially since kids can grow up fast. In this review we will look at products, their benefits and drawbacks, and also their features. Without further ado, let's get started!
#1 PICK – NAGA Sports Snorkel Set for Kids
Our Recommendation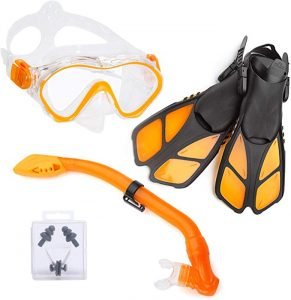 Product Name: NAGA Sports Snorkel Set for Kids
Product Description: The first product that we recommend is the NAGA Kids Snorkeling Set. NAGA is a brand that is well-known and trusted in the world of aquatic equipment. They are known to produce some of the best quality snorkeling gear. And so, it only makes sense that they have some of the best snorkel gear for children around on the market today.
Quality

Durability

Design
Summary
This mask in particular is fitted with some tempered glass. This way, it is strong and durable, while offering clear and unobstructed vision of the water. This mask also comes with a built-in system to prevent fog, so that your child will be able to see the fish and the coral as clearly as possible. This tempered glass mask is scratch resistant as well as shatter resistant. However, it's best to still be careful with it because some reports do say that the glass breaks if it is dropped on a hard surface. The same will happen if for example the mask hits a sharp pointed object. This mask also uses a single lens design which allows for uninterrupted views of the water out there.
If you want to get the best kids snorkel gear, this is surely a great option. What's even better is the fact that it's compact and lightweight. As a result, it is easier to take along when you travel. This set even includes a mesh bag for quick-drying. The gear bag allows you to tote your equipment around without them gathering mold or mildew due to moisture.
Additional Information about NAGA Sports Snorkel for Kids
For your peace of mind, NAGA provides a money back guarantee (90 day period) if you are unsatisfied. Furthermore, a one year warranty is also included upon purchase.
Pros
✔️Anti-fog coat system is one of the best, making this mask a truly excellent one
✔️The straps are easily adjusted and high quality, which means your child will be able to use it for a long time
✔️Purging system is fantastic as well
✔️The fins are flexible and comfortable to swim with
Cons
❌Some reports state adjustment straps may break easily if mishandled
❌Not drop proof
RUNNERS UP –

Cressi Rocks Kids Set (Fins, Snorkel, Mask)
Recommended Age: 5 to 13 years old
The next on this list is the set by Cressi. This set sits at an excellent middle ground of quality and affordability. Here you will find a set that has tempered glass for the mask that is also durable enough to withstand the clumsiness of kids. Furthermore, this mask also has buckles that you can adjust when necessary. This way, you can adjust the mask to make sure it fits perfectly where necessary. This junior snorkel set comes with a splash guard which will help to prevent water from entering your child's breathing tube. This way, breathing will be easy and safe under the water.
The snorkeling fins that come with the Cressi Rocks Kids Set are short and rather easy to use as well. Despite this, they deliver power with each kick, which allows your child to focus while they are on the water. The fin sports an open-heeled design which also includes a strap you can adjust. This way, the fin will be able to "grow"along with your kid, which means you won't have to throw it out too soon. This set of products do come with a mag (made with mesh) that can hold all of your stuff together. This way, it's much easier for you to bring them along when traveling. Stay organized while keeping your kids' gear dry!
PROS
✔️Splash guard to prevent water going into the breathing tube ✔️Set is great in quality and durable enough to withstand children's handling ✔️Fins are flexible and adjustable for "growing" with kids ✔️Tempered glass mask
CONS
❌Some feedback states that the housing of the mask along with its buckle ended up breaking off after just a few weeks of work ❌There is feedback stating that the fins ripped after being used only a few times
US Divers Combo Set: Proflex Fins, Dorado Mask, & Sea Breeze Snorkel
Recommended Age: Depends on the size purchased
If you're looking for a combination set, this one by US Divers might just hit the mark. This set basically includes everything that you might possibly need to get your kid started with snorkeling. The gear is brightly colored to make it easy to find and to make it attractive for kids. Furthermore, it is also made to be durable enough for kids to handle. To make sure that your child will be able to breathe more easily, a splash guard is placed on the tip of the breathing barrel. This way, the risk of water getting into the tube is significantly lessened. The splash guard is a "dry top"which employs new technology (pivot dry). This way, water is kept out, even though the tube is submersible.
This set includes proflex fins, which will give your kid flexibility, movement, and comfort – all things that they will need if they are to be swimming in the ocean. Additionally, the fins' pockets where your kid's feet will go are made to for comfort. This way, prolonged wear will not result in any discomfort or pain.
The snorkel from this set is an ideal choice for kids with narrower faces.
This set is available in a ton of different sizes and colors to suit your child's needs. A mesh bag also comes with the set, which is truly helpful when it comes to keeping gear organized and dry.
PROS
✔️Blade fins are very comfortable and help your child conserve energy ✔️2-window mask allows for great visibility ✔️The fins are designed well to suit smaller feet ✔️Buckles make the product easily adjustable
CONS
❌Reports have come in where the product experienced leaking in the snorkel when it is fully submerged ❌Splash guard is not 100% consistently effective so sometimes water does get in
Promate Spectrum Combo Set – Junior Snorkeling
Recommended Age: This combo set is great for kids 4+ years old. Sizing is available for older children.
Promate is a brand that is known and trusted worldwide. Therefore, it is not a surprise at all that this snorkeling set qualifies as one of the best for kids (sets of gear that is). The skirt of this mask is made out of soft silicone, which makes it comfortable but also airtight. The design makes sure that any air bubbles are pushed away from the mask's dual viewing areas. The product claims to be a snorkel that should be 100% dry, but there have been reviews that state some leaks might be experienced. In terms of the fins, they are rather comfortable because they are made out of soft rubber. Furthermore, if you're worried about your kid not being able to wear this for long, the open heel design and the adjustable buckles makes sure to negate that worry.
This snorkeling set is great if you want to purchase just one set that is safe and reliable enough for your kids to wear out on the water. There are two different options – one has a mask, a snorkel, a pair of fins, and a mesh bag. The other option offers a snorkel, a vest, a mask, and a pair of fins, and a mesh bag (of course) as well.
The Promate Spectrum snorkeling set is available in small-medium size as well as large-extra large size. This way, you do have a couple of options at purchase. Three different color options are available for each of the combination options.
PROS
✔️The fins work great regardless if you want to wear them at the pool barefoot, or for snorkeling with a pair of booties ✔️Mask and snorkel fit well and are also easily adjustable ✔️Goggles supposedly should not leak ✔️Made of materials that are high quality but also incredibly comfy for your kids to wear
CONS
❌The mask or
goggles for kids
do have a tendency to fog up. However, the mask is not advertised to have anti-fog coating ❌Might make it somewhat difficult for your child to get used to it, which means there is a bit of a learning curve (in terms of the snorkel purge valve)
US Divers Combo Set: Junior Regal Mask, Laguna Snorkel, Trigger Fins
Recommended Age: 6 Years Old+
Last but not the least on this list of snorkeling gear for kids is the US Divers Combo Set containing trigger fins, the laguna snorkel, and the junior regal mask.
For children who have a bit of a wider face, the Laguna snorkel and the regal mask may just be the best fit. The regal mask has a skirt that is slightly larger and is, at the same time, also wider. Like some of the other products on this list, the snorkel can be submerged because it has a "dry top". The skirt of the mask is made of silicone that is hypoallergenic, allowing for comfort and a good seal. The buckles that are included on the strap are quick release, which allows for easy adjustment even for your child.
The trigger fins that come with this set are rather small so they can be packed easily. Despite their small size, they offer amazing power, flexibility, and a smooth experience when under the water.
Out of all of the gear that we have mentioned on this list, this one is the one that we would actually say would fit a broader range of kids in varying ages. However, if your child's foot has grown faster, it may not fit into the pocket of the fins.
To make it easier for you to pack and carry this set around while keeping it dry, a mesh bag comes with your purchase.
Finally, the set comes in various colors and sizes that you can choose from.
PROS
✔️Easy adjustment can be done using the three-way buckles ✔️Fins pivot and flex for efficient and comfortable swimming ✔️Mask is 2-window, offering good visibility ✔️Adjustable buckles are soft and adjustable
CONS
❌Fins' foot pockets are mid size, which means they may not suit all children's feet. Smaller feet may not reach the end of the pockets, while larger feet may not fit entirely ❌Carry bag is not that high in quality
Conclusion
Snorkeling is a lovely activity that can be shared by the entire family. There are many wonders to see underwater. Corals and fish, even things like sea turtles and eel, can be seen in some snorkeling spots. To ensure a great family time, make sure you get the best possible snorkel gear for your kids. This way, your children will be able to see well underwater while also being able to swim around much more comfortably. Regardless of whether you are renting or purchasing, the right gear can truly make the difference between a memorable trip and a dud. Enjoy your vacation!