Whether you're fishing or doing underwater photography, it's important to use the right camera. However, it can be challenging if you're diving into murky waters. To ensure that you'll go home with clear snapshots, I suggest that you invest in one of the best underwater cameras for murky water. This is designed with high resolution suitable for recreational and professional use.
UNDERWATER CAM
BRAND
EXPERT RATING
CHECK PRICE

Our Top Pick!


SeaLife Micro HD+
Digital Camera

Check Price

GoPro MAX HD
Waterproof Camera

Check Price

Nikon COOLPIX W300
Digital Camera

Check Price
The underwater condition is something you can't control. Instead of letting the murky situation ruin your experience, you can get a camera that can see through the low light conditions.
In this post, I reviewed three of my favorite underwater cameras. All of these capture crisp and clear images even in poor water conditions.
3 Best Underwater Cameras for Murky Water
#1 CHOICE
OUR TOP PICK: SeaLife Micro HD+ Digital Camera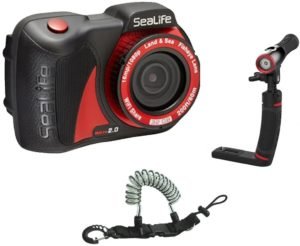 Product Name: SeaLife Micro HD+ Digital Camera
Product Description: If you're looking for a top underwater camera, you should consider the SeaLife Micro HD+. This camera can be used up to 200 feet underwater. It doesn't leak because there are no openings where the water may seep through. Moreover, this has 32 GB of onboard memory as well as a high-capacity battery. There's no need to insert an external sd card or switch batteries. The sealed body of this underwater cam makes it suitable for deep dives and even photography. This digital camera captures 13 MP of still images and full 1080p HD videos for the camera quality. I also like the 140-degree built-in fisheye lens that lets you capture a wider view underwater. This has an instant focus lens of 30 cm to infinity. You can also enjoy its Time Lapse mode or Continuous Shooting mode that captures one frame per second.
Resolution

Depth Rating

Features

Ease of Use
Summary
The best part about this camera is it uploads and downloads wirelessly, so you can access the images on your mobile device. You simply have to connect it to the free smartphone app.
Also, the internal battery of this underwater camera is rechargeable for up to three hours of use. Take note that this is permanently sealed, so there's no way for you to remove the battery manually.
Aside from that, this camera has 'Piano Key' controls that allow easy operation with or without gloves. I also like the simple menu selections that make it very easy to set up.
Overall, this is a compact yet powerful underwater cam. It has a soft rubber grip so that you won't drop it underwater. If budget isn't an issue, I'll surely splurge on this camera.
Pros
Permanently sealed to prevent leaks
32 GB onboard memory
Wireless upload and download
Cons
The strap is short, and it doesn't float
---
Runners-up:

GoPro MAX HD Waterproof Camera
If you want a high definition underwater photos, you can consider the GoPro MAX. This works as three cameras in one. You can use it to shoot like the traditional Hero-style, record 360-degree videos, and vlog with its front-facing lcd screen and lens.
This powerhouse camera boasts of the Max HyperSmooth function with 16.6 MP of optical quality. This is an unbeatable stabilization feature that utilizes a 180-degree capture.
Aside from taking photos underwater, you can also shoot 1080p videos with this camera. You can also livestream on social media or broadcast through the GoPro app.
This is also equipped with four digital lenses so you can capture narrow, linear, Max SuperView, and Wide. It's the widest offering of GoPro, perfect for the most stunning underwater sceneries. You can also use the Max TimeWarp feature to slow down moments you want to cherish then go back to normal speed with a single tap.
Moreover, this camera has the Horizon Leveling feature. It gives a cinematic effect to your footage during Hero mode. It works well whether you're filming sideways or running around. This is paired with the PowerPano that lets to take 270-degree panoramic photos without scanning the view.
To ensure that you'll have clear audio quality for your footage, this has six mics that capture 360 audio. It's the best sound quality ever on all GoPro cameras. You can also connect it to your mobile devices via WiFi and Bluetooth.
---
Nikon COOLPIX W300 Waterproof Digital Camera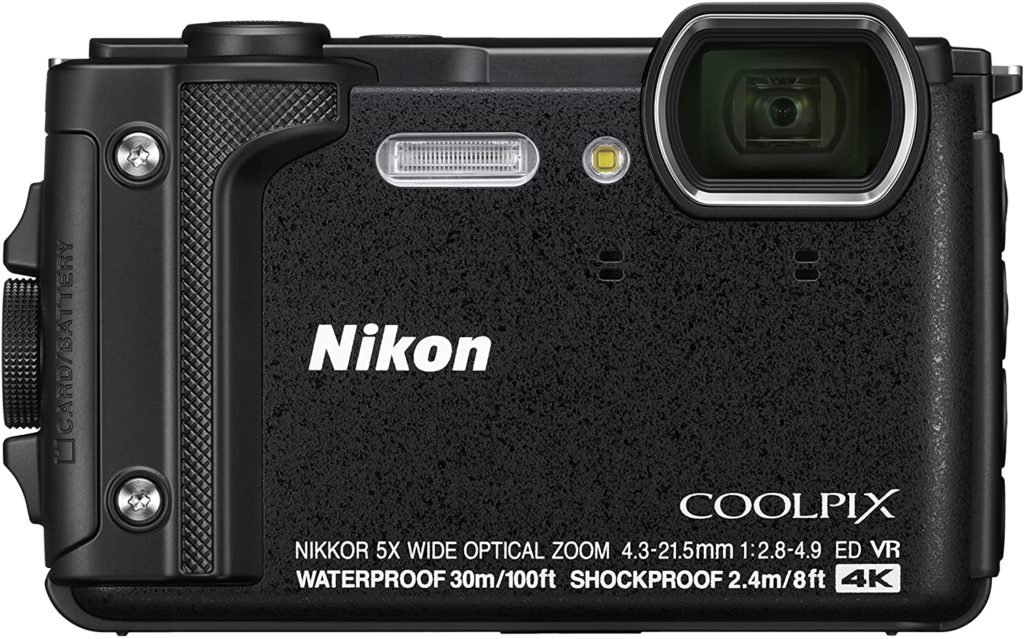 The Nikon W300 is also a great contender for the best underwater fishing camera. This is waterproof, shockproof, freeze-proof, and dust-proof. You can take this camera underwater for up to 30 meters, which is perfect for recreational purposes.
Aside from that, this Nikon camera has a 16.05 MP high resolution lcd monitor with a back-illuminated CMOS sensor. It's paired with 5x optical zoom so that you can get up close with underwater features. You will enjoy shooting 4K videos with stereo sounds with this compact camera.
Moreover, this is equipped with a NIKKOR lens complete with telephoto power as well as Hybrid VR photo stabilization. You'll also enjoy other features, including an eCompass, depth gauge, altimeter, and Bluetooth/WiFi connectivity.
Also, this camera has multiple modes to suit the underwater and land conditions you're shooting. You can utilize the Underwater mode for the best photos, even in murky conditions. There are also the Fireworks, Snow, Night, Sunset, and Sports modes.
In addition, I also like the bright LED light built into the cam. It lets you see underwater and take better pictures in low light conditions.
Overall, this camera is very easy to use. I once took it for an 18-meter dive for about an hour, and the photos are just stunning! You just need to point and shoot.
I also like that they reduced the noise blurring feature from previous Nikon cameras. This one doesn't give a 'watercolor' look at the images, so it looks real and raw.
---
How to Choose a Camera For Murky Water
There are many underwater cams in the market, but not all of them provide the best performance in murky conditions. If you want to get the best underwater camera for such conditions, you should consider the following:
✔️Resolution
The very first thing you should consider is the resolution of the camera. Dirty water is enough of a challenge, but it would be more manageable if you have a cam with the highest possible resolution.
A 13 MP lens is already a champ for clear and crisp images. The likes of GoPro MAX have 16 MP, which is a powerhouse device if you want the clearest images.
Also, you should look for an underwater camera system with a topnotch white balance. This will let you capture clear images underwater without the need to use a flash. A manual white balance will let you eliminate the excessive blue color and utilize the ambient light.
Aside from that, you should also check the video resolution of the camera. You'd surely want to take videos of your plunge. A 1080p video resolution is already a great catch, but you can upgrade to 4K with more expensive options.
✔️Depth rating
Another important thing you should check is the depth rating of the camera system. This will dictate how deep you can take the cam before it starts leaking. Most underwater cameras in the market are rated between 15 to 60 meters. You can find one that handles deeper distances, but it's more expensive and not easy to come by.
✔️Weight and size
The underwater camera's size and weight is a very important consideration, especially if you're also bringing other equipment. A compact and lightweight camera is a good choice, so it will not be a pain to navigate.
Make sure that the HD camera has a secure grip and strap, so you can attach it to your body or dive suit.
✔️Easy controls
It's important that underwater cameras have intuitive controls. This will save you from the hassle and guesswork underwater. And if you're diving, you wouldn't want your oxygen to be wasted as you tinker on your HD camera for long periods.
As much as possible, look for a point-and-shoot camera that you can easily use underwater.
✔️Multiple modes
Multiple shooting modes will let you adjust the setting of the camera to suit a specific water condition. Those made for underwater use have a specific mode that will reduce the blue colors to make the images look clearer and natural.
✔️Connectivity
Many underwater cameras like the one from SeaLife is permanently sealed. This means it has built-in memory and battery. With this, WiFi or Bluetooth connectivity are your only ways to access the images and footage you've taken.
Other cameras like GoPro even lets you livestream and vlog, which is a cool feature to have. It connects to your socials, which allows easy retrieval of footage you've taken.
✔️Long battery life
The last thing you'd want is running out of power while you're underwater. This is why you should look for an underwater fishing camera with decent battery life. Around three hours per charge is usually more than enough for a single dive. If you have a compact camera, 2 to 3 hours is already reasonable, although you can easily find one that can pack more power.
✔️Price and warranty
You should also consider the price tag of the underwater camera you're going to get. Cheaper options work to some extent, but it's unlikely to provide the best set of features for murky water conditions.
If you're serious about underwater photography, you can start with the three options I reviewed above. These are reasonably priced cameras for beginners without compromising the features and functionality. 
---
Frequently Asked Questions
Q: How do you take good underwater pictures?
A: If you want to take good underwater pictures, you should invest in a high-quality camera. You should also use the right settings, especially in the dirty water. Another effective trick is to shoot on an upward angle and not centering the subject. Also, you shouldn't be afraid to take panoramic views, especially on colorful coral reefs.
Q: Can I take a waterproof camera under the sea?
A: Most waterproof cameras are safe to use on saltwater. However, you should ensure that it has the right depth rating to prevent leaks. For most swims, a depth rating of 30 meters would be enough. But if you're scuba diving, you need a specialized camera that can put up with higher pressure.
Q: How do you make underwater pictures clear?
A: Clear water is important to shoot crisp photos. But if the water is murky, you can use a camera made with excellent stabilization, low light performance, and topnotch focus. You can also practice to find the right settings for specific conditions.
Q: Is GoPro good for underwater photography?
A: Yes, GoPro has tons of features that are made for underwater photography. The GoPro MAX I reviewed above is the top option if you're looking for a GoPro that you can take underwater. It's waterproof and equipped with the highest resolution and sound quality of all the brand's cameras.
Q: At what depth do you need a red filter?
A: Most underwater photographers will use a red filter from 15 to 70 feet. This is to make the colors more natural and not too bluish due to the water and sunlight. This is the trick used to make underwater photos crystal clear and natural-looking even at substantial depth.
Q: Will an underwater camera leak?
A: Underwater ice fishing cameras will not leak if you use then for the prescribed depth. If the camera leaks within the prescribed depth, you should contact the seller and raise your concerns. Just be careful as depth ratings are either measured by feet or meter, which can play tricks on you.
---
Final Words
The best underwater cameras for murky water will let you capture the submerged beauty of the ocean with ease. With the right features, a camera can still take stunning photos in low light and murky conditions.
What do you think of these underwater cameras? Have you tried any of them before? How's your experience?