The Galapagos is a world unto itself. It's home to the most diverse wildlife in the world, having been isolated for thousands of years. But beyond its lava-forged islands, the hidden beauty of the Galapagos is located underwater. If the land wonders are enough to amaze you, wait until the best time to dive in Galapagos arrives. It's a jaw-dropping scenery born of fire, forged by nature, and secured away from herds of tourists 600 miles off the Ecuadorian coast.
In this post, I discuss the best season to dive in the Galapagos, the top dive spots, and other tips to make the most out of your visit.
When is the Best Time to Dive in Galapagos Islands?
All year round, Galapagos is an excellent place for diving. Still, the months between December and May are the peak season since the water is warmer (70F to 75F) and calmer. This allows less experienced divers to take a plunge. Also, this season is when you're likely to spot hammerhead sharks and manta rays.
On the other hand, other divers prefer diving during the dry season. It runs from July to November since it's the peak season for whale shark sightings. However, the current at this point is choppier and will be challenging for a beginner diver.
It's important to coordinate with a local dive center to ensure that the weather suits the type of dive you want to perform. Also, local divers can advise how easy or challenging the dive spots will be.
Speaking of challenging, the diving difficulty in the Galapagos is generally suitable for advanced divers. Nevertheless, beginners can still find easier spots, which I discussed below.
The reason why the Galapagos isn't an easy dive is its depth. Most dive spots here are 70 to 115 feet deep, with a few beginner areas at 30 to 67 feet.
If you're a newbie and bent to dive in the Galapagos, you should time your visit during the dry season when the current is more manageable.
What to see during a Galapagos dive
For those who want to see specific marine life, the following is a quick rundown of the best times for diving:
Sharks. Sharks can be seen in the Galapagos waters all year round. Whitetip reef, blacktip reef, and hammerheads are a staple in the area. Meanwhile, tiger sharks are quite rare, though you can chance upon them during the dry season. As for Bull Sharks, they are most likely to be seen in the first and last quarter of the year. Lastly, Whale sharks are easier to spot from August to October.
Seal. You can spot seals on many Galapagos islands all year long. They are one of the most common wildlife in the area.
Dolphins. Common dolphins are as likely to be seen here as seals. Some will even swim with divers or approach liveaboards.
Galapagos Green Turtle. During the nesting season from December to March, you'll see Galapagos Green Turtles often. They will be crawling to the beach to lay their eggs. Take note that this turtle species is the only one to nest in the island group.
---
Who Can Dive in the Galapagos?
To dive into any Galapagos site, you have to secure a PADI dive certification. An SSI certification is also accepted, though I suggest inquiring about the dive center of your choice to be sure. If you're not certified yet, there are many dive centers all over the island group that offers lessons.
If you're a newly certified diver, you need a divemaster or certified dive instructor to accompany you during the dive. Some dive shops and centers will also require you to have a minimum dive record to be allowed to dive in specific sites.
For intermediate levels, most dive sites in the Galapagos require around 10 logged dives. Meanwhile, advanced sites will need at least 15 dives. However, if the dive site is extremely challenging, the divemaster may require a minimum of 30 dive logs before they allow you to join.
---
Where to Dive in the Galapagos?
Galapagos has hundreds of dive sites, but these five spots stand out from the rest:
🐠Shark Point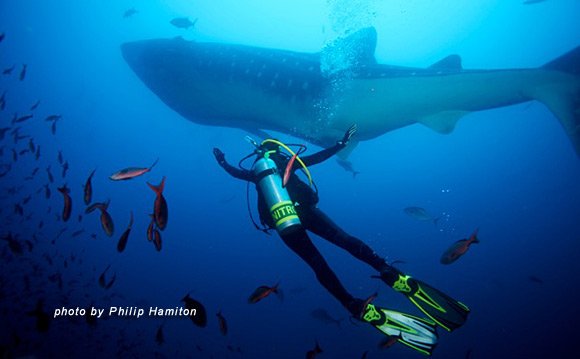 Shark Point is located in Wolf Island, which is the northernmost part of the archipelago. It's called as such because of the large shark population in the area, including hammerheads, whale sharks, and bull sharks. Dolphins also frequent shark Point.
This dive spot is only accessible via liveaboards since Wolf Island is uninhabited. The best time to go here is from May to November, but expect the currents to be strong.
Water visibility in Shark Point is shallow, so beginners aren't allowed to join dives. Also, water temperatures range from 60F to 68F on ideal seasons, not to mention the high currents.
Despite the rigorous requirements, diving at Shark Point is a dream come true. You'll get up close with the giants of the ocean. It's not for the faint of heart, but the experience is truly worth it.
Diver level: Advanced
Best time to visit: May to November
---
🐠Darwin's Arch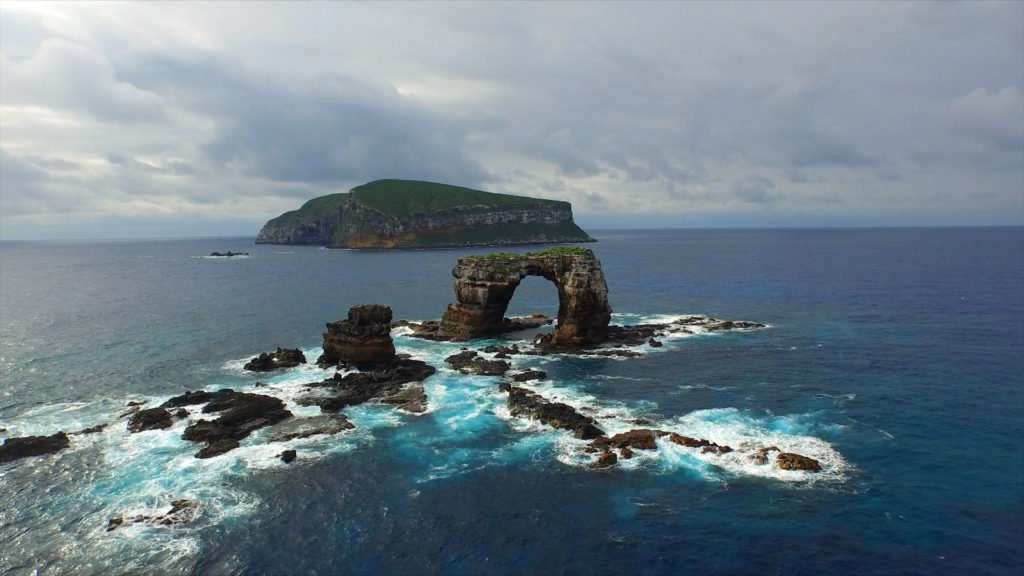 The Galapagos Islands played a major role in Charles Darwin's theory of evolution. With this, the locals named an island after him: the Darwin Island. Within the island's vicinity is the popular Darwin's Arch. It's home to the most stunning population of eagle rays, manta rays, dolphins, and sea turtles. It's an entire civilization underwater, which is fitting for the man to whom it's named after.
Aside from that, divers go here to witness the sharks as the strong currents occur. You'll be surrounded by blacktip sharks, silky sharks, hammerhead sharks, and the famous Galapagos sharks in no time.
The best part about this dive site is it's only 30 feet deep! But due to the high currents, this is reserved for intermediate to advanced divers with enough logged dives.
Take note that this place is called Darwin's Arch because of the stone formation that looks like an arch, which serves as the marker for the dive spot.
Diver level: Intermediate to advanced
Best time to visit: June to December
---
🐠Camaño Islet
Are you a beginner diver? If so, you should head to the Camaño Islet located off the popular Santa Cruz Island coast. It's the hiding spot of seahorses, batfishes, and sea lions. While more worthwhile than other dive spots, it's not short of underwater beauty for you to see.
Moreover, some divers are lucky enough to see Galapagos marine iguanas hunting for food underwater. Dives here are within 33 to 50 feet, with excellent visibility, so it's easy to spot these reptiles during their feeding hours.
As the first dive sites, this is reachable only via liveaboards and boats. Water temperatures are below 70F, but the current remains low for the most part of the year.
Aside from diving, you can go snorkeling in the Camaño Islet. It's only 2 to 3 kilometers off the coast of Puerto Ayora, where you can find lots of amenities. It's a friendly choice of a dive spot for those who don't want to stay too far from the town central.
Diver level: Beginner
Best time to visit: December to May
---
🐠Punta Vicente Roca
If you want to experience cave diving in the Galapagos, you should head to Isabela Island. Here, you'll find the Punta Vicente Roca. It's a sloping wall composed of multiple caves that can be as deep as 88 feet.
The wall is covered with marine life, including frogfishes, sunfishes, and seahorses. It's an ecosystem reserved only for intermediate and advanced divers. Bullhead Sharks and Port Jackson Sharks also frequent this place.
During safety stops, watch out for sea lions and penguins playing in the water. There's a lot of marine life happening in this dive site that you wouldn't want to ascend.
Snorkeling is also a popular activity here. Just note that landing isn't allowed in Punta Vicente Roca. However, panga (inflatable dinghies) are allowed for shore excursions.
Diver level: Intermediate to advanced
Best time to visit: January to May
---
🐠Kicker Rock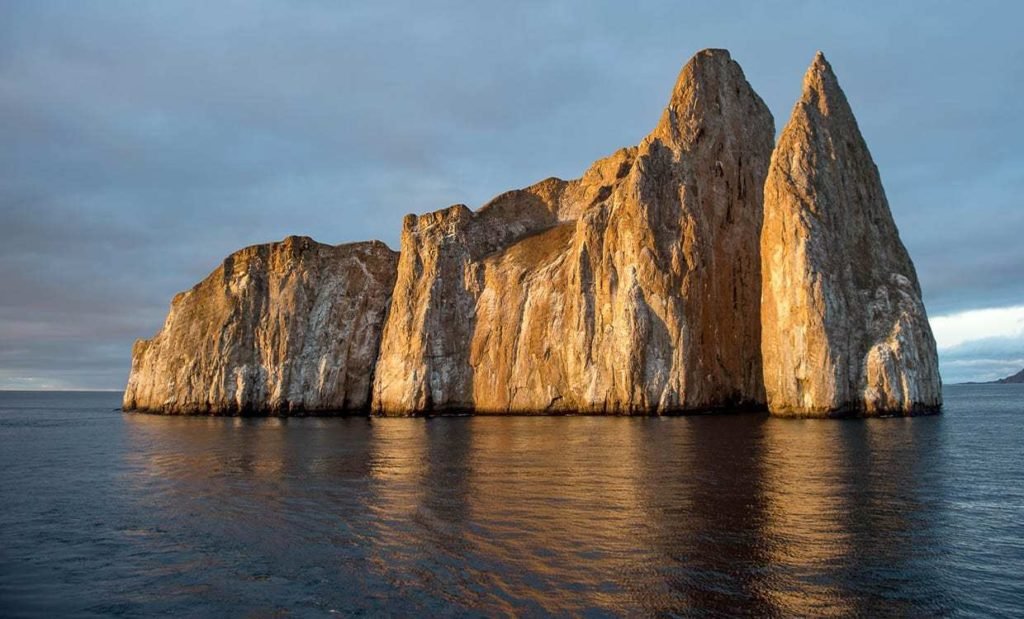 Another beginner dive spot in the Galapagos is the Kicker Rock. It's located near the coast of San Cristobal Island and somehow resembles the shape of a shoe. It's also called Leon Dormido in Spanish since it looks like a sleeping sea lion.
Here, you can spot angelfish, large rays, hammerhead sharks, Galapagos sharks, surgeonfish, wrasse, and other marine life. If you're lucky, you can even see marine iguanas hunting.
Snorkeling is also an excellent activity here. The current is mild to moderate and is worthwhile for every snorkeler and diver.
Many local dive centers offer trips here with stops on neighboring islands. It's an excellent destination, which is not short of natural wonders.
Diver level: Beginner
Best time to visit: December to May
---
Tips When Visiting the Galapagos Islands
Visiting the naturally historic Galapagos Islands is an exciting experience. But before you go, it's important to keep these points in mind:
Don't touch the wildlife. There's a reason why they are called 'wildlife'. The animals are wild and not accustomed to close human encounters. Unless the guides tell you that it's safe, keep your distance and just observe the surroundings.
Book early. The Galapagos Islands are popular all over the world, so expect tourists to flock during peak season. It's best to book your trip at least six months before the actual date. For extremely popular sites, you may need to book a year in advance.
Prioritize comfy. The Galapagos Islands are all about exploring nature. Whether you're diving, island hopping, or hiking, always wear comfy clothes.
Watch out for seasickness. Traveling from island to island within the archipelago can take hours. Make sure that you bring motion sickness medications with you.
Prepare for limited grid access. Since most of the Galapagos archipelago islands are uninhabited, expect that there would be limited internet service.
Follow the rules. Take note that your stay in the Galapagos Islands is bound by strict rules under the national park directorate. Always follow your guide and do your research before going.
---
Frequently Asked Questions
Q: Does it rain a lot in the Galapagos?
A: The Galapagos Islands receive around 2 inches of rain in the highlands. There's no true low and high season here because this island group is blessed enough to never experience hurricanes. You'll only experience water temperature dips and drizzles from time to time. Other than that, the weather is very pleasant.
Q: How many days do you need in Galapagos Islands?
A: If you want to experience the whimsical Galapagos at its best, you should dedicate at least five days of vacation. The longer, the better. Most travelers who have visited the islands spend an average of 8 days exploring around. This will also give you enough time to enjoy multiple dive sites.
Q: How many logged dives do you need to dive in the Galapagos?
A: The answer to this varies, but the average is 25 logged dives for most Galapagos sites. This guarantees that the diver possesses the necessary experience to handle any unexpected changes in the water. It's also for your safety, especially when planning to visit advanced and intermediate dive spots.
Q: How much does it cost to dive in the Galapagos?
A: Diving in the Galapagos Islands isn't that expensive. For approximately $160, you'll get to enjoy a two-tank dive in one of the most popular dive centers in the area. You can also find cheaper packages if you're traveling on a budget.
Q: Can you touch the animals in the Galapagos?
A: As with other places, you should remain a respectful observer when it comes to Galapagos Island creatures. This is the same with the marine life you're going to see during your dive. Again, remember the golden rule for travelers: take only photos and leave only memories. Never touch the animals for your safety.
---
Final Words
The best month to dive in Galapagos is all-year-round. This archipelago is nestled in a hurricane-safe zone, so adverse weather disturbances are quite rare. Just make sure that you pick the right dive site and know the rules before you go.