Scuba diving often leads to experiences that might have never thought you could have. Quite honestly, this activity is one of the best ways to explore life around us, under water at least. Without scuba, many of us would only ever get to see a lot of creatures of the sea on photos or perhaps on TV. A lot of people might think that diving might be an activity reserved for those who can afford it. However, the truth is that this activity is now more accessible than ever. When you scuba dive, you might find that the water you swim in could be colder than anticipated. This is why diving gloves for cold water are necessary – along with wetsuits and other gear.
| DIVE WATCH | BRAND | EXPERT RATING | CHECK PRICE |
| --- | --- | --- | --- |
| | Premium Wetsuit Dive Gloves by Neo Sport | | Check Price |
| | Neoprene Dive Gloves by Fourth Element | | Check Price |
| | Aqua Lock Dive Gloves by Henderson | | Check Price |
Staying comfortable in the water is rather important. You truly do not want to be feeling restless and uncomfortable when you are diving deep in the ocean. It is neither the time or the place to feel too cold or too hot. And it's certainly not the place to be feeling like your wet suit is too tight or too loose. Wrong or ill-fitting gear can truly ruin the entire experience for you, and if you only get to dive occasionally this is certainly not ideal. This is exactly the reason why you want to have the best possible gear for the situation. If you're going for a dive in waters you know are cold, then diving gloves for freezing water are ideal – just as an example, of course.
If you want to know more about the type of gear that you need, stick around. We're going to do a quick run-through on cold-water gear. Then, we will review some diving gloves suitable for cold water!
Cold Water Gear for Diving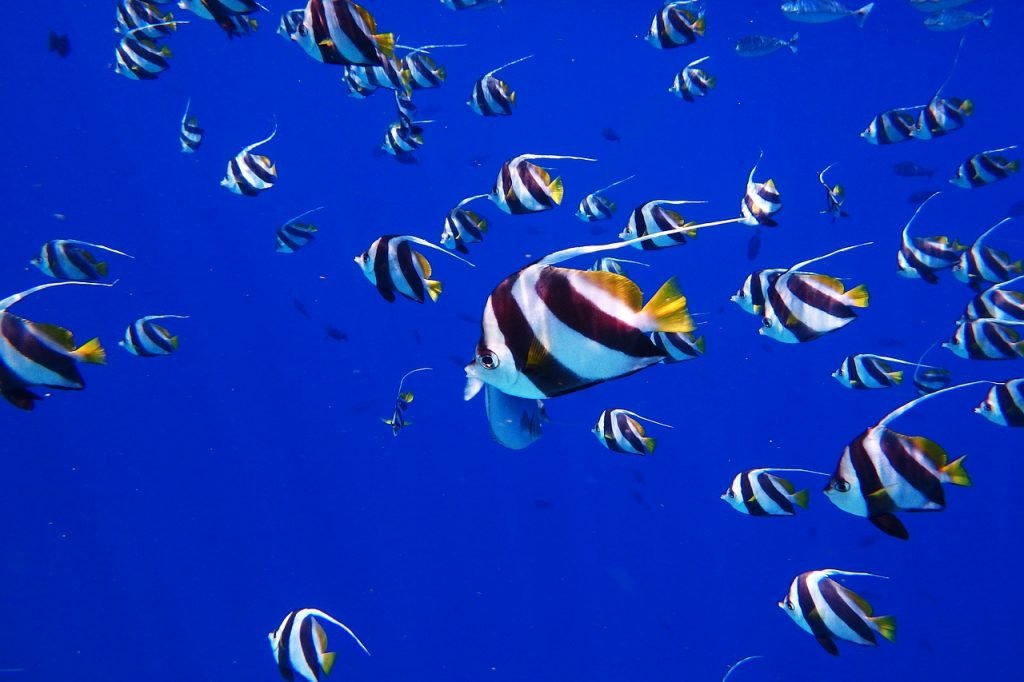 If you are interested in scuba diving and you know that you will be headed for some colder waters, you need to be ready. After all, you will want to make sure that you're protected from the elements! There are quite a few things that you will need to make sure you won't become hypothermic down in the deep. Here are some of the things that you want to have with you for cold water diving.
Wet/Dry Suit
The very first and most important thing on the list is a wet or dry suit. In warmer climates, you can get away with different styles of suits. In tropical waters, the water will most likely be the same temperature as your body. In some cases, it might be just a little warmer. In these situations, it's completely fine to wear wet/dry suits in short sleeves or cut just above your knee. In cold water, however, you want a suit that will cover you from your neck to your wrists and all the way to your ankles.
When it comes to cold water diving, you have to find a suit that will be just the right thickness as well. These suits come in different thicknesses that are each suited for different temperatures. For example, when you will be swimming in water that is 85F and up, a 2-millimeter thick suit is best. If you're going to be swimming in 70-85F waters, you'll want to upgrade that to 3mm thick. In waters around 60-70F, it's best to get a suit around 5mm thick. 
Finally, if you're going to be swimming in waters 50-70F or colder, use a 6.5-millimeter thick suit. This will likely be best to protect you against the cold underwater so that you don't get hypothermic. In these temperatures, most experienced divers will also begin suggesting the use of a dry suit instead.
Jacket/Blanket
We've covered the wet/dry suit, which will keep most of your body warm when you are underwater. However, you also need to think about what happens when you get out of the water. Once you've already gotten soaked in cold water, resurfacing means you'll be sopping wet. That, combined with the winds you are likely to experience at sea, means that you might get cold when you're back on the boat. 
To prevent this, you will certainly need something like a blanket or a jacket to keep you warm. Of course, you can also have a towel on hand to dry off, along with a change of clothes so you can get out of your wet suit. A simple thick robe may also suffice to for keeping you warm until you get back on shore.
If you want to get fancy, there are special jackets that you can use for when you are out of the water. An example of this is the Cyclone jacket by Fourth Element. It's outerwear designed specifically for divers. It's made of three-layered material that is not only breathable, but also waterproof. It's also great to use in rough weather conditions. It also has many other features that make it a fantastic jacket all around, on and off the water! If you want to know more about it you can check it out on their website at fourthelement.com.
Equipment That Can Stand the Cold
When taking into consideration the temperature of the water, you also need to take into consideration the kind of diving equipment you need. This is because some diving equipment is simply better at operating in cooler temperatures than others. For example, specially designed regulators like the Glacia Scuba Regulator by Aqua Lung helps you to breathe much better underwater. 
The Legend Glacia in particular is designed to help you breathe even in extreme conditions. This beautifully designed system helps by keeping the air that you breathe a comfortable temperature. A system like this can be really pricey, however, so you may want to look for more affordable alternatives. You may also choose to find systems that you can rent, if that is more feasible for you.
Regardless of whether you are renting, borrowing, or buying, you will need to do some research. It's best to find out what kind of temperatures the equipment can handle ahead of time. Also, it's good to know what kind of environmental conditions and handling you can put the equipment through. This way, you won't end up with equipment that struggles in certain conditions.
Other Things to Consider
You may also want to take certain things into consideration. For example, you need to think about the kind of fins that you want. If you're going to be in cold water for instance, it's most likely better to get closed fins. These fins are kind of like closed shoes, which means they encapsulate your entire foot. It is for this reason that they're better in the cold water, so that your feet will be kept warm as you dive and swim.
Furthermore, you'll also want to look for dive computers that can handle the cold temperatures. They'll have to be thermally protected, because sometimes certain batteries or chips might fail in the cold.
Finally, you also need to consider the gloves! Dive gloves for cold water are important to keep your digits cozy. It's hard to swim and handle yourself underwater when your hands are freezing stiff, after all. 
How to Choose Your Diving Gloves for Cold Water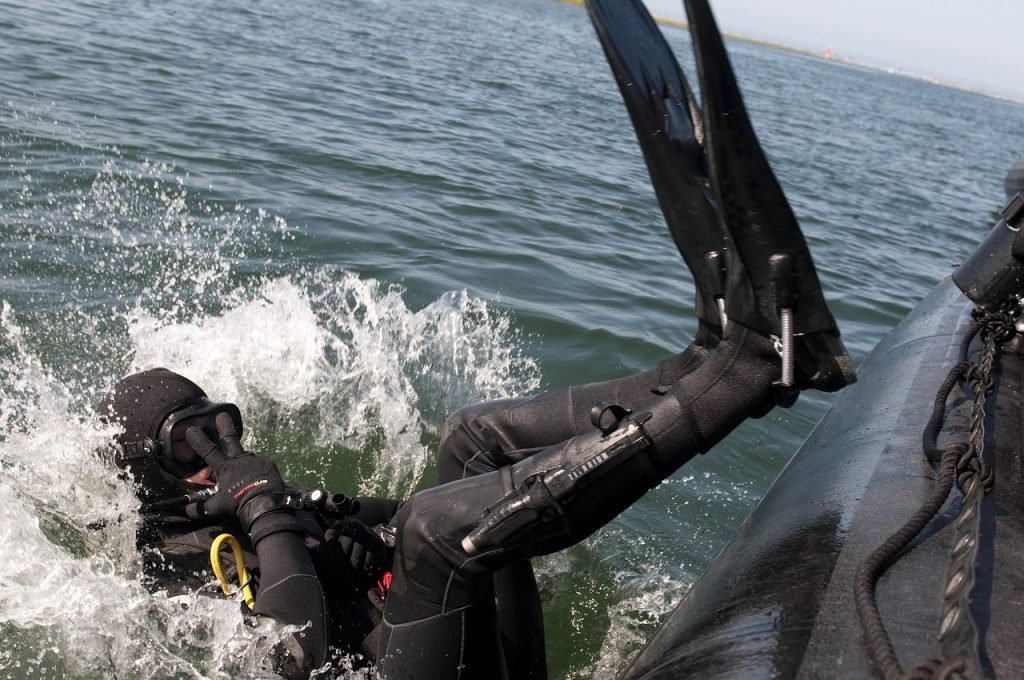 When you're looking for the right kind of glove to get you by when you dive, you need to make sure you factor in several different things. Simply pointing at something on a rack and saying "okay, this is good enough!" is certainly not going to be enough. Before we get to review some cold water diving gloves, we're going to talk about how to choose the right one. Let's take a look at the key features to consider when buying your gloves.
Picking the Right Material
When it comes to diving gloves that are particularly suited to cold water, you will most likely want to get a pair that is made from neoprene. Generally, most of the gloves being sold on the market are made from this very same rubber-like material. Honestly, most manufacturers use this material for the reason that it is high in quality, flexible, and durable. Because of the nature of this material, you can be sure that it can withstand a variety of rough environments and situations. For this very same reason, your hands will aso be well protected from the temperature of the water. You can also rest assured that you are protected from cuts and abrasions (at least in most cases).
Furthermore, neoprene allows you the range of motion that you need to be able to do everything you need to do under water.
And so, for reasons of flexibility and protection, neoprene is your best bet in terms of the "right" material!
Thickness of the Gloves
We've pretty much discussed the thickness of wetsuits at length. Similarly, gloves will also need to be a certain thickness to withstand cooler temparatures. Here is a quick guide of what you will likely want:
1 mm to 2.5 mm thick – this is good if you are going to be diving in warm water often. For example, in tropical waters where you won't be going too deep. This is also good if there are volcanic vents near where you are going which actually heat the water up on the bottom of the ocean.
2.5 mm to 5 mm thick – this is ideal if you're going to be diving in water where you know that the temperatures are going to reach even about 55 degrees Fahrenheit.
5 mm thick or thicker – this is best suited if you know you'll be in waters with temperatures 52 degrees Fahrenheit or below. If you're going to be swimming in this temp, you might find that you maybe also need liners for your gloves. These liners will further help in keeping your hands warm!
Size of Your Hands
When you are looking for a pair of gloves, you will most certainly need to take the size of your hands into consideration. If you fail to do this, you'll most likely find yourself with a rather uncomfy pair of gloves. Yes, just like your clothes, you will need your gloves to be the perfect size for you to be absolutely comfortable. If you have gloves that are way too big for your hands, you'll have problems with keeping warm. This is because water might get into the gloves and cause the insides of them to cool. 
Furthermore, having gloves too large for your hands can become problematic. In fact, in some cases, it could probably even be downright dangerous. Oversized gloves can cause you to lose your grip or slip at the worst times. For example, it can be problematic when you're trying to adjust some of your equipment. Or you could be gripping something for purchase and balance and you slip and fall.
Needless to say, when purchasing gloves you will want a pair that is just the right fit. Not too big, and not too tight.
The Way the Gloves Fasten
Next thing to consider is how the gloves fasten, as well as how you put them on and get them off. Fasteners matter – and we are here to tell you why. The right kind of fastener will make it much easier on you to get the glove on and off your hand. Choose the wrong kind, and you might find yourself struggling with a glove that just won't come off. There are gloves that don't have any particular fastening, but often these types are even more difficult to put on.
For the best and easiest way to fasten gloves, you'll want a glove with a zip. This basically allows you to create more room for your hand to squeeze into the glove. However, for ease of use, velcro fasteners are the choice of many.
The Style of the Glove
When you think of dive gloves for cold water, you likely immediately imagine a regular glove. Five fingers, fastens with a zipper or maybe some velcro, looks almost exactly the same as any other glove you'd wear on a normal day. The only difference this time is the fact that it's made from a different kind of material. This, indeed, is the most common type of glove you will find – and for good reason. It's basically because this type of glove can afford you the freedom to move how you want. Neoprene offers a lot of range of motion, after all.
Another different style of glove is the mitten type. This kind of glove is exactly what you would imagine when you hear the word mitten. It has one little pocket for your thumb. Then, it has a much larger pocket for all the rest of your four fingers. Most people would choose this type of glove for the reason that it does protect against the cold better. However, there are some trade offs – for example, you'll find your movement rather restricted. Your hands will also be unable to do many of the things you might need to do. Because of this, mitten-types are best used if you don't need to adjust your equipment a lot.
A suggestion that we can make is to find a good pair of five-fingered diving gloves. Then, you can buy a mitten-type pair in a larger size. You can wear the mitts over the gloves to keep your hands warm. At the same time, if you need your fingers for something, you can simply temporarily remove the mitts. Then, you'd have use of your hands, with them still being protected.
Environment of Your Dive Destination
Often, this factor often goes unconsidered. That's probably because it's not necessarily all that important. This is especially true because most gloves these days are designed to withstand most situations. However, you may want to take it into consideration so that you can find a pair versatile enough to suit every situation. When diving in the cold, for example, you want a thicker pair. If you'll be exploring a lot of caves or shipwrecks, then you need a flexible, versatile glove. In warmer waters, you want to keep the gloves relatively thin.
Additional Information
If you want to be able to move more quickly when you're underwater, here's a tip. There are some webbed gloves on the market that you might find useful. These webbed gloves, often also known as "paddle gloves", allow you to propel yourself faster when underwater. They're not always the most versatile, but if you want speed they will certainly do the trick.
3 Best Diving Gloves for Cold Water Reviewed

Let's talk about the best gloves for cold water, shall we? You'll need to find a pair that is good enough to handle the temperatures you know you'll be swimming in. Just like with wet suits, you need to take the thickness of the material into consideration. Depending on how cold the water will be, you'll need gloves around 3-6.5 millimeters in thickness. In today's reviews we'll be talking about gloves that are at least 3mm thick. Some of them even have different variants, allowing you to choose from different thicknesses. 
We'll do our best to make every review as detailed as possible. This is because we want you to be able to make a better choice when it comes to the purchase you make. We'll give you the information you need to be able to make the right decision. And so, without further ado, let's get right to it!
#1 Choice
Our Favorite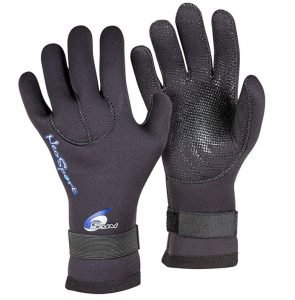 Product Name: Premium Wetsuit Dive Gloves by Neo Sport
Product Description: Thickness: Available in 3 mm and 5 mm so that you can choose a thickness to suit the temp you'll be swimming in. Material: This pair of gloves is made out of neoprene. Weight: At 7.2 ounces, this glove isn't exactly light as a feather. However, you likely won't feel its weight under water.
Quality

Price

Thermal Protection
A Quick Look
These Neo Sport gloves are a great choice all around. It's almost like the company designed these diving gloves for cold water! It comes in two different thicknesses so that you can purchase the one that you need for the water temps you'll be diving in.  A 3mm variant is available for more "all around" purposes. This is because you can most likely get away with using these in most any temperature, barring the extremes. However, if you know that you'll be in waters with temperatures below 60 Fahrenheit, then it's best you go for the 5mm variant. With how affordable these gloves are, you can probably just buy a pair in both thicknesses for greater flexibility.
For comfort and greater range of motion, this pair is made out of premium neoprene. The manufacturers designed them this way because they want your hands to be protected from abrasion and temperatures without sacrificing your movement. They also made sure to make them in various sizes, ranging from extra small all the way to double extra large. That way, more hand sizes are accommodated for a comfortable fit. For durability, the seams are glued before they are sewn. That way, water integrity is assured.
To enable you to have a better grip when you're underwater, these gloves are designed with a textured palm. Because of this textured palm (with the texture in a cyclone pattern), you won't lose your grip on a lot of different surfaces.
Pros
✔️Well designed with good grip
✔️Range of motion is assured
✔️Durable and high quality
✔️2 different variants
✔️A lot of sizes are available
✔️Affordable
Cons
❌Some complaints about the difficulty to put the gloves on
❌There are a few reviews stating the palm or seam ripping after a few uses
Runners Up:

Neoprene Dive Gloves by Fourth Element
Thickness: 5 mm thick, which means it's more suitable for cooler water. May be too warm/hot for warmer waters.
Material: This pair of gloves is made out of neoprene.
Weight: These gloves are also 7.2 ounces in weight, making them similar to other gloves on this list. You still won't really feel it under water.
A Quick Look at the Neoprene Dive Gloves by Fourth Element
If you are looking for a glove that offers you a warranty upon purchase, look no further. The Neoprene Dive Gloves by Fourth Element come with a warranty for 12 months. That way, your purchase is protected, along with your money. But that's not all that's really good about this glove. It's made by Fourth Element, the same company that made the jacket for divers that we've mentioned above. As a result, you can feel assured that it's designed well, with divers in mind. They might not look as nice as the other ones on this list, but who really cares about looks or all that style underwater? What's important is it works, and it works well!
The fact that these gloves are 5 mm thick means that they're made to handle cooler waters. As a result, you can feel more confident in expanding your dive destinations. Now, they can include places where you know water will likely be cooler. The gloves are made of neoprene for flexibility and motion. However, for warmth, they are also lined with Thermoflex. Because of this, your hands will be cozy and warm, while also remaining dry.
Although most other gloves are glued and then stitched together, these ones are different. Instead, they are stitched, then welded, and then glued. This guarantees that they are watertight. At the same time, smaller seams are also guaranteed in order to ensure durability. 
In terms of grip, you will find that these gloves are designed to give you a firm, solid grasp. You will be much less likely to slip or lose your hold on something with this pair, that's for sure.
PROS
✔️ 1 year warranty given upon purchase ✔️ Durable ✔️ Hands stay warm and also stay dry ✔️ Thermoflex lining ✔️ Designed with great grip for safety
CONS
❌ Not the 'right fit'for many, due to the stretchy material. Some say that it feels as though you are wearing large rubber bands. The resistance can be felt during movement and may feel a bit like a hand workout.
Aqua Lock Dive Gloves by Henderson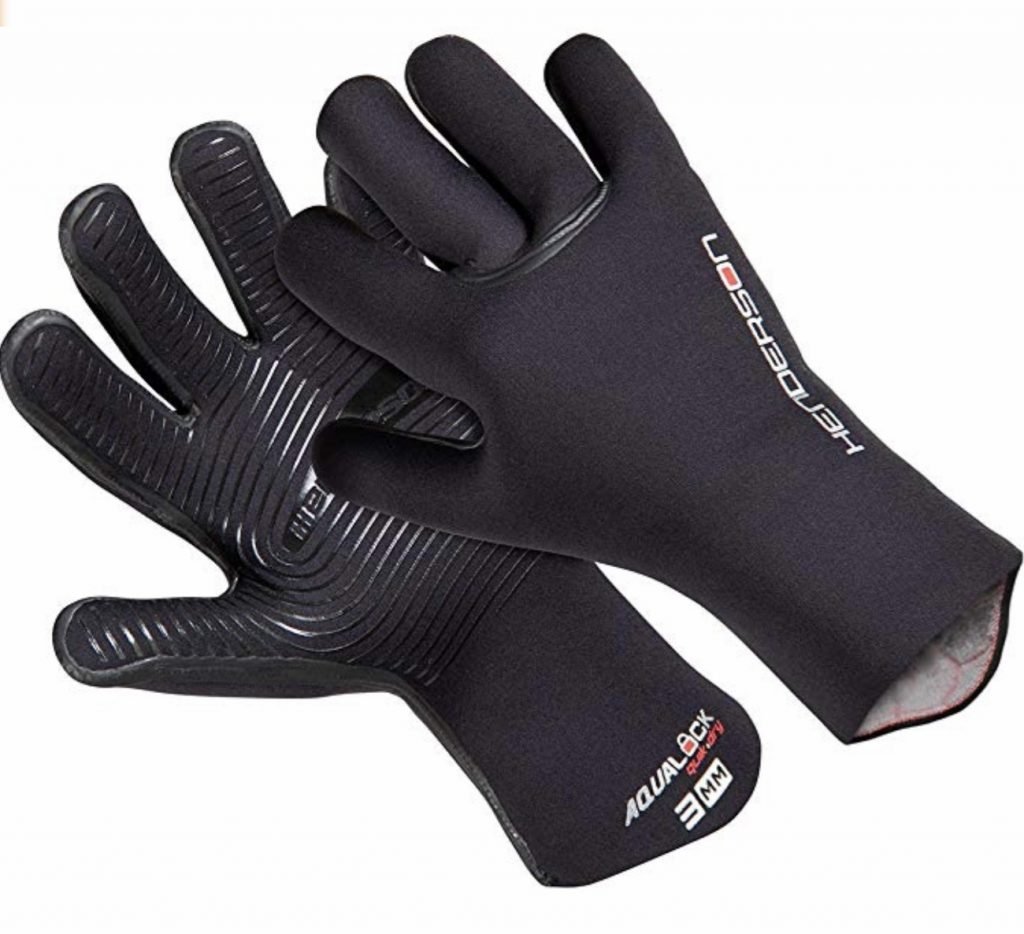 Thickness: This glove is 5 mm thick to ensure thermal protection and protection from abrasions.
Material: Aqua Lock Dive Gloves are made from neoprene to allow for necessary flexibility. Polyfleece is used for the lining.
Weight: At 20 ounces, this pair of gloves is easily one of the heaviest ones on this list.
A Quick Look at the Aqua Lock Dive Gloves by Henderson
If you want cold water dive gloves, these are probably quite honestly the perfect pair. These gloves are meant to be waterproof, which means that your hands do stay dry. They are part of Henderson's Aqua Lock system. This system is essentually a collection of diving equipment such as wetsuits and gloves. All Aqua Lock products lock together in order to completely protect against cold water. There are fullsuits in the line that interlock with other Aqua Lock products in the series, such as gloves, boots, and even hoods. This will allow for the comfortable, enjoyable diving experience you crave. For this reason, we do suggest that you invest in other Aqua Lock products. That way, you will have a system that fully synergizes with each other. 
Do note, however, that if you wish to only use the gloves, you most definitely can. It isn't absolutely necessary for you to buy other Aqua Lock products to go with this one. It can, and it will, work as a standalone pair. Therefore, if you already have a set (suit, boots, et cetera), you can use these and it will be fine. However, without the full Aqua Lock system, the gloves certainly won't be as waterproof anymore. If you don't mind the possibility of water getting in, then these gloves are good. However, if you want to make sure you keep water out, you will need the rest of the system! These gloves are only waterproof if used in combination with the rest of the products in the series.
More Information
The Aqua Lock Dive Gloves are made 5 mm thick. However, unlike other gloves on this list, it can keep your hands warm with temps even reaching 40 degrees Fahrenheit (if you are using the Aqua Lock series/system). Although the gloves are rather thick and heavy, the material used ensures that you can still maintain the flexibility and range of motion in your hand. The silicone thermally bonded to the fingers and the palm of this glove allows for a very secure grip in any condition.
To make this deal even better, these gloves come with a one year warranty upon purchase. This means that your purchase will be protected for at least that duration.
PROS
✔️ Can handle temperatures as low as 40 degrees fahrenheit ✔️ Comes with a one year warranty ✔️ When used with Aqua Lock series products, it is 100% waterproof ✔️ Strong and secure grip ensures safety and convenience ✔️ Durable and flexible
CONS
❌ Pricier in comparison to other gloves on this list ❌ Needs to be used with other Aqua Lock products for it to be fully waterproof ❌ May be difficult to get on and take off
Final Thoughts
To be completely honest, finding the right kind of diving gloves for chilly water is completely dependent on your personal preferences.
For them to be good enough for use in colder temperatures, you just have to meet certain criteria. Most important, of course, is the thickness of the glove so that it can protect your hands in the conditions you expect to be in. You can also consider whether you want a wet or dry suit.
From there, it is all a matter of what you want in terms of style, fastening, and the like. As long as you have a proper fit, that is!