Dive lights for night diving are vital to keeping you safe underwater. Aside from lighting the way, divers also use it to mark their track and to ensure that hand signals will be seen properly. Also, dive lights become essential when you're planning to go deep diving or cave diving. Aside from that, they allow you to see marine life better even if you're diving during the night.
DIVE LIGHTS
LIGHT BRAND
EXPERT RATING
CHECK PRICE
VOLADOR Diving 1000
Lumen Flashlight

Check Price

Genwiss 1000 Lumens
Dive Light

Check Price

Underwater Kinetics
SL4 eLED Dive Light

Check Price
You don't need to spend a fortune on dive lights. A decent model should be enough, even for regular diving. Still, each diving lights aren't made equal. You have to get the right style, brightness, build, and type to suit your activities underwater.
Daytime vs. nighttime diving
Daytime diving is the most common practice among beginners. Since the environment is well-lit, they can see everything clearly. It's also a great way to familiarize yourself on the topography of the body of water before you go on a night dive.
Also, it's always easier to dive during the day. Beginners can easily overcome their fear. And since the waves and tides are higher and stronger at night, it's best to master daytime diving first before you go on your first night time plunge.
Why dive at night?
So what makes night diving unique? Well, it's all about what happens underwater when the sun is down.
At night, coral polyps open and produce a bioluminescent show. This is the moment when corals feed on the currents and a phenomenon that many divers long to witness.
It's quite surprising that a large number of divers opt to go on a night dive. Many describe it as calming and mystical. It's also the time when schools of fishes can be seen sleeping as well as passing sharks, lobsters, and other breath-taking marine life.
Still, no matter how much bioluminescent beings are underwater, you need some good dive lights for night diving.
Do I really need a dive light?
Even the most experienced divers use dive lights, both for day and night diving. The deeper you descend in the water, the darker it gets even if you plunged in the middle of the day. Also, if you're wreck or cave diving, you'll need to peek on crevices and walls to see if there's marine life hiding in it.
Most importantly, not all of your diving gears will be illuminated. At some point, you'd have to check your compass, air gauge, and so on.
And if you've gone far from your diving buddies, you can use the lights to give them a signal. You can use it to catch the attention of your fellow diver if you need help or if you want to show them something.
In the end, dive lights are about safety, communication, and seeing the surroundings even better.
What type of dive lights should I get?
Night diving dive lights come in different types with specific functions. Make sure that you get the right one for the activity and use that you have in mind. The following are some of the dive light types and how it works:
**Steady lights
If you're looking for a dive light with a focused brightness, you're better off purchasing steady lights. This is useful in spotting items and checking crevices of a wreck or a cave. Also, steady lights have a narrow beam which allows the light to travel through the water in a concentrated spot. This is usually handheld with a lanyard connected to it.
**Strobe lights
On the other hand, strobe lights are ideal if you want a large area to be lit. It's also the right dive light if you want to see your fellow divers. Also, divers use strobe lights if the visibility is below ideal.
In addition, strobe lights can be mounted on your tank. Also, some have different modes, which allow you to send an SOS and other signals.
**Canister dive lights
Canister lights are ideal for wreck divers who want a powerful light with ease of use. It's called canister lights because the battery pack is contained in a separate waterproof canister. In addition, a durable cord attaches the bulb to the battery canister.
This way, divers can purchase canister lights with bigger battery packs without having to handheld the whole thing while in use. Moreover, the canister can be mounted on the tank or dive vest while the bulb can be maneuvered easily.
**Mounted dive lights
Mounted dive lights are ideal for divers who are spearfishing or performing tasks that require both hands. This type of light is usually mounted on the forehead of the diver using adjustable straps that run along the circumference and top of the ahead.
However, mounted diving lights often have small battery packs since it has to be compact and lightweight. You should choose one that has rechargeable batteries.
**Marker dive lights
Marker dive lights are used so you'll be visible to your fellow divers without pointing your primary or secondary lights to them. It works like a glow stick, so the brightness or lumens for marker lights don't really matter.
If you're diving regularly, look for non-disposable lights. You and your diving buddies can assign a color for each one so you can quickly identify each other underwater even if the visibility is poor. Usually, this type of light is attached to the snorkel or the tank valve.
**Photography/Videography dive lights
This type of light isn't widely used, except for divers who are performing underwater photography or videography. Unlike other lights, the one used for photography or videography emits light the moment you press the shutter.
In addition, this type of light is adjustable to match the exposure you want to achieve on your shots.
Primary vs. secondary lights
Diving lights for night diving often fall in two categories: primary and secondary. This is in exception of marker lights and those used for special activities.
When it comes to primary dive lights, you need a broad beam to cover a large area. This will allow you to see your path ahead while enjoying a wider field of vision so you can watch out for large marine life like sharks and whales.
On the other hand, secondary are meant to be backup lights. It should have a narrow beam so you can illuminate small crevices, reefs, and rock formations properly. Also, you can use it to send a signal to your fellow divers.
Top 3 Dive Lights for Night Diving Reviewed
#1 CHOICE
Our Top Pick
Product Name: VOLADOR Diving 1000 Lumen Flashlight
Product Description: Our top pick is the VOLADOR Diving Flashlight. This dive light sports 1000-lumen brightness with four settings: high (1000 lumens), strobe, medium (300 lumens), and low (120 lumens). This is rechargeable and comes with a magnetic tail switch for ease of use while underwater. Also, this dive light is made with aircraft-grade aluminum and rated for a depth of up to 150 meters. This can also emit a lighting distance of up to 80 meters. And to ensure that it will last long, this light has an anti-seawater corrosion and anti-oxidation layer.
Brightness

Depth Rate

Build and style

Value for Money

Burn Time
Summary
Moreover, VOLADOR Diving Flashlight has a 9-degree beam angle and powered with a 18650 Li-Po battery. Overall, the battery lasts for most dives between 35 and 55 minutes or longer. The package also comes with a charger as well as O-rings that boost the waterproofing of the flashlight.
Aside from diving, this flashlight comes handy for hiking, trekking, camping, and other outdoor activities. It can take the beating of various activities, which gives you the best value for your purchase. It's also a great primary light for night diving.
Pros
✔️Variable brightness setting
✔️Rated for up to 150 meters deep
✔️Comes with an anti-corrosion layer
Cons
❌Lubrication is needed for the O-rings and switch
Runners-up:

Genwiss 1000 Lumens Dive Light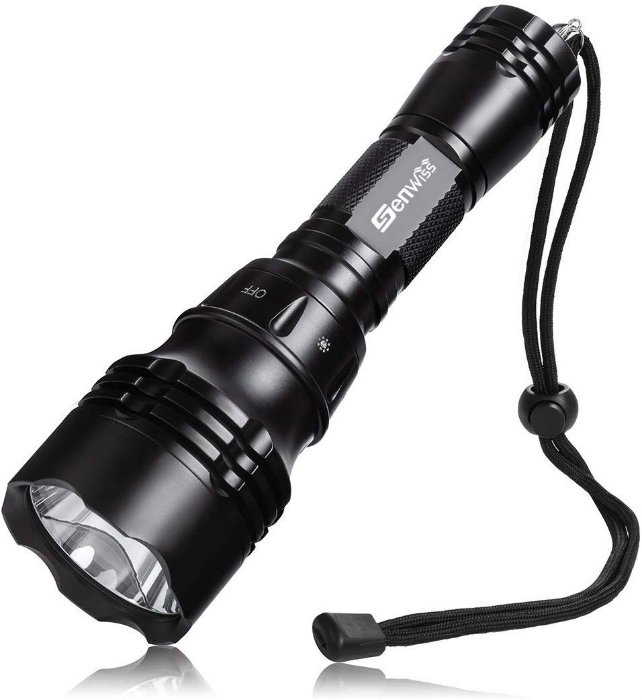 If you're diving at a maximum of 80 meters and you need a long-lasting light, the Genwiss Dive Light is what we recommend. It also sports 1000 lumens of brightness that can last a lifetime or at least 50,000 hours of use.
Moreover, it has five brightness modes: high, medium, low, strobe, and SOS. You can adjust the brightness on the induction rotary switch on the flashlight's neck. Also, it's perfect for diving enthusiasts, plus it's a bit cheaper than VOLADOR.
This flashlight also has a 1.5-meter anti-drop capability as well as an anti-abrasive coating to resist scratches and rusting. Moreover, it's powered with a rechargeable Li-ion battery that comes with a USB charger. Each charge will last for about 3 to 5 hours of use.
If ever you encounter defects or issues with this dive light, you can get a refund or a replacement. It's a low-risk purchase, especially if you're on a budget.
PROS
✔️Rated for a maximum of 80 meters ✔️Each charge lasts for 3 to 5 hours ✔️Refund or replacement guarantee
CONS
. ❌The lanyard hole is so tiny .
Underwater Kinetics SL4 eLED Dive Light
If you have the extra budget, we recommend that you invest in the Underwater Kinetics SL4 dive light. This 3-watt light has a beam ratio of 56%:44% as well as a 10-hour burn time on its 400-lumen brightness. This is perfect as a secondary light given the excellent battery life and a compact design.
Moreover, this light can be used at a depth of 150 meters based on the factory set. It's a rugged gear that will last for years. Besides, it's so much brighter than the expensive ones we've scouted before.
Nevertheless, this dive light doesn't have a variable brightness setting. Still, it's a decent tool for secondary use and leisure diving. You can also use it for camping and other outdoor activities.
What we love the most about this is it has a single-handed switching design, which allows you to operate it easily underwater. It's also shock-proof and is great for up-close lighting.
PROS
✔️Very bright, even for just 400 lumens ✔️Rated for up to 150 meters ✔️10-hour burn time
CONS
. ❌A little heavy, but not a big deal .
Dive Lights Buyer's Guide
Before you put your money on dive lights, make sure that you have considered the following points first:
**Brightness/lumens
Dive lights come with varying brightness, which is measured in lumens. Depending on the usage, you'll need one with a lower or higher lumen.
A wide-beam light will have lower lumens to cover a wide area without wasting battery life. Meanwhile, lights with narrow beams often have higher lumens so you can see crevices and spots clearly.
Usually, 1000 lumens should be enough for most purposes. Usually, 1000 lumens concentrated in one square meter will have a brightness of 1000 lux. Lux pertains to the brightness at a target distance.
Nevertheless, lights with 400 to 850 lumens will also do as it tends to be cheaper. However, if the visibility is poor, it's best to stick to a minimum of 1000 lumens.
**Depth rating
Before you choose the product you're going to purchase, make sure that it meets the depth rate you need. For deep divers or those that plunge to more than 30 meters, a water-tight light with a specified depth rating is a must. Never dive with a light that just says 'waterproof' with no depth rating. Usually, these products are best for a few feet of water only and a short submersion period.
In addition, you can find dive lights rated for 80 to 150 meters, which is more than what most divers need.
**Size
This depends if you need your hands to be free during the dive. Usually, dive lights with large battery packs last longer, which is excellent for long dives. Although it's larger and heavier, you can always strap it on your tank and other gears.
Nevertheless, going compact has its benefits too. It allows better maneuverability, especially if you're operating other diving gears.
**Batteries
Dive lights use a lot of juice on your battery, so it's better to purchase a rechargeable type. Aside from saving money from disposable batteries, you're also making the environment –especially the ocean –a big favor.
Moreover, they can come with NiCad, Li-ion, or alkaline batteries. You don't have to fret about this too much. However, if you want the best in terms of power, Li-ion cells are the way to go.
**Bulb type
Many bulb types have been produced nowadays that choosing one in particular can be confusing. Usually, tungsten and halogen bulb types offer a lower price, but it consumes more energy. On the other hand, you have LED/HID, which is expensive but more energy-efficient.
To give you a better picture, a 50-watt halogen and a 10-watt HID light produces the same amount of light. However, the latter only uses 20% of the energy that the former consumes. And if you're deep diving, you need a light that can run for long.
**Price
While it's true that LED and HID lights can be expensive, it's a worthy investment for both hobbyists and professional divers. For us, the price should be the last consideration if you really want to get the best value. Still, the dive lights shouldn't cost an arm and a leg since it's just one of the gears you need for diving.
Final Words
Dive lights for night diving are some of the most important gears you need to stay safe underwater. Also, it's an indispensable tool for communication with other divers.
Although some can be expensive, it's worth the splurge. These items have an excellent waterproof rating, solid build, and long burn time for extended dives. Aside from that, these lights come handy for other activities like camping and hiking.