A dive knife comes handy when you get tangled on debris or if a marine animal gets trapped. Some countries even require dive knives for certain diving levels as safety gear. Unlike kitchen or survival knives, those made for underwater should be durable, long-lasting, and sharp enough to cut easily despite the current. In this post, we will help you find the best titanium dive knife that you can add to your toolkit. 
Take note that dive knives aren't made equal and the same. You must get one that matches your dive style and needs. Of all materials, a titanium offers the strongest and corrosion resistant properties. Such knives are very useful for saltwater dives where typical steel can rust fast.
---
Why titanium?
As mentioned earlier, saltwater can rust steel blades really fast. The salt content of the water can damage a steel knife in just a matter of months. 
How about stainless steel, you ask? Stainless steel can be a very tricky term when it comes to choosing a scuba diving knife. It still rusts, but slower than plain steel. However, getting soaked in saltwater speeds up the corrosion process. Stainless steel dive knives require more maintenance to keep its edge and to prevent rust. 
Stainless steel blade comes with a series number, which can range from 300 to 400. The lower the number is, the slower it would be to rust. 
On the other hand, titanium doesn't rust at all. It doesn't have carbon so it's not prone to oxidation. This material is also tougher than steel and can hold its edge for long. It's also hard to break and can withstand the pressure and harsh elements of the underwater.
The only downside with titanium dive knives is they don't come cheap. Still, it's worth every dollar due to the quality and durability. 
---
Uses of a dive knife
A dive knife can be used to cut things underwater. However, you have to remember one thing: dive knives aren't meant to harm marine life. As much as some use it for spearfishing, your dive knife should never harm any marine being. 
To give you a better understanding, the following are some of the uses for a titanium knife:
*You can use it to cut fish lines
It's possible that you can get tangled on a fish line during your dive. In this situation, a dive knife becomes a lifesaver. You can use the knife to free your buddy as well. Take note that you can also use your titanium knife to free yourself if you're trapped in sea kelp and similar things. 
*It helps free trapped marine life
Due to the pollution in the oceans, many marine beings get trapped in plastic, nets, and other garbage. With the help of best dive knife, you can free them from such items.
---
What to look for in a dive knife 
If you're looking for a great titanium dive knife, you must consider the following points: 
-Choose the right tang
All knives can come in two types based on its tang: full or half. Tang refers to the unsharpened portion of the knife, opposite the tip blade. This is the part connected to the handle. 
Full tang dive knives are made of one solid metal from the sharp tip to the end of the handle. With this, full-tang knives are always fixed and not foldable. 
On the other hand, half tang knives have their metal extending only halfway the handle. The end of the half tang handle has a hole where the metal will be pinned to the handle material. 
Meanwhile, folding knives have very short tangs that aren't considered as partial or half. 
-Select the right blade size
When it comes to the best dive knives made from titanium, you should opt for a smaller or shorter blade. Opt for a scuba diving knife blade between 2 to 5 inches. Anything beyond that is too long and cumbersome. Remember that aside from your dive knife, you'll bringing other heavy equipment. 
Mini dive knives up to 2 inches can be clamped into your air hose easily. Longer knives will need a strap that you can wear around your leg. 
-Consider the tip and edge
The life of your knife is dependent on its edge. You can choose between a straight or serrated edge
**Serrated. Serrated knives are ideal for cutting fibrous materials like kelp or ropes. 
**Plain. Plain dive knives are best for cutting plastic, nylon rope, and smooth surfaces. 
Meanwhile, you also have to select a tip based on the purpose of the knife. Usually, it comes in three types:
**Dull. A dull or blunt tip is useful for chiseling, digging, and prying objects. It's also less prone to accidents and it's less likely to puncture the suit and gears of the diver.
**Pointed. On the other hand, pointed knives are excellent for cutting and puncturing. It's used by spearfishers. However, you have to be careful with pointed dive knives as it can puncture your gears. 
**Tanto. Lastly, a tanto tip is a combination of pointed and dull tips. The angled tip is usually sharp while the very tip of the knife is dull. This allows you to enjoy the best of both worlds. 
Take note that you can also find diving knives with a line-cutting notch on its choil. This part is also useful but not a requirement. 
-Check the handle/grip
Next, you should check the ergonomics of the handle. The best dive knife should have a grippy texture that will allow you to use it without slipping. A textured handle gives a solid hold even on a strong current. 
Aside from the handle itself, we recommend that you look for a metal butt as well. The butt is located at the end of the handle. If possible, look for a metal butt that you can use in hammering objects if the knife isn't enough. 
-Folding vs. fixed
Another decision that you have to make is whether you want a folding or fixed diving knife. 
Folding knives are lightweight due to the shorter tang. You can also lock it in position to prevent accidental puncturing or slicing. However, folding knives are difficult to open in one hand.
On the other hand, straight knives are easier to use and have been the traditional option for most. Straight diving knives also require less maintenance than folding types. 
-A lanyard hole is important 
You should always look for a lanyard hole so you can strap the knife around your neck or other gear. Take note that not all best dive knives have lanyard holes so make sure that you check for this first. Again, it depends on how you will bring your dive knife. 
-Get a decent sheath and strap
Lastly, look for a decent sheath and strap where you can secure your knife. Look for a durable sheath that can withstand saltwater. The strap should also be adjustable to suit your preferred setting. 
The sheath should be easy to open but not too loose that your knife will fall out of it. Many underwater knife sheaths nowadays are equipped with a special locking mechanism that can be operated with one hand. 
---
Best Titanium Dive Knife – Top 5 Picks!
#1 CHOICE: Atomic Aquatics Ti6
Atomic Aquatics Ti6 Diving Knife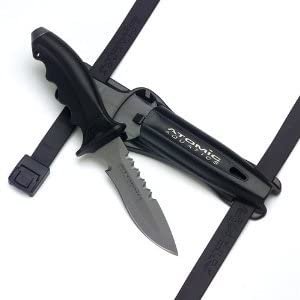 Product Name: Atomic Aquatics Ti6 Diving Knife
Product Description: If you're looking for a top quality titanium dive knife, you shouldn't hesitate with the Atomic Aquatics Ti6 Diving Knife. It's made of a full-tang titanium blade with a 4-inch blade length. Also, half of its edge is serrated and the other half is straight and can be used as a line-cutting notch. Moreover, this Atomic Aquatics dive knife comes with a contoured handle that accommodates the fingers comfortably. This is a straight knife and can be used with a single hand. Aside from that, this line cutter comes with a quick-adjust sheath and strap. The sheath is lightweight and has a locking mechanism that you can operate with the push-button release.
Construction

Edge

Handle

Value for Money
Summary
However, this Atomic Aquatics dive knife is too big to put on your BCD. Anyway, it comes with leg straps so this shouldn't be an issue. The straps are 17 inches so it will suit almost all divers.
Overall, this knife has superb quality. Even professional divers use this for their plunges. This knife needs minimal maintenance, which is a big plus for divers. 
Pros
✔️Full tang dive knife
✔️Contoured handle
✔️Adjustable strap and sheath
Cons
❌Too big for mounting on the BCD
---
RUNNERS-UP:

Aqua Lung Argonaut Dive Knife
Another dive knife that we recommend is the Aqua Lung Argonaut. This full tang knife is made of a 4 mm titanium blade protected with an EDP coating. Meanwhile, the handle is double wrapped with a durable paracord that's 5 mm thick. 
The blade tip of this knife is available in either Spartan Tip (pointed) or Blunt Tip. Take note that the blunt tip version has a fully serrated edge.
On the other hand, the Spartan tip version has a serrated edge but with a small straight portion near the tip. The butt of this knife is pointed as well so you can use it to hammer or crush objects if need be. 
Aside from that, this knife has a 1/4" strap hole where the paracord lanyard is placed. This also comes with a 2 mm thick Kydex sheath with grommet holes. The package also includes two rubber leg straps. 
Overall, this is one of the best scuba diving knives, as it doesn't chip or lose its edge easily. It's also built with balance for ease of use. 
PROS
✔️Combo of straight and serrated edge ✔️Pointed butt ✔️Double wrapped handles
CONS
❌The knife is a bit long
---
Underwater Kinetics Titanium Dive Knife
Are you looking for a blunt tip dive knife? If so, we recommend the Underwater Kinetics Dive Knife. It's made of a solid titanium blade as well as a titanium butt that you can use for hammering objects. This is non-magnetic and corrosion resistant.
Moreover, this double-edge line cutter has a straight and serrated design on each side. This way, you can enjoy both styles whenever you need to cut ropes, fishing lines, and other objects underwater. It has a 5-inch blade length that holds its edge for long. 
We also like that it has a large choil as well as a contoured handle that makes it very easy to use underwater. 
This knife also comes with a sheath and set of straps for mounting. You can also get this Underwater Kinetics dive knife in a drop point version. As a bonus part, you can choose between yellow or black highlight colors. The yellow one offers more visibility for your knife underwater. 
Overall, this is a durable and tough knife that will last for years. 
PROS
✔️Double-edged titanium blade ✔️Titanium butt ✔️Large choil
CONS
❌Not very easy to get out of the sheath
---
Promate Barracuda Titanium Diving Knife
With a solid titanium blade and bottom, the Promate Barracuda Titanium Diving Knife is a smart choice for all divers. Its choil has a notch that acts as a slight gut hook for pulling and cutting items. This double-edged knife has a straight and pointed side as well as a serrated texture on the other.
This knife has a 5-inch blade that's within the common option of many divers. 
Aside from that, this dive knife comes with two rubber straps with a quick-release feature to be used as a leg attachment. Also, it has a textured handle for ease of use. There's also a protruding lanyard hole at the base of the handle. 
Also, this dive knife is available in different colors, which is a curved strip near the knife guard. Bright color makes the knife more visible underwater, especially on deep dives. 
This knife can be disassembled fully so you can clean it easily. Anyway, the straps can be a little longer but not really a big issue.  
PROS
✔️Holds its edge long ✔️Additional notch for line cutting ✔️Double-edged design
CONS
❌Can make use of a longer strap
---
ScubaPro Mako Titanium Dive Knife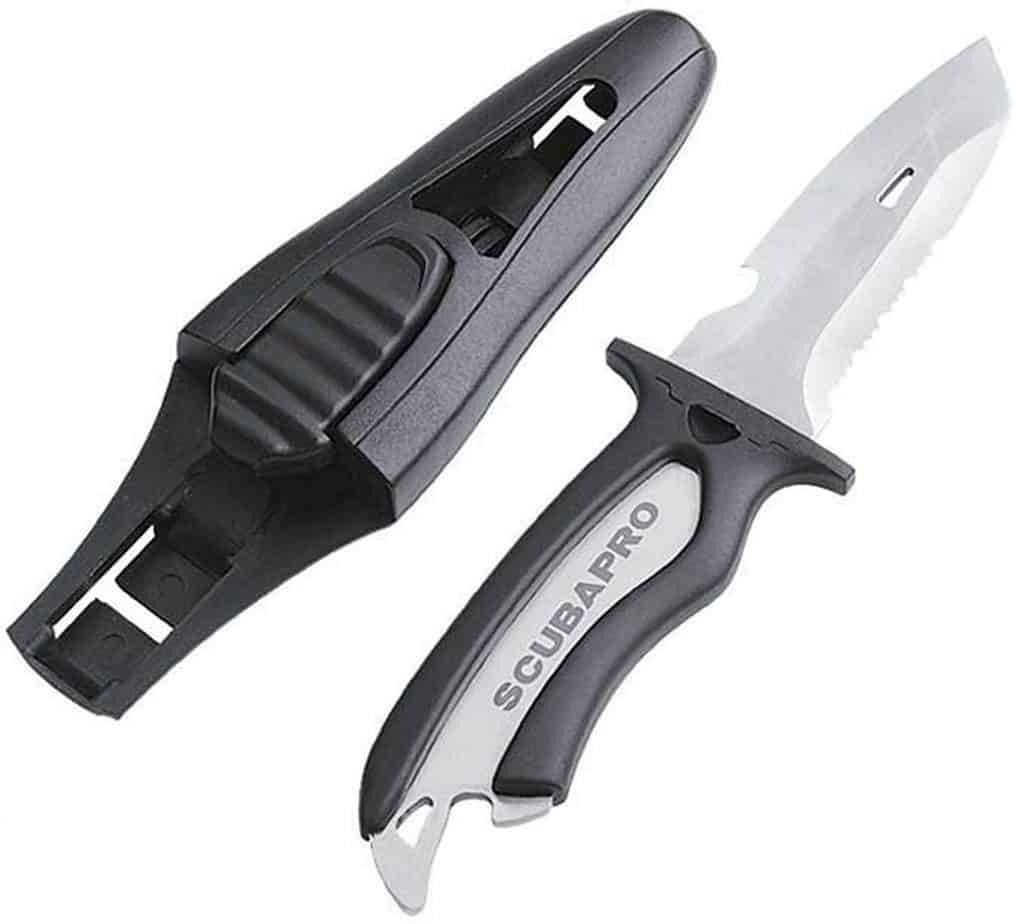 If you're looking for a multi-functional dive knife, you should consider the ScubaPro Mako Dive Knife. It's made of a solid and full tang titanium blade. This double-edged knife has a serrated side and a straight one with a line-cutting notch.
The 3.5-inch blade of this knife might be smaller than other options, but not short of functions. At the bottom of the handle, it has a bottle opener. 
Even if it has a unique structure, this knife has a grippy handle. It also comes with a thumb guard so the knife will not slip from your hands. 
Aside from the knife, you will also get a sheath with a special locking mechanism. You can release the knife with one hand only, which makes it very accessible and convenient to use. 
With this knife, you will have a versatile tool underwater. You can mount it on your BCD since it's small and very lightweight for just 0.4 pounds. 
However, we just wish that the straps included in the package will be much longer. Other than that, we don't have major issues with the knife.
PROS
✔️Multi-functional build ✔️Lightweight and small ✔️Double-edged blade
CONS
❌We wish the straps are longer
---
Frequently Asked Questions
Q: Where can I mount my dive knife?
A: Usually, dive knives are mounted on the leg, ankle, or BCD pocket of the diver. You should always assess the risks of these spots depending on your swimming style. Make sure that your knife is placed inside a durable sheath to prevent accidents.
Q: Do I really need a dive knife? 
A: Although scuba diving knives aren't a requirement for divers, it's worth bringing one, especially on high-risk dives. It's best to carry one instead of regretting not having one when you need it the most. However, you must carry it properly to prevent any danger. 
Q: Why are there blunt dive knives?
A: Blunt tip dive knives are used since it's safer than pointed ones. It's less likely to cause accident puncturing, cutting, or slicing any gear or a fellow diver. Anyway, you can always get a pointed dive knife if it's what you need. 
Q: Do I need a dive knife when snorkeling?
A: If you think you're at risk of getting entangled on fishing lines, ropes, or kelp, you're free to bring a line cutter with you. But then again, you should always carry it properly to prevent accidents. 
Q: When should I not bring a dive knife?
A: You shouldn't bring a dive knife if you're planning to use it to ward off marine life. Doing so will only harm the creatures underwater. If you don't have a clear use or training in using a dive knife, you're better off not bringing one. 
---
Conclusion 
The best titanium dive knife will help you cut lines and ropes that get in the way of your body or gears. Always choose one with a sharp edge, proper size, and features that you'll find useful underwater. What do you think of the knives we reviewed here? Let us know below.