Traveling and having a scuba vacation is a great way to unwind. Nevertheless, you don't want to be stuck on rental fins that don't fit well or are not suitable for your swimming style. So if you're a traveling diver, you might as well get a pair of the best scuba fins for travel. Below, we have reviewed 5 of the best fins that you can add on your diving gears:
SCUBA FINS
BRAND
EXPERT RATING
CHECK PRICE
TUSA SF-0104 Hyflex
Switch Diving Fins

Check Price

Mares Avanti Quattro
Plus Open Heel Fins

Check Price

Cressi GARA 2000 HF
Reactive Fins

Check Price

Scuba Pro Jet Fins

Check Price

Apeks RK3 Military
Rubber Fin

Check Price
How diving fins work
Scuba diving fins are probably one of the most important gears that every diver can't live without. The main purpose of fins is to aid swimming and movement underwater. Moreover, it reduces muscle fatigue as it offers additional velocity so your feet can cut through the water and you can advance easily. It's also crucial in the ease of ascending and descending, especially for deep dives and harsh underwater conditions.
Also, dive fins help you maximize your air supply. Since you'll be performing less labored movements, you will consume less air and it helps with buoyancy as well. Also, since you have an extra length on the fin blades, you no longer have to use your hands to swim. This is very useful for those who are operating underwater equipment like cameras, propeller, lights, and so on.
Diving fins play an integral role in the hydrodynamics of a diver. Do you wonder how it feels like to dive without fins? Here's what will happen:
As you see, it's hard to gain buoyancy, plus you're going to dust the bottom, which will affect the visibility level.
– Anatomy of a dive fin
Dive fins usually have six parts: strap, buckle, foot pocket, side bars or rails, winglets, and blade. Each one affects the efficiency of the fin underwater so it's important to know how each parts works.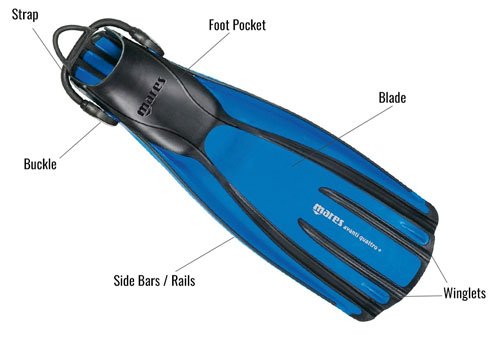 How scuba travel fins differ from others
So how does a travel fin differ from other dive or swim fins? Well, it all boils down to the size. You need one that you can stash easily in your gear bag. As much as you can purchase the longest and largest dive fins, bringing it to your travels can be a pain.
Also, you may want to look for ones that you can wear without any additional gears. This way, you can also use it for snorkeling and other leisure activities.
No one wants a dive fin that takes up more than half of their luggage's size. Nevertheless, size may not be a big deal if you're traveling on your own car. But if you're hopping on a plane, you might as well look for the top scuba fins with a manageable size.
Full foot vs. open heel fins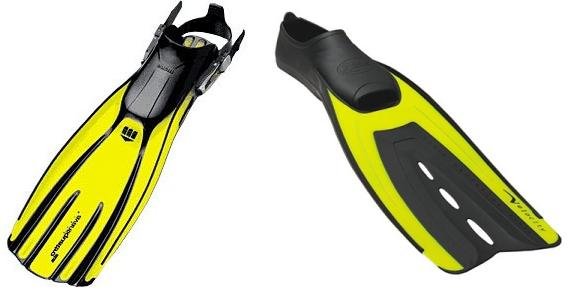 There are two main types of scuba fins: a full foot type and an open heel type. The following are the differences and use of each one:
**Full foot fins
As its name indicates, full foot fins have enclosed type designs and is the traditional option among divers. It's a single-piece fin where you'll slide your feet into for a snugly fit. As much as this offers convenience, it lacks adjustability. Nevertheless, this wouldn't be a big problem if you got the right sizing, but you can't share them with other divers with different foot sizes.
Moreover, closed foot fins offer less protection. Why? Since it has an enclosed construction, you can't wear dive boots. Also, full foot fins don't protect your soles from rocky or rough surfaces. Aside from that, full foot fins aren't ideal for cold water and can cause blisters if you have tubby toes.
Anyway, you can still fit in a thin neoprene sock for added thermal protection if the underwater temperature is a bit chilly. Another consolation here is that full foot fins have better energy transfer.
It's also challenging to put on and off, but they are best for beginners who are still mastering their buoyancy. In addition, they are more affordable than open heel types.
**Open heel fins
For those who are looking for versatility, open heel fins are the best option. You can easily adjust the fit so you can make way for your large feet or a dive boot. This way, you have protection from cold temperatures or deep diving. You can also change the thickness of your boots to suit the temperature and protection you need.
Needless to say, this type of dive fin is a champ when it comes to protection. It suits both soft and rigid boot soles. Actually, wearing rigid boots on this type of fin will prevent the strap from slipping, which boosts the fit.                                                                               
Buckle vs. spring strap
If you opt for the open heel fin, you'd have to choose between a spring strap and a buckle enclosure. Both works and it's easy to put the fin on and off. Also, the two are highly adjustable but it sure does offer varying results. 
First of all, quick release buckles are convenient in way that you can put if off without losing the desired tension. So when you have to dive again, it's all set. This saves you time, especially if your dive group is taking advantage of a specific time window. It also prevents you from rushing the setup of your gears.
On the other hand, spring straps have a stainless steel bungee that provides tension to the strap. The goal here is to provide the best fit above and below water. It means that the spring will adjust automatically as the pressure and temperature changes as you ascend or descend.
Diving fins blade types
Over the years, manufacturers of diving gears have come up with different types of fins. Each one has a specific configuration and set of features that improve your diving efficiency. Also, this diversity allows you to purchase the best travel scuba fins that suit your style. The following are 5 of the most common blade types of diving fins.
**Standard fins
Also known as paddle fins, they have a flat blade that allows the water to spill on the sides. Some comes with side reinforcements to provide better paddling strength.
Nevertheless, this is the traditional option among divers and beginners. It provides an up and down motion and excellent performance on moderate currents. However, paddle fins are best for those with strong legs.
**Split fins
Split fins are like paddle fins but with a slit in the middle. It's like having two small fins side by side. With this blade design, you can move faster underwater as it acts like a boat propeller.
As you move, the fins will move in different angles so every kick produces excellent results. Also, if you're planning to spend an extended period underwater, they are the best option. It reduces muscle fatigue without compromising its efficiency.           
**Jet fins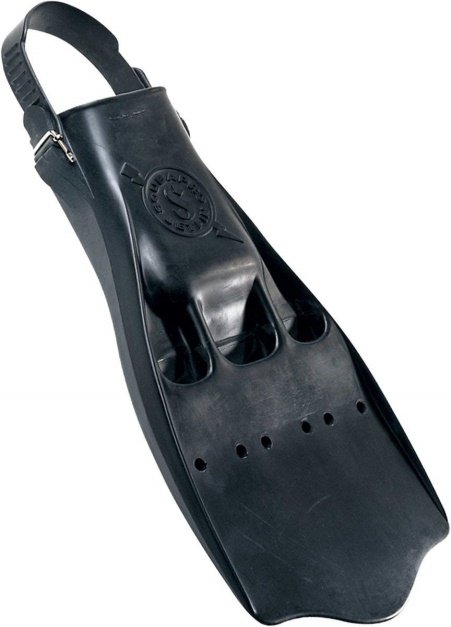 Also known as channel fins, they are ideal for professional and technical divers. The construction of this dive fin includes rubber channels added in the blade area. It's used to funnel water as the diver kicks. With this design, the diver can move even faster than using a split fin.
Jet fins may have a shorter length, but it's actually more powerful than other blade designs. However, it's heavier so it takes practice and expertise to get used to this fin.
In addition, they may suit various swimming styles, but it performs better with frog kicks.
**Hinged fins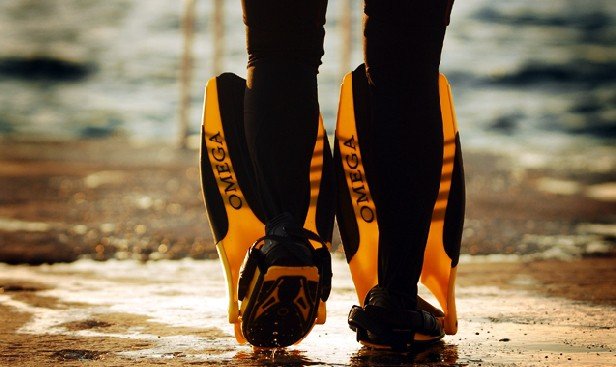 This type of fin blade allows customization as you can adjust the angle to suit your swimming style. It has a hinge that connects the blade and the foot. Once you adjusted the angle, you can lock it in place. In addition, this type of blade is also known as flippers since you can literally flip the length of the blade up so you can walk properly. This type of blade usually comes in an open heel design for excellent adjustability.
**Force fins
Unlike typical dive fins, force fins sport a different blade design. It's similar to a whale's tail, but in a narrower and longer fashion. This blade is thin, lightweight, and very durable. However, it's also expensive. Nevertheless, this is effective, especially if you're swimming with short flutter strokes.
Take note that all force fins have an open heel design so you need to wear either a neoprene sock or dive boots.
5 Best Scuba Fins for Travel Reviewed
Are you looking for the top scuba diving fins for travel and adventure? Fret not because we picked 5 of the best options with different blade types. Check which one you prefer the most!
#1 CHOICE
OUR TOP PICK
Product Name: TUSA SF-0104 Hyflex Switch Diving Fins
Product Description: For those looking for standard paddle fins, we highly recommend the TUSA SF-0104 Hyflex Switch Fins. It has an open heel design with a bungee strap for the best fit no matter what the underwater temperature is. This TUSA pair also sports the PuRiMax's Polyurethane Blade System that provides excellent energy transform for every movement of the diver. Moreover, these fins are equipped with TUSA's proprietary Vortex Generator technology that reduces water resistance on the fin stroke. In addition, you will surely find comfort in this pair's multi-compound foot pocket. It also has an angled blade design that enhances your finning even on deep dives. Most of all, you can adjust the bungee straps in different positions for an accurate fit.
Blade Quality

Comfort and Fit

Value for Money

Thrusting Power
Summary
Also, this TUSA fins are ideal even for strong currents. It has the right stiffness which suits those with strong legs and crampy leg muscles.
You shouldn't be surprised that this fin has a large foot pocket. Put 5 to 7 mm dive boots on and it will fit like a perfect glove. It provides effortless kicking with excellent acceleration. And if you're traveling, you can dissemble the fins and foot pockets to save on baggage fees (place it in your carry-on!).
Pros
✔️Angled blade
✔️Reduced water resistance
✔️Suitable for thick dive boots
Cons
❌Not for very small feet
Runners-up:

Mares Avanti Quattro Plus Open Heel Fins
 If you're looking for more thrusting power, you should invest in a pair of Mares Avanti Quattro Plus Open Heel Fins. It has four channels that will boost your efficiency together with its hi-flex material guaranteed to last long. Unlike its predecessor, the Avanti Quattro Plus offers thrusting power and responsiveness so you can accelerate with the least effort.
Moreover, this pair boasts an anatomical foot pocket that transfers the energy well into the blades. Together with a bungee strap, these fins are versatile gears that will improve your diving experience. It also comes with stabilizers that help with your buoyancy and finning techniques.
This Mares pair has a more attractive look and performance as a standard fin type. Most dive boots will fit here, which is added peace of mind for you as a diver.
Overall, we can say that this Mares pair is one of the fastest in the bunch of models we've tried before. It does a great job on alternative kicks, especially for open water locations. However, it's not the best choice if you're a technical diver since it's large and very flexible. Nevertheless, for most professional divers, these are excellent finds.
PROS
✔️More thrusting power ✔️Hi-flex material ✔️Restyled four channels
CONS
. ❌Not for technical divers .
Cressi GARA 2000 HF Reactive Fins
For those who are looking for a full foot fin, don't hesitate to try the Cressi GARA 2000 HF Reactive Fins. These are made of a special polypropylene material blended with two other materials making it the world's first fin to be made of three different materials.
Also, this pair is lightweight and reactive, which ensures reactivity so you can practice your buoyancy and skin diving. There's also a soft elastomer wrapped around the foot area to improve the leg-fin thrust and energy transmission to the blades. Moreover, it was produced using Cressi's proprietary molding process that bonds three different materials.
These full foot, standard fins can be worn with or without neoprene socks. It's made in Italy and the blades are longer and stiff to offer better underwater movement.
Aside from diving, these fins are also great for swimming and snorkeling. Compared to the GARA Professional, the GARA 2000 HF is faster. However, this pair is a bit taxing on the ankles so you better put on neoprene socks for extended use.
PROS
✔️Made of special polypropylene material ✔️Hard for reactivity ✔️Faster than the GARA Professional
CONS
. ❌Can chafe the ankles without neoprene socks .
If you're a technical diver who's looking for jet fins, you should try the Scuba Pro Jet Fins. It's made of marine-grade rubber that will last a lifetime if maintained properly. Also, it has a vented design that reduces drag and enhances the thrusting power of the diver.
Moreover, this is excellent for wreck and cave diving, especially for divers with frog kick finning techniques. As an open heel type, this is equipped with a stainless steel, self-adjusting bungee for a perfect fit.
They are ideal for recreational, military, professional, technical, and commercial use. It's a very versatile pair of fins, although it has a learning curve. Aside from that, these are also ideal for travel due to its shorter blade.
However, we want to point out that the sizing of this fin is quite small. Make sure that you inquire first so you'll get the right size based on your shoe size. Aside from that, the bungee tends to be a bit tight. Anyway, we think that once you break it in, it's going to be more comfortable to wear. Besides, if you have small feet, the tight spring will be an advantage.
PROS
✔️Made of marine-grade rubber ✔️Vented for more thrusting power ✔️Ideal for technical divers
CONS
. ❌The bungee is a bit tight .
Apeks RK3 Military Rubber Fin
Another jet fin that we like is the Apeks RK3 Military Rubber Fin. It's a traditional all-rubber fin that provides excellent efficiency while underwater. Also, it has the standard stainless steel bungee with a buckle that keeps the strap in place.
Moreover, this Apeks fin has a short yet wide blade that allows the diver to accelerate easily. Thanks to its thrusting power and maneuverability, these fins are ideal for technical and deep diving.  It has a rugged construction that can endure the harsh environment above and below the water.
Also, what we really like the most is that this fin is designed based on the vented scuba fins that the US military is using. That's a guarantee that this will work efficiently and provide the best thrusting power.
For travelers, these are convenient as it can fit inside a duffle bag. However, you should bring a neoprene sock or dive boots when using this as the bungee will chafe your ankles if worn without any layer of protection.
PROS
✔️Made based on US Military dive fins ✔️Durable rubber construction ✔️Rugged construction
CONS
❌It tends to rub on the dive boot heel a little bit more than other fins .
Considerations When Buying The Best Travel Scuba Fins

**Size and fit (how to size up)
When buying scuba fins, make sure that you consider the following points first:
Just like purchasing a new pair of shoes, you should always size up your fins properly. Take note that a wrongfully sizes fin is useless as it doesn't offer the best performance and comfort underwater. Overall, open heel fins suit most foot sizes since it's adjustable.
Sizing your fins is easy: just get the same size as your shoes. However, for women, it's customary to purchase fins that are one or two sizes down than their shoe size.
If you're purchasing an open heel fin and planning to wear a thick boot in it, you should consider getting a size up. Anyway, inquiring to the seller will help since each brand has their own sizing chart.
**Blade length
Usually, best scuba fins for traveling will range between the length of 15 and 20 chest. Since it's shorter, it's easier to transport but without sacrificing the efficiency underwater. Take note that jet fins are short, but they offer better speeds than longer ones.
Nevertheless, size matters a lot when it comes to your blades. Long ones are best for those who have a flutter kick style or those diving in an open ocean. However, it's difficult to transport if you're traveling.
On the other hand, medium and short blades are convenient since it doesn't consume too much space on your luggage. Even if they are short, you can still achieve optimal finning using frog kicks.
In the end, it's all about your finning style, luggage size, and personal preference. These will define the right blade length you need. If you're not yet sure what you'll like, you can rent different fin sizes on a dive shop and take it to a plunge. See which one is the most comfortable and offers the best efficiency.  
**Blade stiffness
Just like its length, dive fins come with varying stiffness. Tough and rigid types are ideal in swimming with speed and strength. So if you have strong legs, this might be the type for you. Rigid fins are also perfect for those who want more stability and to prevent the strap from slipping in case of open heel types.
However, stiff blades can make it hard for you to change your position underwater. Unless you have mastered your buoyancy, you should consider softer blades for the meantime.
The rule of thumb is that the stronger your legs are, the firmer your fin blades should be. In addition, beginners who are still practicing their finning should start with a soft and short blade. It's easier on the legs, which allows you to focus on the methods first.
**Overall quality
Scuba fins for travel should have the right balance of good design, quality materials, and functionality. That way, you can make the most out of your purchase. As you know, high-quality comes with a rather expensive price, so you might as well look for one that gives the best value for money.
**Fin weight
You'd want a pair that's lightweight enough to not exceed your baggage limit. As for the diving aspect, you may need a lighter pair if your tank and other gears tend to be heavier than usual.
Nevertheless, lightweight fins are usually for recreational purpose. Since stiffer ones tend to be a bit heavier, it's best for professional and experienced divers. It requires strength and dexterity to fin with a heavy blade.
**Foot pocket material
The foot pocket is the portion of the fin where you'll slip your foot. It can be made of different materials like plastic, polypropylene, and a combination of rubber. However, if you're a professional or technical diver, you should consider polypropylene or rubber fins as it's long-lasting and can endure harsh underwater conditions.
Nevertheless, a combination of other materials is also ideal as it provides insulation and a level of softness. Some high-quality fins use polyurethane, which is also durable even for deep-sea dives.
**Heel style
Like what we discussed above, fin heels fall in two types: open and enclosed. If you're diving in shallow depths with warm to normal temperatures, you can thrive using an enclosed or full foot pair of fins. However, during cold temperatures and deep dives, it's a rule that you wear open heel fins with thick boots on.
Moreover, using enclosed heels on a deep dive increases your risk of getting cold. As you know, this type of fin doesn't allow you to wear thick boots. It will only take a matter of minutes before the cold temperature gets into your skin. And when you get too cold underwater, you're also exposed to a higher risk of decompression sickness.
**Propulsion
Propulsion is the motion that gets you moving in the water after kicking. Your choice of fins should always provide the highest possible propulsion so you can achieve the best distance with the least possible effort.
When it comes to propulsion, split fins offer the best advantage. Also, most modern fins are produced with designs that allow better angling and thrusting. This way, you can accelerate faster, which saves you air and energy, especially during a long dive.
**Additional accessories
Scuba fins are useful in itself, but you can improve its function with the use of some accessories. It will enhance your finning skills while keeping them intact for a longer period. The following are some of the fin accessories you can get aside from a new pair of fins.
–Fin bag. For traveling divers, fin bags are useful accessories that help them stash the blades easily in their luggage. It also keeps things organized before and after the dive.
–Replacement straps. If you dive often, there's a chance that your fin straps will break (for open heel types only). So make sure that you keep a spare ready to be used so your diving won't be interrupted.
-Utility strap. This extra strap allows you to clip your fins in your BCD. It's useful, especially if the space on the boat is limited and you need to organize your gears.
-Save-a-dive-kit. This kit is essential, especially for frequent divers. When something goes wrong on your gears, a save-a-dive-kit has the tools and materials needed to get it fixed. It can include your extra straps, regulator spare parts, and so on.
**Price
If you want quality scuba fins, you should be willing to spend premium money. Although they may seem expensive upfront, the purchase is worth it, especially for regular divers.
High-quality scuba fins last long and it guarantees your safety underwater. Sure, it may cost more now, but it will save you from dud pairs and purchasing new ones repeatedly.
Frequently Asked Questions
Q: Can you use freediving fins for scuba?
A: For leisure divers, most fins don't really make a big difference for shallow depths. So yes, you can use your freediving fins if you're scuba diving. However, if you're a professional diver with a specific swimming technique, it's best to purchase a pair that suits your needs and type of diving.
Q: Why do divers wear flippers?
A: Flippers are necessary to make swimming easier. The extra length of the fins allows the diver to pass through water without exerting more effort. This reduces muscle strain or cramps, especially for deep diving.
Q: Do fins help you float?
A: They don't necessary help in floating, but it can help in balancing the buoyancy of a diver once he or she is underwater. It adds velocity to the stroke of the feet plus it improves body position without too much effort.
Q: What is the difference between snorkeling fins and scuba fins?
A: It's all about the length. Scuba diving fins are shorter at about 15 to 20 inches. Meanwhile, snorkelling fins are longer and can reach between 24 and 26 inches. Take note that snorkelling fins should never be used for deep diving as it offers lower control over strong currents.
Q: How tight should fins be?
A: When it comes to diving fins, close and snug fits are preferred. This way, they will not come off your feet even during a strong current or intense underwater pressure. Although they should never be too loose, it should still allow circulation in your feet.
Final words
The best scuba fins for travel are every nomadic diver's must-have. Unlike other fins, what we reviewed above are durable, long-lasting, and easy to carry. You no longer have to settle with rentals that don't fit. So for your next plunge, invest in a trusty pair that matches your swimming style, preferences, and goals. What do you think of our options here? Let us know below!