Are you traveling for scuba holidays? Before you go, you should get a carry on dive bag where you'll stash all your gears. Nowadays, you can choose from roller bags, duffel bags, backpacks, or duo bags. As long as it's fit for air travel, you'll have peace of mind that all your gears are tucked safely on the overhead cabin.
DIVE BAG
BRAND
EXPERT RATING
CHECK PRICE
Stahlsac STEEL Roller
Dive Bag

Check Price

Cressi Strong Roller
Dive Bag

Check Price

Mares Cruise Scuba
Roller Dive Bag

Check Price

TUSA Dive Gear
Duffel Bag

Check Price

AKONA Globetrotter Carry-On
Dive Backpack

Check Price
The convenience of having you scuba gears in tow will give you peace of mind. Also, rest assured that your diving gears won't be damaged in the check-in area.
Below, we reviewed five of the best options, regardless of how many gears you're planning to get.
---
Why Should I Use a Dive Bag? 
Many divers wonder if it's really a necessity to purchase a scuba diving bag. Although you can rent some gears at a local dive shop, it still pays to get your own bag. Take note that some dive gears like flippers and wet/dry suits are better off brought than rented. These pieces should perfectly fit you, something that's difficult to achieve when you're just renting it out.
Besides, if you're taking certification courses, you're required to own several gears like boots, fins, gloves, masks, and so on. You need the right bag to store all these items to prevent damages. As you know, scuba gears aren't the cheapest so you have to keep it in a safe bag while properly organized.
---
What to Look For in a Carry on Dive Bag
To find the best carry-on scuba diving bag, you must tick the following reminders off your list:
-Design
The first thing you have to check is the design of the bag you're going to get. Nowadays, such bags come in different construction, but the following 6 styles are the most common:
**Roller
Roller dive bags are very popular for traveling divers. Just like typical roller luggage, this one is easier to carry. Even if it's fully loaded, you can easily maneuver it around, thanks to its wheeled construction.
The good thing about roller bags is you can get in full size to fit all your gears or in a carry-on version to bring it on the cabin with you.
**Duffel
Another option that you have is a duffel dive bag. It has several compartments as well as a large zip portion where you can stash a fairly large number of gears. It's a simple option, though you'd have to lift it around.
As much as possible, you should look for one with many pockets and wet compartments for your gears.
**Backpack
Next, you can also opt for a backpack carry on for your dive gears. Although you'd have to carry it around, the weight is distributed equally all over your shoulders. It also frees your hands and allows you to handle other luggage.
Take note that some dive gear backpacks have wheels too so it can alternate as a roller type. The only challenge here is packing your gears right. Backpacks can weigh you down easily.
**Mesh bag
Mesh bags can come in any form like backpacks, duffel, and even rollers. However, since it's a see-through design, it's better off used as a boat bag during the actual dive.
**Drybag
Dry dive bags are simple: it has a tube-like design made of waterproof material. To keep it waterproof, you have to roll the top and clip it shut. This can be brought on cabin and the boat during your dive. It's an all-around bag, but organization is challenging since it doesn't have many compartments.
**Watertight bag
Watertight bags are hard-shelled rollers. It's rugged and can take the beating of long travels. It prevents water from getting in so your gears stay dry. The only downside here is that watertight bags are bulky and heavy. You'll be sacrificing a lot of allowed carry-on weight and size on this bag.
-Shape and size
Next, the carry on bag you're going to get must pass the dimensions imposed by airlines. Each airline has its own specific dimensions about how large your carry on can be. Generally, the airline will allow a carry-on with maximum dimensions of 22 x 14 x 9 inches. This will vary in one to two inches, give or take.
Aside from that, airlines like Qantas, Philippine Airlines, and Virgin Atlantic have a weight limit in pounds. The first two airlines only allow a bag that's a maximum of 15 pounds while Virgin Atlantic allows up to 22 pounds.
The shape is usually a personal choice. Nevertheless, it's best to get one that can fit in the overhead cabin.
-Material
Dive bags can be made of a variety of materials like nylon, fabric, plastic, and metal. No matter what your choice is, always invest in durable and rugged options. Also, you should aim for one with a waterproof/water-resistant lining.
-Compartments
One of the most important considerations when shopping for any bag, for diving or not, are the compartments present on it. The more compartments there are, the better. We also recommend collapsible compartments so you can tweak the storage space of the bag.
It's also excellent if the bag has a separate compartment for wet gears.
-Price point
The last consideration when purchasing a diving bag is its price tag. As much as you don't have to spend a fortune, you shouldn't skimp on quality too much either. When it comes to top carry on bags for diving, it pays to invest a few more dollars for quality.
---
Best Carry on Dive Bag – 5 Editor's Picks!
OUR #1 CHOICE
OUR TOP PICK: Stahlsac STEEL Roller Dive Bag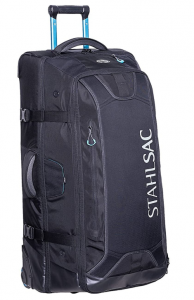 Product Name: Stahlsac STEEL Roller Dive Bag
Product Description: If you're looking for the best carry on dive bag, you won't go wrong with the Stahlsac STEEL Roller Dive Bag. It's 11" high and 16" wide with a water-resistant compartment to stash your used gears. The wet compartment is also breathable to avoid odor buildup. This bag has quick-access zippers as well as a changing pad for your convenience. There's also an optional pack located on the designated compartment.
Quality & Durability

Capacity

Ease of Use

Price Point
Summary
Overall, this Stahlsac roller dive bag is low profile but rugged enough for long travels. It also comes with a strap where you can attach another bag. 
We also like that it comes with side and top handles, aside from the telescoping handle. Paired with durable reinforcements, this bag will keep your gears safe inside. The zippers and closures of this bag are made to last long. 
Pros
✔️Water-resistant lining
✔️Multiple handles for easy handling
✔️Quick-access pockets and compartments 
Cons
❌It would be nice to have smaller pockets for small items 
RUNNERS-UP:

Cressi Strong Roller Dive Bag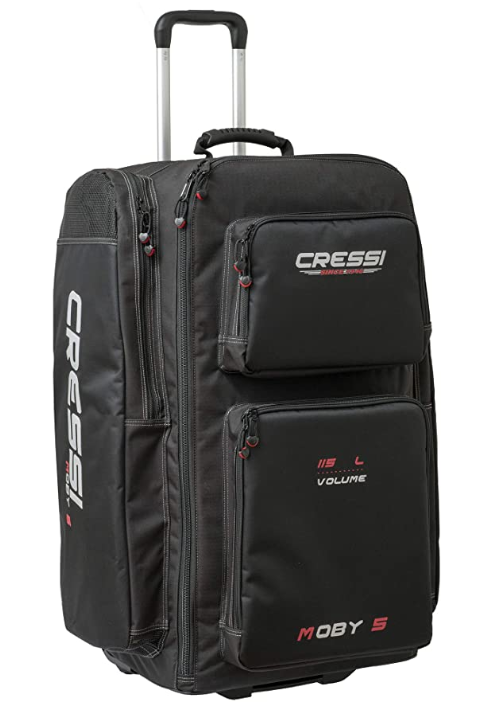 Next, we recommend the Cressi Strong Roller Dive Bag. As a bag from a reputable scuba brand, this model will not disappoint your travels.
This has a wheeled construction with 400D fabric for a rugged quality. Still, it's lightweight and very easy to carry around.
Inside, there's a main compartment with three sides you can access easily. Below it, three are two other large pockets with zipper enclosures. If that's not enough, there are also two side pockets where you can stash smaller items.
If you don't like wheeling this thing around, you can use it as a backpack. It comes with two shoulder straps for your convenience. Just retract the handles and you can slip it to your back.
Overall, this bag has a capacity of 4 cubic feet, which can fit a lot of dive gears that you wish to bring.
PROS
✔️Made of 400D fabric
✔️Double as a roller bag and backpack
✔️Lots of pockets and compartments

---
Mares Cruise Scuba Roller Dive Bag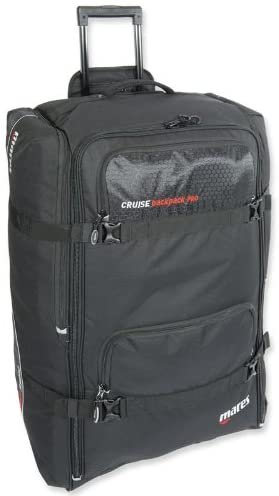 If you're looking for another roller dive bag, we recommend the Mares Cruise Scuba Roller Bag. Like the one from Stahlsac, it has reinforcements to keep your dive gears intact. This has great maneuverability, too, which is great if you're traveling long distances.
This comes with multiple compartments, a large one inside and smaller ones all over the body of the bag. There's one zippered pocket at the upper portion where you can easily stash and retrieve your things.
Aside from that, there are fin pockets on this bag incorporated with a drainage system. Your dive gear will stay safe inside this bag.
Like the Cressi roller bag, this one from Mares comes with shoulder straps so you can use the bag as a backpack.
Just take note that the interior of this bag has a semi-hard shell. It may not be possible to compress this if you happen to be carrying fewer items.
PROS
✔️Multiple compartments
✔️Draining fin pockets
✔️Shoulder strap to double as a backpack

CONS
❌There's a hard shell on the lining

---
TUSA Dive Gear Duffel Bag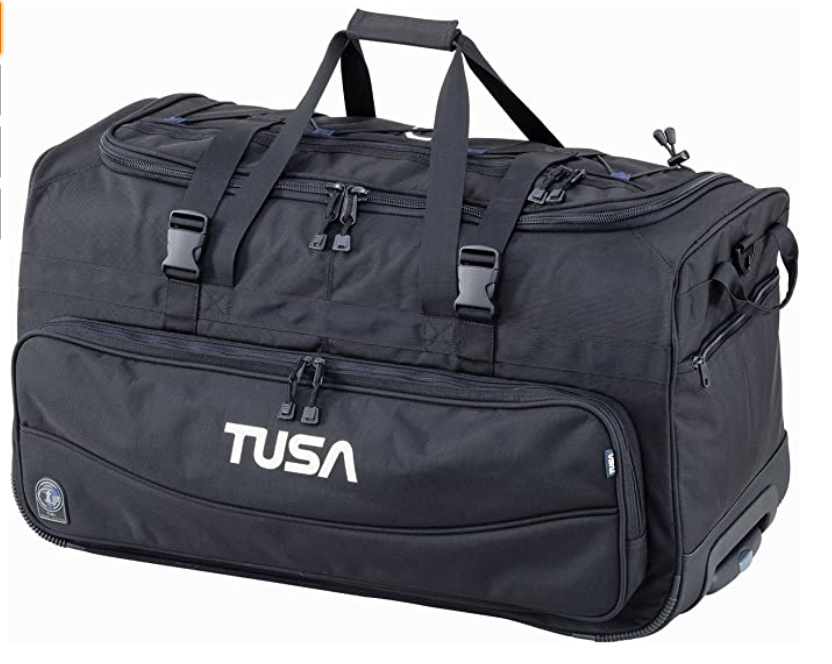 Not a fan of roller bags? If so, you should get the TUSA Dive Duffel Bag instead. This is 28" long, 18" wide, and 14" tall. It has a water-resistant layer to keep your gears. Aside from that, it has a nylon mesh detail.
We really like that it has three handles as well as mesh drains. You can use this during your travel as well as a gear bag while on the boat.
On the outer side, you'll get to use large zippered pockets. If you're tired of carrying it around, you can use it as a roller bag, too. It has gliding wheels as well as a telescoping handle neatly hidden at the bottom of the bag.
This TUSA bag is made to endure the most rugged travels. It also comes with webbing so you can stash more items and keep it handy.
PROS
✔️Mesh drains for wet gear
✔️Multiple handles
✔️Can be used as a roller bag

CONS
❌Large fins may not fit on the side pockets

---
AKONA Globetrotter Carry-On Dive Backpack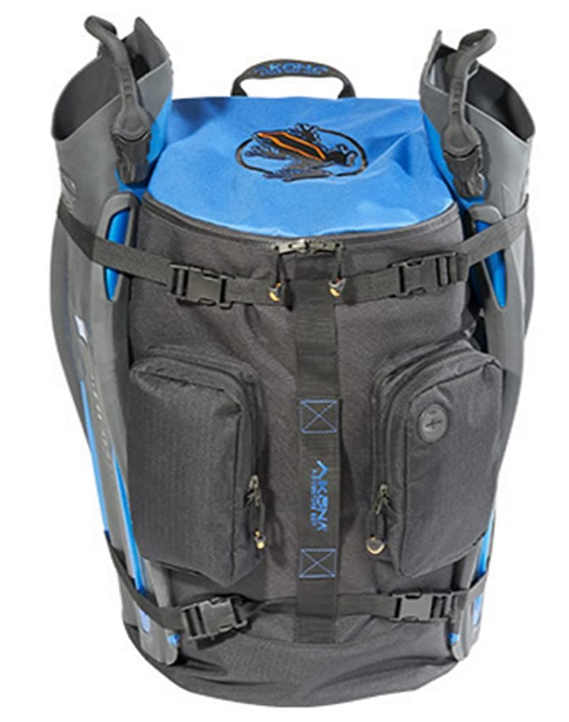 For those looking for a carry on diving bag backpack, the AKONA Globetrotter is your best bet. It's 21" high and 12" wide that can fit a great deal of dive gear. You can pack the essentials here like your mask, BCD, snorkel. And so on.
This comes with compression straps where you can secure your fins. However, it would have to stay outside the bag.
Although not a roller type, this carryon is a champ in storage. There are two small pockets in front as well as reinforcements that also double as fin holders.
Take note that this bag has a solid base with no holes. This means that you should only store dry items inside since it will not drain.
PROS
✔️Lots of storage compartments/pockets
✔️Fin holders on the side
✔️Thick shoulder straps

CONS
❌No holes at the bottom for draining

---
Frequently Asked Questions
Q: Is it practical to bring a carry-on dive bag on-cabin?
A: If you're afraid of having your dive gears crushed on the check-in area of the plane, you can carry it on the cabin. Just make sure that the bag size is suitable according to airline regulations. Also, you should check the weight limit and if it's allowed to carry specific gears on it.
Q: Which is better, a roller or a backpack dive bag?
A: If you don't want to carry the weight of your dive gears, a roller bag is a great option. It's also easier to carry around the airport. Just make sure that the wheels and handles are enough to last for years.
Q: Do I really need a bag for diving?
A: It allows you to secure your gears properly. It has special compartments and enclosures to house both dry and wet gears. Instead of using typical backpacks, we recommend that you get a dedicated dive bag to secure your dive equipment.
---
Conclusion
With a carry on dive bag, you can travel in peace knowing that your gears are in good condition. Just make sure that the bag suits your needs, budgets, and expectations.